MLB.com Columnist
Richard Justice
Rangers' total team effort provides ALDS lead
Stars and role players give Texas commanding 2-0 edge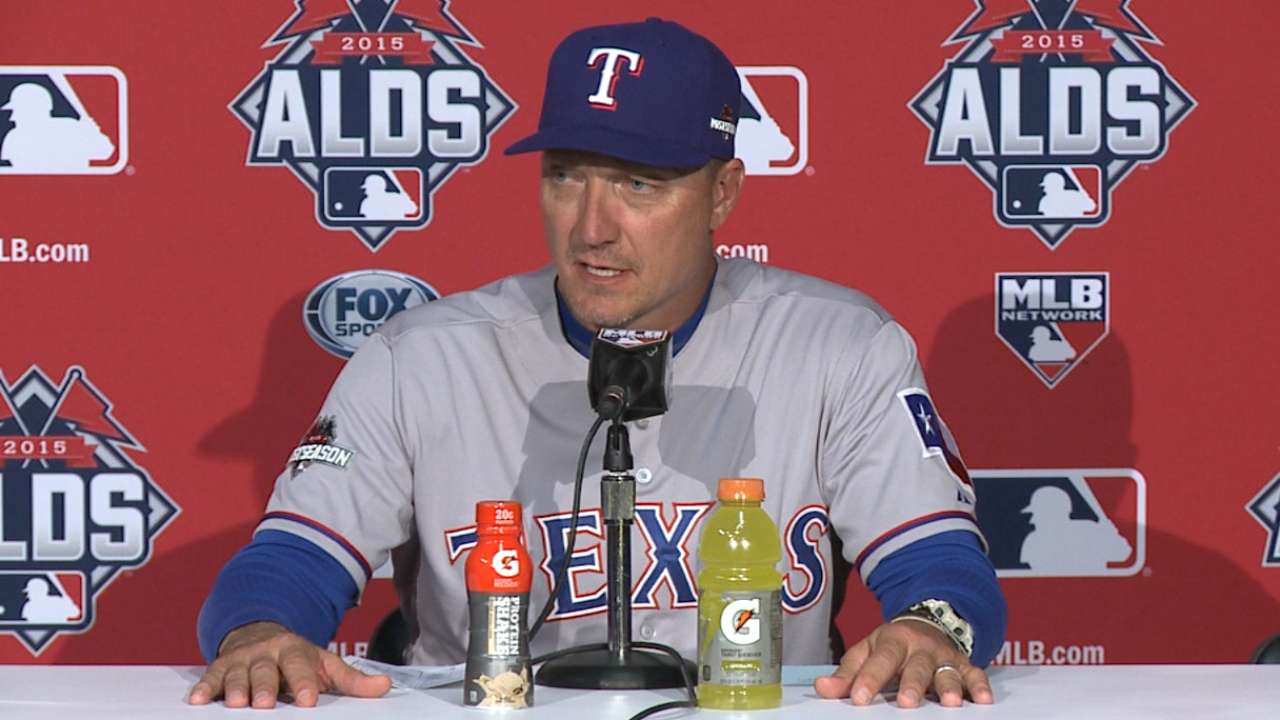 TORONTO -- In the dugout, the Texas Rangers looked at one another and shrugged. Surprised? Absolutely not. If a single moment could sum up an entire season, this would be it.
"We wouldn't be here without every one of these guys," Rangers first baseman Mitch Moreland would say later, "and this game showed that."
He was referring specifically to 22-year-old infielder Hanser Alberto, who made his first start since Aug. 30 on Friday afternoon as a replacement for injured third baseman Adrian Beltre.
Guess what happened then?
In the top of the 14th inning, Alberto delivered the biggest hit of his career as well as the biggest of a 4-hour, 57-minute afternoon of spectacularly entertaining, relentlessly tense baseball as the Rangers defeated the Blue Jays, 6-4, in Game 2 of an American League Division Series.
The Rangers lead the best-of-five series two games to none as it shifts to Texas for Game 3 at 7 p.m. CT on Sunday on FOX Sports 1. If necessary, Game 4 would be Monday, and the Blue Jays need to win both to get a deciding Game 5 back to Rogers Centre on Wednesday.
The Rangers aren't just winning because of Prince Fielder and Cole Hamels. They're winning because of Rougned Odor and Delino DeShields, too, guys who don't get the most headlines. They're winning because of a tremendous bullpen.
And they're winning because, mixed into a great sprint into the postseason, there's a little bit of magic.
Better not to try and explain it, right? Just ride it, baby.
Once again, both teams punched and counterpunched. The Blue Jays overcame an early 3-1 deficit and took a 4-3 lead into the eighth. Finally, they had momentum and a noisy crowd of 49,716 roaring behind them. If they could only finish.
The Rangers tied it in the eighth, and then it went on and on. Twelve relievers got into the game. The Rangers stranded a runner on third in the top of the 11th. The Blue Jays did the same in the bottom of the 12th.
Benches cleared in the bottom of the 13th when Rangers reliever Keone Kela and Blue Jays third baseman Josh Donaldson exchanged words.
"Heat-of-the-moment stuff," Rangers catcher Chris Gimenez said.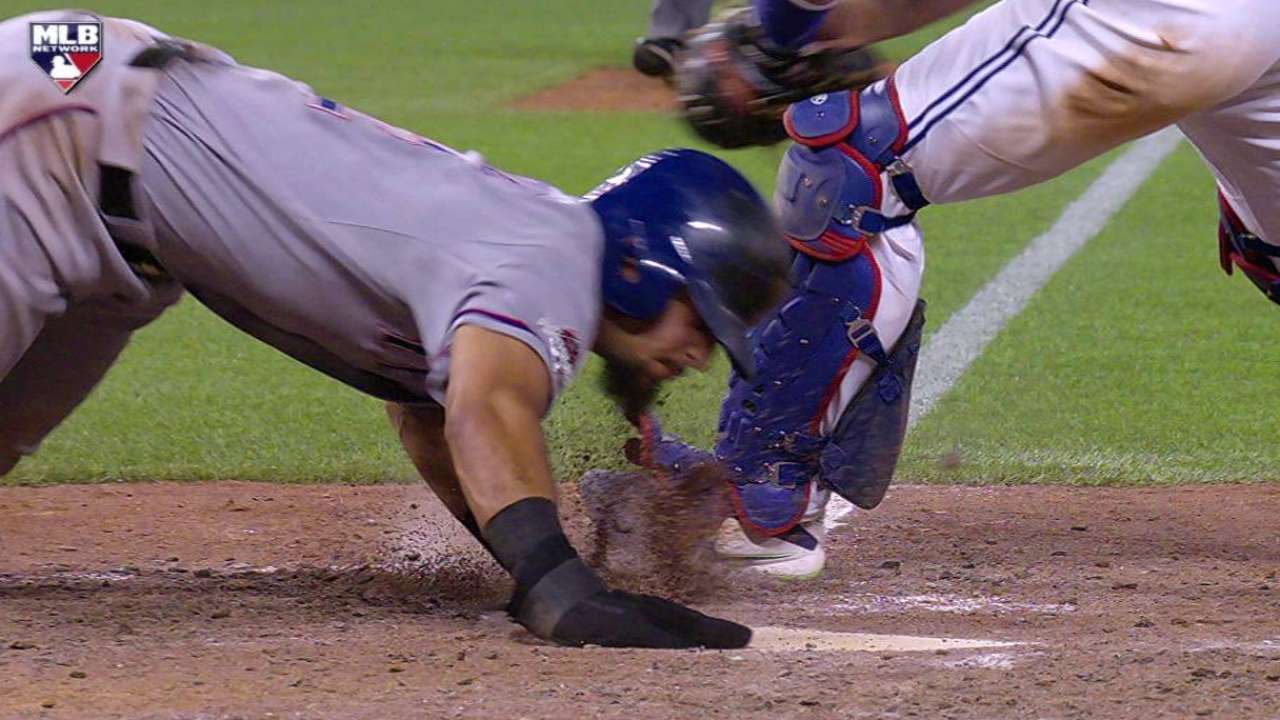 Finally, with runners on first and second and two outs in the top of the 14th, Alberto had his moment. His single to right field put the Rangers up 5-4 and made him the most unlikely hero of the postseason.
His season consisted of 99 at-bats and a .222 batting average. He got a spot on the postseason roster because he has tremendous hands, can play multiple positions and can give manager Jeff Banister a late-inning defensive option.
The bottom third of the Texas order -- Odor, Gimenez and Alberto -- got three consecutive two-out hits during the winning rally.
"That's our ballclub," Banister said. "It really is. You track us throughout the year. It's not surprising."
Those young guys contribute more than production. In a clubhouse with old pros like Fielder and Beltre, they bring an ingredient every team needs.
"It's eye-opening to see young guys come in and fit right into a big league role and play at a high level with the energy level they bring," Hamels said. "It helps re-energize the older guys and the veterans. That's what I think makes a really good team very strong. You have to have a mix."
The kids were all over the place on Friday. DeShields was on base three times, scored two runs and drove in one. Odor's two-out infield single in the top of the 14th started the winning rally.
He spent five weeks in the Minor Leagues to work on hitting mechanics this season. He returned to the lineup June 15 and had an .861 OPS the rest of the way. He's one of those high-energy players who is beloved by his teammates. Opponents? Not so much.
"Odor plays with a swag that was the way he was brought up," Beltre said. "There's no doubt Odor has great talent."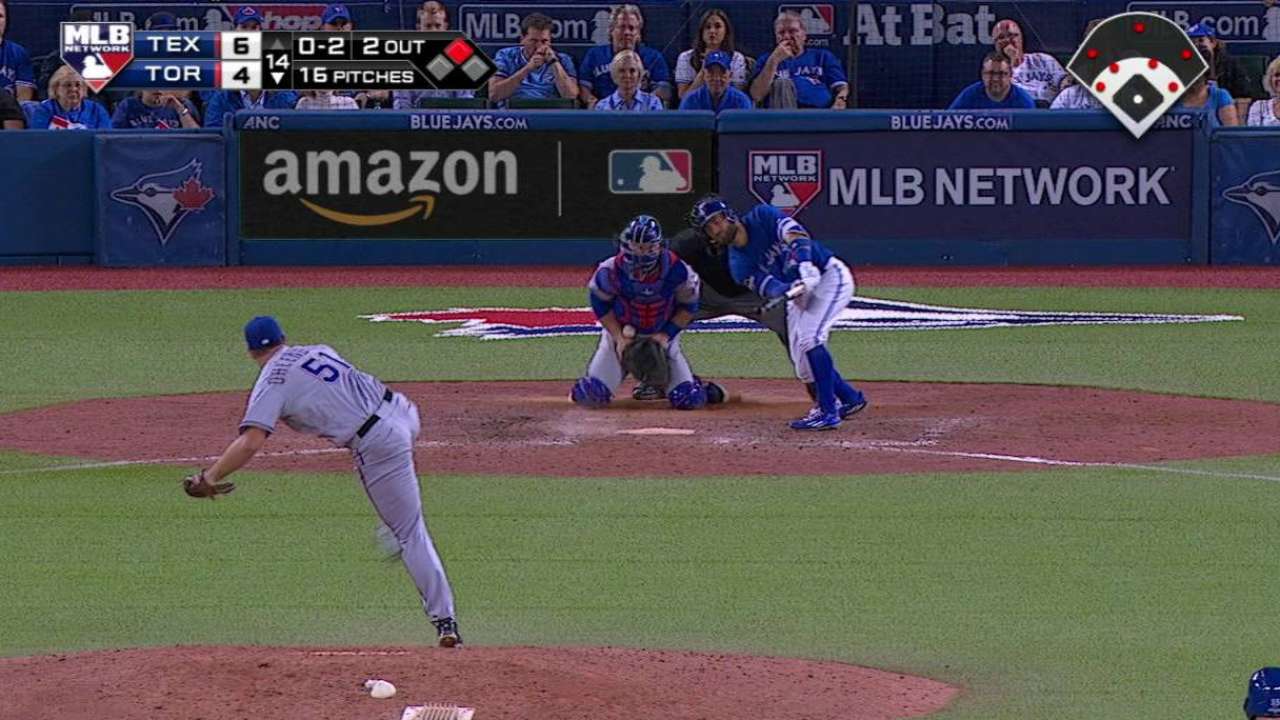 That rally at the end was possible because Banister got seven shutout innings from five relievers. This is the bullpen general manager Jon Daniels remade at the Trade Deadline by acquiring right-hander Sam Dyson from the Marlins and left-hander Jake Diekman from the Phillies in the Hamels deal. In Games 1 and 2, they've combined to pitch six shutout innings.
So the Rangers are one victory from advancing to the American League Championship Series for the first time since 2011. Momentum can switch quickly in a best-of-five series, and the Blue Jays said all the right things about regaining it in Game 3.
Right now, though, the Rangers have it.
"We had confidence before we got here," Beltre said. "We knew we were going to face a really good team. It's the game. It's baseball. You can never predict. Hopefully, we can finish it up Sunday."
Richard Justice is a columnist for MLB.com. Read his blog, Justice4U. This story was not subject to the approval of Major League Baseball or its clubs.