Springer keeps up torrid pace in Game 2
Astros outfielder hits two-run single in loss to Royals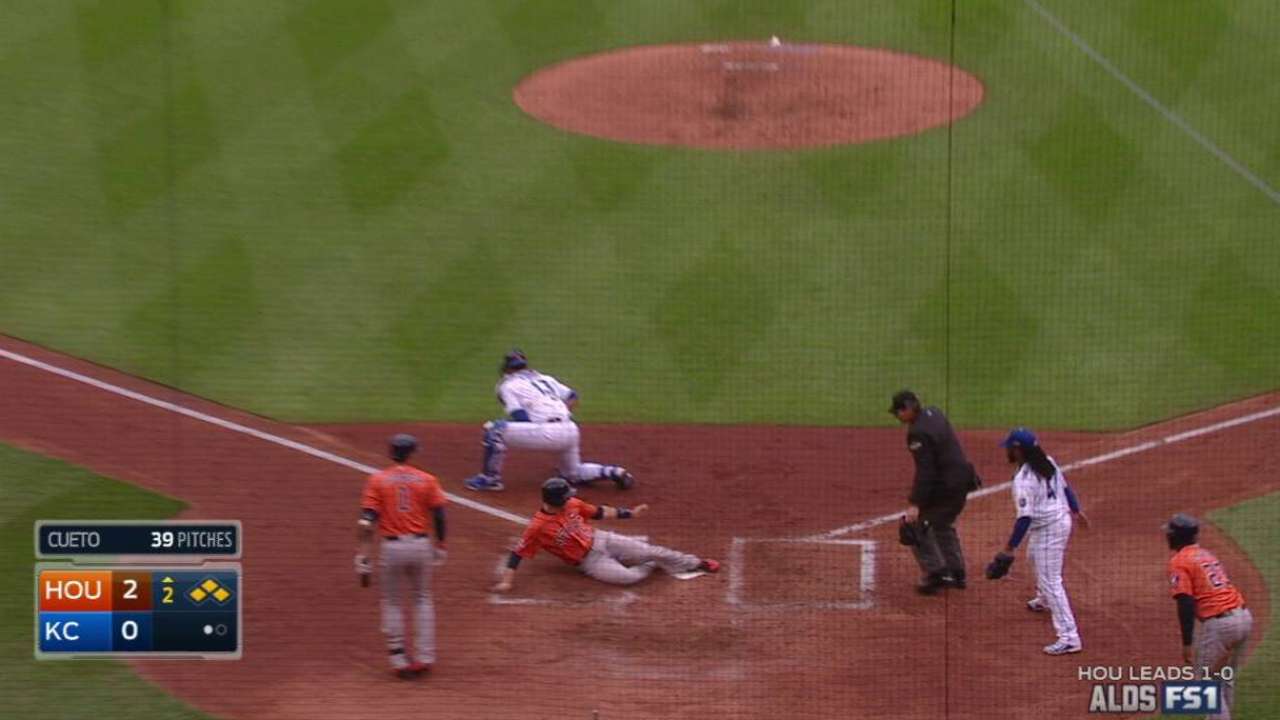 In a season plagued by injury but still full of spectacular outfield catches and, more recently, powerful swings, George Springer continues to carry over a streaky September into October -- just when the surging Astros need it the most.
With the bases loaded and one out in the second inning against Royals starter Johnny Cueto in the Astros' eventual 5-4 loss in Game 2 of the American League Division Series, Springer kept his torrid pace in Kauffman Stadium, punching a two-run bloop single into shallow left field to give Houston a 3-0 lead for the second straight night.
• Shop for Astros postseason gear
The single, on a fastball that ran in on his hands, extended Springer's hitting streak to seven games, dating back to the regular season. It was his only hit, though, as the Astros' bats went quiet after the third, registering just two more hits in the loss.
"Obviously a good start for us," Springer said. "[But] you have to give [Cueto] credit. He was able to slow us down and hold us to four."
Springer has four doubles in his past seven games to coincide with six RBIs in that span, during which Houston is 6-1. Springer came into Friday's game as a career .533 hitter with three home runs in Kauffman Stadium -- including his solo shot in Thursday's 5-2 win.
It was the stadium's spacious outfield that haunted Springer on Friday, though.
Playing shallow in right field to start the bottom of the seventh inning against Kansas City leadoff hitter Alcides Escobar, the speedy Springer couldn't catch up to Escobar's fly ball, which fell between he and center fielder Jake Marisnick and allowed Escobar to rumble into third base with no outs.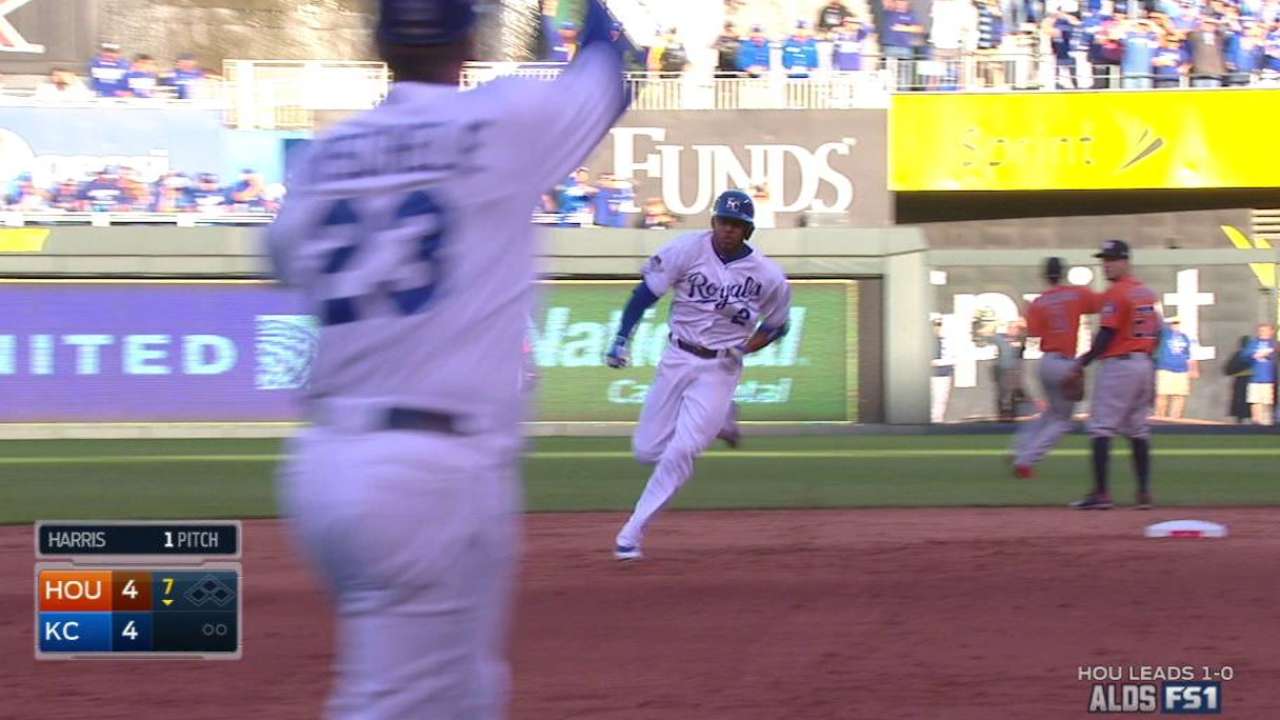 "It looked like George didn't pick the ball up," said Astros manager A.J. Hinch. "The sun came out at that point in the game, and I don't know if there was a delay in his read. I haven't talked to him about it. Jake went a long way to just miss it. I'm surprised any time a ball falls between one of our outfielders that doesn't either go off the wall or go out of the ballpark."
Springer said the twilight glare wasn't a factor when he chased the ball down. It fell between he and Marisnick, but Springer also struggled to grab the ball after it landed.
"I knew it was over my head," Springer said. "It was a perfect spot at a bad time."
Two pitches later, Ben Zobrist poked a single to left field to plate Escobar with the go-ahead run.
"We do as good a job as anybody in baseball at covering the real estate in the outfield," Hinch said. "Obviously, [that ball was] well placed, well hit. Big moment of the game to get to third base at that point. We're going to play the infield in. Zobrist gets the breaking ball and does a good job getting him in."
Chandler Rome is an associate reporter for MLB.com. This story was not subject to the approval of Major League Baseball or its clubs.