Morales finds perfect home with Royals
After overcoming 2010 ankle injury, DH swinging with success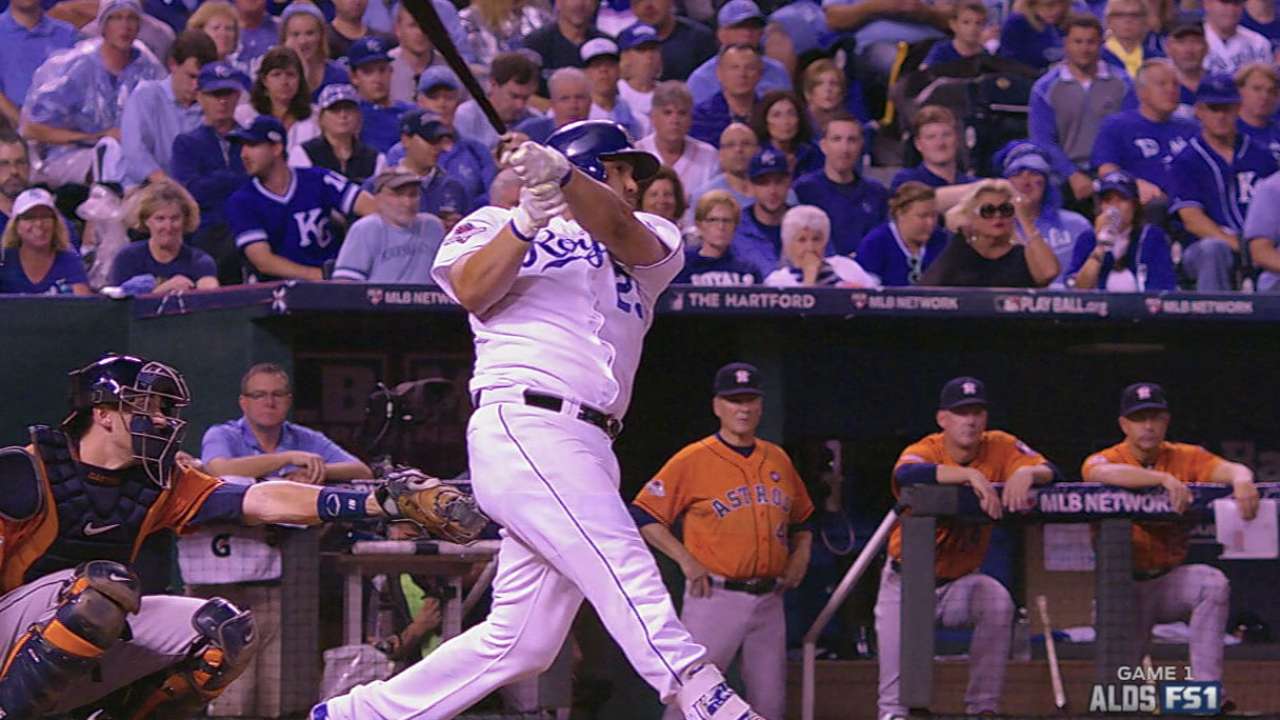 KANSAS CITY -- Kendrys Morales' jewelry glistened as he made his way toward the clubhouse door after Wednesday's workout at Kauffman Stadium. He walked proud with his head held high, wearing dark designer jeans and a designer T-shirt that were impossible to ignore.
Pitcher Franklin Morales, whose locker is nearby, put his palm out and stopped his buddy in his tracks.
"Please, can somebody tell Kendrys we are in the big leagues and you can't wear shower shoes with the clothes he has on?" Franklin said in Spanish. "Somebody, please give him some advice. Alex? Alcides? Come on. Sandals with that?"
"You wish you looked this good," Kendrys responded, and he flipped and flopped out the door.
Everyone burst into laughter like brothers.
The next day, Kendrys Morales hit two home runs in the Royals' 5-2 loss to the Astros in Game 1 of the American League Division Series in Kansas City. The homers cemented his place in the Royals' history books and reminded his fans why he's a candidate to win the AL Comeback Player of the Year Award.
The two-homer postseason game is now part of Morales' baseball legacy. It also serves as a contrast to the infamous home run that changed the course of his career: Five years ago, Morales broke his left ankle after jumping on home plate in Anaheim.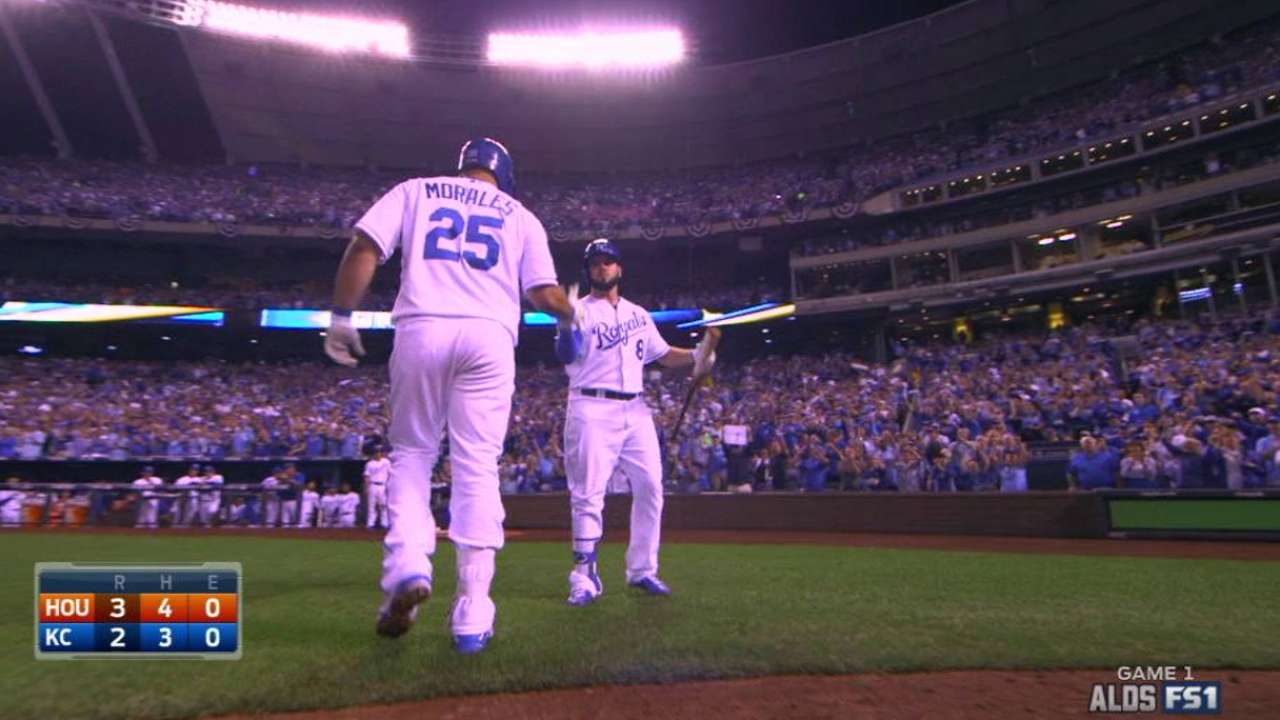 "It was one of those things that just happens in life. My destiny, part of my story," Morales said in Spanish. "But I don't look back on it too much. It was just something that happened. I was out of the game for two years, and as a baseball player, that makes it really tough to come back. Now, I'm feeling great."
Morales hit .290 with 22 home runs and 106 RBIs for the Royals during the regular season. He became the third player in franchise history to record a multihomer game in the postseason in Game 1. Morales went 1-for-4 in Kansas City's 5-4 victory in Game 2 on Friday.
"Things have been working out well for me. My swing is there, and I'm feeling good at the plate," Morales said. "I don't think anybody expected me to have this type of season, especially after such a bad year last year. I'm healthy and I worked hard for this."
Morales' story is well-chronicled. He escaped Cuba on a raft during his 13th attempt in 2004. He signed with the Angels the next year, and he made his big league debut in 2006. Morales was mild-mannered and quiet in those days, preferring to use a translator to speak to the media. In that regard, not much has changed.
Morales is more open and vocal with his teammates than he has ever been, but he'll never be the most boisterous voice in the clubhouse. He can trade zingers with the best of them when he chooses, especially when somebody makes fun of his sporty flip flops.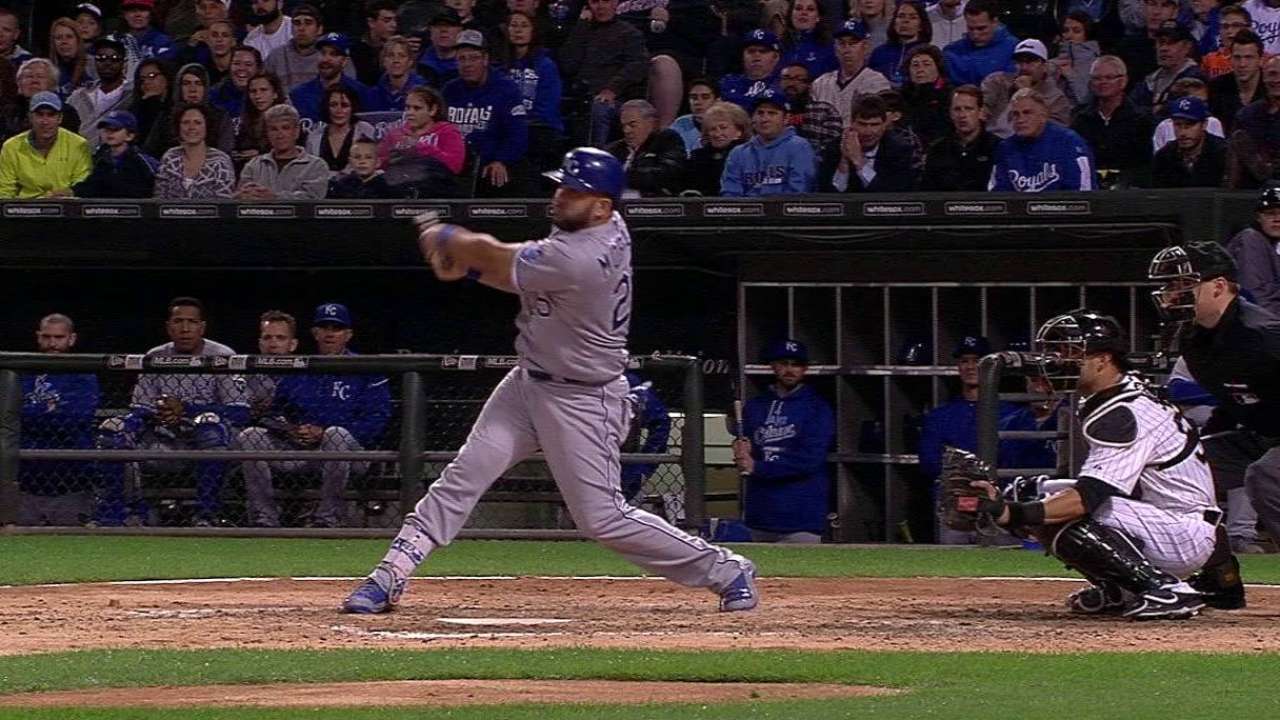 "This is a young team with a lot of talent," Morales said. "We've played with a lot of confidence this year, and we've been able to keep that going. I'm just trying to help out the team and do my part, have fun with the guys."
Morales had a breakout season with the Angels in 2009, and he finished fifth in AL MVP Award voting that year after hitting .306 with 34 home runs and 108 RBIs in 152 games. It appeared he had finally come into his own. Morales was going to be a star.
But on May 29, 2010, Morales hit a walk-off grand slam, and then he broke his left ankle with a celebratory leap on home plate. He missed the remainder of the season and all of 2011. Some wondered if Morales would ever make it back to the big leagues, and what type of player he would be if he did.
To his credit, Morales returned with solid seasons in 2012 with the Angels and '13 with the Mariners, hitting 45 home runs and driving in 153 RBIs in 290 games during that span.
Morales missed the first three months of 2014 -- this time by choice -- and eventually signed with the Twins last June after turning down Seattle's $14.1 million qualifying offer when he became a free agent for the first time. To nobody's surprise, Morales got off to a slow start and struggled in Minnesota.
Morales was traded back to the Mariners the next month, and he ended the season with eight home runs, 42 RBIs and a .218 batting average in 98 games with both teams.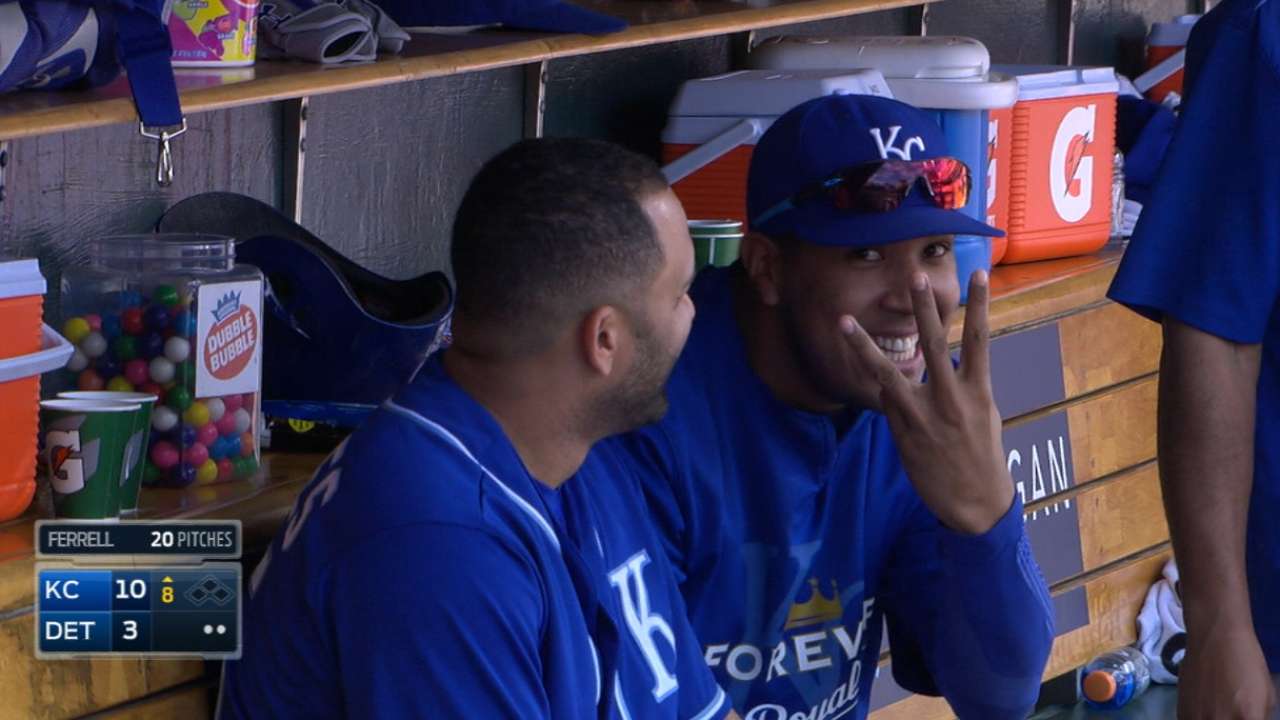 "I think missing Spring Training was certainly problematic for him in 2014. Breaking in the Major Leagues at a time when pitchers are performing at a peak level and he was playing catchup," Royals general manager Dayton Moore said. "He's got such a timing-and-rhythm type of approach, and you add the fact that he was trying to break in in June was a problem for him. We felt as long as he was healthy, and we knew he was committed, that a full Spring Training would be really productive for him."
Morales signed with the Royals last December, in part to fill the role vacated by longtime Royal Billy Butler when he signed with Oakland the previous month. The club's inability to sign veteran outfielder Torii Hunter also played a role in Kansas City's pursuit of Morales.
"He's been a huge part of our success," Moore said. "We knew when we acquired him that his demeanor and character would fit well. From a baseball standpoint, the ability to switch-hit and be a productive performer in the middle of our lineup was really important for us as well, and he hasn't disappointed us. He's been terrific for us."
Jesse Sanchez is a national reporter for MLB.com. Follow him on Twitter @JesseSanchezMLB. This story was not subject to the approval of Major League Baseball or its clubs.