Cards' challenge goes Cubs' way in 3rd inning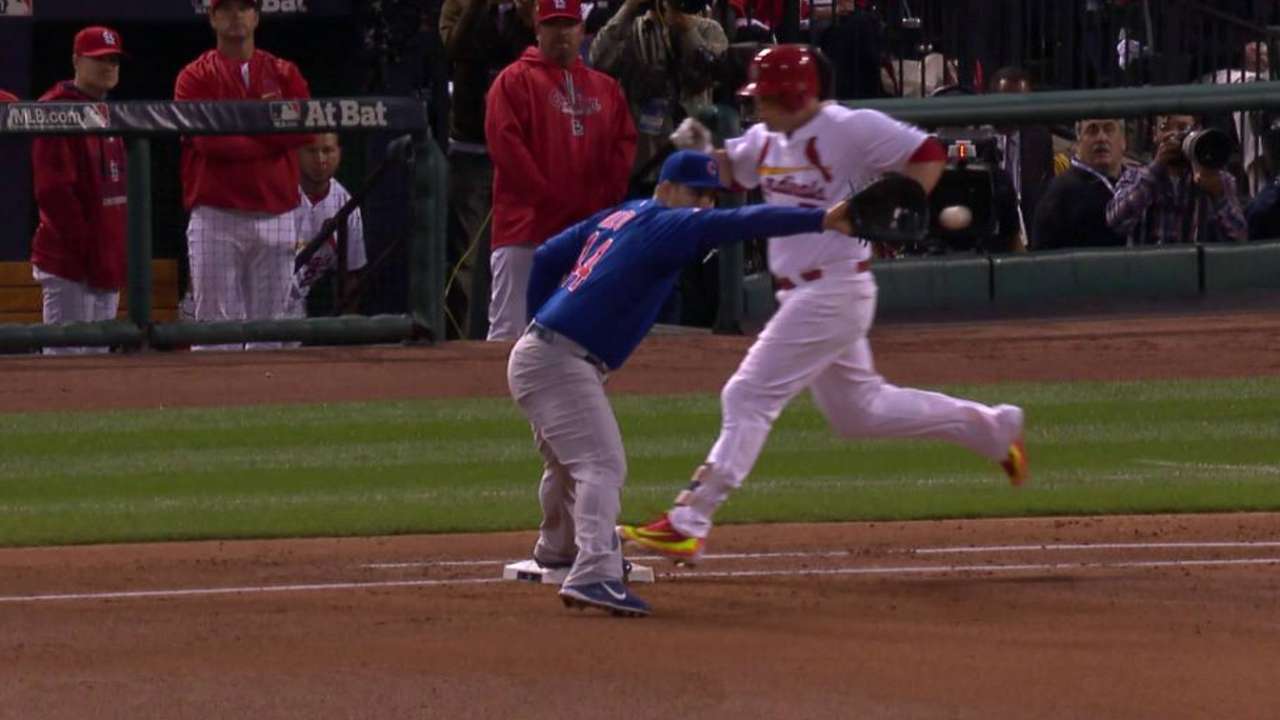 ST. LOUIS -- Jon Lester finished off a scoreless third inning and the Cardinals lost one of two challenges in their 4-0 victory over the Cubs following a close play at first base Friday night at Busch Stadium.
With two outs and nobody on in Game 1 of the National League Division Series, Cardinals left fielder Matt Holliday hit a hard ground ball to second base off Lester.
Starlin Castro bobbled the ball after scooping it up, flipping it in the air behind his back before retrieving it again. That gave Holliday enough time to make it a close play at first base, but Castro's throw was in time to record the out.
Cardinals manager Mike Matheny challenged the call, but the initial ruling stood after a one-minute, 49-second review.
In the regular season, that would have resulted in the Cardinals losing their only challenge. But the rules are slightly different in the postseason, leaving Matheny with another challenge even after the call wasn't overturned.
"Yeah, it does on a play like that one," Matheny said on TBS about a change in his challenge strategy due to the postseason rules. "That could have gone either way. Might as well go ahead and take a look at it. These [umpires] are good. They haven't missed a whole lot this season. Might as well take advantage if we see something we didn't think looks right."
As written in the Major League Baseball Replay Review Regulations, "Each Club will receive: (a) two (2) Manager Challenges to start each All-Star Game, postseason game and Divisional or Wild Card tie-breaker game; and (b) one (1) Manager Challenge to start every other game."
Adam Berry is a reporter for MLB.com. Follow him on Twitter at @adamdberry. This story was not subject to the approval of Major League Baseball or its clubs.