Blue Jays face tall task heading to Texas
Toronto trying to become 1st since '03 to erase 0-2 deficit in ALDS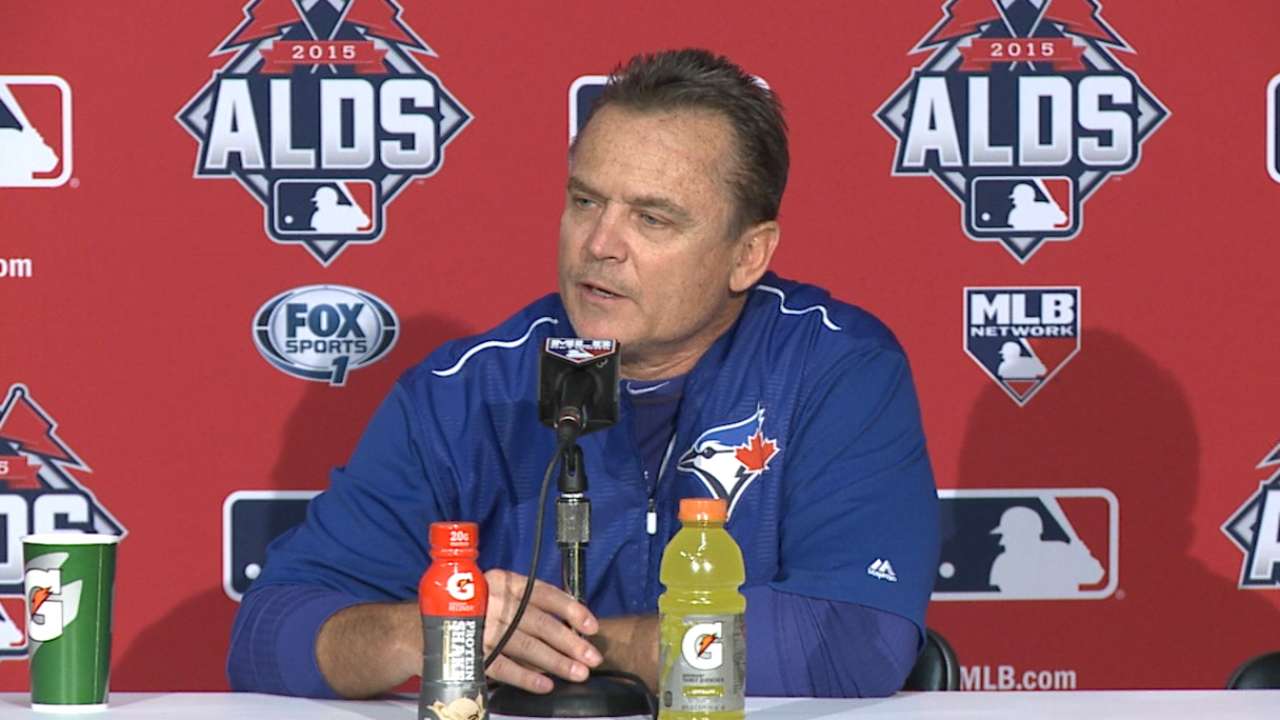 TORONTO -- The Blue Jays have proven themselves to be a resilient bunch time and time again this season, but they've never faced a challenge quite like this.
Toronto heads to Texas after losing the first two games of the American League Division Series. The latest blow came on Friday afternoon when the Rangers outlasted the Blue Jays with a 6-4 win in a marathon 14-inning affair at Rogers Centre.
The two-game deficit has been overcome before, but it won't be easy. Teams that win the first two games of a Division Series are 42-5. Home teams that lost the first two games of a five-game postseason series (including League Championship Series) are 2-27.
• Shop for Blue Jays' postseason gear
"Backs against the wall, obviously," Blue Jays shortstop Troy Tulowitzki said. "To lose two at home is not the way you want to start out a series, but since I've been around teams that make a run, they always have to answer something.
"So hopefully this will be ours, down 2-0, come back and win the series. It's not over. Like I said, it's not where you want to be, but it's what we're faced with."
The last team to win an ALDS after losing the first two games was Boston in 2003, against the A's. The only two teams to rally from being down 2-0 after losing the first two games at home in a best-of-five are the 2001 Yankees against Oakland and the 2012 Giants against Cincinnati.
The numbers clearly are not in Toronto's favor, but again, there are counterexamples. Besides, this is a team that hasn't lost three games in a row since July 7-9, which was before the roster was completely overhauled prior to the non-waiver Trade Deadline.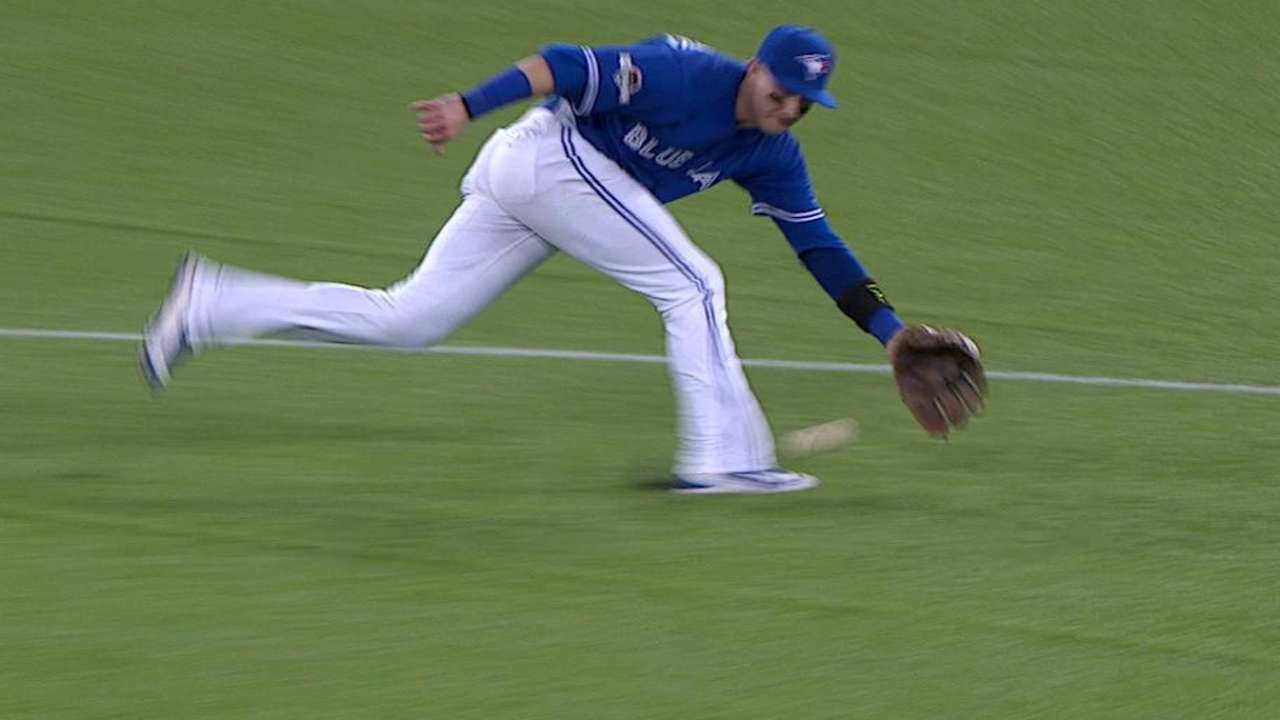 The Blue Jays also are a team that at one point in July faced an eight-game deficit in the AL East. They've been counted out before, they're being counted out again and suddenly the favorites in this series have turned into underdogs.
"We had plenty of chances," Blue Jays right fielder Jose Bautista said. "They made good pitches, they got us out. We just have to get it done with men on base and we have to shore up our defense.
"We made a few errors in the first two games. It's not difficult for us. We lost those first two games for us, not anybody else. Has it been the easiest games to play? Perhaps not, but we could've won if we played better."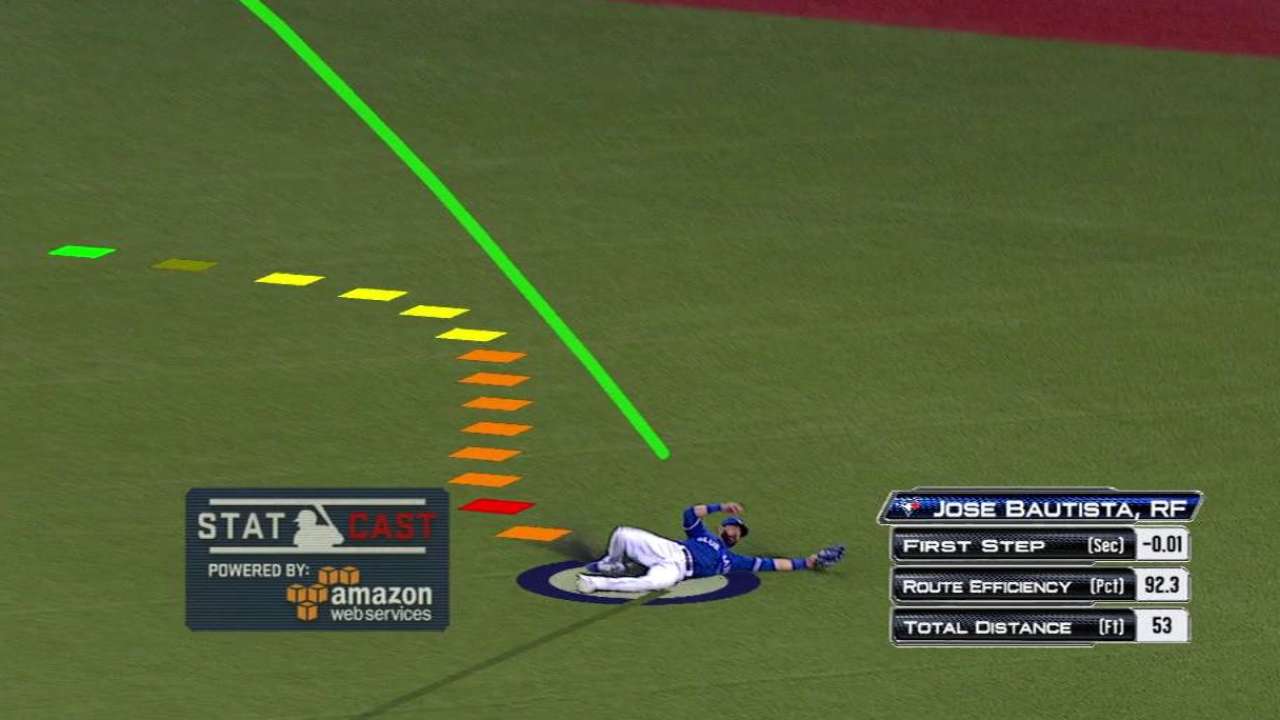 The Blue Jays can dip into their own franchise history to realize the series isn't necessarily over. It was a best-of-seven series, but the Blue Jays seemingly had a stranglehold on the 1985 ALCS with a 3-1 lead over the Royals only to see it slip away with three consecutive losses.
The big comebacks are remembered for a reason, and that's because they don't happen very often, but a team that went 40-17 over the final two months of the year can never be ruled out until the series is officially over. Texas isn't counting them out yet either.
"From what we went through this season and stuff we've battled through all year, I don't think that's possible," Rangers Mitch Moreland said when asked about the potential of overconfidence. "We're definitely in a great spot. To come up here and beat that caliber of a team in their ballpark, in their home stadium, that's tough to do.
"We're definitely happy that we're able to come out of here with both games and take it back home to our home crowd and get to try to get the last one in front of our home fans."
The Blue Jays on the other hand hope they have at least one more home game remaining on the schedule.
Gregor Chisholm is a reporter for MLB.com. Read his blog, North of the Border, follow him on Twitter @gregorMLB and Facebook, and listen to his podcast. This story was not subject to the approval of Major League Baseball or its clubs.