Pickoff of Gomez thwarts potential Astros rally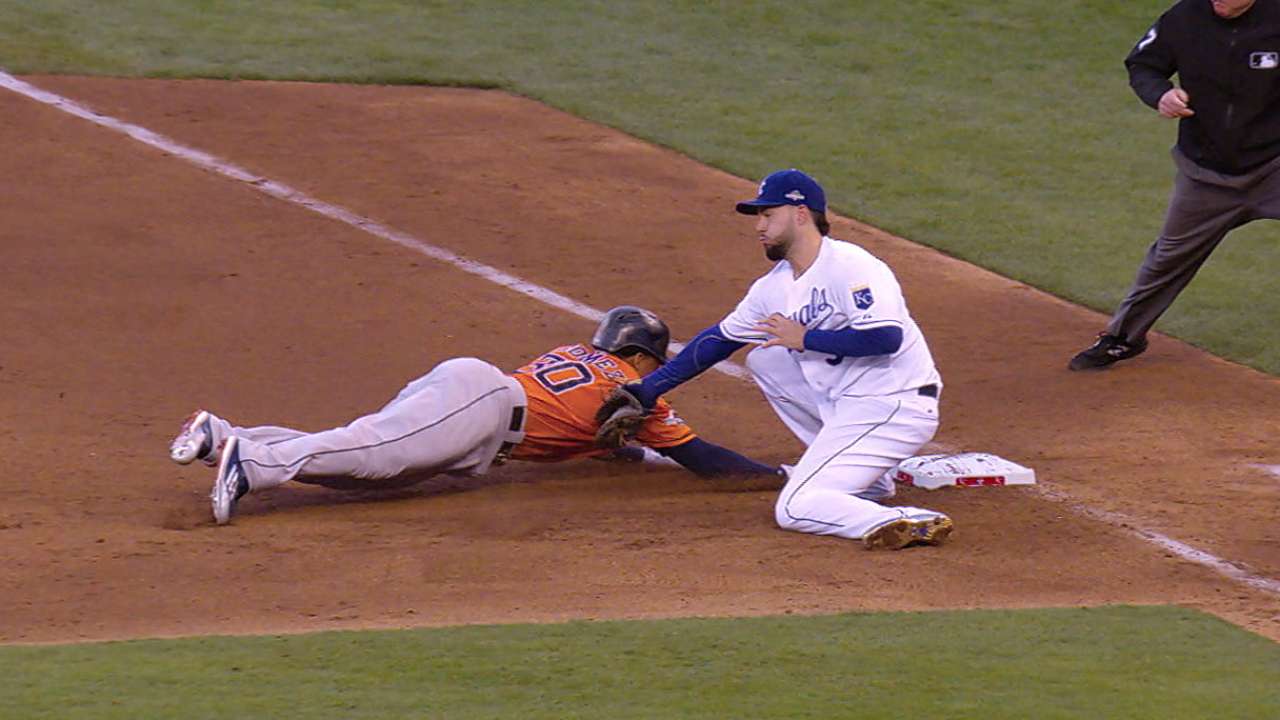 KANSAS CITY -- After sitting on the bench for eight innings, Carlos Gomez pinch-ran at first base in the ninth, and he was going to do whatever he could to get to second. Gomez's eagerness wound up getting him picked off, and the Astros' rally fizzled in a 5-4 loss to the Royals on Friday in Game 2 of the American League Division Series at Kauffman Stadium.
Gomez hasn't started in either of the first two games of the ALDS because of a mild intercostal strain that's bothered him since Sept. 13. He pinch-ran for Preston Tucker, who drew a one-out walk, and was picked off by closer Wade Davis. Gomez was initially called safe, but Kansas City challenged and replays clearly showed Eric Hosmer's tag beat him back to the bag.
"He got me, you know?" Gomez said. "It's one of those ... I call them mistakes. On that pitch, I'm going. I'm not thinking, 'Come back.' I'm ready to go to second, so he's got a good move and he got me, and that's it. I have nothing to say. He's got a really good move. I can say I'm sliding with confidence because I don't think it's going to be that close. I'm sliding nice and easy and he got me."
Shop for Astros postseason gear
Houston manager A.J. Hinch said Davis rarely tries to pick off runners at first, and Gomez had the green light to try to get to second base.
"On the original call, it looked like he got in there," Hinch said. "It was hard to tell. It was bang-bang right there. Obviously they show it on the board, and he got picked. He threw it to the one place where Hosmer would pick and tag by really just getting his glove to the ball."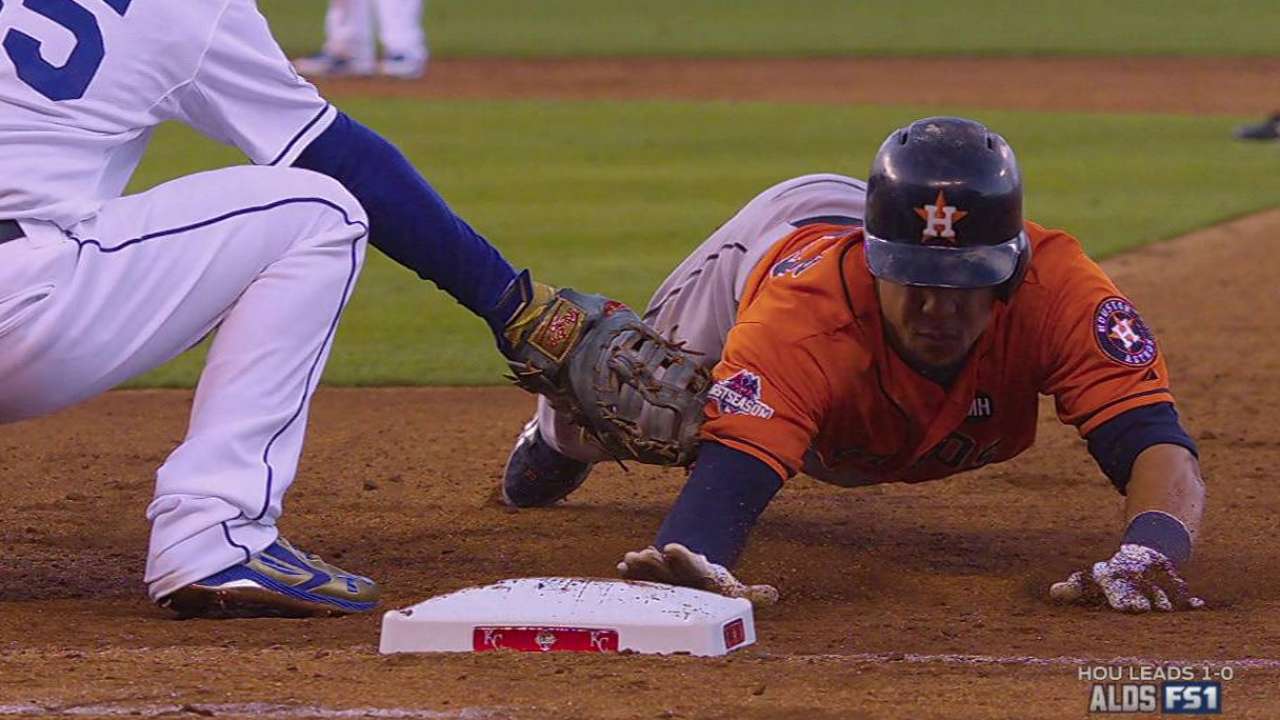 Said Gomez: "We have this report that he doesn't throw to first many times. I was going to be confident to go to second base. If he threw home, I was going to second. He did the snap throw and he got me. It's part of the game. You have to give him credit. Not that I want to be an out, but what can I do? Nothing."
Hinch credited Hosmer for making a great grab of the throw from Davis and applying the tag on the shoulder.
"It's hard to blame anyone," Hinch said. "It's unfortunate. We don't like it. It's not how we wanted that inning to go. But, again, that's just part of the game."
Said Hosmer: "That's almost an impossible call for the umpire to make, because he's blocked out. But I thought I got [Gomez] on the arm. I could feel it. I didn't know if we got him, but I thought we should take a shot [at challenging the safe call]."
Brian McTaggart is a reporter for MLB.com and writes an MLBlog, Tag's Lines. Follow @brianmctaggart on Twitter and listen to his podcast. This story was not subject to the approval of Major League Baseball or its clubs.