Escobar makes Astros' shallow outfield pay
Royals' shortstop triples, scores go-ahead run in seventh in Game 2 victory
KANSAS CITY -- It finally happened. Royals shortstop Alcides Escobar burned the Astros' shift-happy, shallow defense.
Escobar tripled over right fielder George Springer's head in the seventh inning and scored the eventual winning run on Ben Zobrist's single in Kansas City's 5-4 win on Friday that evened the American League Division Series at 1-1.
Escobar and the Royals took notice during the regular season that the Astros' outfielders were extremely shallow and close to the infielders, especially against Escobar.
But Escobar couldn't make them pay -- until Friday. His fly ball probably would have been a routine out with outfielders at normal depth. But the ball went over Springer's head and dropped in front of the warning track, and Escobar raced to third.
"Those guys play so shallow like that during the regular season," he said. "And just like today, they keep playing that shallow. I hit the ball good in the seventh inning, got the triple. That's good in that situation."
Added first baseman Eric Hosmer, "We knew it would eventually come back to haunt them."
Was Escobar trying to go that way?
"No, I was just trying to hit the ball hard to the left side, up the middle or to the right side," Escobar said. "I just hit it hard."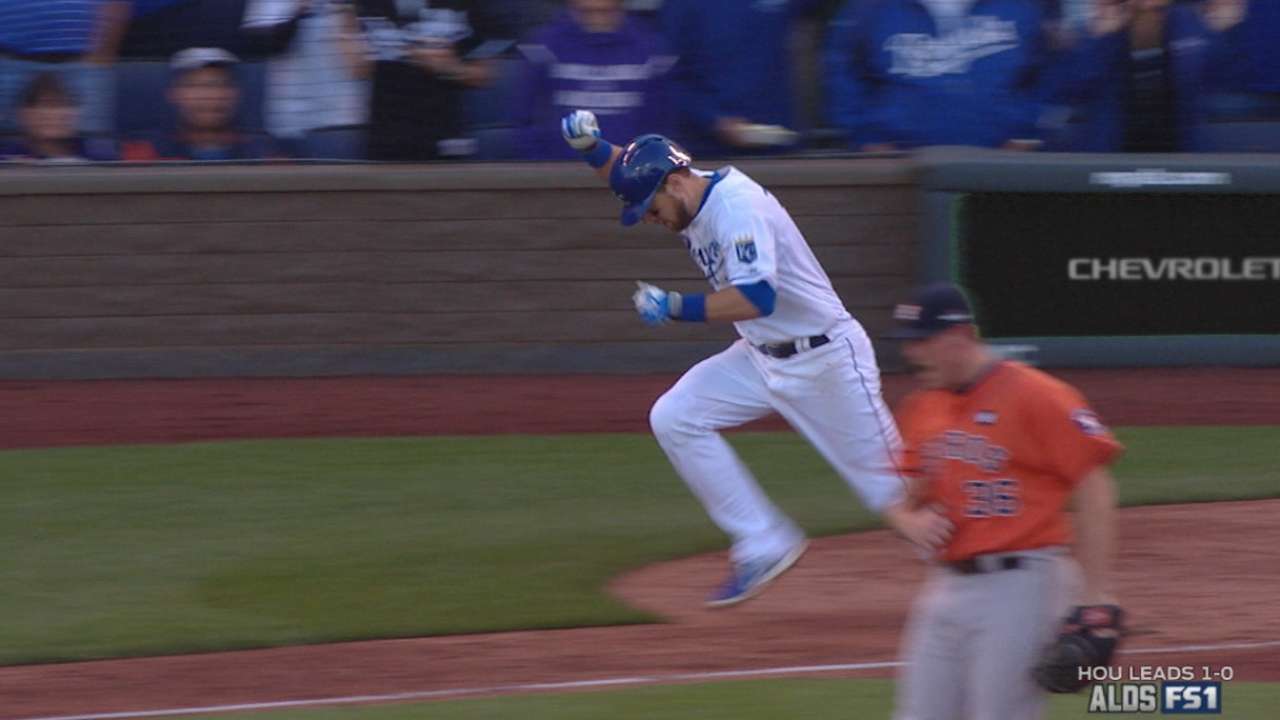 The triple rescued Kansas City and helped fuel the comeback win.
"Really, really big," Escobar said. "We got it tied up 1-1 and now we face their best pitcher over there [Dallas Keuchel].
"We were down 4-1 and we kept saying, 'Keep swinging the bat. We know we can come back and win.' And we did."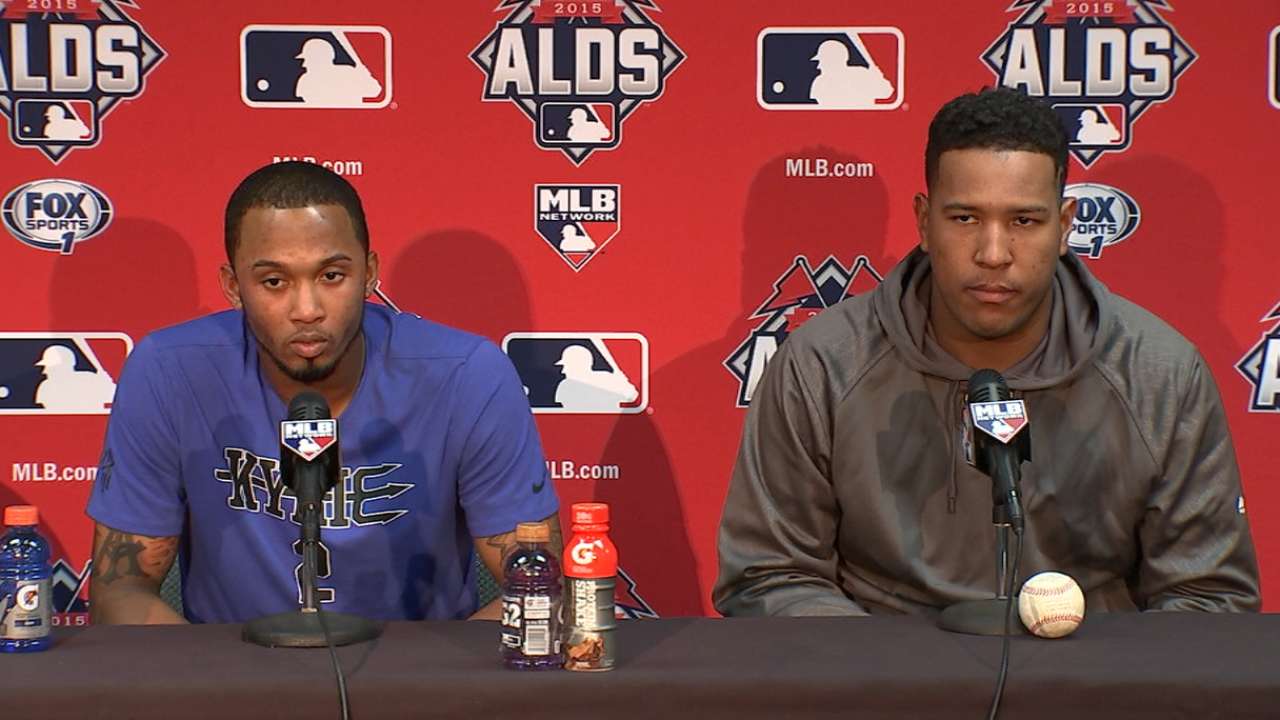 Astros manager A.J. Hinch didn't lament the positioning of his fielders.
"We do as good a job as anybody in baseball at covering the real estate in the outfield," Hinch said. "Obviously, [the ball was] well placed, well hit. It was a big moment of the game to get to third base at that point, and it makes for a difficult alignment.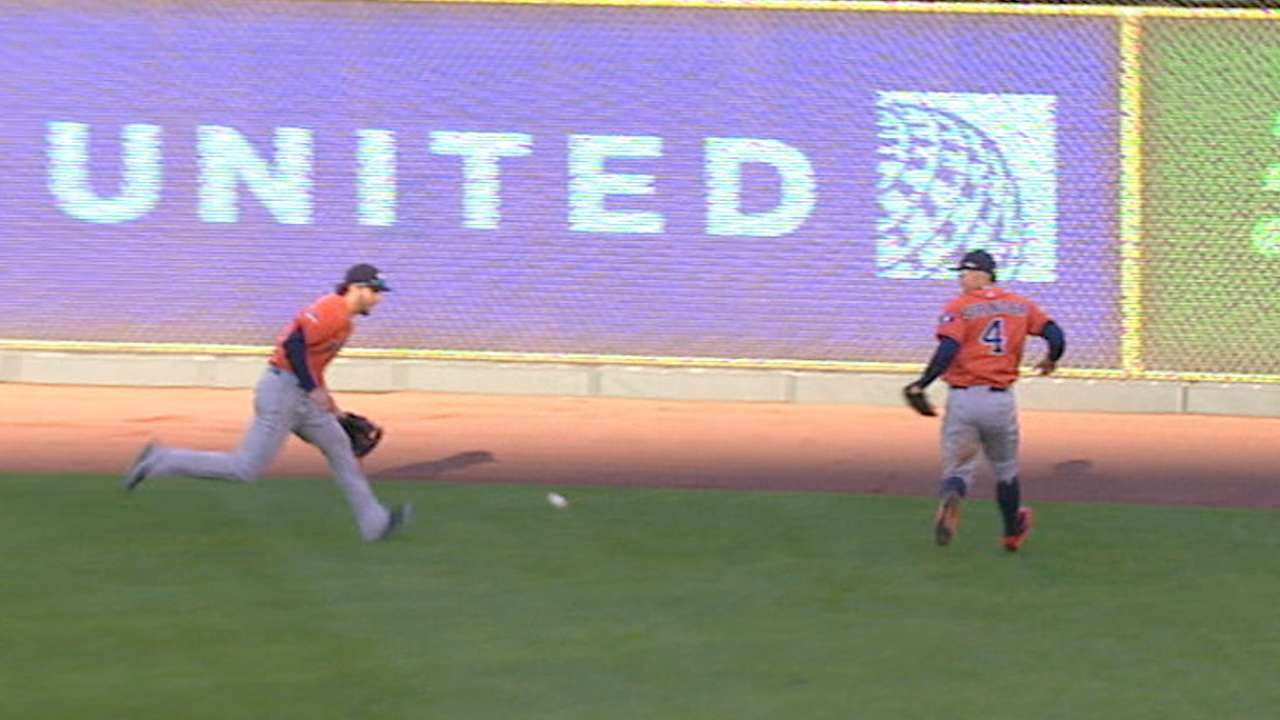 "We're going to play the infield in. ... All in all, I do want to credit the competitiveness of their at-bats. We played hard -- we played 'til the finish -- but we just came up short."
Center fielder Jake Marisnick also defended the Astros' defensive alignment.
"[Springer] was playing pretty shallow -- we were playing him in the same spot -- so I think it was more placement than anything," Marisnick said. "It's been working for us all year. Every once in a while you get beat by it, but I don't think we're doing anything wrong.
"There are many times we've taken hits away doing it, so I don't think there are any bad feelings about it at all."
"It was just a perfect spot at a bad time," Springer said.
Maybe it was just destiny. The Royals have a very good record (now 40-17) when Escobar swings at the first pitch when he leads off the game. And yes, Escobar swung at the first pitch he saw Friday and lined a shot into Kansas City's dugout. His teammates responded with cheers.
"[Hitting coach] Dale [Sveum] told me that [record] in the last day of the regular season," Escobar said. "And so my wife tells me, 'Swing at that first pitch. Hit a ground ball. Hit a fly ball. It doesn't matter. Just swing.'"
Escobar did not swing at the first pitch Thursday in the Royals' Game 1 loss.
"Nah, we had a long inning [in the top of the first]," he said. "[Yordano Ventura] threw like 20 pitches That's why I don't swing. Give him rest."
Jeffrey Flanagan is a reporter for MLB.com. Follow him on Twitter at @FlannyMLB. This story was not subject to the approval of Major League Baseball or its clubs.