Zobrist continues to spark Royals' offense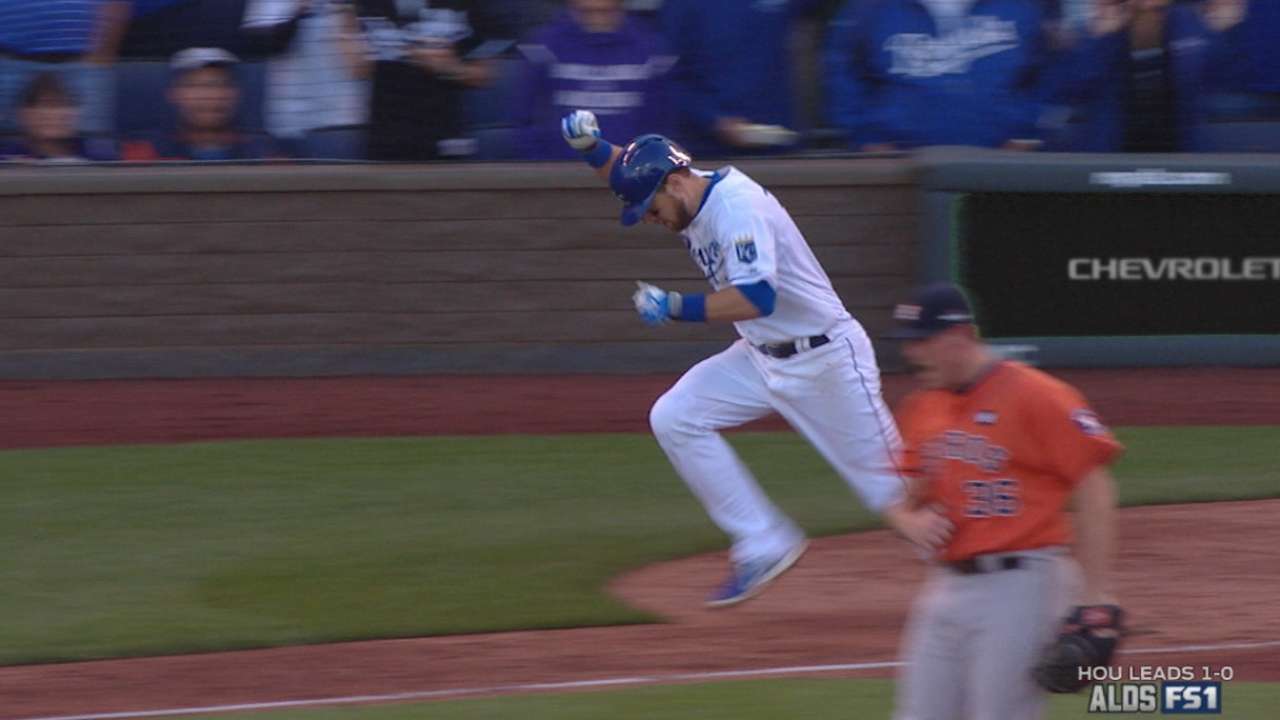 KANSAS CITY -- When the Royals acquired Ben Zobrist in a trade with the A's on July 26, they initially used him like a Swiss-army knife, as the versatile veteran saw time in left field, right field, third base and second base before he finally took over as the club's primary second baseman for Omar Infante in early September.
Zobrist made a major impact for the Royals down the stretch, hitting .284/.364/.453 with seven homers and 23 RBIs in 59 games after the trade. And he's carried it over into the postseason, going 4-for-8, including the go-ahead RBI single in a crucial 5-4 win over the Astros in Game 2 of the American League Division Series on Friday.
:: ALDS: Astros vs. Royals -- Tune-in info ::
"I was brought in here to help the club win," Zobrist said. "The bottom line is it's about getting wins, especially here in the postseason. Every win is important."
• Shop for Royals postseason gear
Zobrist, though, knows the Royals will have their hands full in Game 3 today at 4 p.m. ET on MLB Network, as Astros ace Dallas Keuchel will be on the mound. Keuchel, a leading AL Cy Young Award candidate, went 15-0 with a 1.46 ERA in 18 starts at Minute Maid Park.
"The book on him is that he's got to leave balls over the plate for you to hit it," Zobrist said. "If he's on, he's really though. Obviously, we saw that in New York [in the Wild Card Game win over the Yankees]. We'll look at some video and try to find some weakness and if we can exploit them."
Zobrist, a career .265/.355/.431 hitter, made his mark with the Rays, establishing himself as one of baseball's most versatile players given his skill set offensively and his ability to play multiple positions. He was an All-Star in 2010 and '13, and helped Tampa Bay to the postseason in 2008, '10, '11 and '13.
The 34-year-old Zobrist was traded to the A's before the season, but after they struggled this season, he was dealt to the Royals for pitchers Aaron Brooks and Sean Manaea. The trade has paid immediate dividends, and Zobrist's teammates are certainly happy the impending free agent was brought over from Oakland.
"He's just a professional," Royals third baseman Mike Moustakas said. "He comes to work every day ready to work and ready to win. When we got him at the Deadline it was a huge pickup for us. And what he does for this team is a lot more than what he does on the field. He's a professional and an incredible hitter. We're happy to have him here."
Zobrist has settled in as the Royals' No. 2 hitter behind leadoff man Alcides Escobar, who praised Zobrist for what he's brought to the club.
"He's really important for this team," Escobar said. "In the second half of the season, he gave a little bit more experience to the team. And he's great. He can play second, short, or in the outfield. With him hitting behind me, I feel really comfortable."
Rhett Bollinger is a reporter for MLB.com. Read his blog, Bollinger Beat, follow him on Twitter @RhettBollinger and listen to his podcast. This story was not subject to the approval of Major League Baseball or its clubs.