Astros-Royals ALDS Game 2: Did You Know?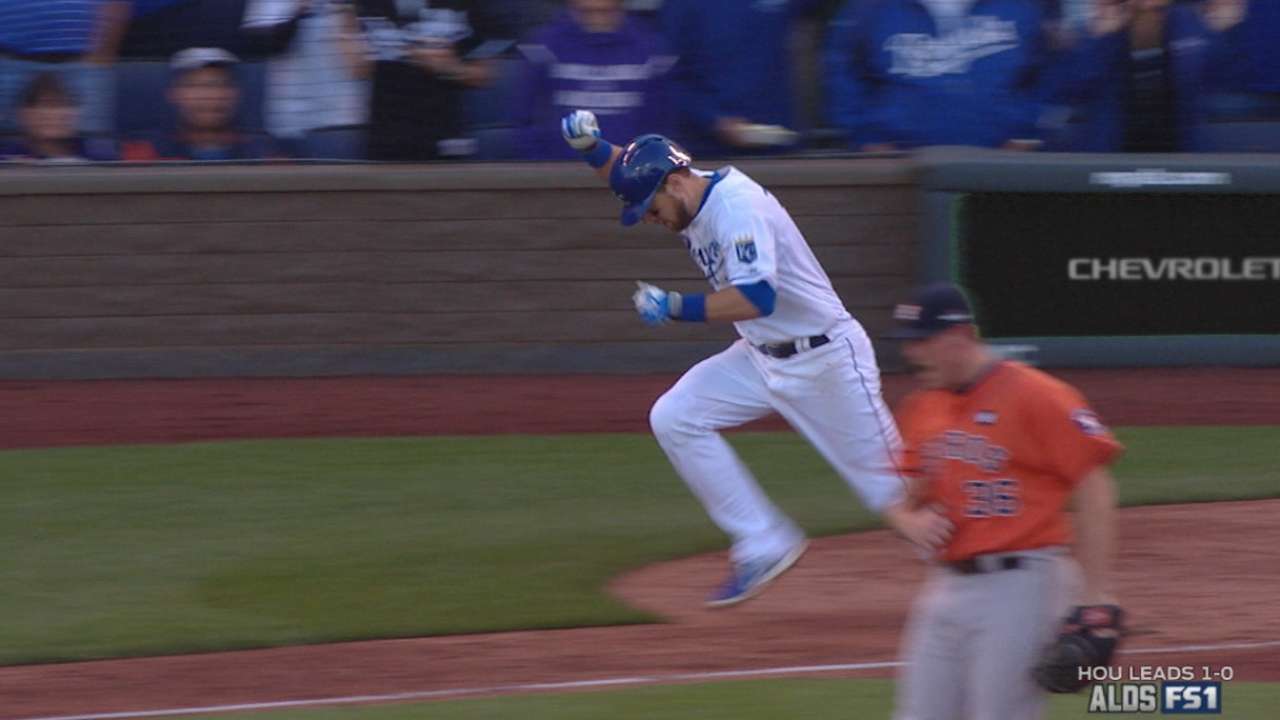 The Royals overcame two three-run deficits to crack the Astros' bullpen, winning 5-4 on Friday behind a go-ahead hit from Ben Zobrist to knot the American League Division Series at 1-1 as it heads to Houston for today's Game 3 (4 p.m. ET on MLB Network).
Here are some stats and facts you should know from Friday's game:
• The Royals were the first home team to win a game this postseason, snapping a five-game losing streak for home teams. This was the first postseason since 1906 that the road teams won the first five games.
• Royals catcher Salvador Perez, who drew a bases-loaded walk in the sixth inning off of Astros reliever Josh Fields to tie the game at 4-4, played in 142 regular-season games. Perez drew just nine unintentional walks, and he had just one walk in 64 postseason plate appearances entering Friday's game.
• Royals righty Johnny Cueto's six-inning stint was the longest of his postseason career -- following up on his previous two, in which he didn't finish the fourth inning.
Suffering from back spasms, Cueto left after facing just one batter with the Cincinnati Reds in Game 1 of the 2012 National League Division Series. He lasted 3 1/3 innings a year later in the NL Wild Card Game, infamously dropping the ball on the mound as Pirates fans chanted his name.
• Between Cueto's time with the Reds and Royals, he allowed three runs in the first two innings five times in the regular season, and he did it again Friday. Cueto's team lost all five of those regular-season games, but the Royals prevailed on Friday.
• Zobrist's go-ahead single in the seventh inning was only his second career postseason hit with runners in scoring position. In his 22 prior postseason games, Zobrist was just 1-for-18 with a runner in scoring position.
• Wade Davis' pick off of Houston pinch-runner Carlos Gomez was the Kansas City closer's first in two seasons, and it was just the sixth in his seven-year Major League career.
Gomez, representing the tying run with one out in the ninth, was initially ruled safe, but a replay review showed that Davis' short-hopped throw bounced into Eric Hosmer's glove, which touched Gomez's body just before his hand hit the bag and the call was overturned for a huge second out.
• Astros left fielder Colby Rasmus' two-out RBI double in the first gave him six extra-base hits in his first six playoff games -- a new Major League record for the most consecutive games with an extra-base hit to begin a postseason career.
The double also put Rasmus in elite company, as he joins Paul O'Neill, Devon White and former Astro Carlos Beltran as the only players in Major League history with an extra base hit in six or more consecutive postseason games. O'Neill has the record, getting extra bases in eight straight playoff games.
Rasmus has also driven in the Astros' first run in each of their first three playoff games.
• Rasmus added a mammoth solo homer in the third -- his sixth in his past six games. He has nine homers in his past 43 at-bats, adding to the career-high 25 he launched in the regular season.
• Making his first postseason start since 2009, Astros lefty Scott Kazmir's 5 1/3-inning stint was the second-longest postseason start of his career.
In the midst of a late-season struggle, Kazmir had gotten just one out in the fifth inning of his past three starts combined, but he turned in his longest start since Sept. 14 on Friday.
Chandler Rome is an associate reporter for MLB.com. This story was not subject to the approval of Major League Baseball or its clubs.