Alberto relishes role of unlikely Game 2 hero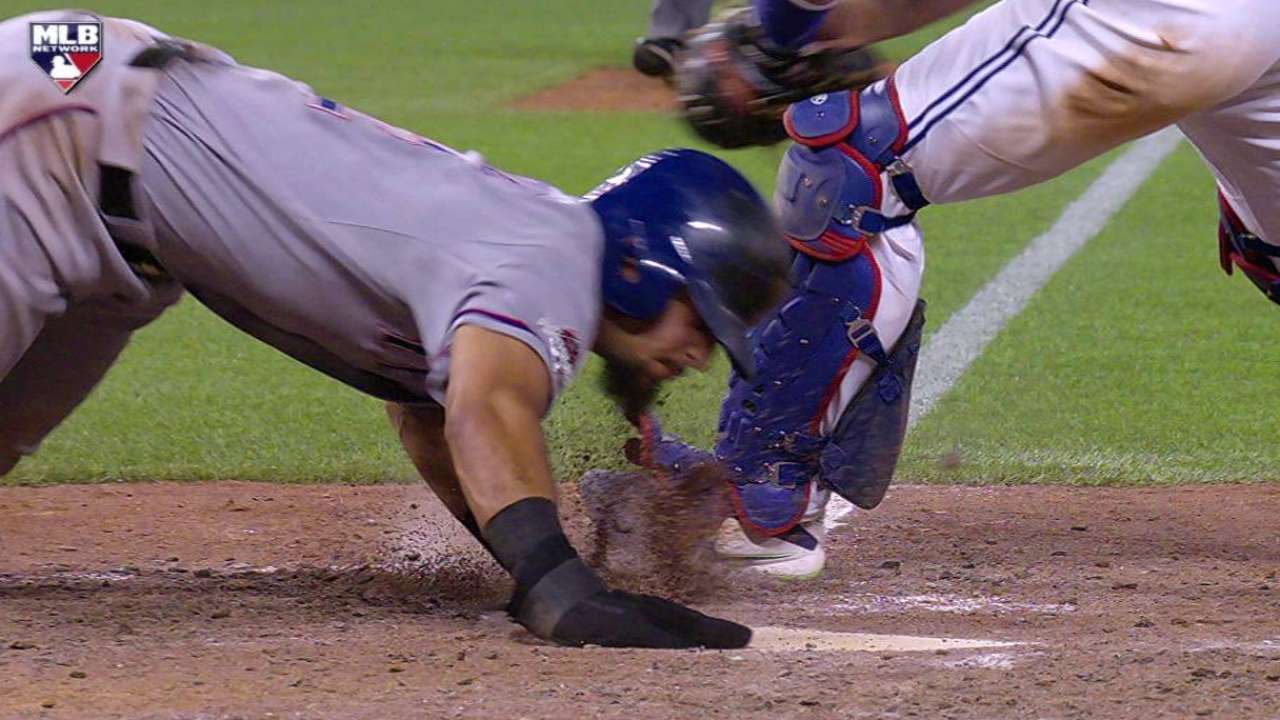 TORONTO -- Injured third baseman Adrian Beltre never left the bench on Friday afternoon. The Rangers' game-winning hit was delivered by a 22-year-old rookie infielder who had just two at-bats in the final month of the season.
Hanser Alberto was the one who wasn't supposed to leave the bench for the entire postseason, but there he was in the 14th inning, ruining a sellout crowd's day with a go-ahead single that propelled the Rangers to a 6-4 victory over the Blue Jays at Rogers Centre.
Delino DeShields delivered the second RBI single of the inning to help the Rangers grab a 2-0 lead in the best-of-five American League Division Series heading back to Texas.
"We got the first game, we were pretty confident going into the second game regardless of Adrian getting hurt," DeShields said. "We were kind of bummed out about that, but we kept our heads up and we came today ready to play. Getting an opportunity to go home and finish the job at home in front of our fans is, you know, what we live for."
Beltre suffered a strained lower back and had to leave Game 1 on Thursday after three innings. The Rangers still hope he can get back into the lineup before the series is over, but it was obvious to manager Jeff Banister on Friday morning he would have to go with Alberto at third base.
Alberto had a second-inning error that led to a pair of Blue Jays runs, but the Rangers were able to overcome that and put their rookie infielder in a position to win the game in the 14th inning.
"First of all, you know, I felt pretty sour in the moment because that cost us like a couple runs," Alberto said. "But you know we fight until the last out. It was a team effort and you know, just keeping my head up and ready for the next ground ball after that. A lot of more were coming, so I've got to be ready every time."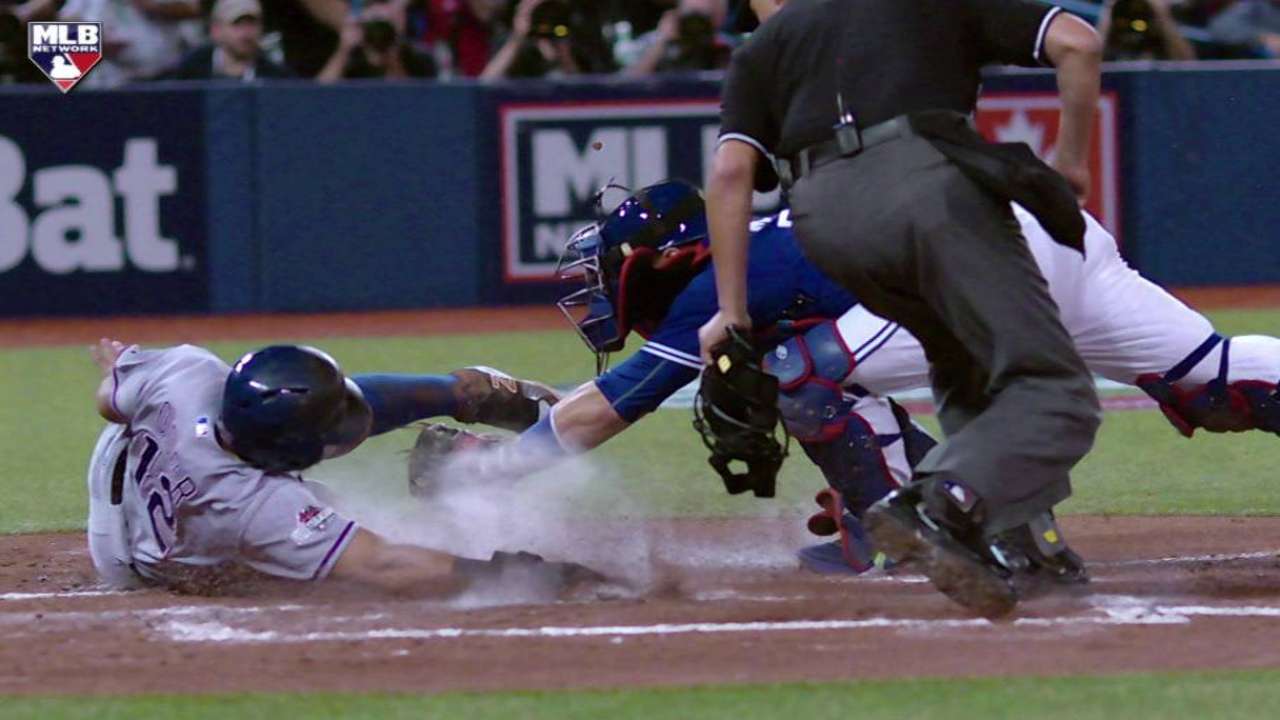 Rougned Odor started the two-out rally in the 14th by beating out an infield single against Blue Jays reliever LaTroy Hawkins. Chris Gimenez followed with a single to right and Odor almost made a huge baserunning mistake. He rounded second base too far and Blue Jays right fielder Jose Bautista threw behind him. Odor got back safely, but he almost came off the bag while shortstop Troy Tulowitzki was still applying the tag. Odor was ruled safe, and after a replay review, the call stood as called.
"I think anytime today's game, with the replay, any time there's a close play, you always try to keep a tag on," Tulowitzki said. "That's what I was doing there. Apparently [manager John Gibbons] called and it was close enough to review. Unfortunately it didn't go our way."
That brought up Alberto. Beltre had tried during the game to get loose on the bench and take a few swings off a tee. But he was not ready to go and Banister left Alberto in to hit against Hawkins.
"You know, I'd been 0-for-4, a couple strikeouts, but in postseason everybody's really important," Alberto said. "I was just looking for fastball every time, so finally I got it, put a good swing on it."
Alberto got two fastballs from Hawkins. He fouled off the first one and then lined the second into center field for a single. Blue Jays center fielder Kevin Pillar tried for the play at the plate and Odor slid in safely. That allowed the runners to move up to second and third, putting Gimenez in position to score on DeShields' infield single.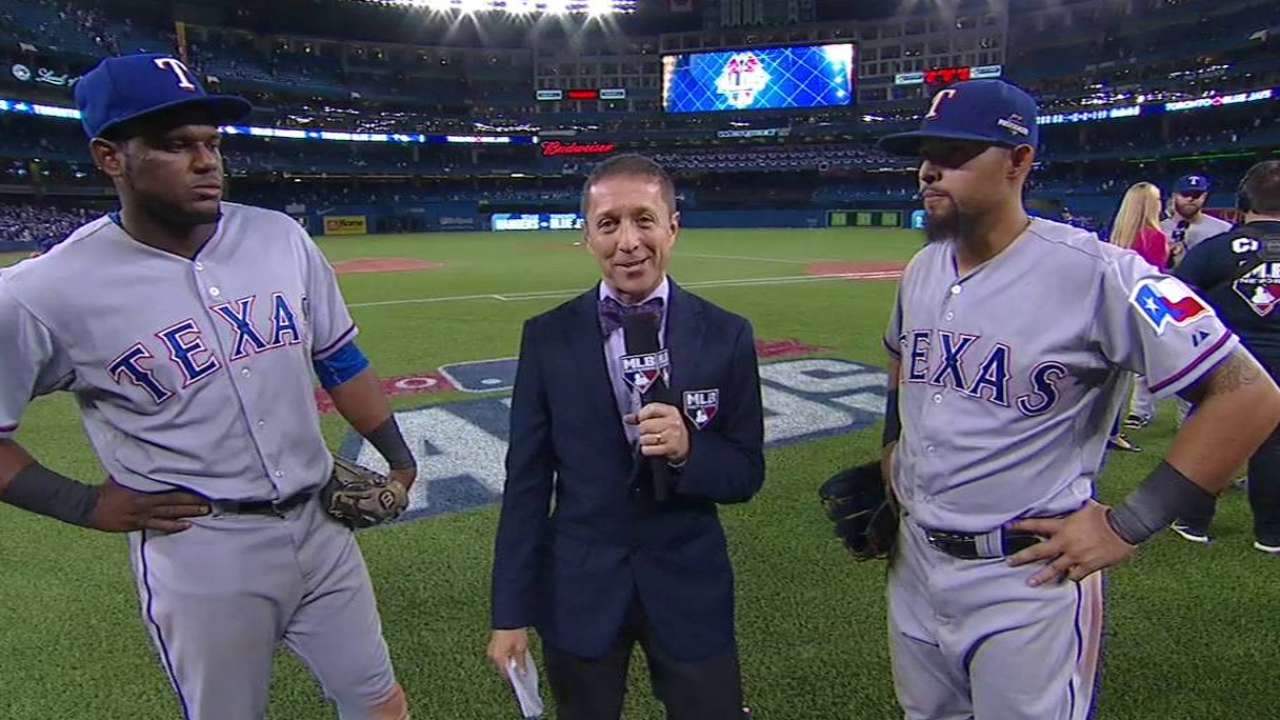 The next thing Alberto knew, he was being interviewed on MLB Network as the hero of Game 2.
"It's extremely special for him," Banister said. "Really, for a guy that has sat at the end of the bench for us, an extra player. We ask our guys to stay focused, into the game, ready, so when we ask them to go play the game of baseball, that they are ready. It's a testament to these guys to how they pay attention and they're on top of what we ask them to do, and they go out and compete."
T.R. Sullivan is a reporter for MLB.com. Read his blog, Postcards from Elysian Fields, follow him on Twitter @Sullivan_Ranger and listen to his podcast. This story was not subject to the approval of Major League Baseball or its clubs.