Former NLDS star Sanders helps opens series
Retired outfielder, who had record 10 RBIs in 2005 set, throws out first pitch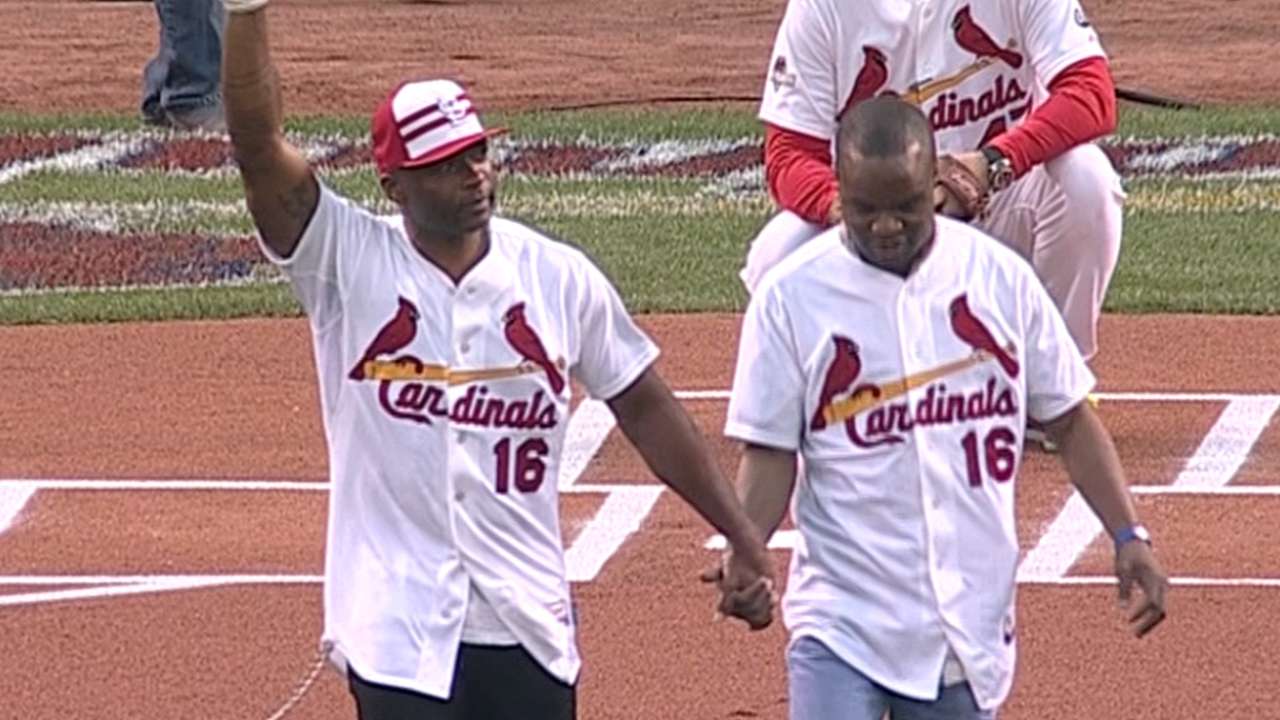 ST. LOUIS -- During his 17-year Major League career, outfielder Reggie Sanders went to the playoffs six times with five different clubs -- including twice for the Cardinals in 2004-05.
Sanders was needed once more in the postseason -- to throw the ceremonial first pitch moments before the start of Friday's Game 1 of the National League Division Series between the Cardinals and Cubs at Busch Stadium. The timing was fitting because it was 10 years ago when Sanders set an NLDS record with 10 RBIs in the 2005 NLDS vs. the Padres.
• Shop for Cardinals postseason gear
"It was humbling, No. 1," Sanders said of being given the honor. "When I got the call, I was like, 'Wow, I would definitely like to be a part of this.' ... It's always great to come back and be a part of the historical nostalgia of the Cardinals."
In a three-game St. Louis sweep of San Diego, Sanders notched six RBIs in Game 1 -- including a grand slam. In Game 2, he had a two-run double. In the Game 3, where his team clinched a trip to the NL Championship Series, he had another two-run double during the four-run second inning that effectively slammed the door on the Padres.
While the Cardinals have 11 World Series titles and 28 trips to the postseason -- including each of the last five seasons -- Sanders was another example that it's not always one of the legendary players that makes his mark in October.
"We were able to slow the game down at a time when it was fast," Sanders said. "Before coming to the Cardinals, it was a very difficult process during the postseason. But then I understood what those emotions were all about and was able to transcend those into a positive for myself to help the team move forward."
Sanders -- now 47 and living in Myrtle Beach, S.C., where he works in a variety of interests that includes helping people with autism become involved with baseball -- played from 1995-2007 and batted .267 with 305 home runs. Although he batted .195 in the postseason for his career, he had seven home runs, and 10 of his 25 career playoff RBIs are etched in history.
Sanders threw a strike to former Cardinals teammate and current coach John Mabry. At his side on the mound was his brother Demetrius, who lives with autism and is a catalyst with Sanders' community efforts.
Before Sanders took the mound, there were numerous traditions carried by a team that knows how to celebrate the postseason. The famous Budweiser Clydesdale horses paraded around the warning track to get the crowd excited.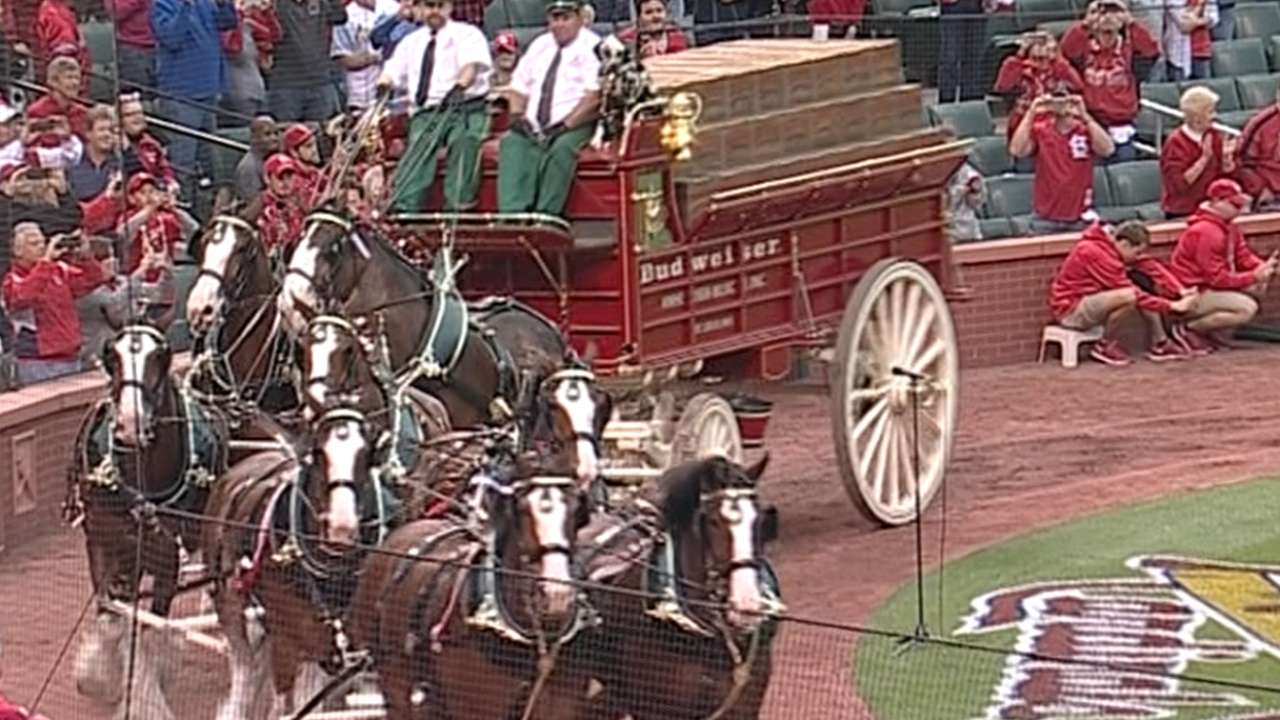 Following pregame introductions of both teams on the field, the national anthem was performed by 4-Digit Chord, an acapella vocal group of civilian, active duty and retired military volunteers. They are employed at Department of Defense agencies around the St. Louis area.
The colors and flag were presented by soldiers from Ft. Leonard Wood.
Then it was time to play ball. Sanders liked the Cardinals to advance in the series, because of something he was personally familiar with -- experience. The Cubs hadn't been to the playoffs since 2008, and have been long been searching for their first World Series title since 1908.
"They've been through this before," Sanders said of the Cardinals. "The team that understands how to control their energy and emotions throughout every pitch, and whatever comes up, that's the team that usually is going to be successful. And I think the Cardinals have that edge."
Mark Sheldon is a reporter for MLB.com. Read his blog, Mark My Word, follow him on Twitter @m_sheldon and Facebook and listen to his podcast. This story was not subject to the approval of Major League Baseball or its clubs.