Strop's struggles at Busch continue in Game 1
Reliever rested, but serves up two-run homer in eighth; Cubs request check of ball, not Lackey's arm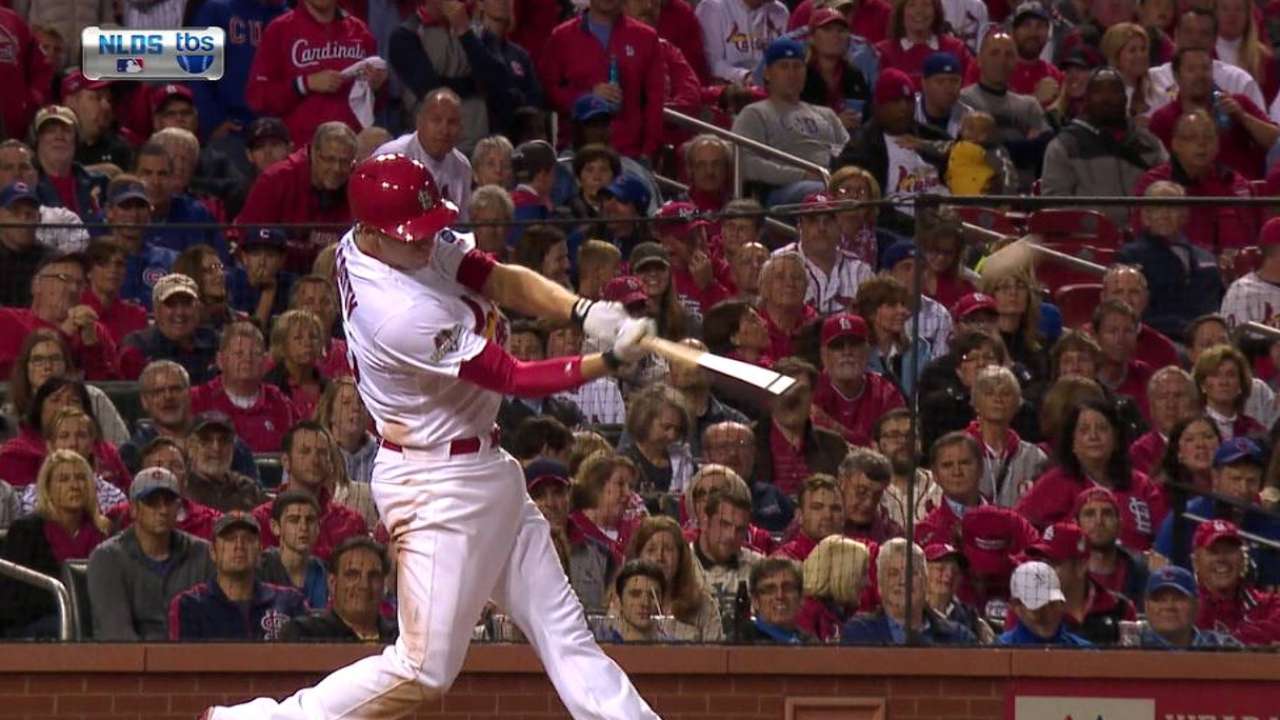 ST. LOUIS -- Before Friday night's game, Cubs manager Joe Maddon said he wouldn't hesitate to use Pedro Strop in the National League Division Series despite the right-hander's lack of success at Busch Stadium this season. Unfortunately, Strop's bad stretch continued during the Cubs' 4-0 loss to the Cardinals in Game 1.
St. Louis led, 2-0, with one out in the eighth when Strop replaced starter Jon Lester with a runner on first, and he served up a two-run homer to Stephen Piscotty.
"Today, I felt really good and I just missed my location," Strop said. "I was supposed to execute the pitch. There's no pressure. It just happened."
Strop was 0-2 with an 11.05 ERA in 11 games against the Cardinals in the regular season, giving up nine earned runs on 10 hits and six walks. He was 1-for-3 in save situations as well. His numbers at Busch Stadium were worse. Strop has given up seven runs on seven hits and five walks over two innings in five games.
"I won't run away from him," Maddon said before the game. "He's one of our best relief pitchers and one of the best in the National League. We'll run him out there at the appropriate time. I will. We will not run away from that."
The problem isn't Busch Stadium. Strop said he likes pitching here and that the mound is comfortable. In 2014, the right-hander pitched in St. Louis three times and had no problems over two innings in the first two games, but he gave up one run on two hits in two-thirds of an inning in his last outing there on Aug. 31.
Is he feeling any postseason pressure?
"Not really, to be honest," Strop said. "I'd be honest and tell you. I've been in the playoffs before -- I pitched in New York [in 2012], and [Yankee Stadium] is the craziest ballpark that can be. I've been there before. I didn't feel any pressure. It was just normal. I didn't execute that pitch. This guy [Piscotty] is good. That's a good team."
• Shop for Cubs postseason gear
One of Strop's rough outings against the Cardinals this year occurred June 26. He entered the game in the eighth inning with the Cubs leading, 2-1, and served up a game-tying leadoff home run to pinch-hitter Greg Garcia, then hit the next batter. Strop got Matt Carpenter to fly out but then walked Jhonny Peralta and was pulled.
The good news is Strop and the rest of the Cubs' bullpen is well rested, helped by Jake Arrieta's complete game in the NL Wild Card Game presented by Budweiser.
"This time of the year, you can utilize your bullpen without really killing them," Maddon said. "You win championships because your bullpen does a great job. Our guys are rested, and I have a ton of confidence in them."
Strop isn't deterred by his struggles in St. Louis.
"I never give up," he said. " I don't know what's going on. I'm going to be all right. Somehow I'm going to fix it."
Extra bases
• After Anthony Rizzo fouled a ball off in the seventh, it was returned to Cardinals pitcher John Lackey. Normally, foul balls are replaced. The Cubs asked home-plate umpire Phil Cuzzi to look at the ball, and a new one was put in play.
The Cubs weren't asking the umpire to check Lackey's arm for any foreign substance, which was a rumor circulating.
"Nobody in our dugout mentioned anything about anybody's arm," Cubs catcher David Ross said. "Listen, this is baseball. We're not here to accuse anybody of anything. We're not here to rip on the umpire. We're not here to rip on if John Lackey's doctoring a ball. Who cares? We're trying to win. We're trying to compete."
• Maddon considered starting left-handed-hitting Tommy La Stella against Lackey on Friday.
"You could make an argument for La Stella over [Starlin] Castro, but Starlin's body of work in September stands out," Maddon said of the second baseman, who went 0-for-3. "He's been playing really good second base, so you can't walk away from that either."
Castro, benched as the shortstop in early August, rebounded well to lead the NL in batting in September with a .426 average. Which means La Stella was on the bench.
"That's his own fault for being a good pinch-hitter," Maddon quipped of La Stella.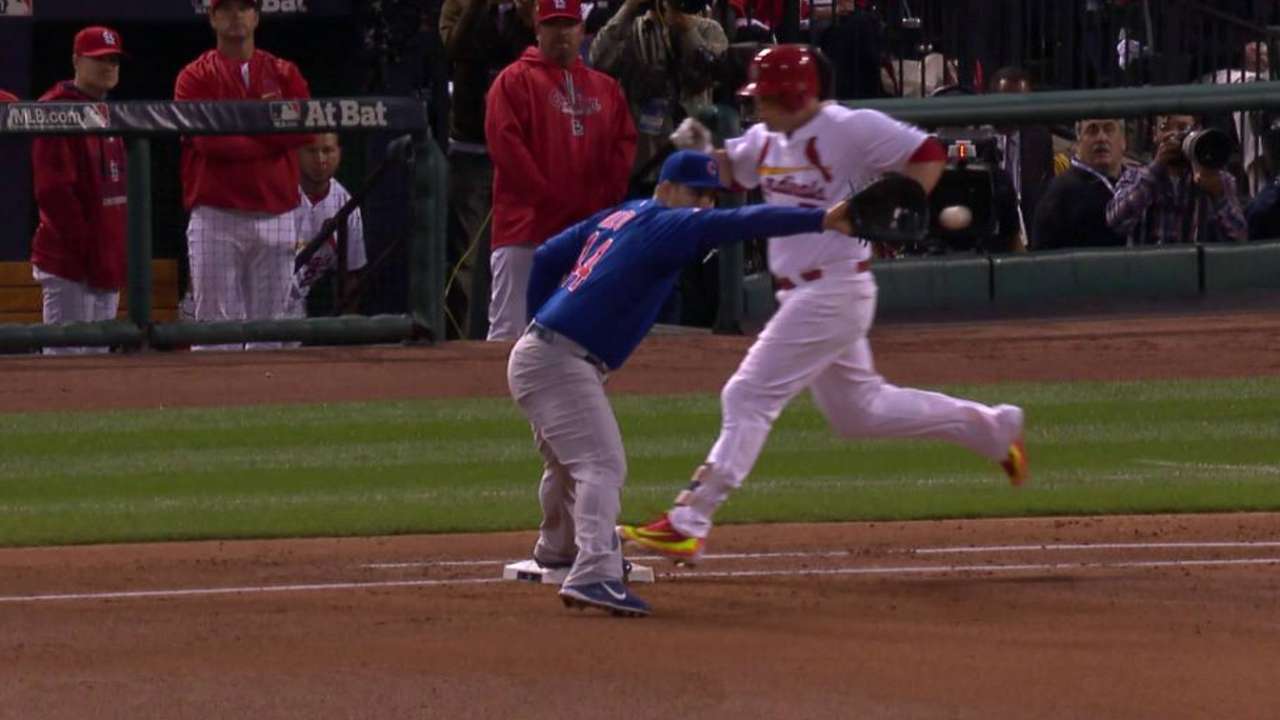 • Maddon was hoping Hall of Famer Bob Gibson might stop by Busch Stadium so he could say hello to the Cardinals pitcher. The two met briefly in the Dominican Republic back in the 1980s.
"I'd love to say hello to him if he's willing to say 'hi' to the opposition," Maddon said. "He was my favorite baseball player."
Gibson was at Busch for a book signing, but he most likely didn't know about Maddon's invitation.
How big a fan of the Cardinals was Maddon? He recalled arguing with some Yankees fans about the merits of the 1964 Cardinals. And Maddon was 10 years old at the time. He has a letter from former Cardinals -- and Cubs -- broadcaster Harry Caray from 1967.
"I speak with reverence about that particular [Cardinals] group in the '60s," Maddon said. "The Cardinals in the '60s were my group."
Carrie Muskat is a reporter for MLB.com. She writes a blog, Muskat Ramblings. You can follow her on Twitter @CarrieMuskat and listen to her podcast. This story was not subject to the approval of Major League Baseball or its clubs.