Royals roar from behind with pair of late rallies
Surge in sixth, seventh brings KC back after early 3-0 deficit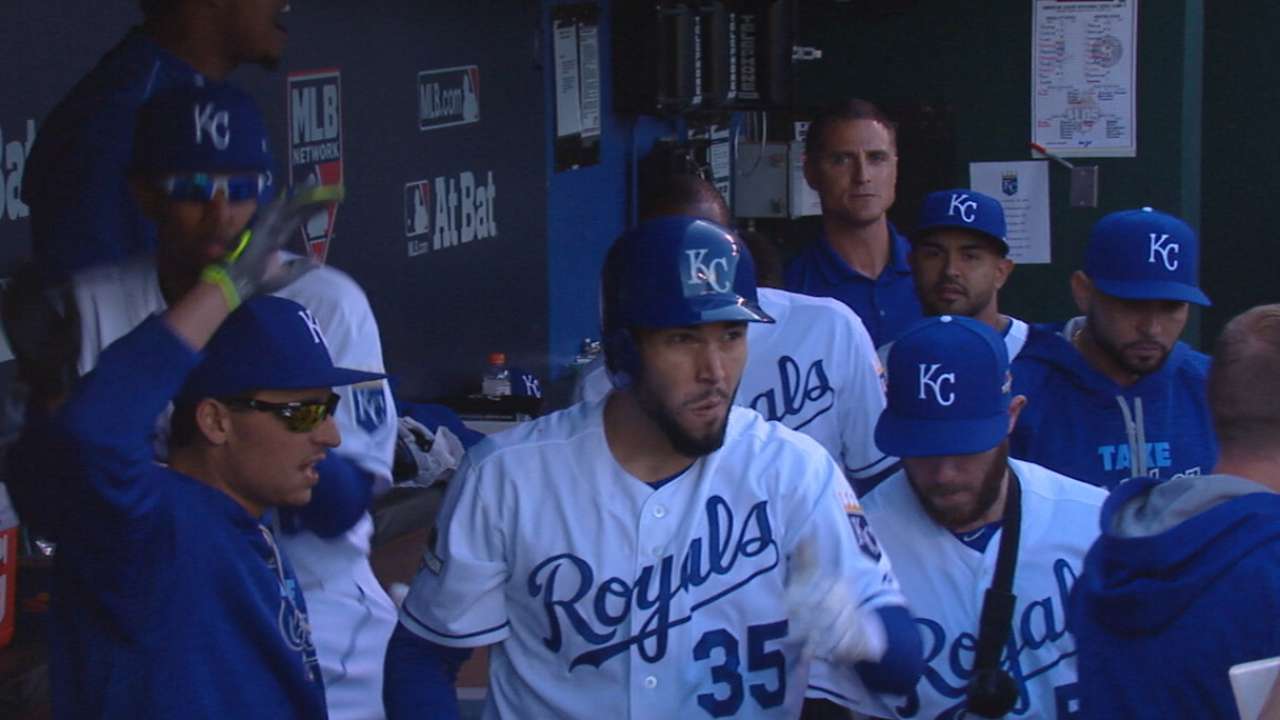 KANSAS CITY -- It was the type of inning the Royals could look back on as the one that saved their season, much like their epic late comeback against the A's in the 2014 American League Wild Card Game.
After Astros lefty Scott Kazmir held them in check for 5 1/3 innings, the Royals rallied for two runs in the sixth to tie the score at 4 in an eventual 5-4 win in Game 2 of the AL Division Series on Friday at Kauffman Stadium.
• Shop for Royals postseason gear
"I think last year, after the Wild Card Game, [when we were down] four runs in the seventh inning, we got a little experience," said catcher Salvador Perez, who drew a crucial bases-loaded walk in the two-run sixth. "No matter what inning we are, if we're down four runs, if we're up four runs, we need to play hard and finish the game."
Lorenzo Cain sparked the two-run sixth with a double to right with one out to knock Kazmir from the game, then Houston brought in lefty reliever Oliver Perez to face the left-handed-hitting Eric Hosmer.
"I just tried to get the rally started there with the double," Cain said. "It was huge [to get Kazmir out of there]. We needed that win. To me, it was a must-win [situation]."
Perez got Hosmer down, 0-2, in the count, but Hosmer was able to dunk a bloop single into shallow left to score Cain, who was running on the pitch.
"I swung at two bad ones to make it 0-2, so I was just trying to battle," Hosmer said. "That's what we do as a team. We try to put the ball in play and make something happen. And it just worked out."
Switch-hitter Kendrys Morales followed with a single to right on a grounder hit where the second baseman would normally play, but Jose Altuve was shifted.
"Today they worked out in our favor," Hosmer said of the shifts. "Some days they work, and sometimes they don't. This is a team that not only shifts for different at-bats but pitch to pitch."
"I don't think it has anything to do with analytics," Astros manager A.J. Hinch said. "I think it has everything to do with [the fact that] they did a pretty good job at finishing their at-bats. They're a tough team to get out. Even the two-strike hits in the sixth, we had a two-strike double to Cain, a two-strike one-armed single to Hosmer, a two-strike rolling ground ball to second base from Morales right-handed. They continued to compete through their at-bats. They didn't get to where they're at without being a pretty good offensive club."
Perez then walked the left-handed-hitting Moustakas on five pitches to load the bases with one out. Right-hander Josh Fields came in and promptly walked Perez on four pitches, with the fourth reaching the backstop, sending home the tying run.
"It was huge at that point," Kansas City manager Ned Yost said. "Tied the ballgame up and put us in a position to take the lead with one out, bases loaded."
Fields, though, settled down and struck out Alex Gordon and Alex Rios swinging to get out of the jam.
But the Royals were able to shake off their missed scoring chance, as Ben Zobrist came through with a go-ahead RBI single in the seventh to score Alcides Escobar after Escobar had led off the inning with a triple against a shallow outfield.
"To come back with Esky's big triple, the opposite way, and then Ben Zobrist driving the ball the opposite way for the game winner was key," Yost said. "The offense took advantage of opportunities when we had them and found a way to win a baseball game."
Rhett Bollinger is a reporter for MLB.com. Read his blog, Bollinger Beat, follow him on Twitter @RhettBollinger and listen to his podcast. This story was not subject to the approval of Major League Baseball or its clubs.