Hendricks rides hot streak into Game 2 start
In first postseason experience, young righty can help swing NLDS momentum in Cubs' favor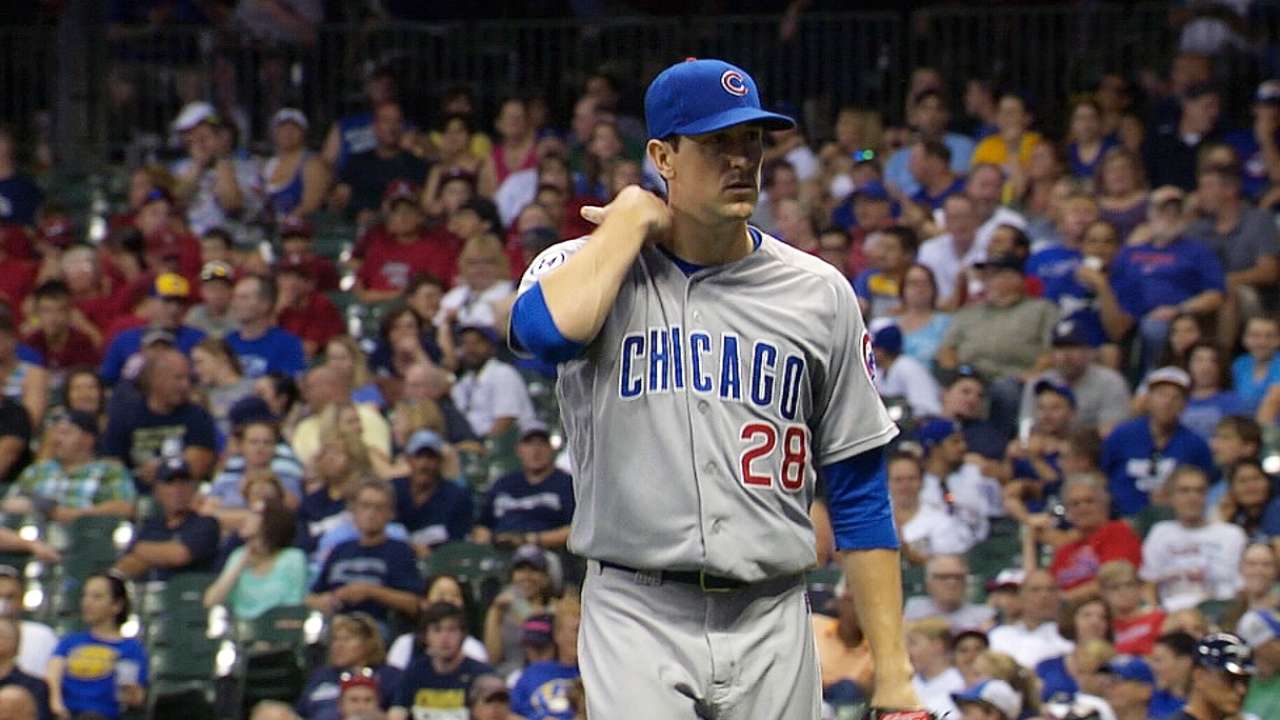 ST. LOUIS -- There was little question Jon Lester would be the Cubs' Game 1 starter in the National League Division Series. With Jake Arrieta on regular rest, there was no doubt he'd get the Game 3 nod.
But who would the Cubs send to the mound Saturday in Game 2 (5:30 p.m. ET/4:30 CT on TBS) against the Cardinals at Busch Stadium? The way Kyle Hendricks pitched in his last two starts provided the Cubs with an obvious answer.
Manager Joe Maddon announced the Cubs' NLDS rotation on Thursday, revealing that Hendricks was sandwiched between Lester and Arrieta. It was a mildly surprising assignment considering Hendricks -- who will look to help even the NLDS after the Cubs' 4-0 loss in Game 1 -- is only 25 years old and coming off his first full season.
But Hendricks wasn't surprised.
"I've been preparing myself for any possibilities, so I wasn't caught off guard," he said Friday. "But I was definitely excited. I'm glad they gave me this opportunity."
Hendricks earned the opportunity down the stretch, proving he could be an important part of a potential postseason rotation. The right-hander will enter his first postseason start riding a 12-inning scoreless streak over his last two starts.
• Shop for Cubs postseason gear
Hendricks dominated the Royals and Brewers in his final two outings, striking out 17 and allowing only three hits to finish the year with an 8-7 record and 3.95 ERA.
"As far as how I was pitching and the pitches I was making, I felt a lot better in my last two starts, finally getting the ball down with some angle," Hendricks said. "So I'm just trying to build off that, stay in that same zone, stay in my lane and just make good pitches."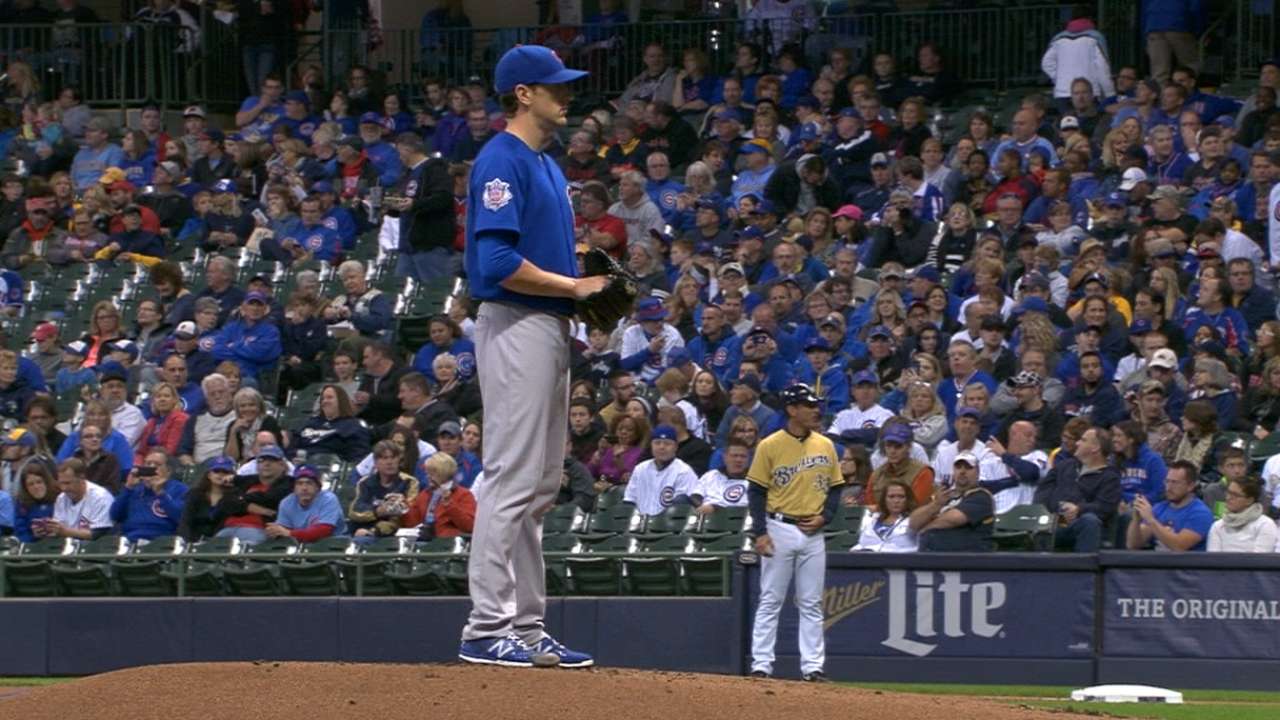 Hendricks will start opposite Cardinals lefty Jaime Garcia in a critical spot for the Cubs. Clubs in an 0-1 NLDS hole have gone on to lose 34 of 40 times. Teams with a 2-0 advantage in the NLDS have been virtually guaranteed a series victory, with 21 wins and only one loss.
That's been especially true for these two teams. The Cardinals are 8-0 when winning Game 1 of the NLDS. The Cubs have lost each of their 11 postseason series that began with a Game 1 defeat.
But if Hendricks can keep the Cubs in the game long enough for them to win it, he might swing the series momentum completely back in Chicago's direction. After Saturday's game, the Cubs will head home with Arrieta starting the first game at Wrigley Field.
• Bryant, Cubs look to break out vs. Cards in Game 2
"Tomorrow's a new day. We've got Kyle on the mound. If we split this series, it's all positive," Cubs catcher David Ross said after Friday's game. "Let's get tomorrow. Then we'll be even. Then it's a shorter series, and we get to go home. And we've got Jake going."
Hendricks faced the Cardinals only once this season, giving up four runs in five innings on May 5. He pitched well against St. Louis in three starts last year but has not won a game against the Cards.
Lester's hard-luck loss in Game 1 on Friday night showed how it might take a nearly perfect outing to beat St. Louis.
• Tale of the Tape: Hendricks vs. Garcia
"I mean, they're the best team in baseball, right?" Hendricks said. "They put together an unbelievable plan. They know how to attack whatever pitcher they're facing that day, so when you're facing these guys, you've got to be thinking when you're on the mound."
Thinking on the mound shouldn't be an issue for Hendricks, a Dartmouth College graduate with a degree in economics. But he's already guarded himself against over-thinking, carrying his normal regular-season routine into the biggest start of his young career.
"No differently," Hendricks said of his preparation. "It is a postseason game, but I'm still going out to the mound, 60 feet, 6 inches away, doing my same game."
Adam Berry is a reporter for MLB.com. Follow him on Twitter at @adamdberry. This story was not subject to the approval of Major League Baseball or its clubs.