Dodgers put trust in rookies; Mets, lefties
Starting lineups for Game 1 of Division Series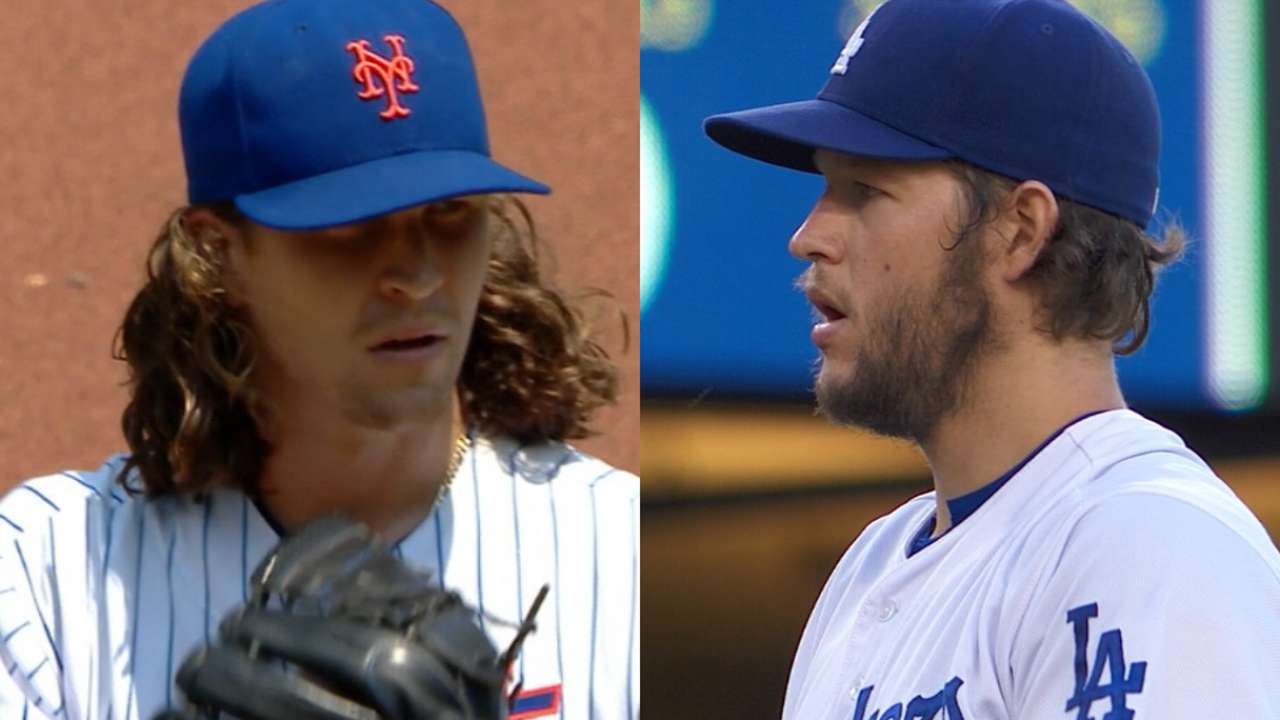 LOS ANGELES -- Rookies Corey Seager and Joc Pederson are in the Dodgers' starting lineup for Friday night's Game 1 of the National League Division Series against the Mets and right-handed starter Jacob deGrom.
Manager Don Mattingly batted Seager third in his postseason debut as the starting shortstop over veteran Jimmy Rollins and Pederson got the start in center field over another rookie, Kike Hernandez.
The 21-year-old Seager is the youngest Dodgers position player to start a postseason game (previously 22-year-old James Loney).
Mattingly wouldn't elaborate on what went into his decision of starting Pederson, who hit .201 this year, over Hernandez, who hit .307.
"It's what we thought was best for today," Mattingly said. "We try to match up and thought that was best."
Mattingly also offered little insight into the decision to bat Seager third, with Adrian Gonzalez protecting him at clean-up. Seager hit third only twice in September and went 1-for-8.
"We've put him all over and he's seemed to handle everything," Mattingly said. "As we talk about, just a combination of guys and where we felt was best."
DODGERS LINEUP
Carl Crawford, LF
Howie Kendrick, 2B
Corey Seager, SS
Adrian Gonzalez, 1B
Justin Turner, 3B
Andre Ethier, RF
A.J. Ellis, C
Joc Pederson, CF
Clayton Kershaw, P
As promised, Mets manager Terry Collins poured all but one of his top left-handed hitters into his Game 1 lineup, despite the presence of Dodgers lefty starter Clayton Kershaw.
Curtis Granderson, Daniel Murphy and Lucas Duda all made the Mets' Game 1 lineup, with rookie outfielder Michael Conforto their only regular starter confined to the bench. Right-handed hitter Michael Cuddyer took Conforto's spot, batting seventh.
Though the Mets benched most of their left-handed hitters regularly down the stretch against lefty starters, Collins wanted to stack his lineup Friday with his top overall bats. That paved the way for Granderson (1-for-10 lifetime against Kershaw), Murphy (3-for-10) and Duda (1-for-10 with seven strikeouts) to play, with Collins slotting Murphy cleanup for the 16th time this year.
Cuddyer is 4-for-16 against Kershaw, earning the start in large part because the Mets limited Conforto to just 15 plate appearances against left-handed pitchers this season.
As expected, the Mets also started Ruben Tejada (5-for-14 off Kershaw) over Wilmer Flores at shortstop.
METS LINEUP
Curtis Granderson, RF
David Wright, 3B
Yoenis Cespedes, CF
Daniel Murphy, 2B
Travis d'Arnaud, C
Lucas Duda, 1B
Michael Cuddyer, LF
Ruben Tejada, SS
Jacob deGrom, P
Ken Gurnick is a reporter for MLB.com. This story was not subject to the approval of Major League Baseball or its clubs.