Zobrist caps rally, Royals even ALDS at 1-1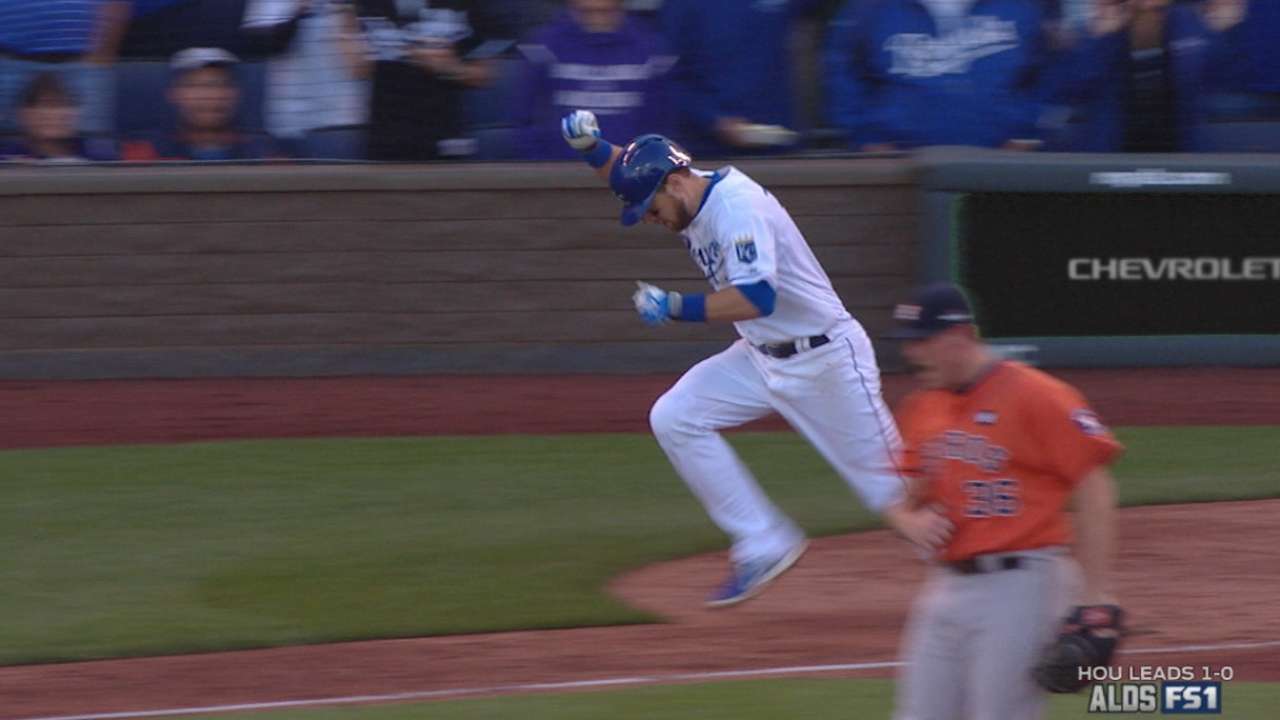 KANSAS CITY -- Ben Zobrist singled in the go-ahead run in the seventh inning off Astros reliever Will Harris, scoring Alcides Escobar, and the Royals' bullpen tossed three scoreless innings in a pulsating 5-4 win on Friday at Kauffman Stadium as Kansas City evened the American League Division Series at 1-1.
Game 3 is today at Houston's Minute Maid Park at 4 p.m. ET on MLB Network.
The Royals were the first home team to win this postseason, as the road teams won the first five games. The only other time that the road team won the first five games of a postseason was 1906.
• Big hit for Zorilla helps KC win thriller
"To me, this was a must win," center fielder Lorenzo Cain said. "And we found a way to get it done."
• Shop for postseason gear: Astros | Royals
The Astros feel confident in having Dallas Keuchel get the ball in Game 3 on Sunday at Minute Maid Park, where he went 15-0 in the regular season, but they can't help but think they let one get away after leading, 4-1, in the third inning in Game 2.
"We were in position early to win that game," Astros manager A.J. Hinch said. "They did a good job of getting to us in the sixth and seventh. Their bullpen did a very good job of shutting us down."
Astros left fielder Colby Rasmus had another phenomenal day, hitting an RBI double and a home run, his second of the series. Rasmus' double made him the first player to have an extra-base hit in each of his first six postseason games.
• Rasmus slugs way into playoff record book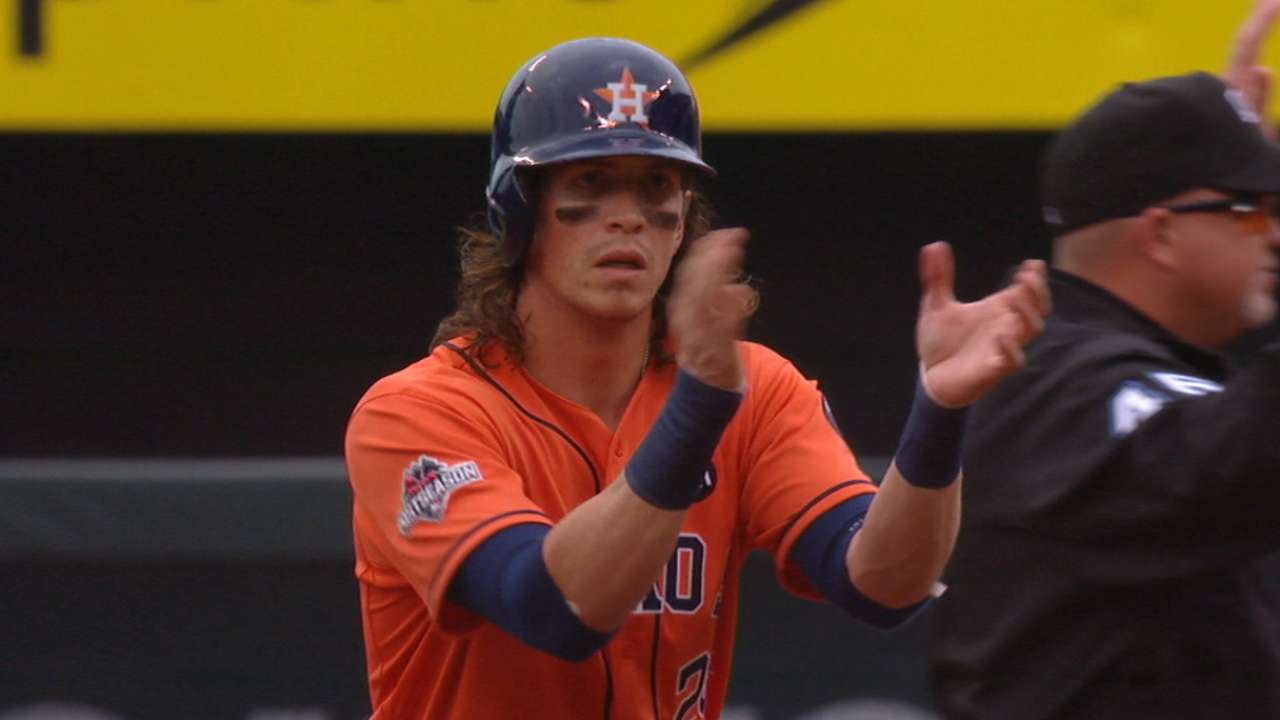 The Royals also benefited from a replay challenge in the ninth. After a one-out walk, Kansas City closer Wade Davis tried to pick off pinch-runner Carlos Gomez, who was originally ruled safe. After a challenge, the ruling was overturned and Gomez was out.
• Pickoff of Gomez thwarts potential Astros rally
"That's almost an impossible call for the umpire to make, because he's blocked out," Royals first baseman Eric Hosmer said. "But I thought I got [Gomez] on the arm. I could feel it. I didn't know if we got him, but I thought we should take a shot."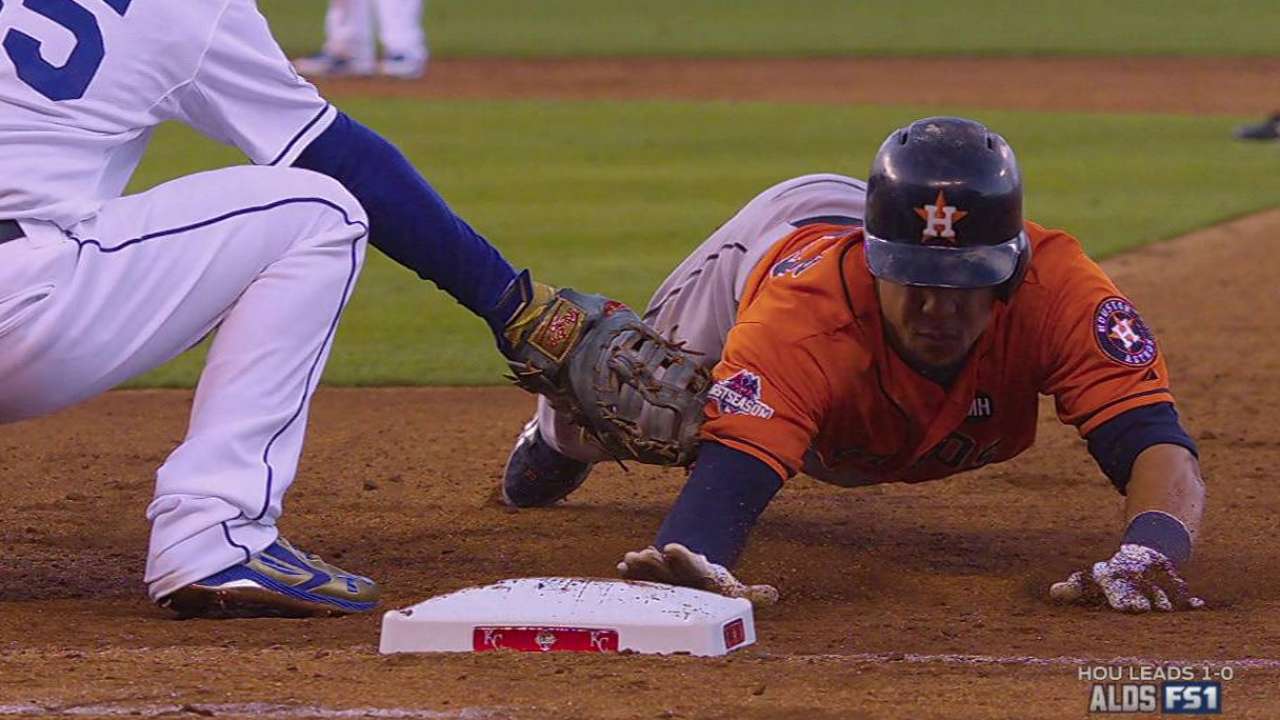 Right-hander Johnny Cueto started for the Royals and wobbled through the first three innings, giving up four runs. But he retired 12 of the last 14 batters he faced.
• Cueto gets stronger later, keeps Royals in it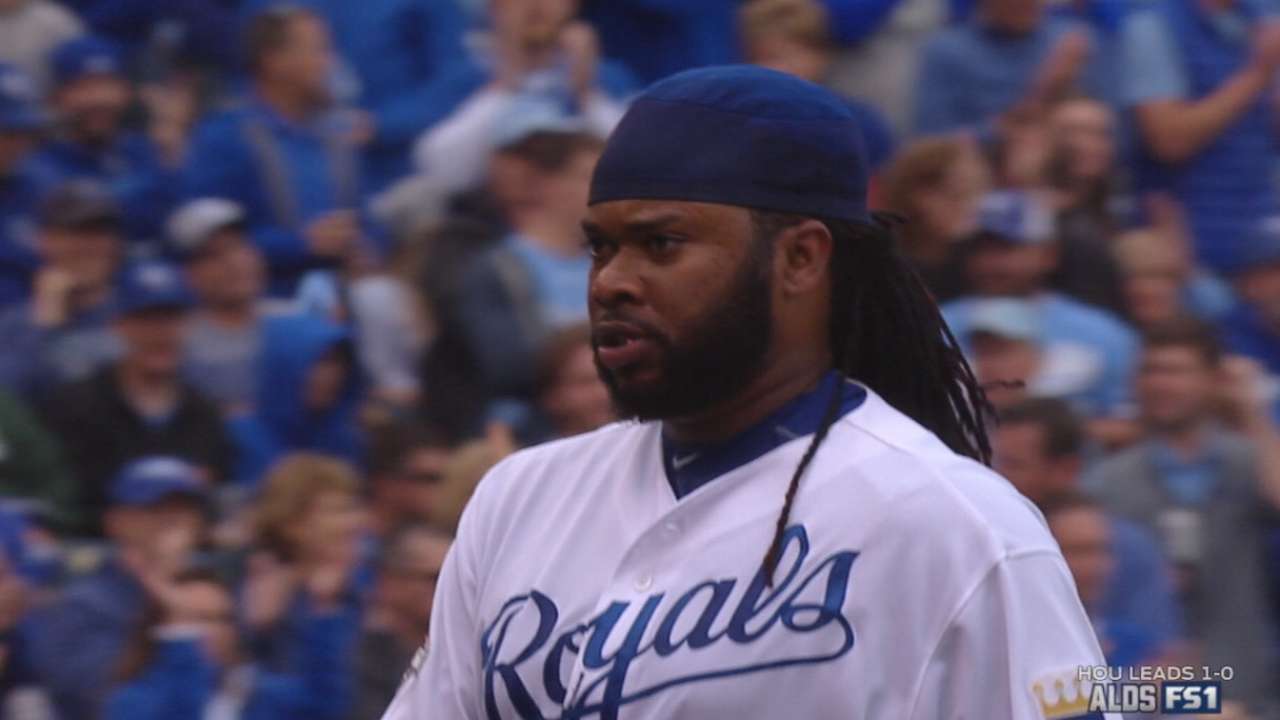 "In the beginning, I didn't feel as strong," Cueto said through interpreter Pedro Grifol. "But then I started to settle down and locate better. That was a big win, because we didn't want to go to Houston down 0-2."
The Royals got three shutdown innings from their big three relievers -- Kelvin Herrera, Ryan Madson and Davis.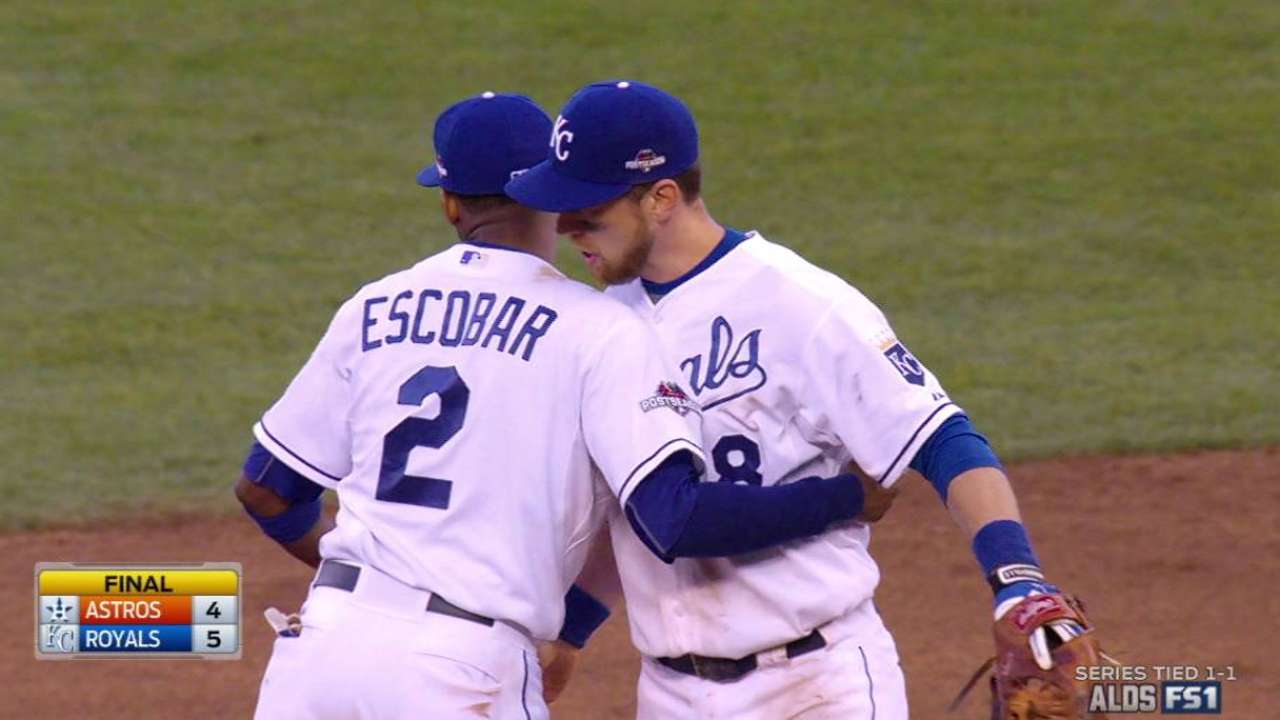 "Once we tied that ballgame up in the sixth inning there, you know that you got Herrera, Madson and you've got Davis," Royals manager Ned Yost said. "You've got [Danny] Duffy still available down there. You feel really good about your chances of holding the score right there until you can score.
"Thankfully, we scored in the seventh, got it done there. And Madson came in and was tremendous, and Wade Davis was unbelievable. That play that Hoz made on the pickoff was -- I don't know if there's a lot of first basemen that can make that play. It was tremendous."
Left-hander Scott Kazmir started for the Astros and went 5 1/3 innings, giving up five hits and three runs. He walked one and struck out four.
• Kazmir puts struggles behind, sets Astros up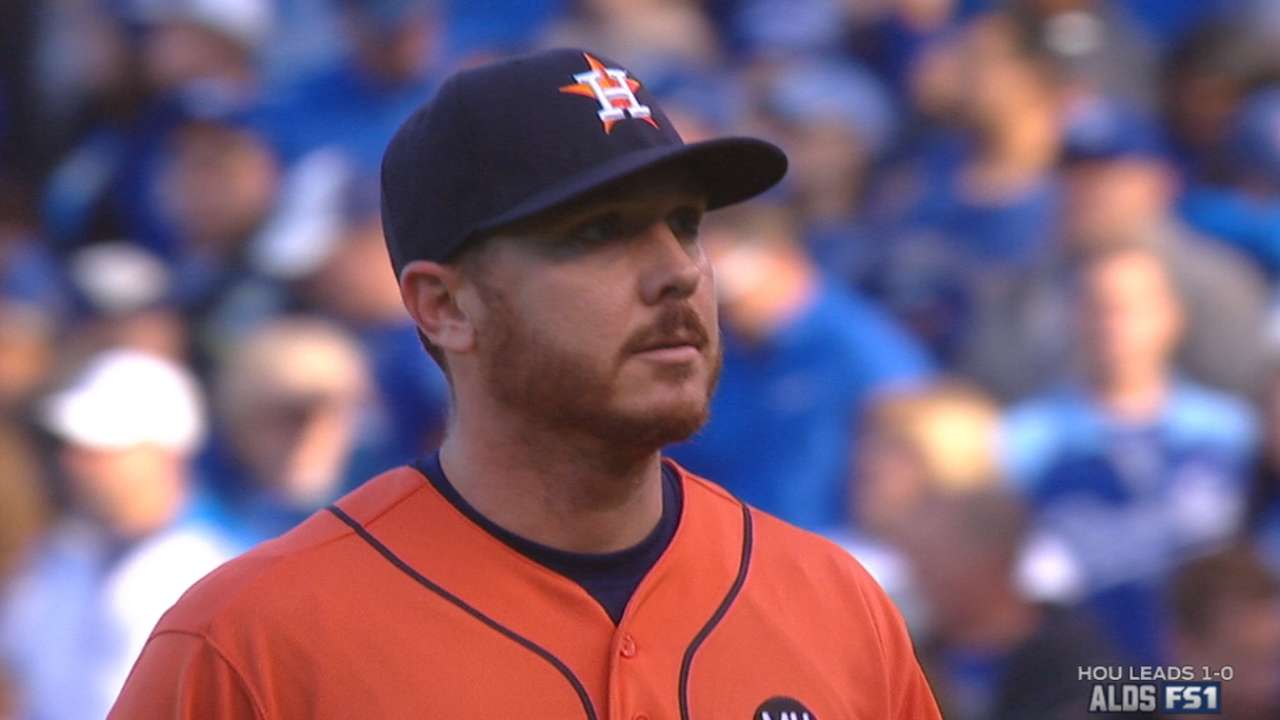 MOMENTS THAT MATTERED
Emergency hack: Cain got the Royals' two-run rally going in the sixth with a one-out double into the right-field corner. And then left-hander Oliver Perez came in to face Hosmer, who quickly got in an 0-2 hole. But as Cain took off for third, Perez threw a slider out of the zone and Hosmer just flipped his bat toward it -- the barrel made contact with the ball and Hosmer had an RBI flare single to left. Later in the inning, Salvador Perez walked with the bases loaded, tying the score at 4.
• Royals roar from behind with pair of late rallies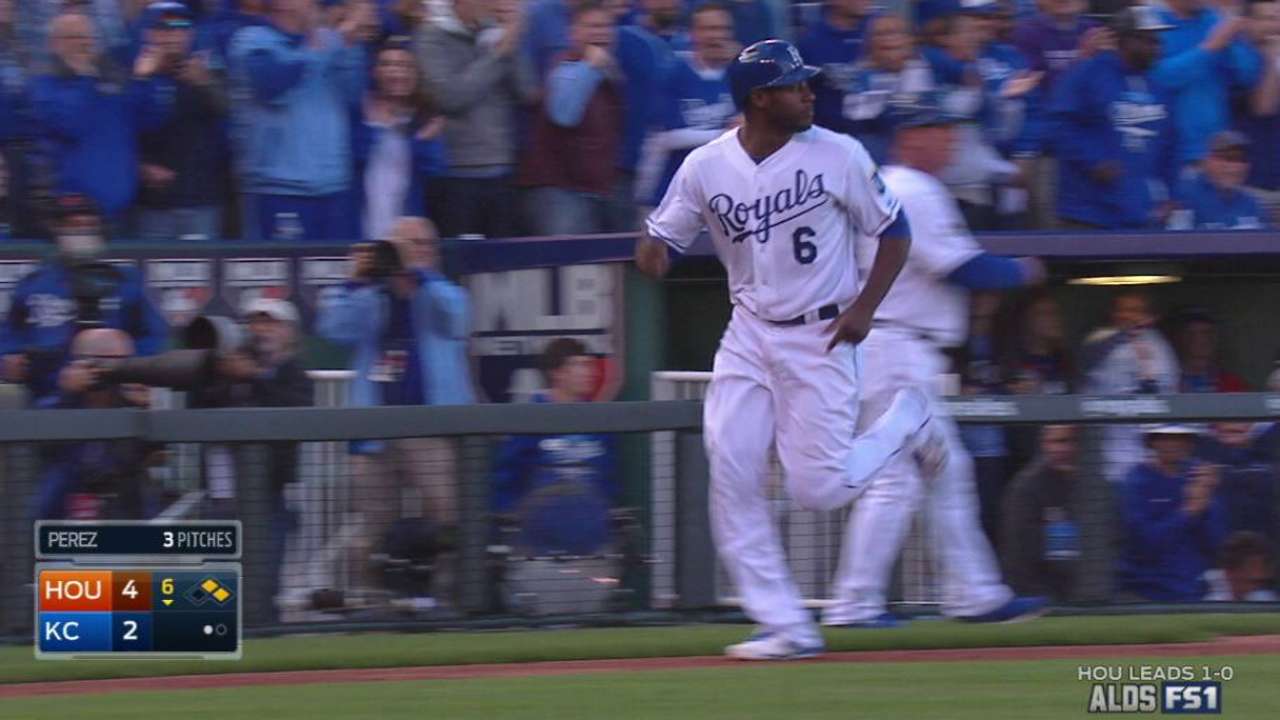 Hit 'em where they ain't: The Astros' bullpen couldn't protect a lead, but outside of a four-pitch walk by Josh Fields to Perez, their relievers didn't pitch poorly. Hosmer's bloop single in the sixth off Perez scored a run, and Kendrys Morales followed with a grounder that went right through a hole on the right side of the infield created by a defensive shift. Escobar tripled to lead off the seventh on a fly ball that dropped between center fielder Jake Marisnick and right fielder George Springer, who was playing shallow and had to make a long run. Escobar scored the winning run. Springer said the twilight glare wasn't a factor.
• Springer keeps up torrid pace in Game 2
"I knew it was over my head," he said. "It was a perfect spot at a bad time."
Esky finally burns 'em: No team has played Escobar as shallow as the Astros have this year, especially in right field. During the season when Rasmus was in right field, he often played directly behind Jose Altuve at second base. But Escobar could not punch a fly ball over Rasmus' head in the six regular-season games. Finally, Escobar got it done -- he drove a fly ball over Springer's head in the seventh inning for a leadoff triple. He then scored on Zobrist's single to put the Royals up, 5-4.
• Escobar makes Astros' shallow outfield pay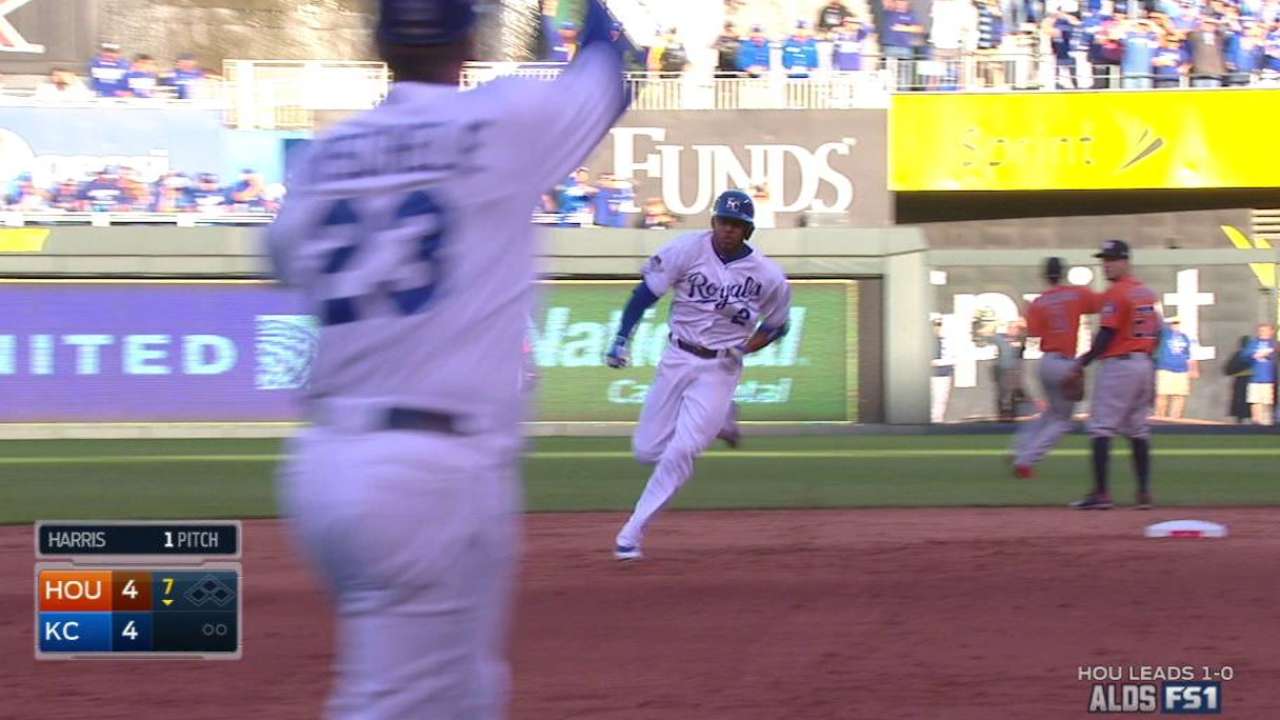 "They've been playing so shallow [against Escobar] that you knew it would come back to haunt them," Hosmer said.
Stay hot, Colby: Rasmus homered in his third consecutive playoff game, launching a solo shot in the third inning that put the Astros ahead, 4-1. He also had an RBI double in the first inning.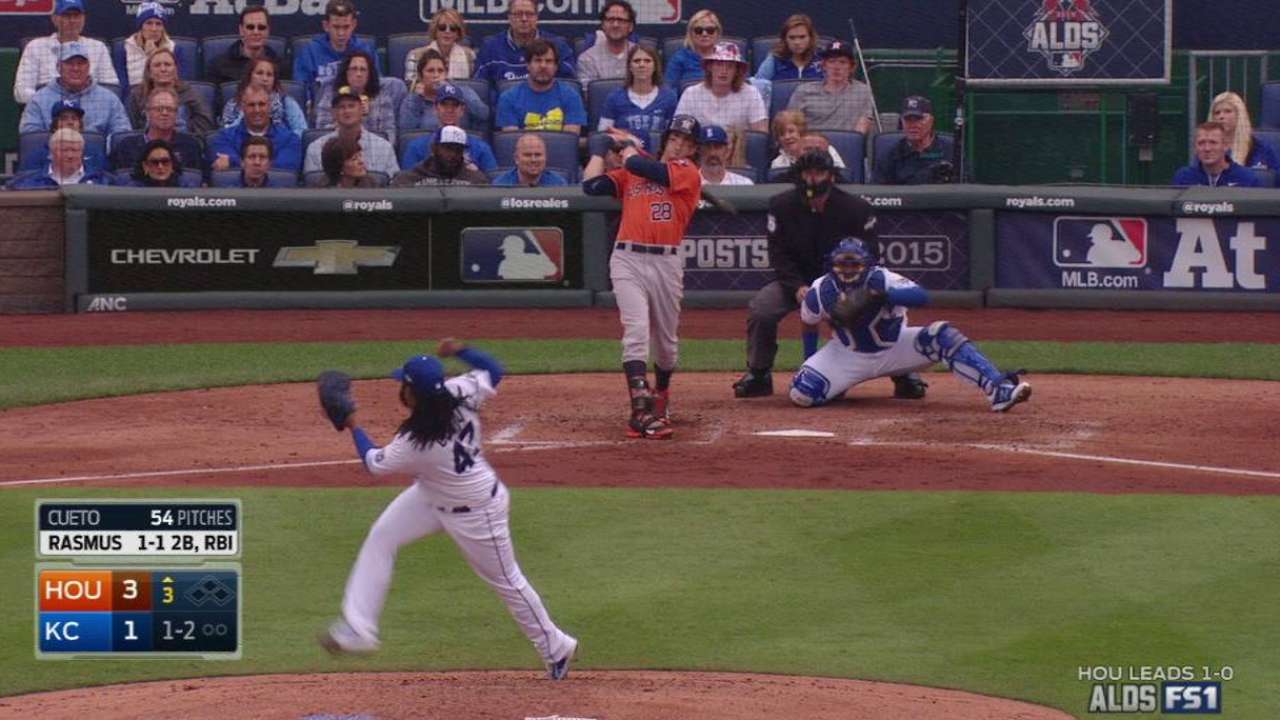 "No one even thought we were going to be in this position to begin with, so for us to be 1-1 going back to our place, I think that's a blessing in itself," Rasmus said. "We can't be down. We played hard today, gave it all we had. That's a good team over there. They're hungry from last year, and today they were able to get us."
QUOTABLE
"The offense finally got on track. I just kept waiting somewhere in the game to get something started, because I knew the crowd would really get involved. And, finally, we tacked one on and then we tacked another one on. And then we finally scored two to tie it there I think in the sixth. Salvy's walk was huge." -- Yost
• In tough spot, KC shows postseason mettle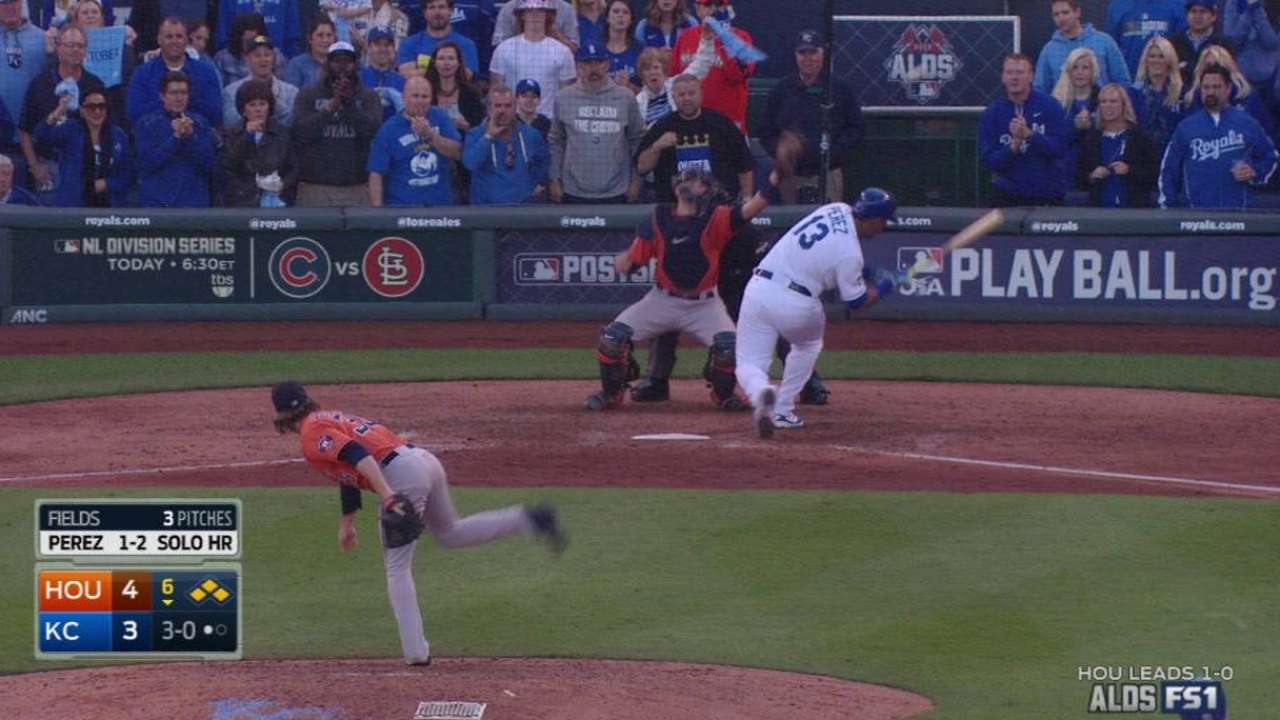 "I don't feel like [the] mission's accomplished. I want to win every game. So I think I'm happy that we're going home. I know the Houston fans are ready for us to come home. We've got home-field advantage for the rest of this series. We've got to take care of business in our own backyard." -- Hinch
• Split in KC has Hinch feeling unsatisfied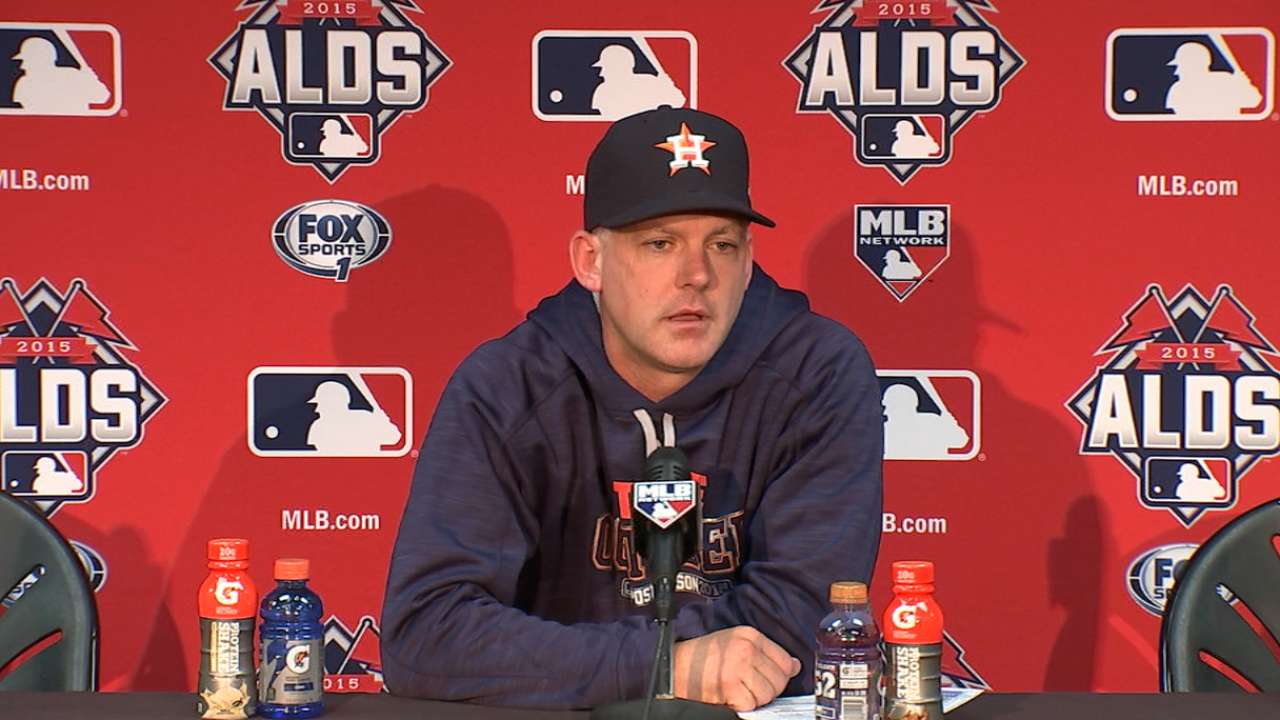 ROYALS' FIRST REPLAY VICTORY
The Royals challenged an out call in the third inning when Escobar bunted toward first and Kazmir flipped the ball to second baseman Altuve covering first. Escobar appeared safe but was called out. After a one-minute, 23-second review, the call was overturned.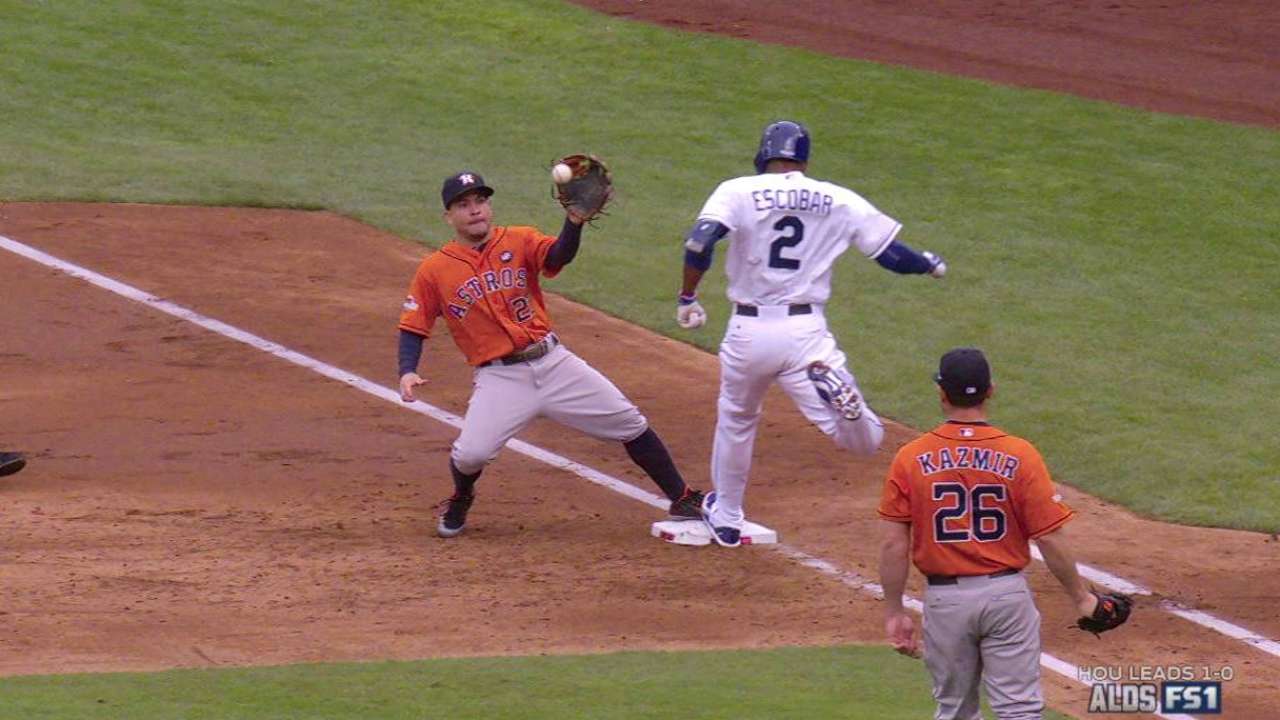 WHAT'S NEXT
Astros: Left-hander Keuchel will get the start in Game 3 on Sunday at Minute Maid Park, where he's 15-0 with a 1.46 ERA in 18 starts. Keuchel threw six scoreless innings Tuesday against the Yankees in the AL Wild Card Game presented by Budweiser in his first career postseason start.
Royals: Right-hander Edinson Volquez will take the hill in Game 3 on Sunday. Volquez will be making his third postseason start -- he also started a game each for the Reds and Pirates. He has a 12.15 postseason ERA.
Jeffrey Flanagan and Brian McTaggart are reporters for MLB.com. This story was not subject to the approval of Major League Baseball or its clubs.