Home digs perfect fit for Keuchel in Game 3
Astros lefty boasts 15-0 record in 18 starts this season at Minute Maid Park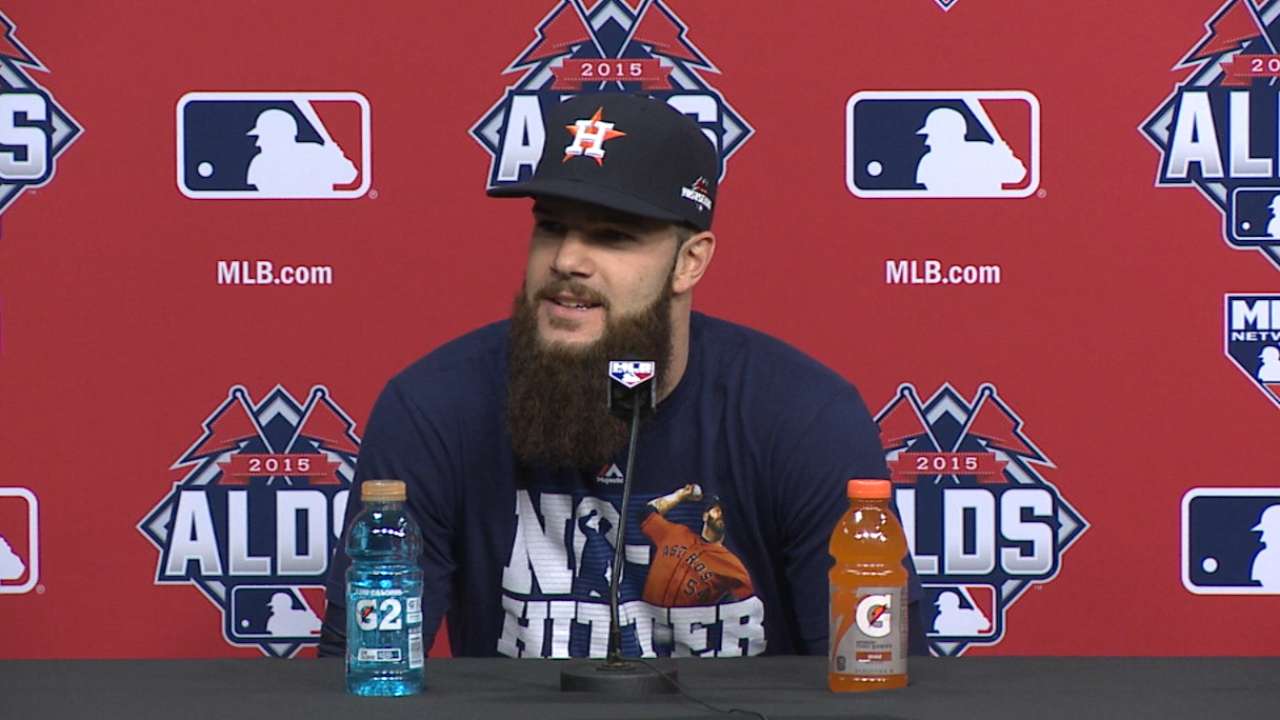 HOUSTON -- The very picture of collectedness and confidence, Astros ace Dallas Keuchel embodies every bit the kind of pitcher a club desires to have on an adrenaline-fueled postseason stage.
But Keuchel, who will ring in the first playoff game at Minute Maid Park since 2005 today at 4 p.m. ET on MLB Network) against Edinson Volquez and the Royals in Game 3 of the American League Division Series, insists he's not immune to the jitters.
The lefty, hoping to give his club a 2-1 edge in this best-of-five set, simply shields them.
• Shop for Astros postseason gear
"Maybe I just hide my emotion in my beard. That's why I keep growing it out," Keuchel said, grinning. "I don't know. I'm a little nervous inside, for sure, but at the same time the guys behind me are looking at me, so I'm not going to let them see if I'm nervous or anxious or whatnot. And I think some of the best do the same as well."
At 27, Keuchel is hardly a youngster on a team full of kids. But they all share in advertising the same confidence, which is a big reason why they continue to defy expectations and surprise with big wins.
Winning at home is all Keuchel knows, ostensibly putting the odds in Houston's favor come Sunday, where he'll return to a mound on which he went 15-0 with a 1.46 ERA this season. In doing so, Keuchel became the first pitcher in Major League history to go undefeated with at least 14 wins at home in one season.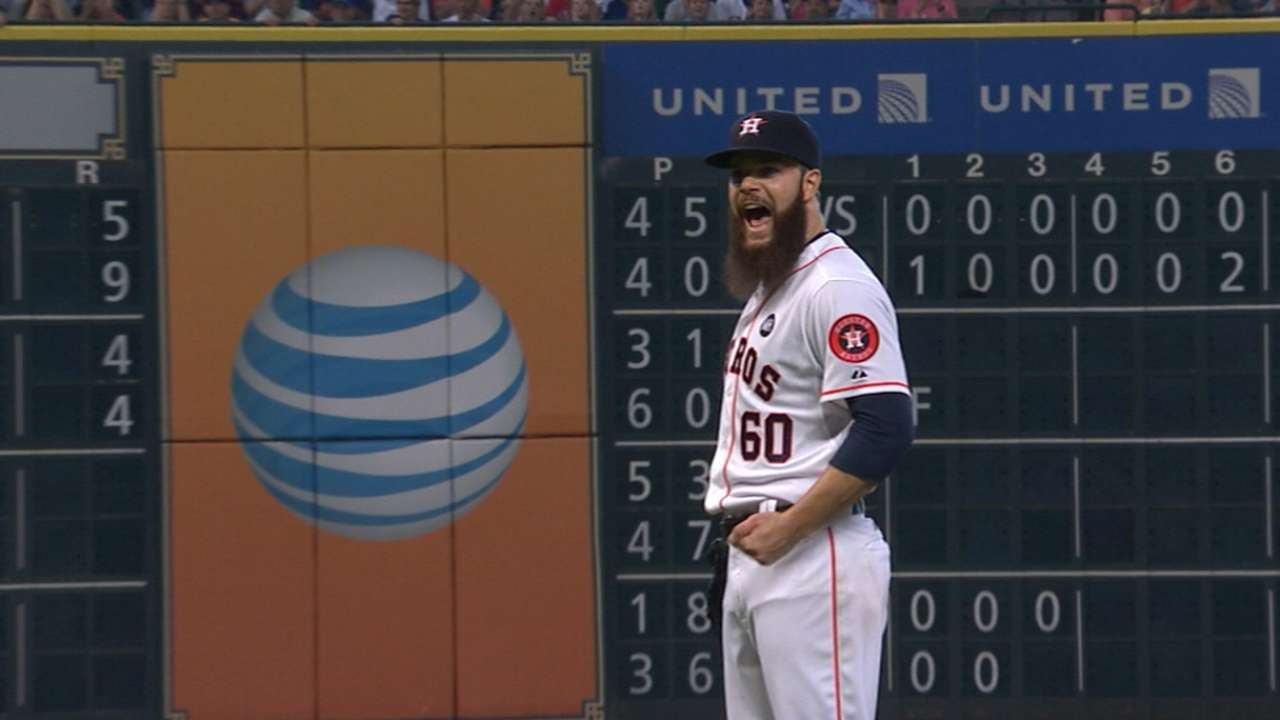 Overall, Keuchel went 20-8 with a 2.48 ERA across an AL-best 232 innings to put his name into AL Cy Young Award consideration.
"I do know that going into tomorrow, I like that record," Astros manager A.J. Hinch said during Saturday's workout. "I like that it's in his favor and how comfortable he is at home. I like that there's going to be a lot of guys and a lot of people in the stands that are anxiously waiting for him to get on the mound. There's a ton of confidence in this city and in this clubhouse when he's pitching at home."
Keuchel's last start came on Tuesday in New York. Pitching on three days' rest for the first time in his career, he baffled the Yankees for six innings of three-hit ball to help the Astros earn a 3-0 victory in the AL Wild Card Game presented by Budweiser.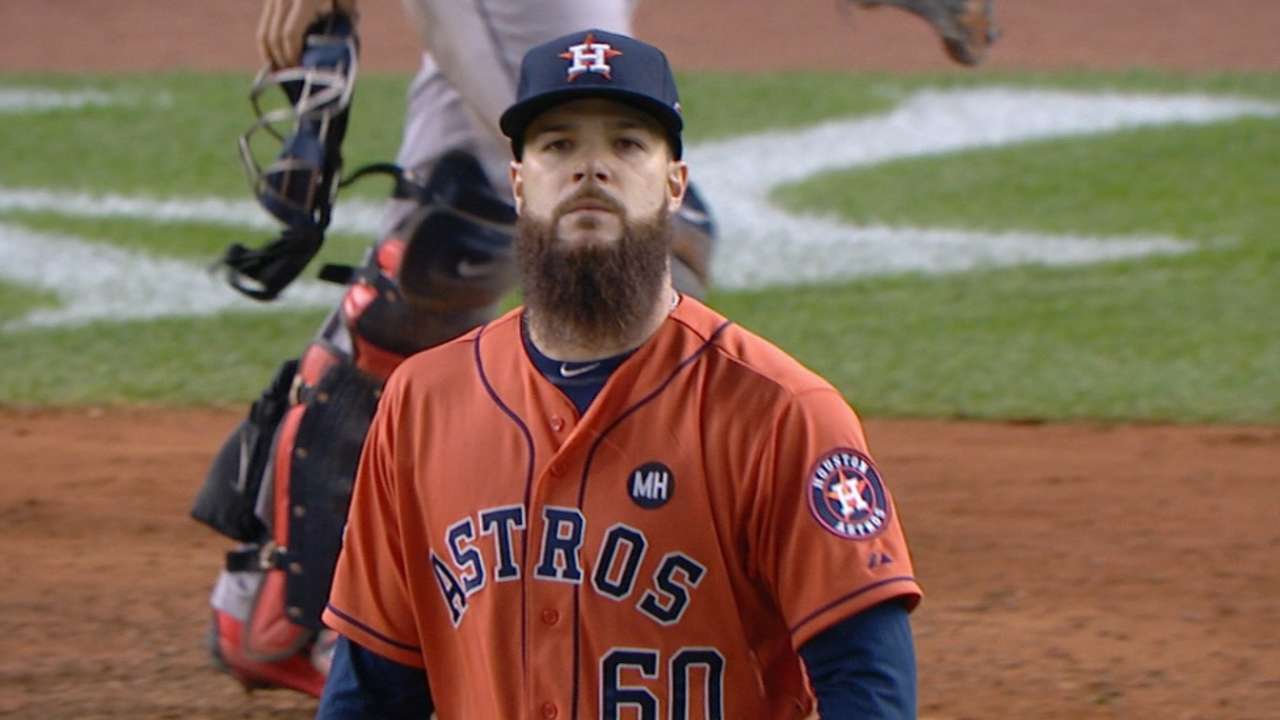 Such a performance has come to be expected from Keuchel, as it will be Sunday. No matter, the lefty treats each start the same.
"I think every start is big, whether it's a midseason start or a Division Series start," he said. "This is one of the best teams to go up against just because they've had so much success the last couple years. So my skill level is going to have to be at an all-time high, and I'm looking forward to the challenge."
During the regular season, Keuchel was 1-1 with a 3.07 ERA in two starts against the Royals, allowing five runs and 17 hits in 14 2/3 innings.
"Their one through nine is very deep, and it's one of the deepest lineups professionally that you're going to see out there," he said. "So I've got to keep grinding each at-bat. But it's going to fun."
Jane Lee is a reporter for MLB.com. Follow her on Twitter @JaneMLB and listen to her podcast. This story was not subject to the approval of Major League Baseball or its clubs.