Veteran Volquez out for 1st postseason victory
Righty hopes to use playoff experience vs. Astros' ace in Game 3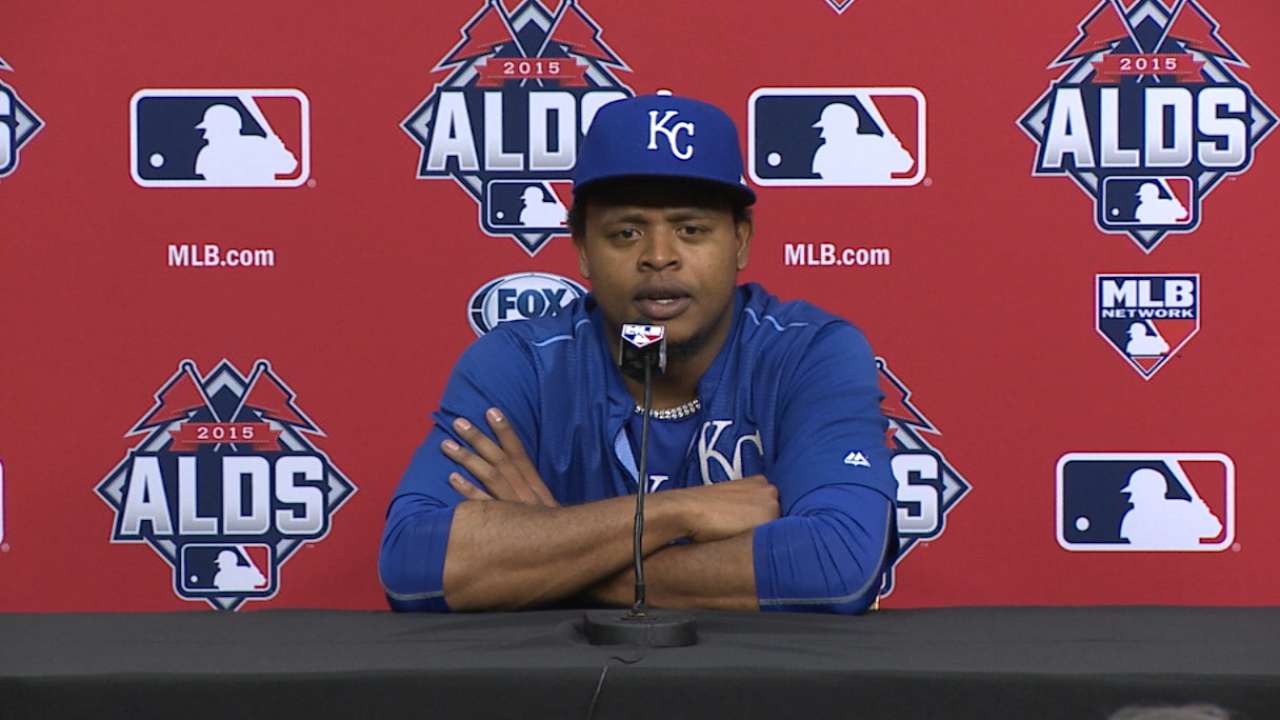 KANSAS CITY -- After the Royals' come-from-behind 5-4 victory over the Astros in Game 2 of the American League Division Series on Friday, veteran right-hander Edinson Volquez was reminded that his Game 3 start will come opposite Houston ace Dallas Keuchel.
"So I'm the lucky one," Volquez said with a grin about his upcoming start against Keuchel today at 4 p.m. ET at Minute Maid Park on MLB Network. And when he was told of it again during a press conference on Saturday's workout day, he joked it was "bad news."
• Shop for Royals postseason gear
Keuchel, a leading candidate for the AL Cy Young Award, went 15-0 with a 1.46 ERA in 18 starts at home in 2015. But the Royals have momentum after their comeback win, and Volquez said he's ready for the challenge.
"I think I just want to pitch my own game, not to worry about what he can do and because that's not my job," Volquez said. "My job is to keep the game in line and give us a chance to win. And I know he's one of the best pitchers right now in baseball, so it won't be easy."
Volquez, who signed a two-year deal worth $20 million before the season, was consistent throughout the season, going 13-9 with a 3.55 ERA, 155 strikeouts and 72 walks in a team-leading 200 1/3 innings. Volquez, in his 11th season in the Majors, reached the 200-inning mark for the first time in his career by tossing two scoreless frames in relief against the Twins on Sunday in the final game of the regular season.
"He had a great season," catcher Salvador Perez said. "He just has to keep the ball down and throw the ball to both sides of the plate like [Johnny] Cueto did. He likes to get aggressive and get ahead in the count."
Volquez has had success against the Astros throughout his career, going 6-0 with a 2.70 ERA in nine starts. But eight of those outings came while he was pitching in the National League, with the Reds and Padres. Volquez struggled against Houston in a no-decision on July 1, allowing five runs in five innings in his first start against the Astros since 2009.
"It was back in the day," Volquez joked about his previous success vs. Houston. "But for some reason, I feel good pitching over there. I have good numbers against Houston. So I'll do my best, but who knows what can happen?"
Volquez finished the season strong, crediting a fix to his mechanics, as he had a 3.15 ERA over his final four outings. But he last picked up a win on Sept. 8, when he surrendered two runs over seven innings against the Twins.
"The way I was pitching probably my last three starts," said Volquez. "It's a good sign to go to the playoffs and stay hot."
Volquez will be making his third career postseason start and looking for his first win. He started the NL Wild Card Game for the Pirates last year against the Giants, allowing five runs over five innings in a loss. Volquez started Game 1 of the 2010 NL Division Series for the Reds against the Phillies, lasting 1 2/3 innings and giving up four runs on four hits in another loss.
"Fans are always going crazy in the playoffs, but ... that doesn't affect me," Volquez said. "I've been there before, and I know it's going to be loud. It's not a regular game, but you can't go too crazy with it. You just have to pitch your own game and enjoy the game like I always do."
Rhett Bollinger is a reporter for MLB.com. Read his blog, Bollinger Beat, follow him on Twitter @RhettBollinger and listen to his podcast. This story was not subject to the approval of Major League Baseball or its clubs.