Estrada ready for first career postseason start
Game 3 starter helped carry Blue Jays' rotation in second half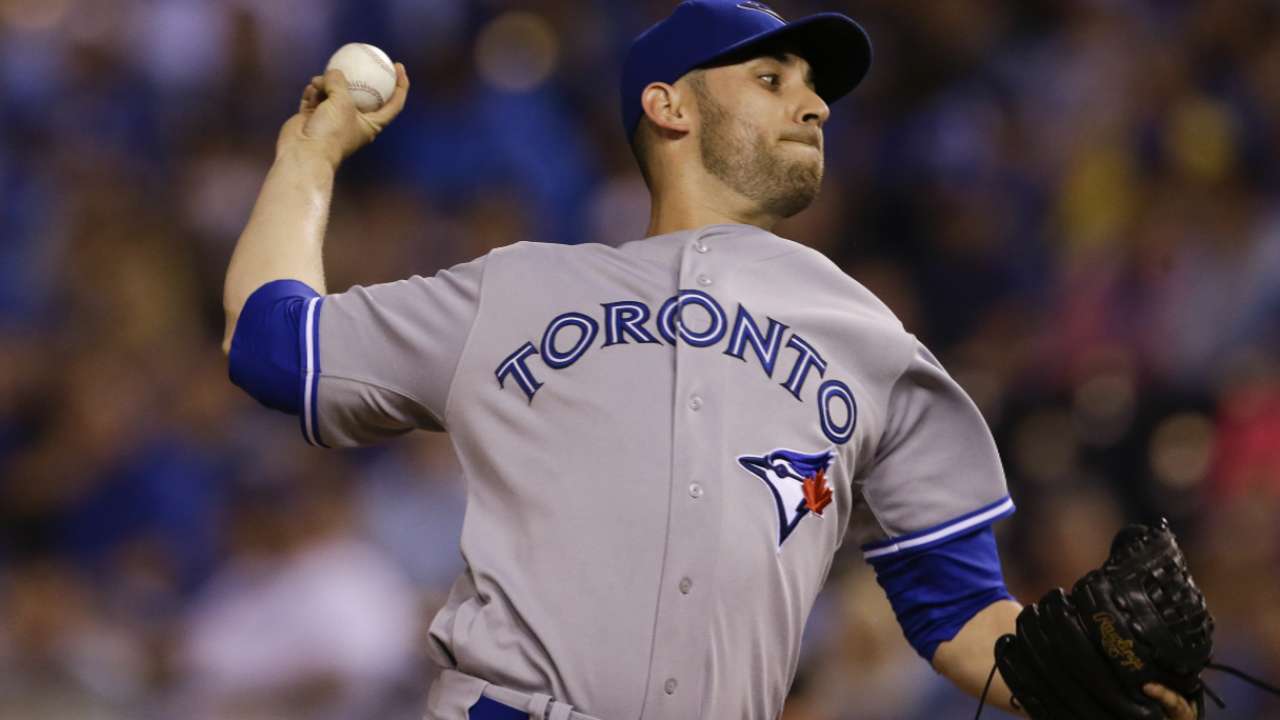 TORONTO -- Marco Estrada has come a long way from his long-relief role in the Blue Jays bullpen. The right-hander will take the mound with Toronto's postseason life on the line today in Game 3 of the American League Division Series against the Rangers at Globe Life Park (8 p.m. ET, FOX Sports 1, Sportsnet).
"I've pitched in the playoffs before but out of the bullpen. You know, got a taste of it and had a lot of fun with it," said Estrada, who made four postseason appearances with the Brewers in 2011. "I had a lot of adrenaline going. I know how to handle it and I've been there before, so I'm looking forward to starting Sunday."
• Shop for official Blue Jays postseason gear
Estrada's road from long man to key starter provided the Blue Jays' rotation a welcomed boost, especially after the preseason injury to
Marcus Stroman
, the early-season struggles of
Daniel Norris
and the late-season decline of
Drew Hutchison
. As Toronto's rotation took on varying forms, the one constant since May has been Estrada. And he hasn't just been good. At times, he's dominated. Estrada, who was acquired in an offseason trade with the Brewers, was one of the American League's hottest pitchers in second half of the season, posting the best ERA (2.78) and the second-base batting average against (.181) among qualified starters.
He'll look to resume that success in a must-win game against the Rangers. He faced Texas once this season, allowing one earned run over six innings in a loss in Arlington on Aug. 27. Left-hander Martin Perez will start for the Rangers in Game 3.
"My best against your best. Let's see what happens," battery mate Dioner Navarro said of Estrada's approach. "And I think that's the best way to approach it, too."
Manager John Gibbons said Navarro, who caught the majority of Estrada's starts this season, will be behind the plate today.
Navarro won't take credit for the 32-year-old's success, but Estrada's stats with him behind the plate suggest a certain chemistry. With Navarro catching, Estrada's ERA is 2.63, compared to a 4.11 mark when Russell Martin catches him.
"I have nothing to do with it. I do my homework on whatever team we're facing and I just go out there and try to apply my game plan to the best of my abilities," Navarro said. "A lot of people keep mentioning me, but I have nothing to do with it. He does it all by himself. He's got great control, outstanding command and he goes after hitters."
At least part of Estrada's success this season can be attributed to limiting the long ball. A fly-ball pitcher, he led the Majors in homers allowed with 29 over 150 2/3 innings in 2014, but in 2015, he's given up 24, which is a marked improvement considering he threw a career-high 181 innings.
When he looks back at how far he's come this season, Estrada isn't overly sentimental about it. He said he was just waiting to get his chance.
"The coaching staff [told] me, 'Hey, just be ready. One of these days you'll get your chance again.' And that's basically what happened. I just ran with it," Estrada said.
Jamie Ross is an associate reporter for MLB.com. This story was not subject to the approval of Major League Baseball or its clubs.