Consistency of Ellsbury, Gardner key for Yanks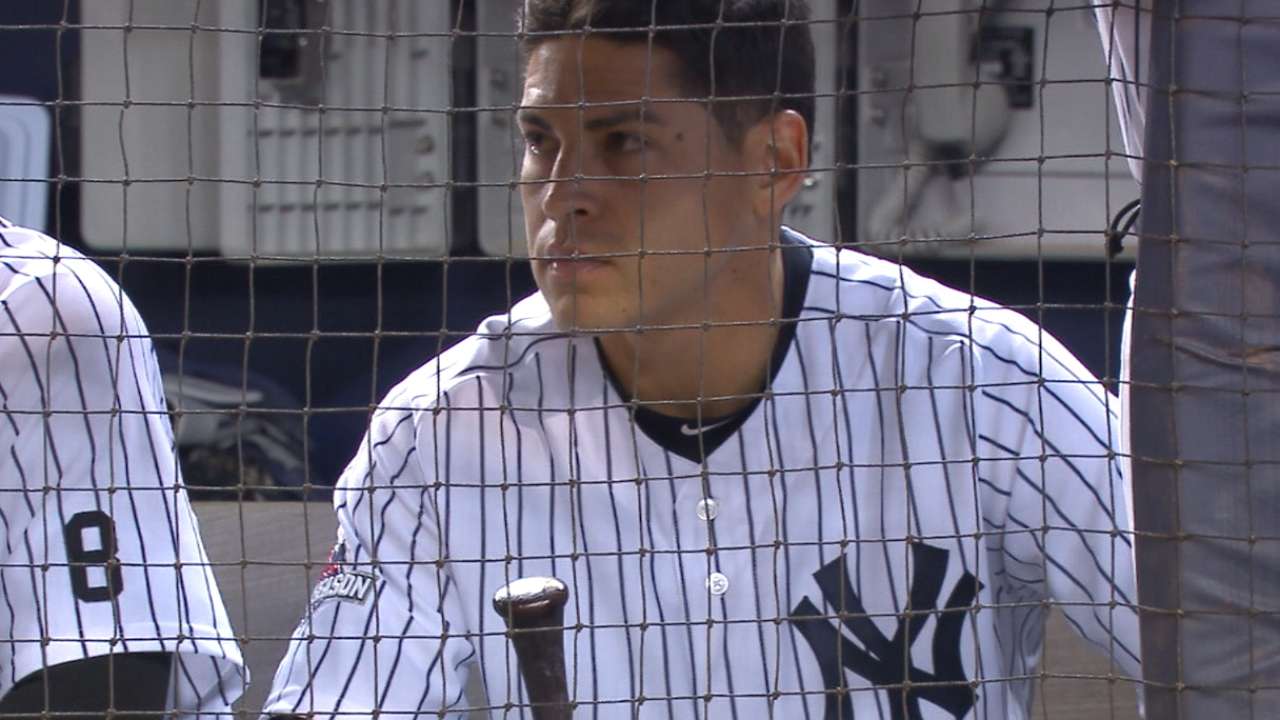 NEW YORK -- Three days after leaving Jacoby Ellsbury's name out of the Yankees' final lineup of the season, manager Joe Girardi said that he is not sure if his offseason will feature a tough conversation with his $153 million center fielder.
What Girardi seems certain about, however, is that the dynamic duo of Ellsbury and Brett Gardner atop their batting order will be a critical ingredient to the Yankees' success next season.
"As far as fence-mending, that's to be determined as I talk through things with players over the course of the winter," Girardi said on Friday. "I had to make a decision, and as I told you, it wasn't an easy decision.
"... Only time will tell. I thought we had a great conversation that day, and I thought his attitude was great that day. He had the right attitude. No player wants to sit there."
Seeking to get Chris Young's right-handed bat in the lineup against Astros left-hander Dallas Keuchel, Girardi opted to bench Ellsbury and started Gardner in center field. Gardner had performed better against left-handed pitching over the course of the season (.276/.361/.400), to Ellsbury's (.253/.327/.325).
Gardner struck out all three times he faced Keuchel, while Young went 0-for-2 with a walk before being pinch-hit for in the eighth inning. Ellsbury left Yankee Stadium that evening without speaking to reporters.
"Did it work out? No," Girardi said. "But the question I'm going to get is, 'If you played Ells, would it have been better?' Would it have been three runs better? I don't know that. None of us knows that."
The final game aside, the Yankees would like to bank on more consistency from the speedy tandem next season. Ellsbury was terrific early in the year, batting .324 with a .412 on-base percentage and 14 steals in 37 games before sustaining a right knee sprain.
Sidelined until July, Ellsbury hit just .224 with a .269 on-base percentage in 74 games the rest of the way.
"He physically felt pretty good the second half," Girardi said. "He did run into the wall [in September], and I think it affected his shoulder a little bit, but I would continue to ask him about it. And I know those guys would never make that excuse. Speed guys are going to get beat up as much as anyone."
Gardner enjoyed a red-hot June, helping him earn his first career All-Star selection, but he limped to the finish and batted just .206 in the second half. Girardi said that he was baffled why Gardner seemed to stop running after being successful in 15 of 18 steal attempts through June 12, not even attempting another steal until Aug. 11.
"It's odd to me," Girardi said. "And I would ask him how he felt on a number of occasions when we'd get in a long stretch -- 'I feel good, I feel good.' And he just, he wasn't running as much. Those guys are really important to the top. Those two guys to me are the guys that really make our offense go. So getting those two and keeping them on track for a whole season has a lot to do with our success."
Bryan Hoch is a reporter for MLB.com. Follow him on Twitter @bryanhoch, on Facebook and read his MLBlog, Bombers Beat. This story was not subject to the approval of Major League Baseball or its clubs.