Colabello's heads-up play ends Rangers' threat
Blue Jays' 31-year-old journeyman shows off defense, gets key hits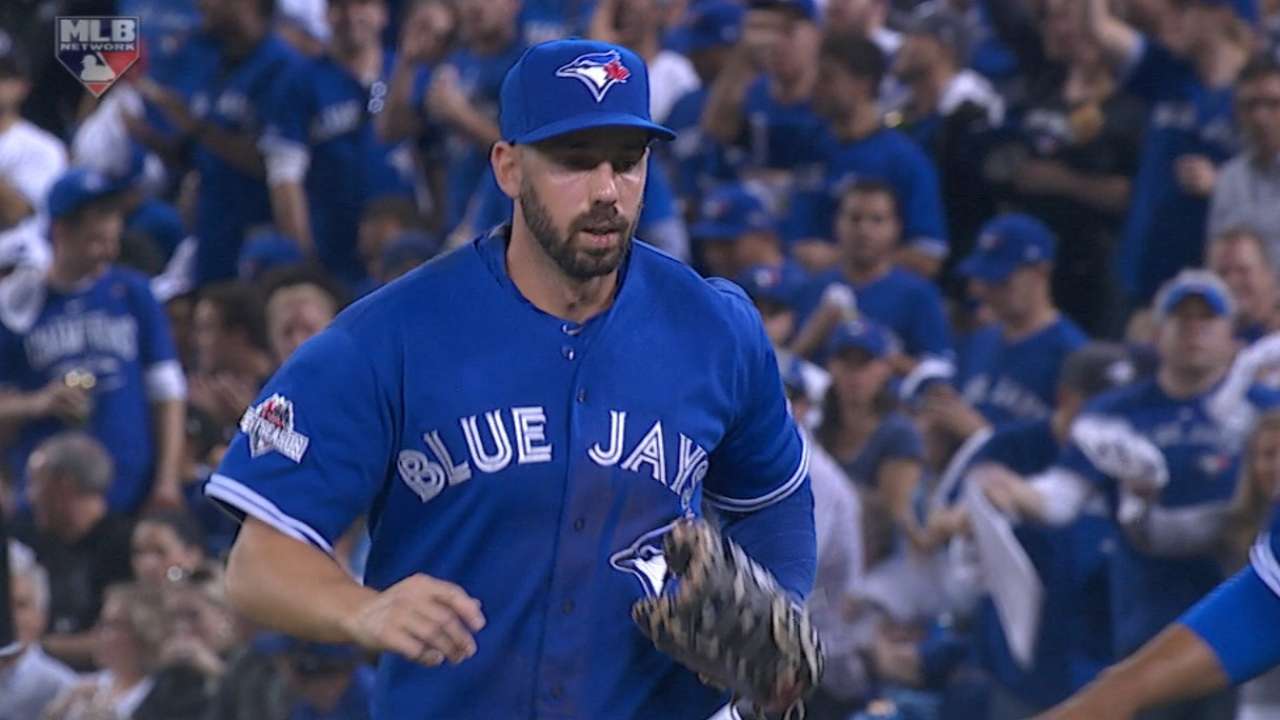 TORONTO -- If any skeptics on the baseball landscape looked at the lineups for Game 2 of the American League Division Series, saw Chris Colabello's name in the six-hole for the Toronto Blue Jays, and doubted that a 31-year-old journeyman hitter would be ready to play in such an important game, well, they should have known something.
Colabello had spent his whole life being ready for this.
• Shop for Blue Jays postseason gear
The undrafted, oft-unwanted first baseman/designated hitter, who played seven seasons of independent league ball before getting a sniff at the affiliated Minor Leagues, has made the most of his chance at the Majors. On Friday, he made the most of his first crack at the postseason, too, and he immediately found himself in the center of the action in the Blue Jays' 6-4, 14-inning loss to the Rangers.
Colabello, who played first base Friday, helped keep the Blue Jays from suffering a disastrous early deficit with a smart play in the field.
Texas had already taken a 2-0 lead in the first inning and had one out with Mitch Moreland on second base and Prince Fielder on third, threatening to score more. Josh Hamilton grounded a ball to first and Colabello snared it, looked at third, ran to first to tag Hamilton, looked across the diamond again and saw that he had Fielder stuck between the bases, going nowhere. Moreland had moved up to third, so Fielder had no outlet.
Colabello ran across the infield and applied the tag himself, sending the Rogers Centre crowd into a frenzy in one of the strangest 3-unassisted double plays you'll ever see. That is, unless you're Colabello.
"That play actually came up in Spring Training in 2012 in my first camp with the Twins," Colabello said. "It was a pretty similar type play and I guess that's why I was a little bit more prepared for it."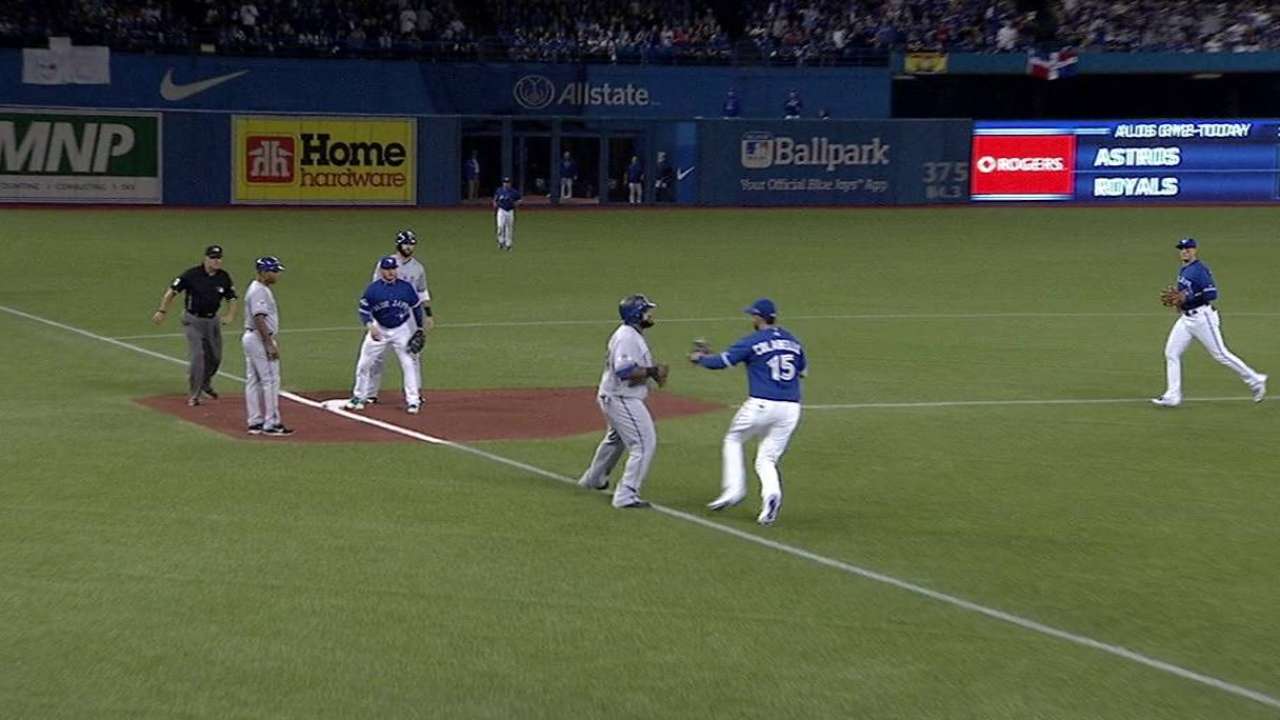 He was prepared for more, too.
He made a diving, barehanded stop on a grounder for another play at first base in the second inning. He lined a ground-rule double that bounced into the right-field seats off Cole Hamels in his first postseason at-bat, which came in the second inning. And in the bottom of the 12th, he led off the frame with a sharp single to center field before being removed for pinch-runner Dalton Pompey.
"He played a great game," Blue Jays second baseman Ryan Goins said. "He saved some runs for us, he got a couple of knocks. I'm happy for him. An all-around great game for him. It would have been better if we came out with a win, but we'll be back Sunday, playing hard."
Colabello was disappointed about the outcome, too, but for a guy who's gone through so much to even be on the field in a game like this, he has some serious perspective.
"It stinks to lose, and I think that's the only thing in the forefront of all our minds, but those are the kind of games you play for," Colabello said. "What you dream about growing up is being in a tight game late with a lot riding on it.
"It was a great baseball game and we would have loved to have won, but in a bunch of years I'll look back, no matter what happens moving forward, and say it was a great game."
Doug Miller is a reporter for MLB.com. Follow him on Twitter @DougMillerMLB. This story was not subject to the approval of Major League Baseball or its clubs.