MLB.com Columnist
Richard Justice
Manfred reveling in postseason excitement
Blue Jays' resurgence, Wild Card drama are big hits with fans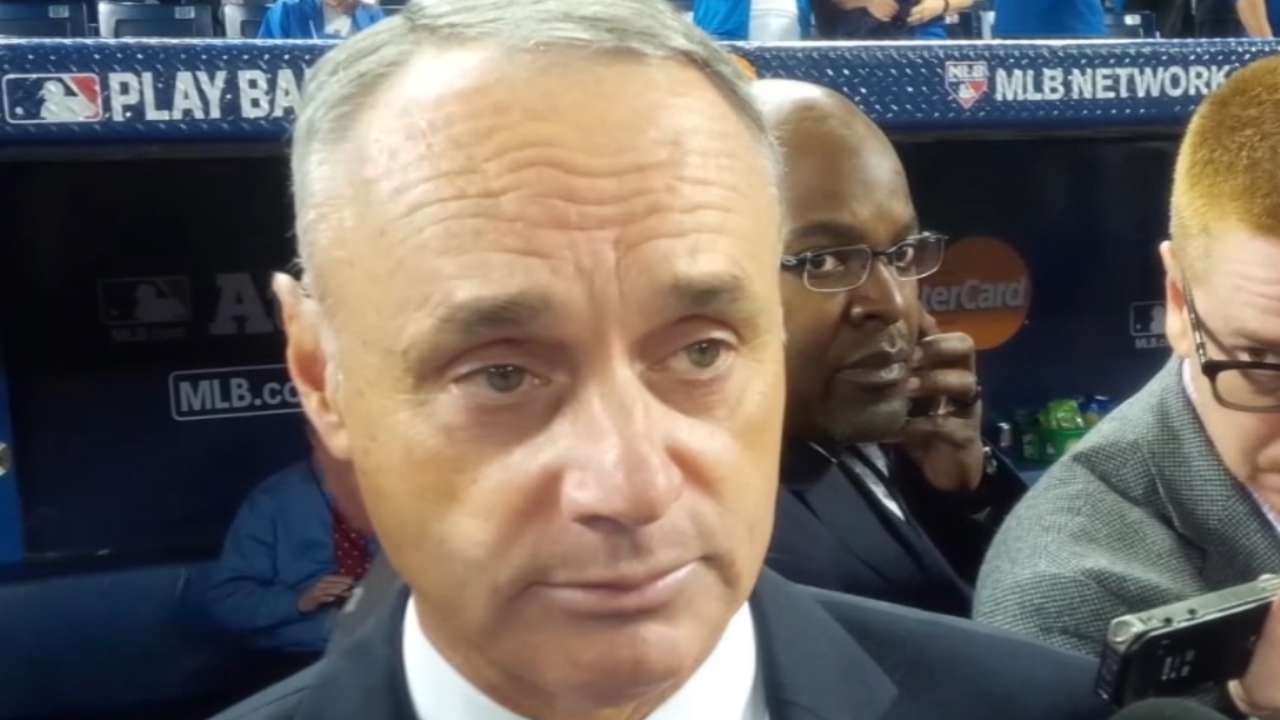 TORONTO -- Commissioner Rob Manfred surveyed the electric scene in and around Rogers Centre on Friday afternoon and smiled.
"I think it's great for baseball," he said.
Indeed. The Blue Jays are back in the postseason for the first time in 22 years, and an entire country appears to be into it. Outside, there was a street fair atmosphere hours before Game 2 of the American League Division Series against the Rangers. Inside, fans were roaring.
After stops at the AL and NL Wild Card Games presented by Budweiser in New York and Pittsburgh, Manfred took in the Rangers-Blue Jays clash on Friday.
"I looked at the success that Toronto had on the field," Manfred said. "But maybe more important, their broadcasts averaged 1.6 million people in the month of September. Clearly, got the whole country engaged. It's really good for the growth of the game, really good."
Manfred touched on a variety of topics in a meeting with reporters, including the possibility of Major League Baseball returning to Montreal.
"I've been positive about the idea that Montreal is a viable Major League market," he said. "I think I've been clear about what needs to be done there. It is a process that takes some time."
Asked about the pace-of-play initiative in 2015, Manfred said it was a good start. Game times were down six minutes, from 3:02:21 in 2014 to 2:56:14.
"First, we got great cooperation from our players," Manfred said. "Really important. Obviously, it's difficult, if not impossible, to accomplish anything if the players are not on board.
"Secondly, we're pleased. We're down about six minutes. We think that's a start. I think pace of play will be a continuing issue for us as we move forward."
As for postseason pace of play, he said: "In the playoffs, the same rules are in place. We have extended inning breaks because of our broadcasting commitments. We want the pace of our games to be good. The Wild Card Game in Pittsburgh was fantastic in terms of the way it moved along. So we are going to stay focused on pace of play. In terms of the disciplinary aspects of the program, warnings and things like that, it's just not appropriate."
Watching the Wild Card Games on Tuesday and Wednesday reminded Manfred why baseball wanted them in the first place. The stakes are high, the atmosphere incredible.
"I'm committed to the Wild Card Games, the one-game plan," he said. "Fantastic environments in both stadiums. It's high-stakes baseball, and I think it gets our postseason off to a great start."
Richard Justice is a columnist for MLB.com. This story was not subject to the approval of Major League Baseball or its clubs.