Rangers top Jays in 14 for 2-0 ALDS lead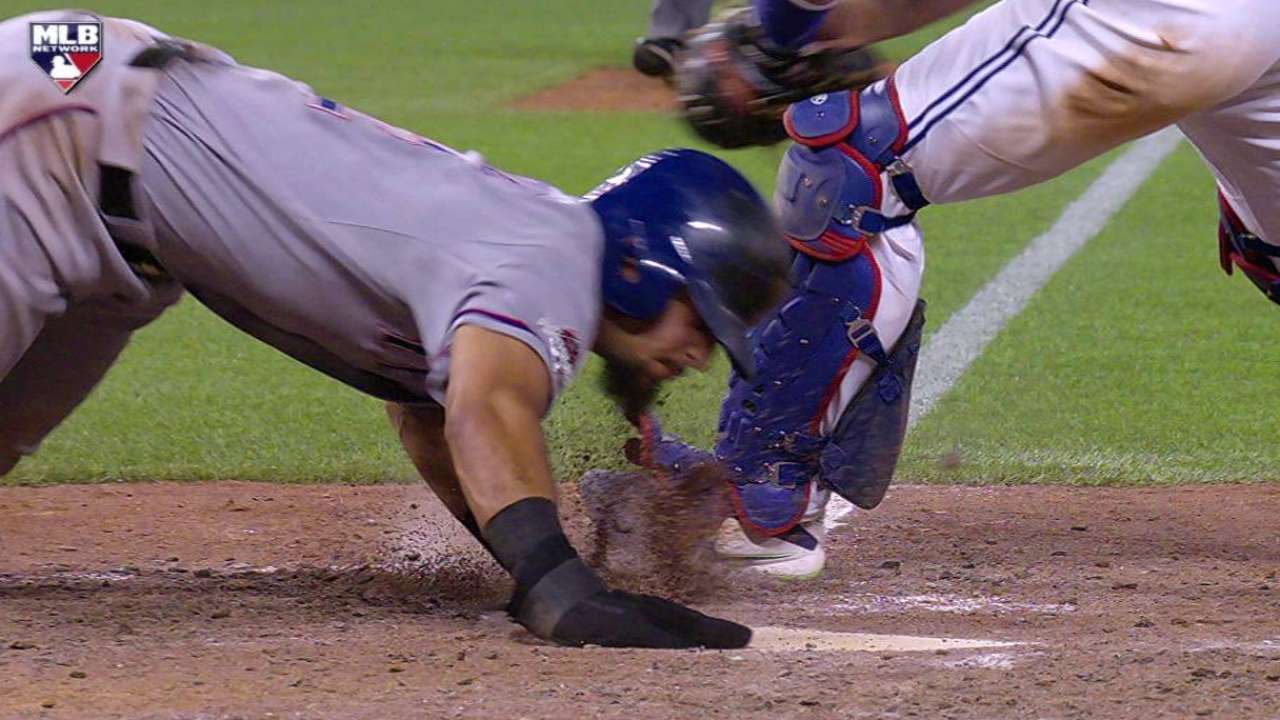 TORONTO -- The place was sold out and the atmosphere was electric, but the hometown fervor at Rogers Centre couldn't stop the Rangers from riding a 6-4 victory over the Blue Jays in 14 innings to a 2-0 lead in the American League Division Series on Friday afternoon.
The best-of-five ALDS resumes on Sunday night in Arlington, and the Rangers need one more victory to advance to the AL Championship Series for the first time since 2011. Since Division Series play began in 1995, teams that have gone up 2-0 have advanced 42 of 47 times.
"We have put ourselves in a perfect position, but we have to stay on top of them," Rangers reliever
Shawn Tolleson
said. "We can't let up. There is no time for that."
The Rangers won by getting seven scoreless innings from five relievers behind Cole Hamels. The Blue Jays' bullpen was also tough, but the Rangers finally broke through on four straight two-out singles in the 14th that brought home two runs.
"Whether we are up 2-0 or [it's] 1-1, we still have a task at hand," Rangers catcher Chris Gimenez said. "We still need to win ballgames. We still have our ultimate goal and we still have to get more wins than just the next one."
• Rangers' total team effort provides ALDS lead
Rougned Odor sparked the Rangers' rally with a two-out single to the left side of the infield. In other situations, it would have been a routine ground ball to shortstop, but Toronto's infield had shifted against the left-handed hitter. Third baseman Josh Donaldson ranged far to his right and fielded the ball cleanly, but his off-balance throw to first was late.
Gimenez then followed with a single to right field that put runners on first and second. Toronto thought it had the final out of the inning when right fielder Jose Bautista threw behind Odor at second base, but the call on the field was safe and replay was inconclusive, allowing the call to stand.
• 14th-inning sequence is Blue Jays' undoing
Hanser Alberto's single brought Odor home, and Texas then continued its rally on an infield single by Delino DeShields that scored Gimenez. Both runs were charged to right-hander LaTroy Hawkins, who retired the first two batters he faced before allowing three consecutive hits. Reliever Liam Hendriks allowed the infield single to DeShields before escaping the jam, but it was too late for Toronto.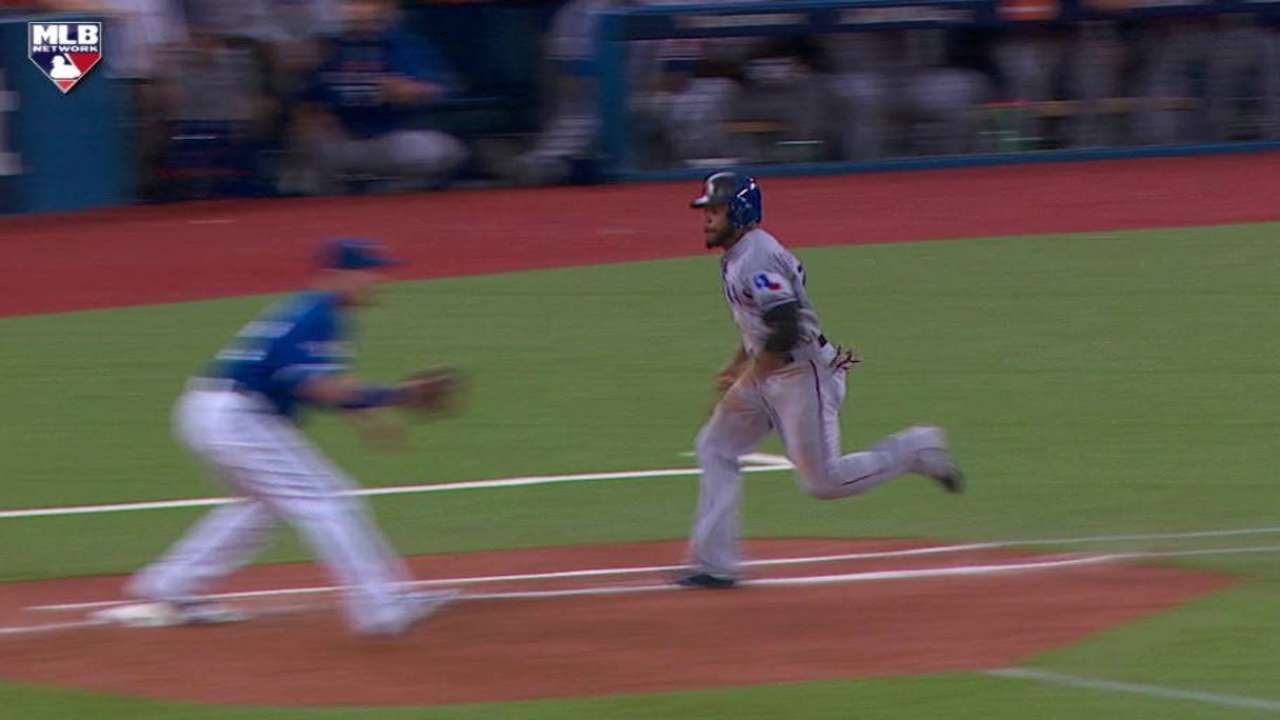 The 14-inning affair was the longest postseason game played in either team's history. The previous high by the Rangers was a 5-4 loss in 12 innings to the Yankees in Game 2 of the 1996 ALDS. The Blue Jays' previous high was 11 innings, which had been done three times. Both clubs are 3-2 in extra-inning games in the postseason.
"Sure, it won't be easy. They got a great team over there," Blue Jays manager John Gibbons said of his team's predicament. "They outplayed us both games. Today was a great ballgame and they came out on top."
Hamels took the no-decision after he allowed his team's early lead to slip away. Texas' No. 1 starter allowed four runs (two earned) on six hits without a walk while striking out six. He was in line for a loss until the Rangers tied the game at 4 on a single by pinch-hitter Mike Napoli in the eighth.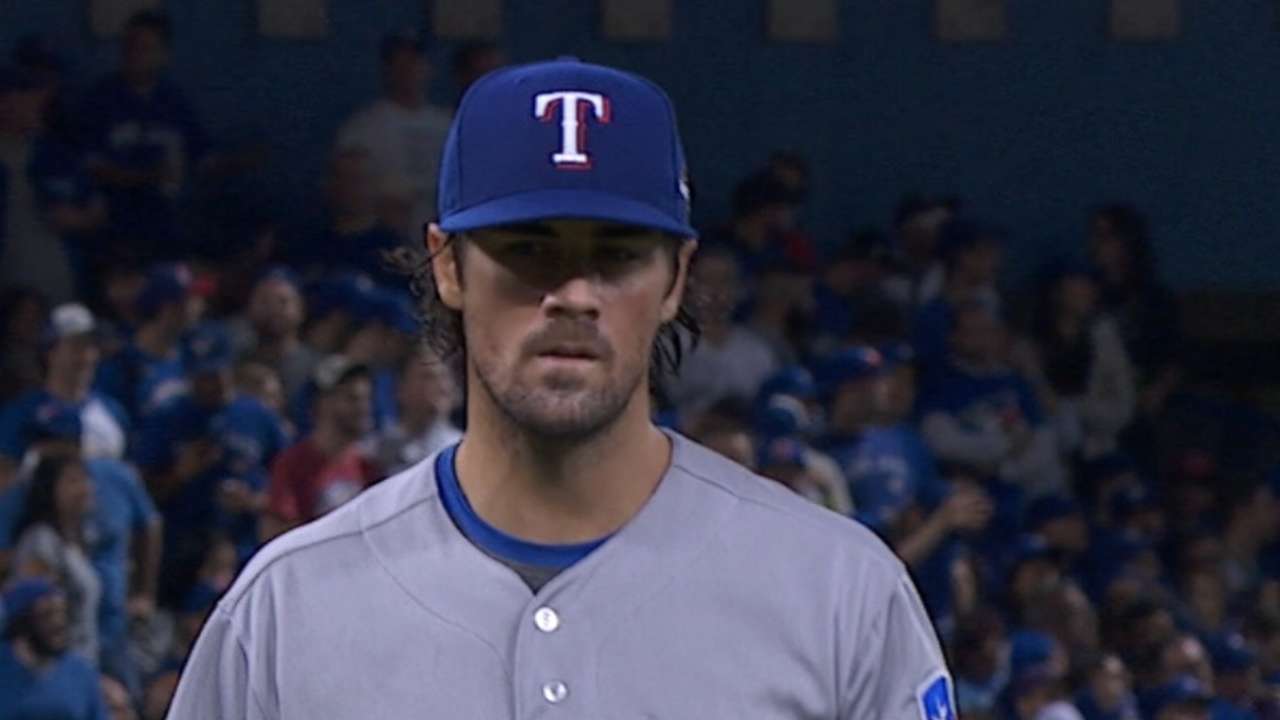 Toronto right-hander Marcus Stroman also took a no-decision, even though he left with a 4-3 lead. Stroman surrendered three early runs but then settled in and retired 14 consecutive batters during a stretch that began in the second and lasted until a two-out walk in the sixth. Stroman opened the eighth by allowing a single to DeShields, who was later bunted over to second and scored on Napoli's single.
• Stroman finds groove in postseason debut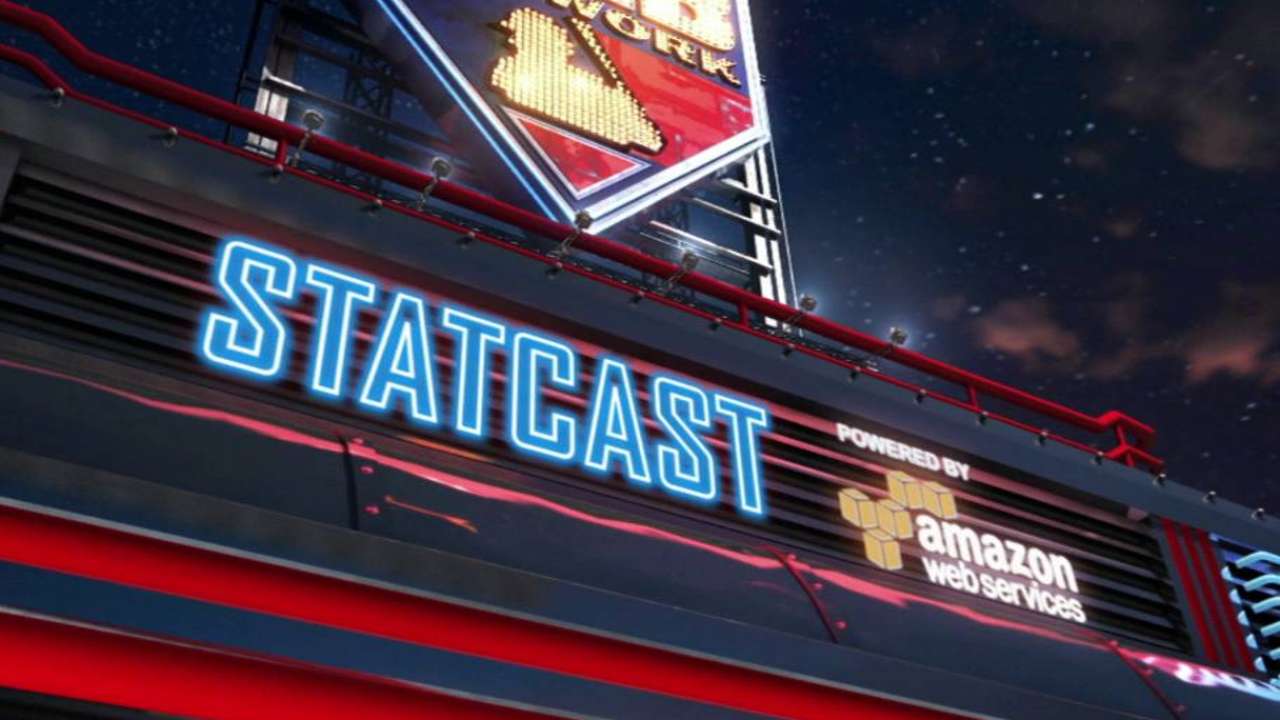 The series resumes on Sunday night in Game 3 (8 p.m. ET/7 CT, FOX Sports 1/Sportsnet), with left-hander Martin Perez scheduled to start for the Rangers against Blue Jays right-hander Marco Estrada. The Blue Jays need to win twice at Globe Life Park to bring the ALDS back to Toronto.
MOMENTS THAT MATTERED
Napoli delivers: The Rangers tied the game at 4-4 in the eighth on a two-out single by Napoli off left-handed reliever Brett Cecil. Stroman began the inning by giving up a single to DeShields. After Cecil took over, Shin-Soo Choo bunted DeShields to second and Prince Fielder struck out. Rangers manager Jeff Banister then sent Napoli, a right-handed hitter, up to bat for lefty-swinging Mitch Moreland. Gibbons had right-hander Mark Lowe ready in the bullpen but stayed with Cecil, and Napoli grounded a single through the right side to bring home the run.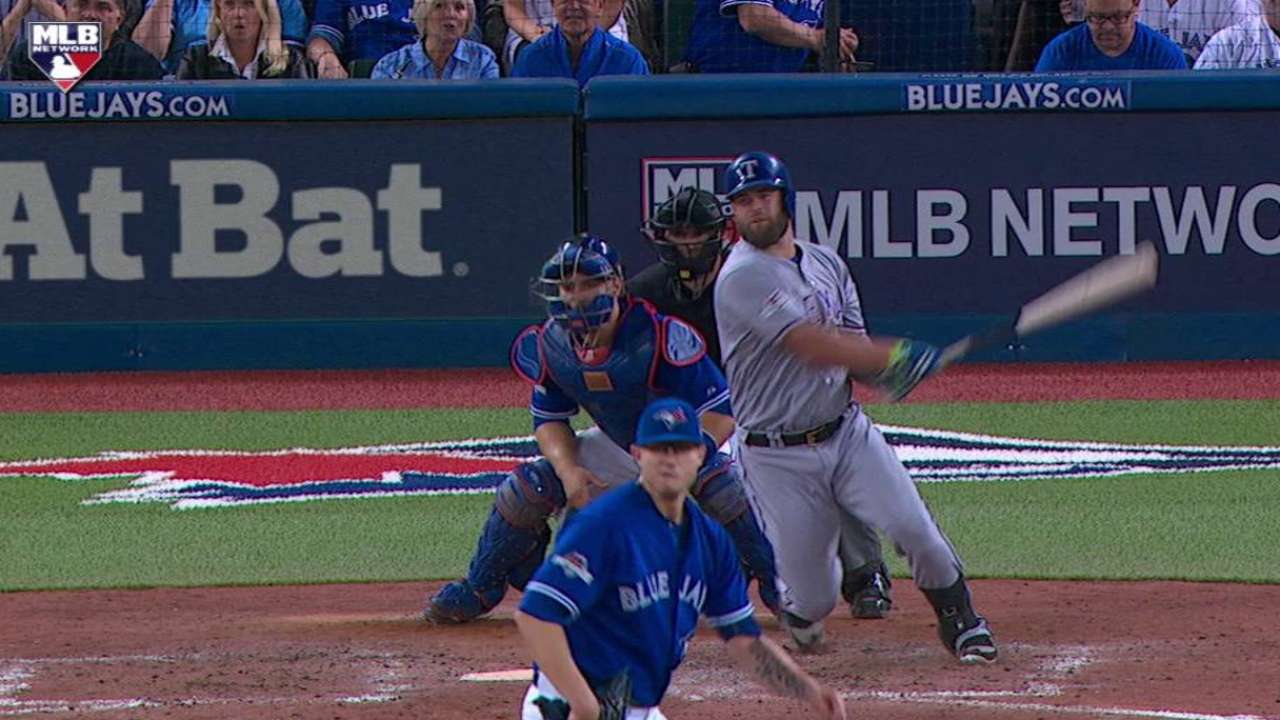 Bringer of rain: Donaldson made his return to the Blue Jays' lineup after taking a knee to the head in Game 1, and he made an immediate impact with a solo home run in the first inning. Donaldson's first career postseason homer was projected by Statcast™ to travel 418 feet and left his bat at 109.9 mph, which was the fifth-highest exit velocity of any home run hit this year.
• Back in the lineup, Donaldson crushes homer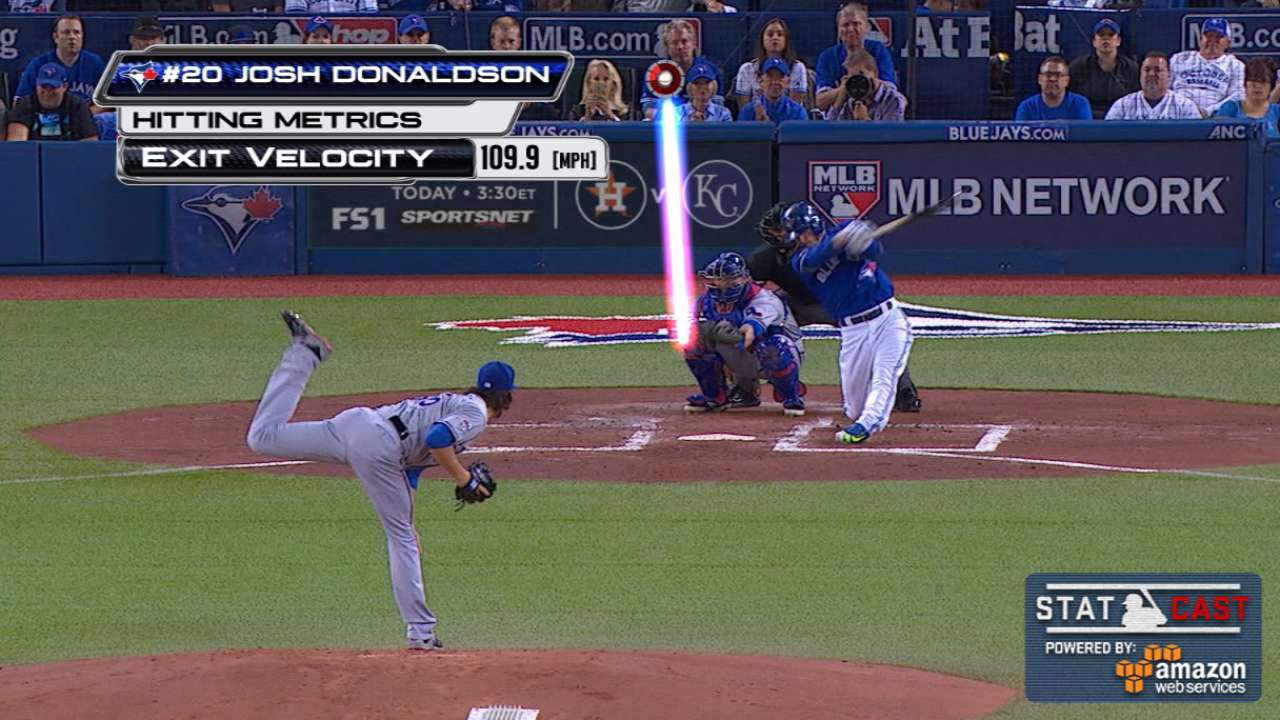 Donaldson nearly won the game with another homer in the 13th inning, but the ball went just foul. Donaldson then exchanged words with Rangers reliever Keone Kela, leading to the benches clearing. He appeared to be upset by a quick pitch, but he declined to provide specifics about the argument.
"We made eye contact and exchanged a few words," Donaldson said. "He didn't back down, and I didn't back down."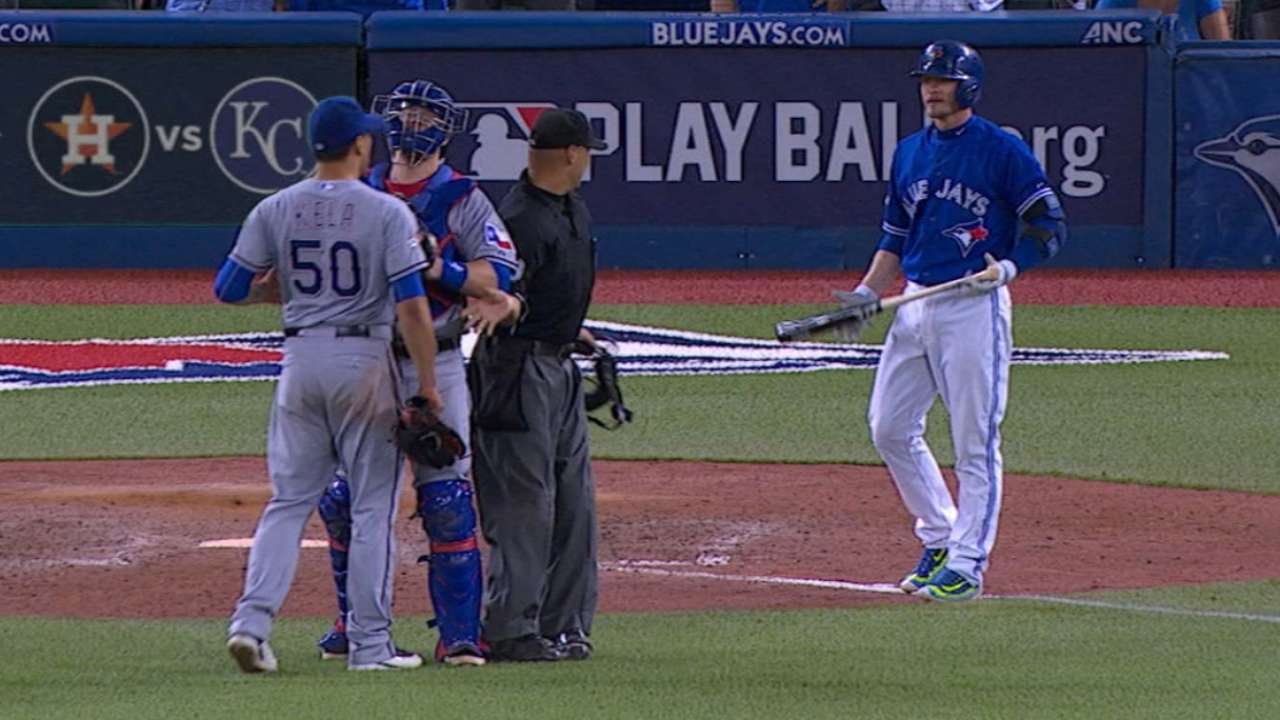 Productive Odor: Odor created a run for the Rangers in the second inning after a leadoff walk against Stroman. He went to third on Gimenez's high chopper over the mound, as the charging Blue Jays infield had left the base uncovered as he rounded second. Odor then scored on Alberto's shallow fly ball to center with a great slide to avoid a tag by catcher Russell Martin.
"I think I did a pretty good job," said Odor. "I scored two runs, one walk, one base hit, but more importantly is the two runs scored. It's good for the team. I just want to get on base for the team, and that's what I'm doing right now."
• Odor's skill, savvy manufacture early run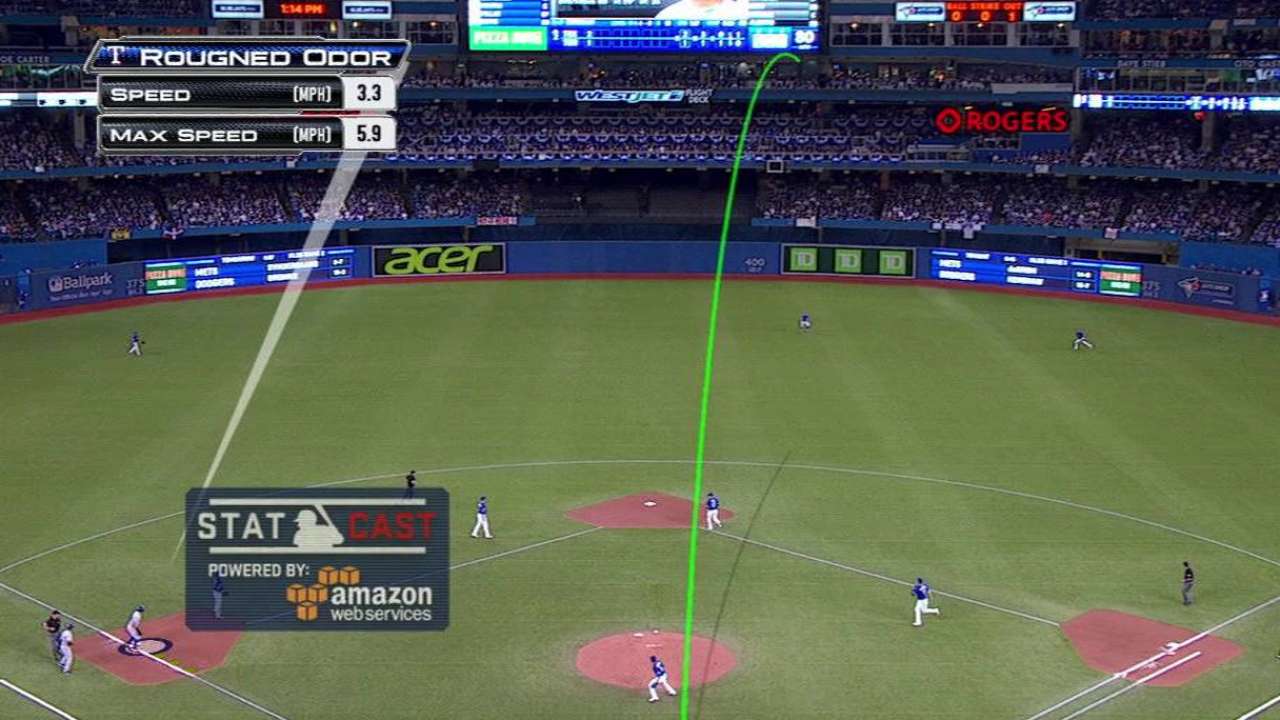 Colabello shifts momentum: The Rangers had the Blue Jays on the ropes in the first inning, having runners on second and third with a 2-0 lead. After Stroman needed 24 pitches to record the first out, Josh Hamilton came to the plate and hit a ground ball to first baseman Chris Colabello. Colabello raced toward the bag and up the line, tagging Hamilton before running down Fielder, who was caught between third and home, for an inning-ending unassisted double play.
• Colabello's heads-up play ends Rangers' threat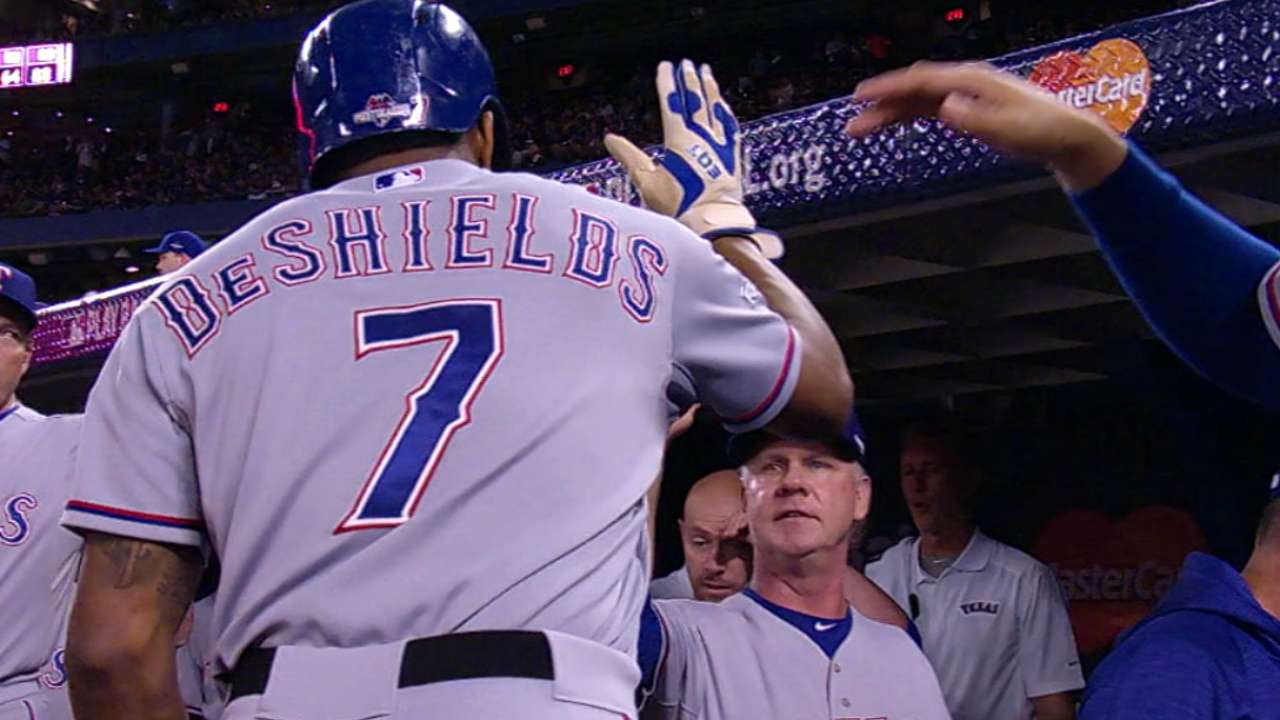 QUOTABLE
"Not good. He's got a pretty significant tear in his calf. So that's not good." -- Gibbons, on the postseason-ending injury to Cecil, who had 39 straight appearances without an earned run
• Cecil tears left calf in loss to Rangers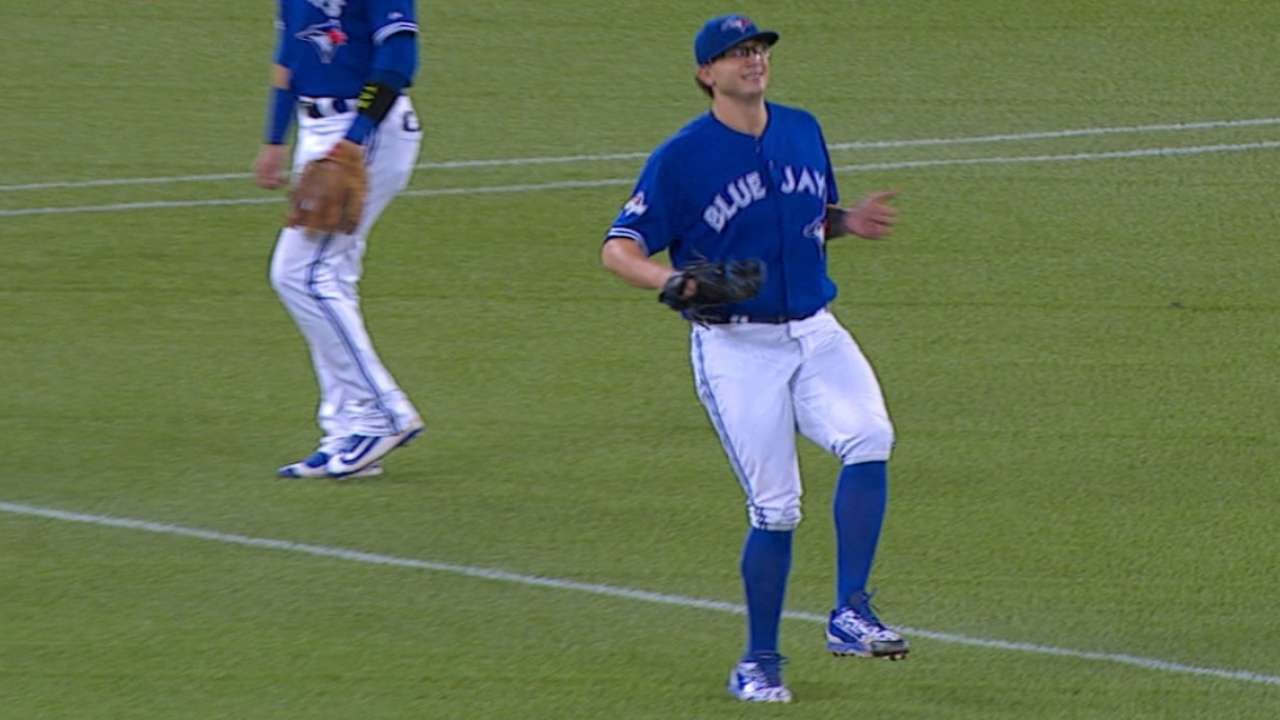 "I was safe. I knew I never got off of the base. I know I was on the base the whole time." -- Odor, on the 14th-inning play at second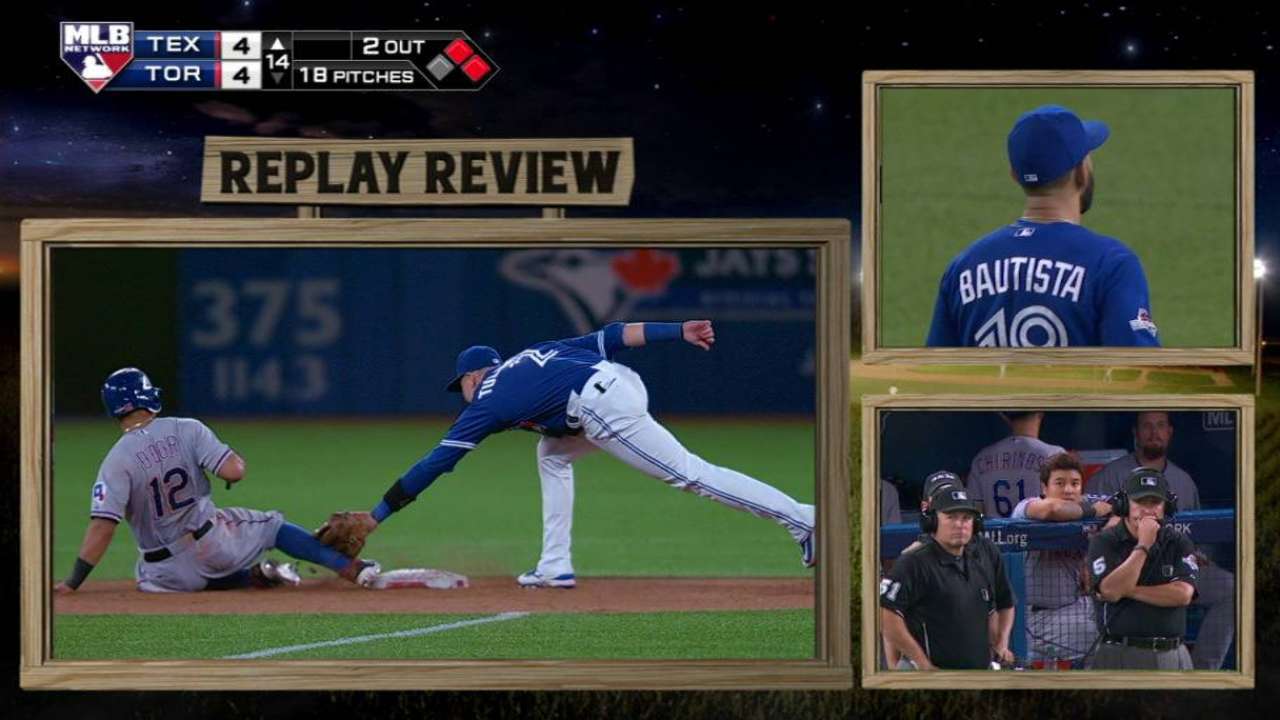 SOUND SMART WITH YOUR FRIENDS
Hamels had an 0-2 count on 193 batters during the regular season and the only player to hit a home run during those at-bats was Mariners outfielder Franklin Gutierrez. Donaldson became the second after he fell behind Hamels 0-2 and then worked the count full before hitting one over the wall in straightaway center field.
WHAT'S NEXT
Rangers: Perez will be on the mound for the Rangers when the series resumes for Game 3 on Sunday in Arlington (8 p.m. ET/7 CT, FOX Sports 1/Sportsnet). Perez will be making his first postseason start and his first career start against the Blue Jays.
Blue Jays: Estrada will take the mound when the Blue Jays continue their ALDS against the Rangers on Sunday night in Arlington (8 p.m. ET/7 CT, FOX Sports 1/Sportsnet). The Game 3 nod will mark Estrada's first career start in the postseason, but he does have four relief appearances dating back to his time with the Brewers.
Gregor Chisholm and T.R. Sullivan are reporters for MLB.com. This story was not subject to the approval of Major League Baseball or its clubs.