Odor doing 'special things' to lead Rangers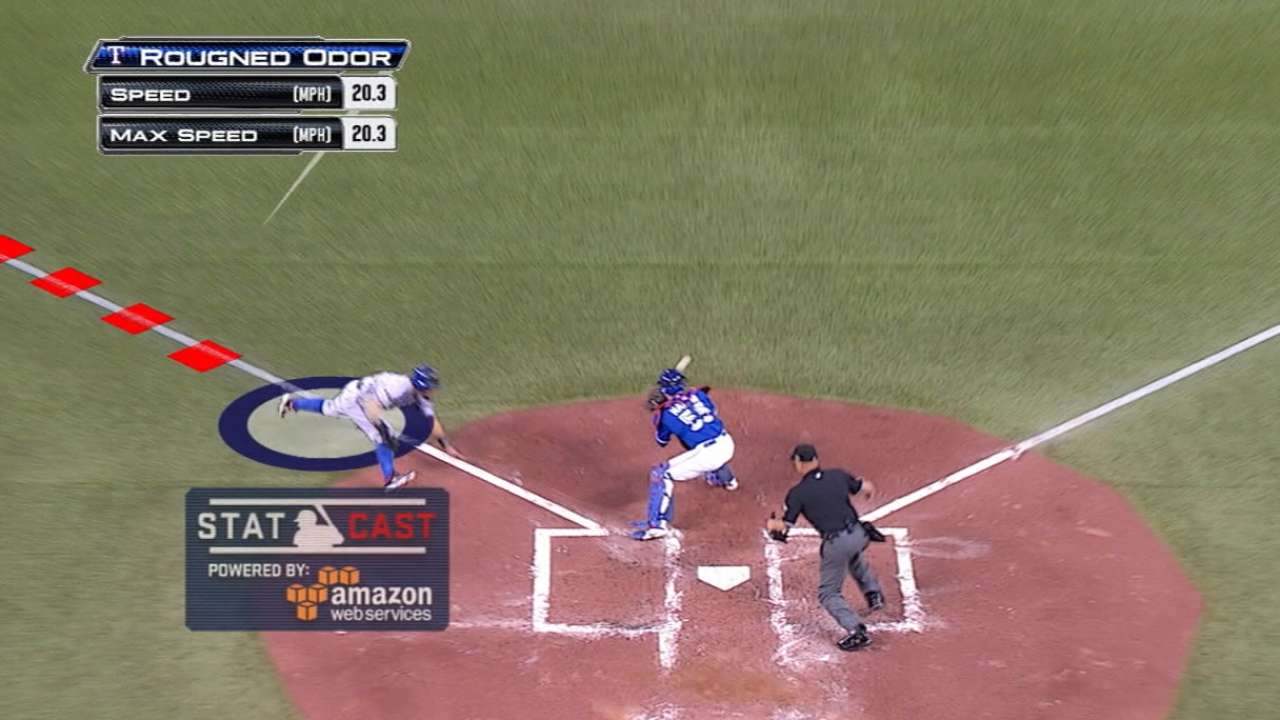 TORONTO -- If the Blue Jays don't send their best-of-five American League Division Series back to Rogers Centre next week for a deciding Game 5, they might well have a speeding Rougned Odor haunting them in their offseason dreams.
The first two games of the series felt like a continuation, the Rangers' second baseman lapping the bases and roaming the infield with only a break to sleep overnight. The time between games felt like the only time he stood still.
Odor's confidence is soaring with each trip home to score -- three Thursday night on two hit-by-pitches and a home run, two more Friday. Add in key plays in the field, like the subtly crucial barehanded grab he made on the bounce on Troy Tulowitzki's chopper in the eighth inning of Friday's 6-4 win, and he's making an early case for the most valuable player in a series filled with big-name stars.
"Really, what he does for us, the little things -- the bouncing catch with one hand to make the play -- he plays baseball, makes baseball plays," Rangers manager Jeff Banister said after his team took a 2-0 series lead. "Guys like that, they play hard and they will themselves to do special things."
For Odor, it's playing beyond the normal bounds of a 21-year-old.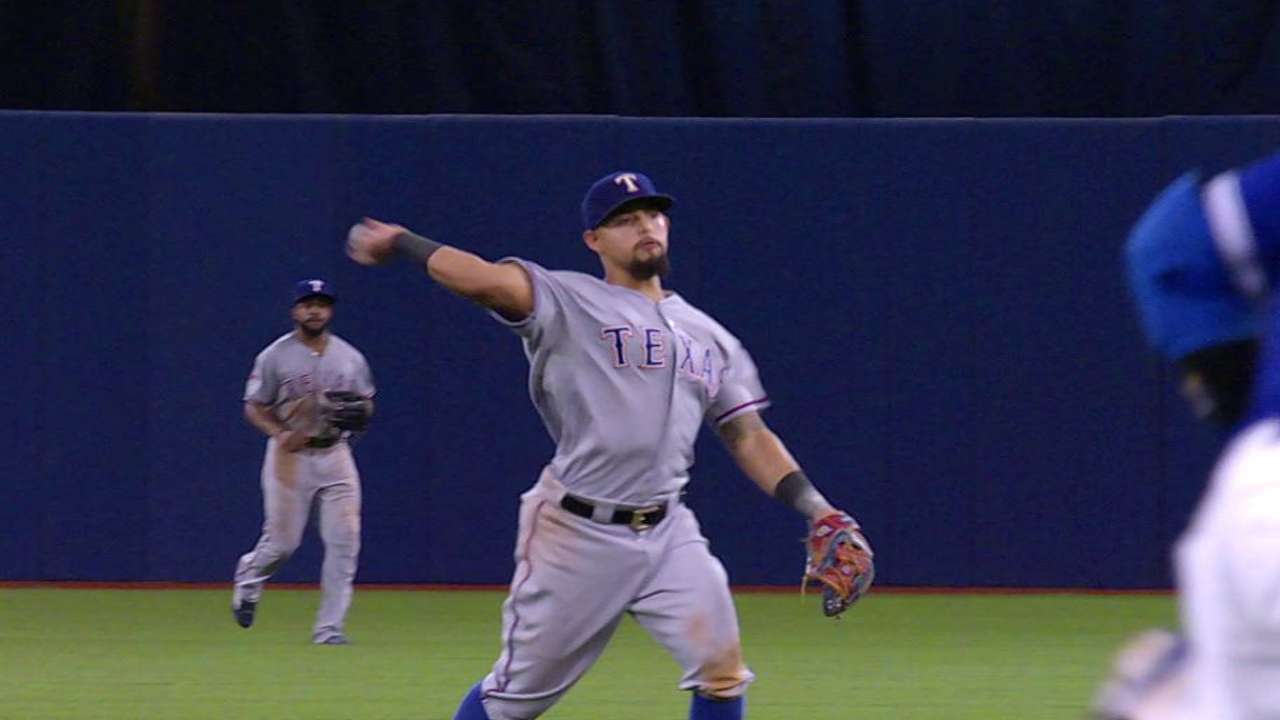 "I always play with confidence," Odor said. "I don't play like I'm 21 years old. I just play like a normal player. For me, baseball is not for years, but for the man that you are."
For now, he's a pest for Toronto, finding spots to make a difference. Seven of Toronto's 11 runs have come from the bottom half of the order, and he has five of them.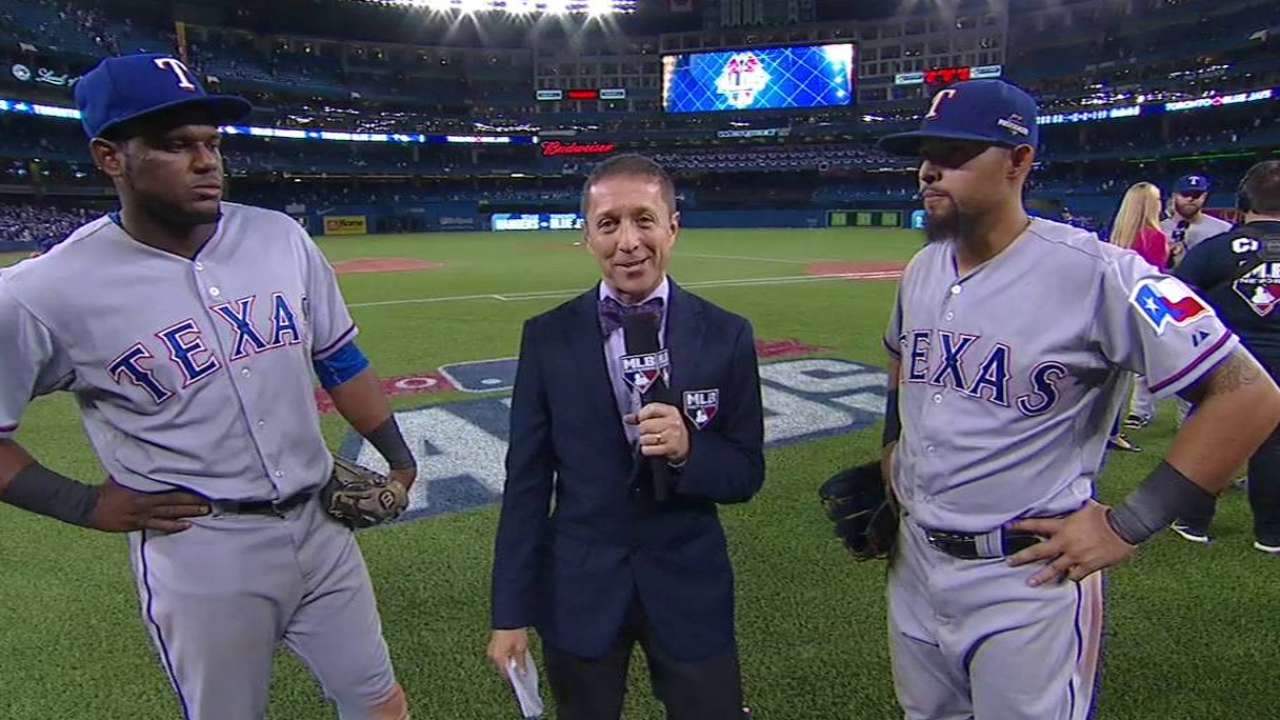 The Rangers led Friday's game, 2-1, heading into the second, when Odor led off with a walk and Chris Gimenez followed with a high chopper over the mound. Marcus Stroman backpedaled to field it, but shortstop Troy Tulowitzki and third baseman Josh Donaldson charged after it as well.
Odor went to second on the play as Stroman took the out at first. But as Odor raced into second, he noticed that third was left uncovered and kept on going. Donaldson got back to take the throw from first baseman Chris Colabello, but Odor was able to slide in safely and hold on to the bag. The call was confirmed after the Blue Jays issued a replay challenge.
With one out, No. 9 hitter Hanser Alberto lofted a fly to shallow center. Kevin Pillar, the Blue Jays' center fielder, made the catch and a strong, accurate throw to the plate. But Odor got around catcher Russell Martin's tag with a headfirst slide to score the run.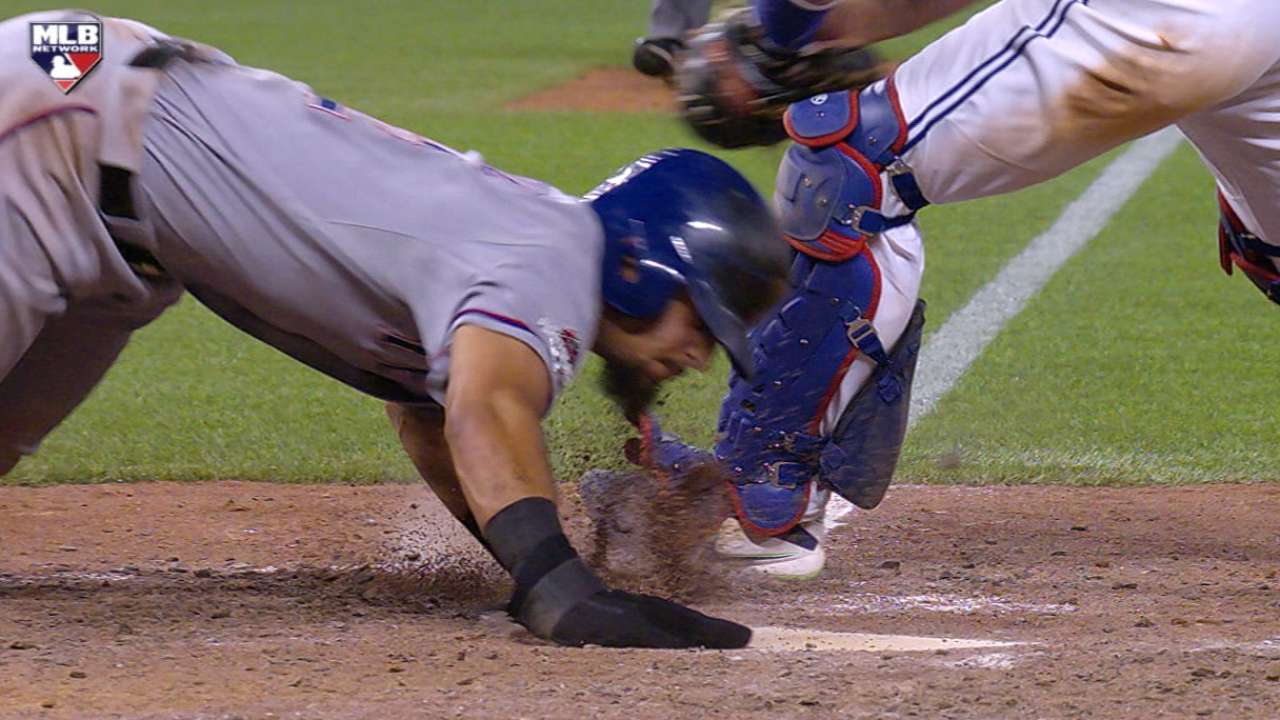 "I'm just trying to get safe at home, run 100 percent and try to get safe," Odor said. "It was a close play. I did a pretty good slide at home plate. I was anticipating the play."
The Jays kept Odor off the basepaths his next four times up. He was in a comparatively harmless position when he batted in the 14th with two out and nobody on against LaTroy Hawkins, twice his age. Then a dash down the line turned a ground ball to short into an infield single, and he was back to work.
Gimenez's single moved Odor to second, but he nearly moved himself off when he turned too aggressively for third. Jose Bautista threw behind him, nearly catching him off the base. Replay ruled the call would stand, leaving Odor in position to score on Alberto's single to center. The throw home was on target, but Odor simply beat the tag.
"Thank Odor, because he's hustling," Alberto said. "That's the whole matter."
Jason Beck is a reporter for MLB.com. Read Beck's Blog, follow him on Twitter @beckjason and listen to his podcast. This story was not subject to the approval of Major League Baseball or its clubs.