Perez ready for pressure of postseason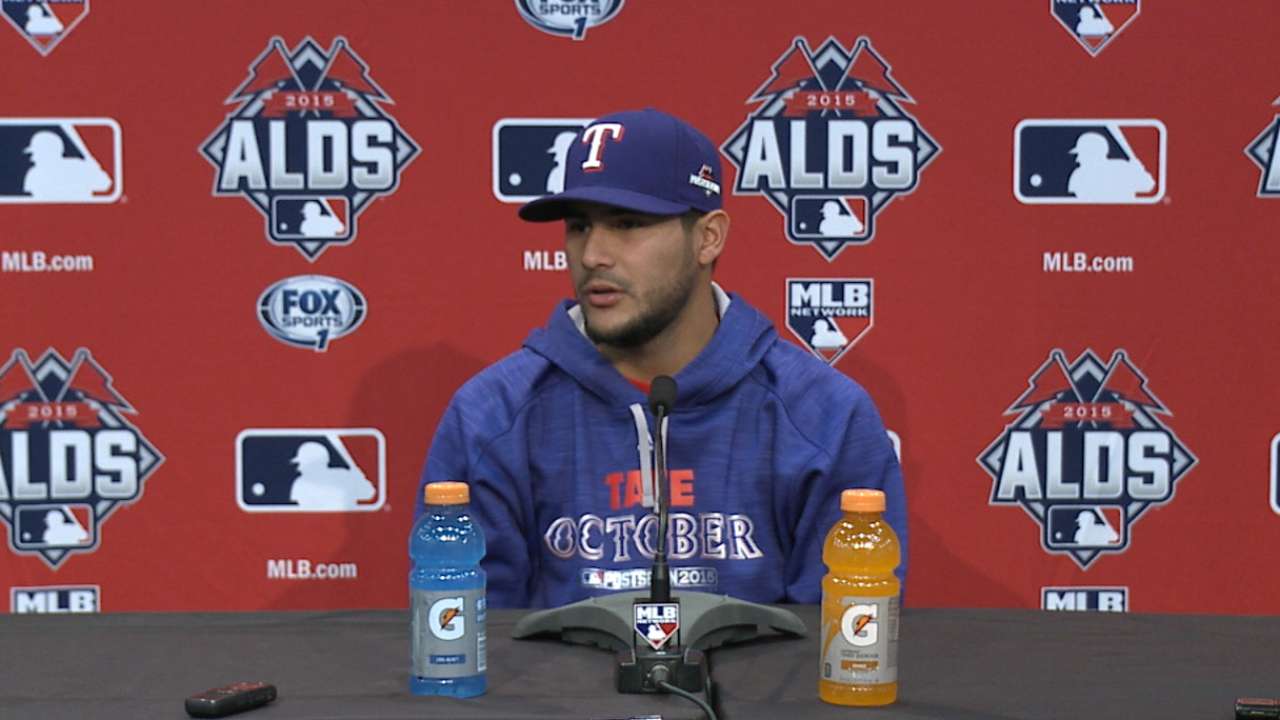 ARLINGTON -- Martin Perez hasn't pitched in a postseason game like the one he'll start for the Rangers tonight in Game 3 of the best-of-five American League Division Series (8 p.m. ET, FOX Sports 1/Sportsnet). He did pitch in an elimination game, though, when he started Game 163 of Texas' 2013 season to break a tie with the Rays for a Wild Card berth.
That game was lost by the Rangers. The lessons Perez learned were not.
•
Shop for official Rangers postseason gear
"It's experience to have that game," the 24-year-old Venezuelan said Saturday at Globe Life Park, "and pitch big games in Venezuela, too. I know it's going to be so loud tomorrow, but I have to control my emotion and do what I have to do. Control my pitches, what I want to throw, and at the end of the night, win the game."
As far as the Rangers are concerned, he can let his emotions run wild at game's end if he can control his pitches. Facing a Blue Jays lineup that chews up sinkerballers when they fail to locate, Perez has to be precise.
• Rangers seek sweep in Game 3 against Blue Jays
His sinker, when it's on, has late movement, Rangers catcher Chris Gimenez said. Perez's slider is an effective complement, and his changeup gives hitters a different look. But with the Jays' lineup looking to take advantage of a hanging offering, the left-hander has to work the ball in and out.
Having watched how Yovani Gallardo and Cole Hamels worked Jays hitters in the first two games, Perez sees what he has to do.
"I think I have to attack," Perez said. "That's the key: Keep the ball down. I have my plan."
That's what he did in his September starts. The difference from previous outings was that, 16 months removed from Tommy John surgery, his delivery was more consistent.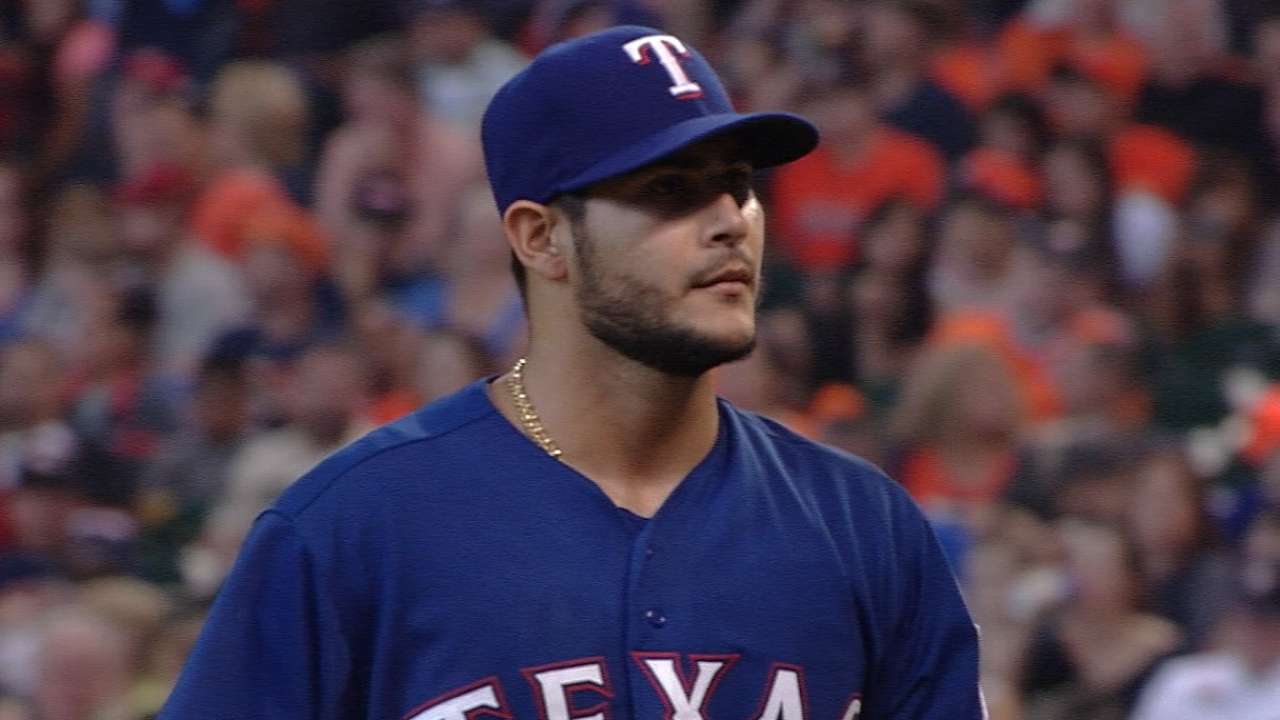 Twice in September, Perez shut down an Astros lineup that had been churning -- once for seven innings of one-run ball in a 14-3 win to complete a series sweep in Arlington, the other for six innings and two unearned runs with six strikeouts in a 4-2 loss at Houston. He closed out his regular season with seven innings of one-run ball against an Angels squad that desperately needed a win to maintain postseason hopes. The Angels got a 2-1 win, but it took a ninth-inning run to do so.
"This is the body of work and how he's thrown the ball lately," said Rangers manager Jeff Banister, looking beyond the 1-3 record and 3.60 ERA Perez posted over the final month and delving into the outings themselves.
Said Gimenez: "To me, the intensity was there, the crispness, the location. To get that feel, I think that's huge to be able to find that release point, find the crispness. He's relatively fresh, too, in the grand scheme of things, because he missed half the year."
Perez wasn't just effective in big spots down the stretch, he was efficient, thriving on early-pitch ground balls. His seven innings against the Astros taxed him for just 91 pitches, and his similar performance against the Angels took him exactly to the 100-pitch mark.
"He had to go figure out what he was good at again," Banister said. "So as he learned that, he gained more confidence in it and became more consistent. And again, I think he learned what his intentions were, and then as he was confident, he gained some conviction, which has allowed him to be able to execute pitches better."
Jason Beck is a reporter for MLB.com. Read Beck's Blog, follow him on Twitter @beckjason and listen to his podcast. This story was not subject to the approval of Major League Baseball or its clubs.