MLB.com Columnist
Roger Schlueter
Stats of the Day: Home no advantage thus far
Road teams have won the first four games of 2015 MLB postseason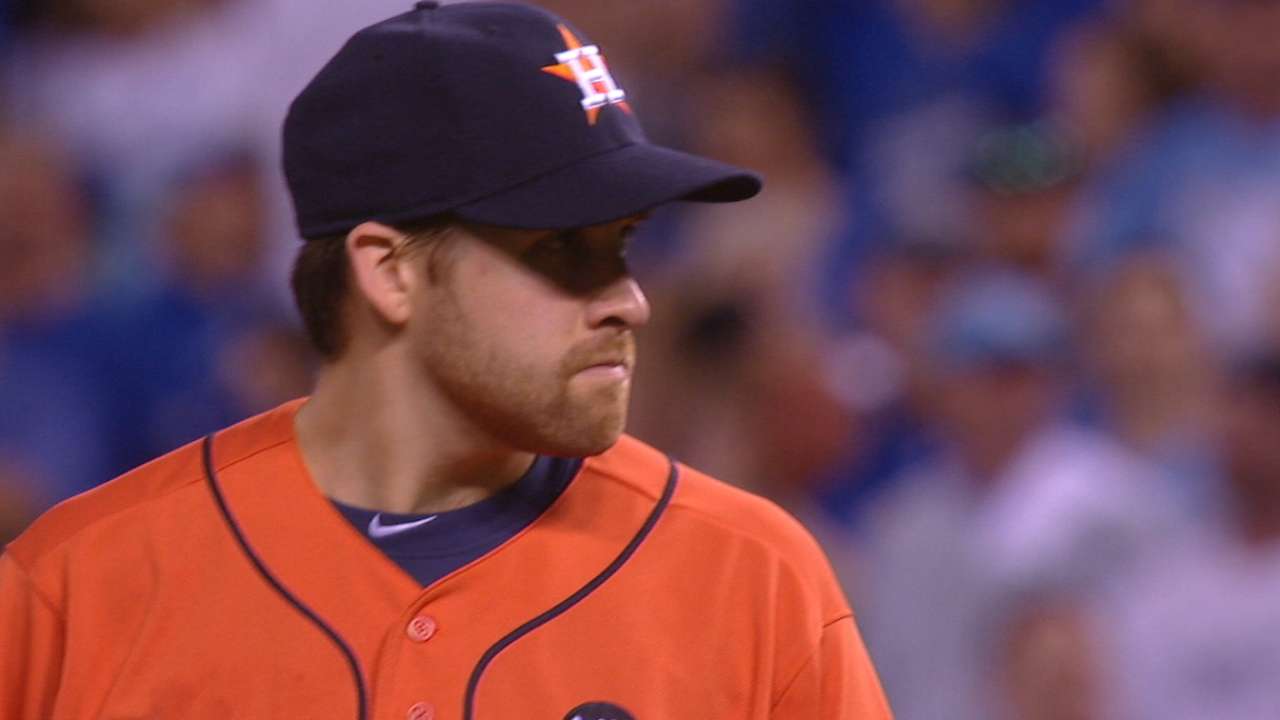 Here are five interesting items from Thursday's American League Division Series games …
• In Toronto for the opener of their ALDS, the visiting Rangers defeated the Blue Jays, 5-3. In Kansas City, the visiting Astros defeated the Royals, 5-2, to take a 1-0 lead in their best-of-five ALDS. With the wins by the Rangers and Astros, road teams in Division Series openers improved to 43-43 all-time. Road teams are now 4-0 in the 2015 postseason. From 1903-2014, road teams owned a collective 653-782 (.455) record. In the Wild Card era, visiting teams are now 304-357 (.460).
• With an eighth-inning home run, Houston's Colby Rasmus has gone yard in each of his two games this postseason, joining Ken Caminiti (1999) as the second Astros player to accomplish the feat. There have been seven players to homer in at least three straight games to open a postseason, including the Giants' Jeffrey Leonard (1987) and the Rangers' Juan Gonzalez (1996), who each went deep in four straight to start a postseason. Overall in his five-game postseason career, Rasmus is now 6-for-15 with three doubles and two home runs. Rasmus is the fifth player to open his postseason career with a five-game extra-base-hit streak.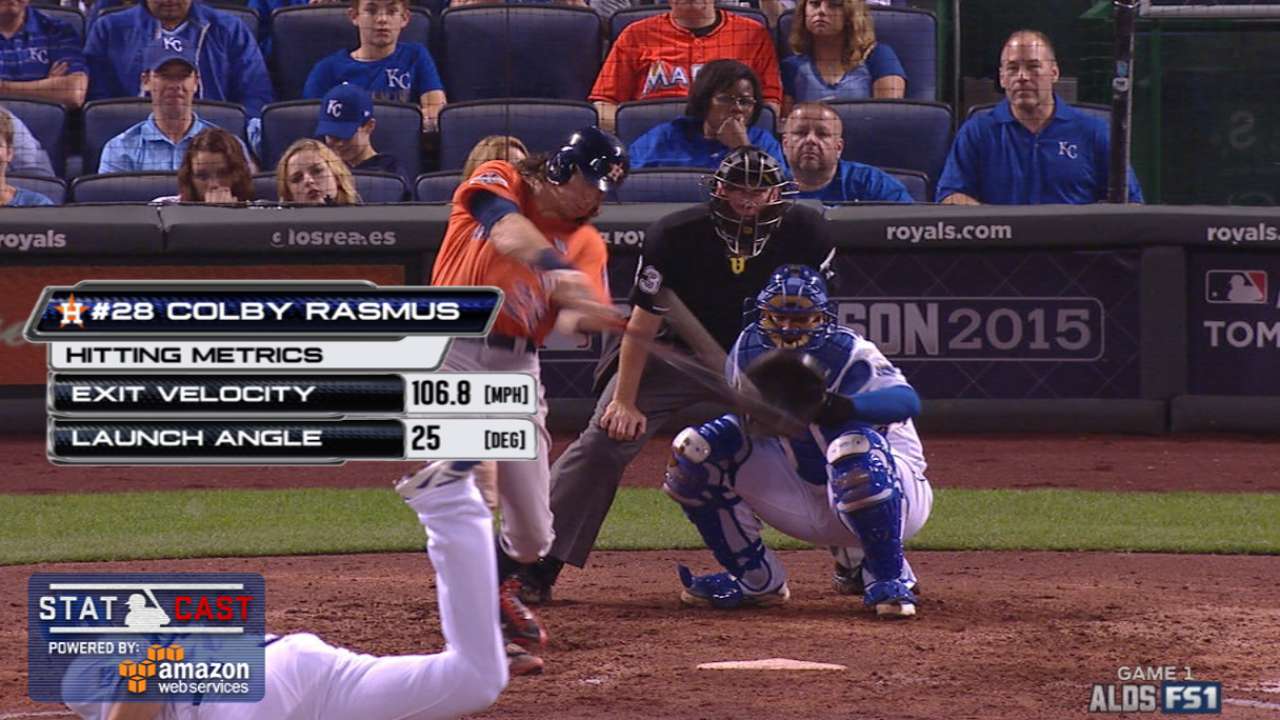 • Kansas City's Kendrys Morales homered twice in the loss, joining George Brett (three homers in a 1978 AL Championship Series Game 3 loss and two homers in an '85 ALCS Game 3 win) and Willie Aikens (two homers in both an '80 World Series Game 1 loss and an '80 World Series Game 4 win), as the only Royals players to hit at least two home runs in a postseason game. Morales' two-homer effort marked the 136th multi-homer performance in postseason history, and the 42nd in a Division Series affair. Overall, teams are 107-29 when they have a player homer at least twice, including a 29-13 record in the Division Series.
• In a four-inning relief effort, Royals right-hander Chris Young fanned seven of the 15 batters he faced. Young was the 14th reliever in postseason history to strike out at least seven. The previous high for a Kansas City reliever was five K's by Charlie Leibrandt in Game 7 of the 1985 ALCS. Baltimore's Moe Drabowsky struck out 11 in Game 1 of the '66 World Series for the most by any reliever in the playoffs.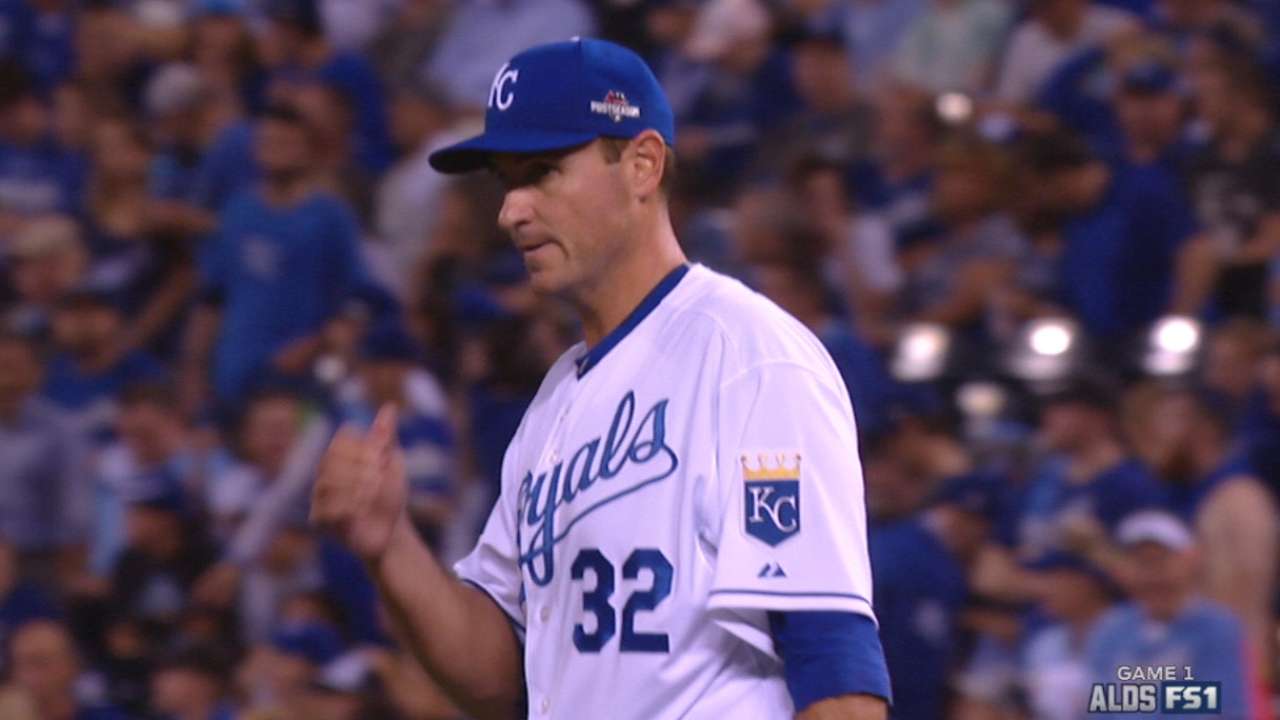 • Toronto's David Price took the loss, allowing five runs in seven innings. With the outcome, Price ran his postseason losing streak to six starts. Randy Johnson is the only pitcher to lose more consecutive starts in the postseason. Johnson dropped seven in a row from Game 6 of the 1995 ALCS through Game 2 of the 2001 NLDS, posting a 4.26 ERA during his losing streak. Price's streak began in Game 1 of the 2010 ALDS, and he has compiled a 5.23 ERA during that stretch.
Roger Schlueter is a contributor to MLB.com. This story was not subject to the approval of Major League Baseball or its clubs.