Jaw-dropping displays up for top defensive play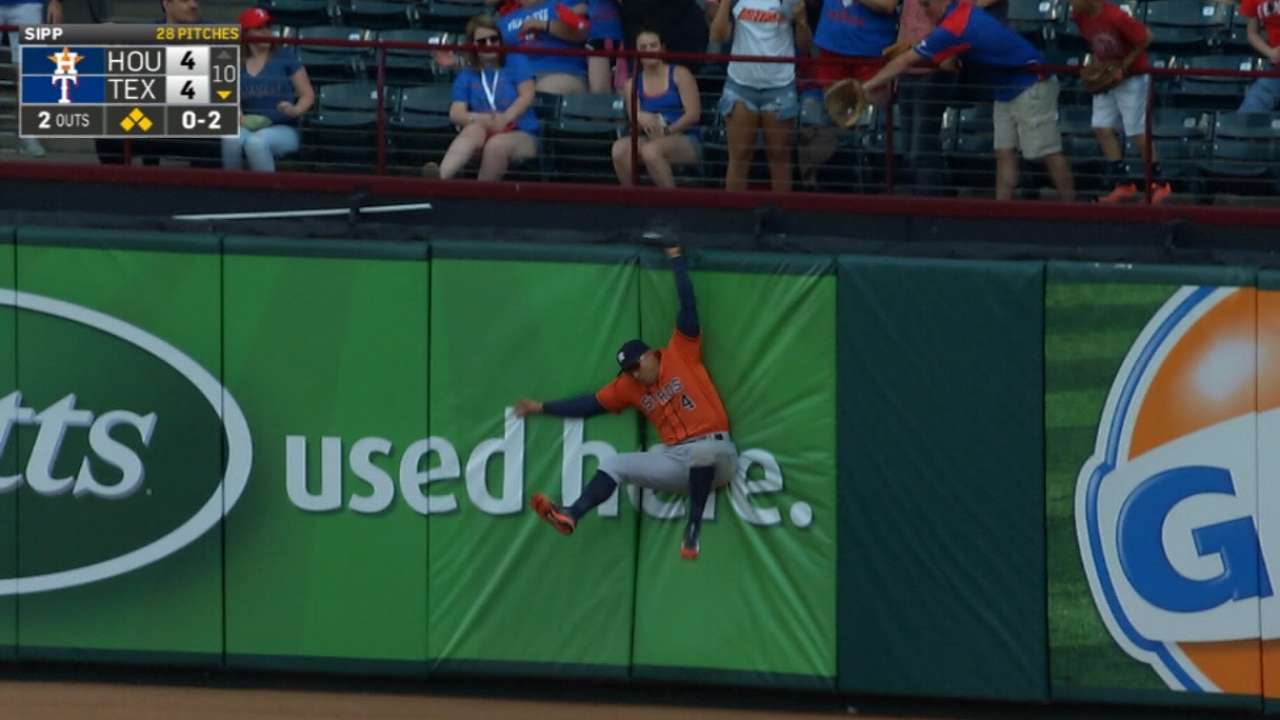 With sensational leaps, daring dives and incredible throws, players across the Majors racked up highlight-reel defensive gems on a near daily basis this season.
But several of those magnificent plays transcended the competition.
The Esurance MLB Award for Best Play, Defense recognizes those efforts and allows you to play a part in determining the ultimate defensive play of the year. Vote now for the Esurance MLB Awards to help decide the best of this year's best.
Ready to be astounded? Let's check out the nominees.
Astros outfielder George Springer made an early statement with his supreme display of athleticism on April 12 in Arlington. With two outs in the 10th inning, Springer chased down Leonys Martin's fly ball to right field, vaulted from the middle of the warning track and snatched what would have been a walk-off grand slam just before the ball left the yard.
Days after Springer's home run robbery, Blue Jays outfielder Kevin Pillar delivered one of his own against the Rays. In what was arguably the flashiest of his many defensive gems this season, Pillar made like Spider-Man by scaling the 10-foot-high left-field fence at Rogers Centre to pull back Tim Beckham's would-be home run on April 15.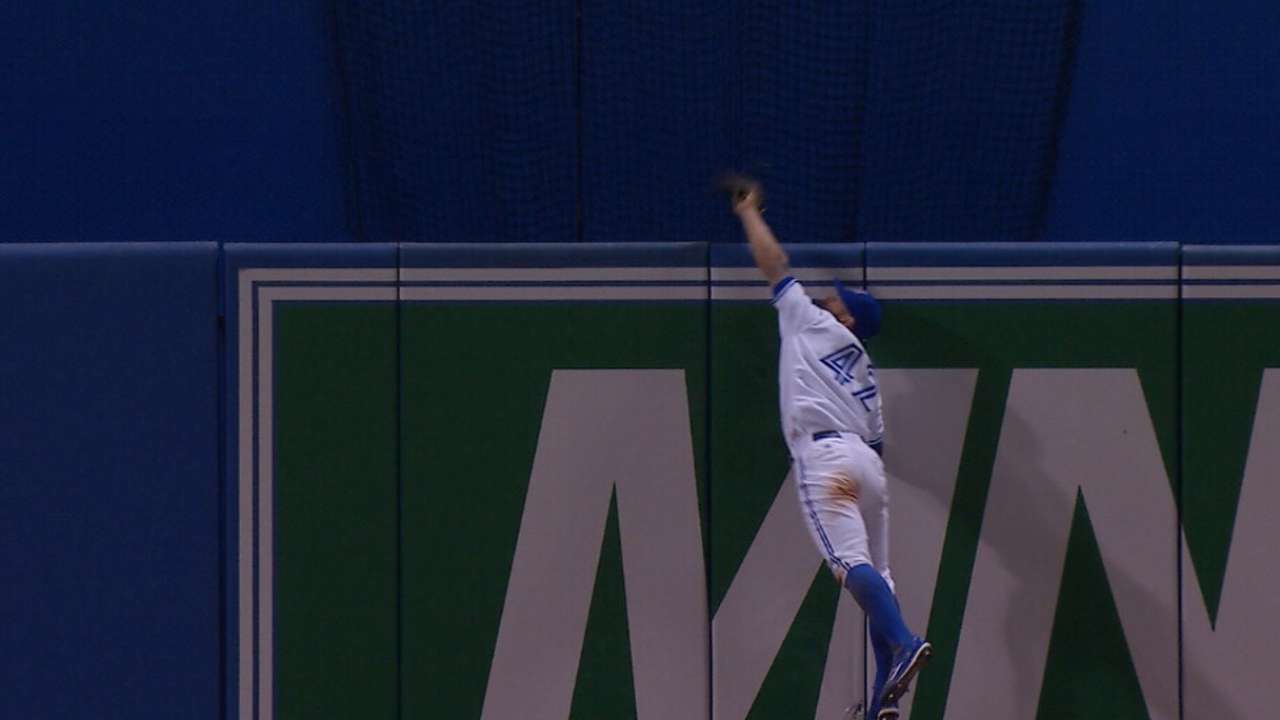 On the final day of August, Rays outfielder Kevin Kiermaier turned what appeared to be a surefire leadoff home run from Manny Machado into an out with a bit of aerial artistry. Reaching astonishing heights with his vertical leap from the warning track, Kiermaier stretched to bring back the blast.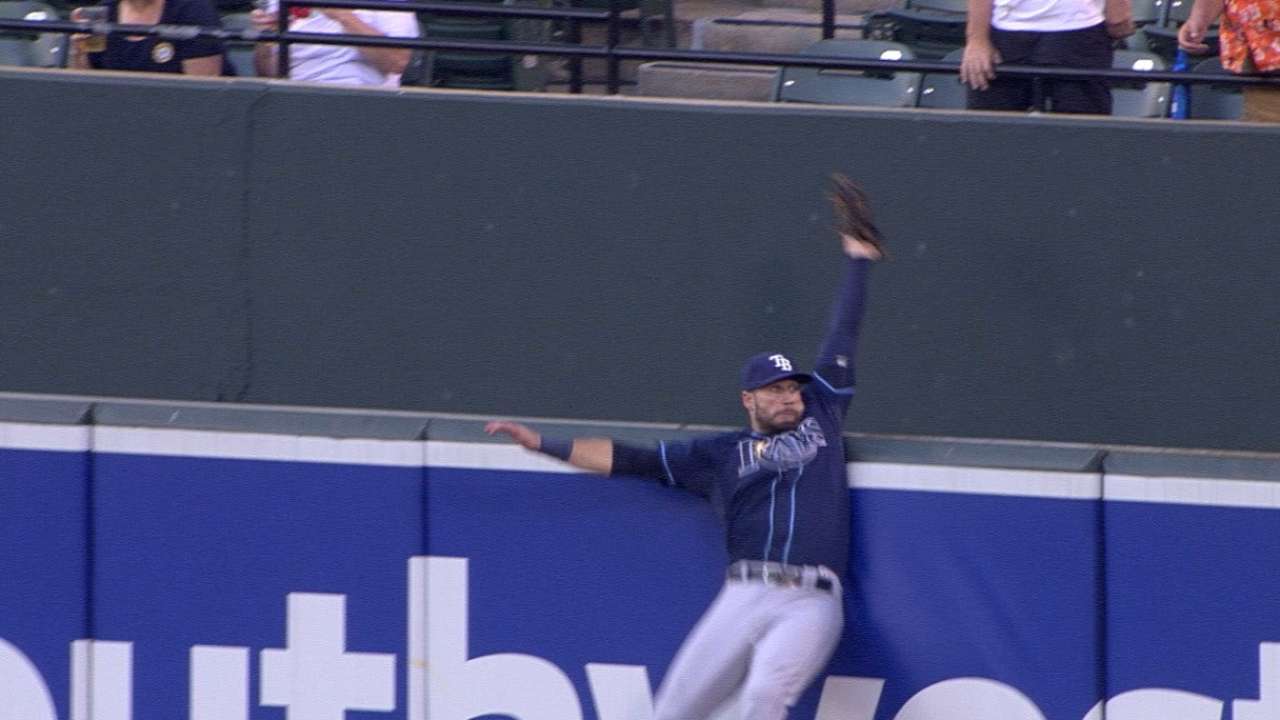 While Kiermaier's catch came at the outset of a game, Red Sox outfielder Mookie Betts ended a contest -- and saved Rich Hill's first shutout since 2006 -- with his amazing snag on Chris Davis' fly ball to deep right-center field in the ninth inning. Betts barely avoided a head-over-heels tumble into the Boston bullpen as he helped the Red Sox blank the Orioles on Sept. 25 at Fenway Park.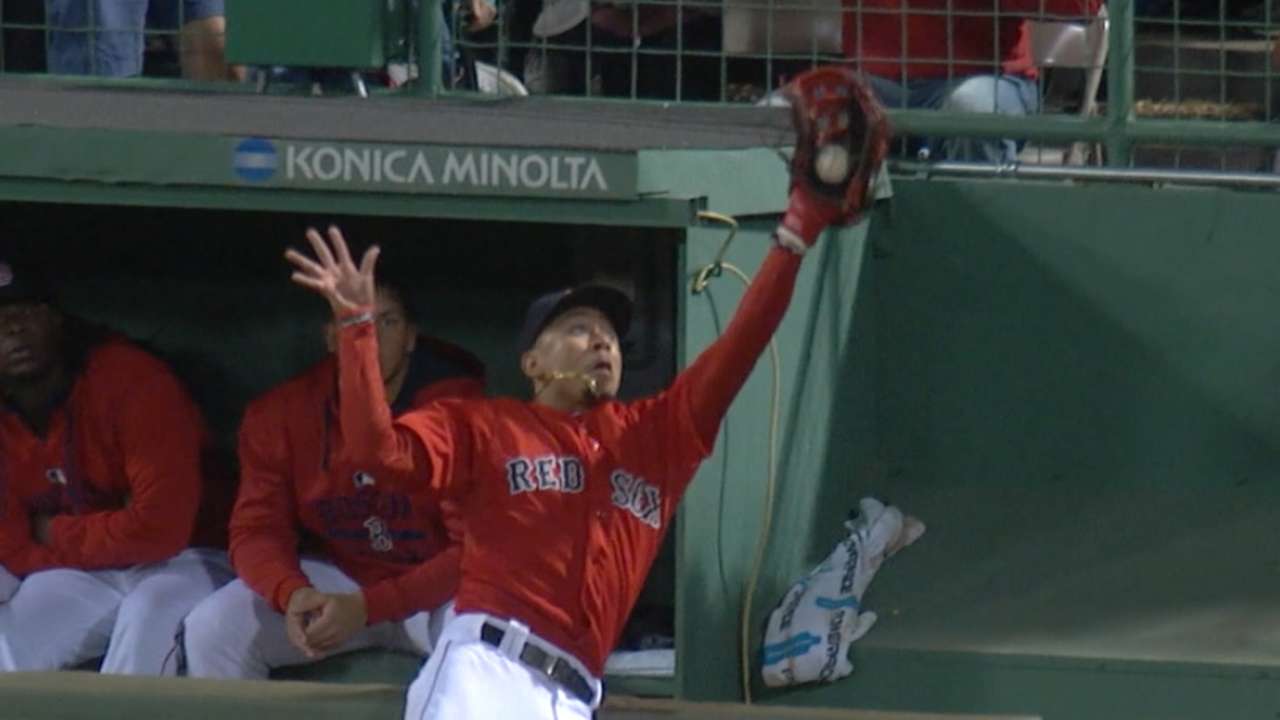 One day after Betts' game-ending grab, Angels outfielder Mike Trout momentarily defied gravity to corral a Jesus Montero shot that seemed destined to leave the yard. Trout tracked Montero's fly ball for more than 88 feet, per Statcast™, used the center-field wall as a foothold and stretched over it to pull back the would-be home run.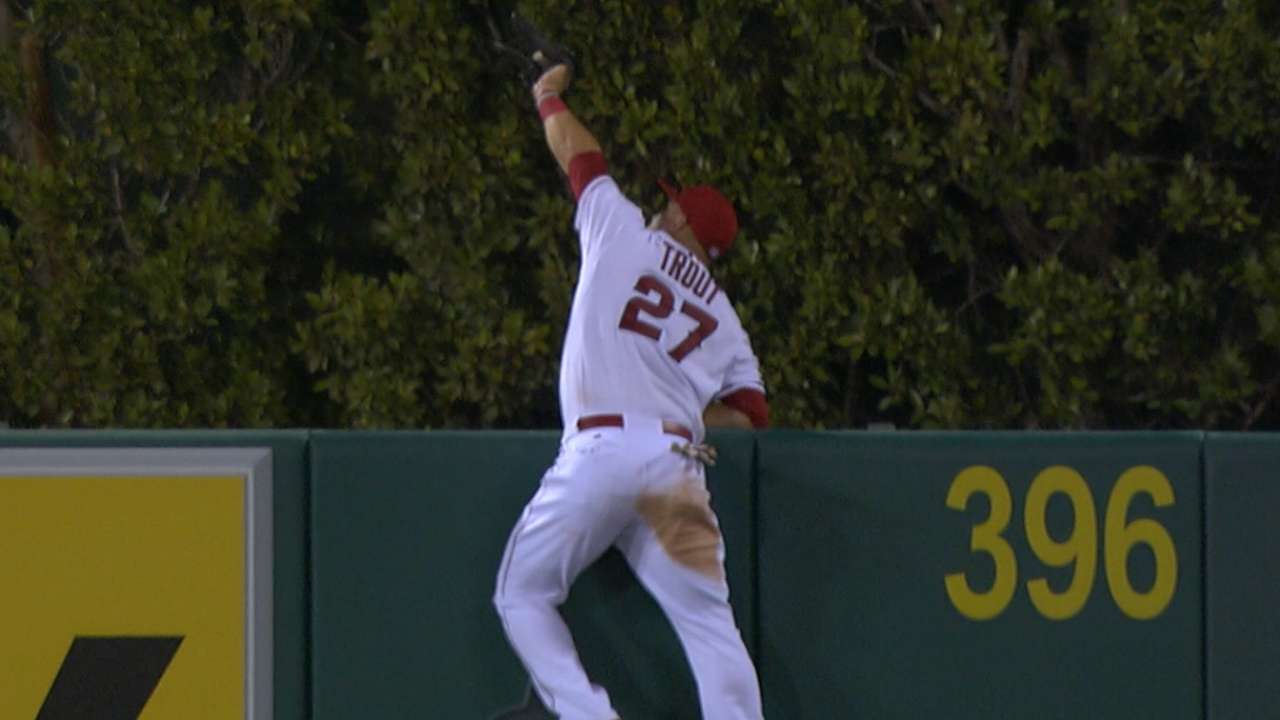 Although Royals outfielder Alex Gordon didn't take away a home run with his April catch at U.S. Cellular Field, the play was fantastic in its own right. The four-time American League Gold Glove Award winner made a remarkable effort to record an out, catapulting into the front row down the left-field line to secure the ball in his glove after covering 87 feet of real estate.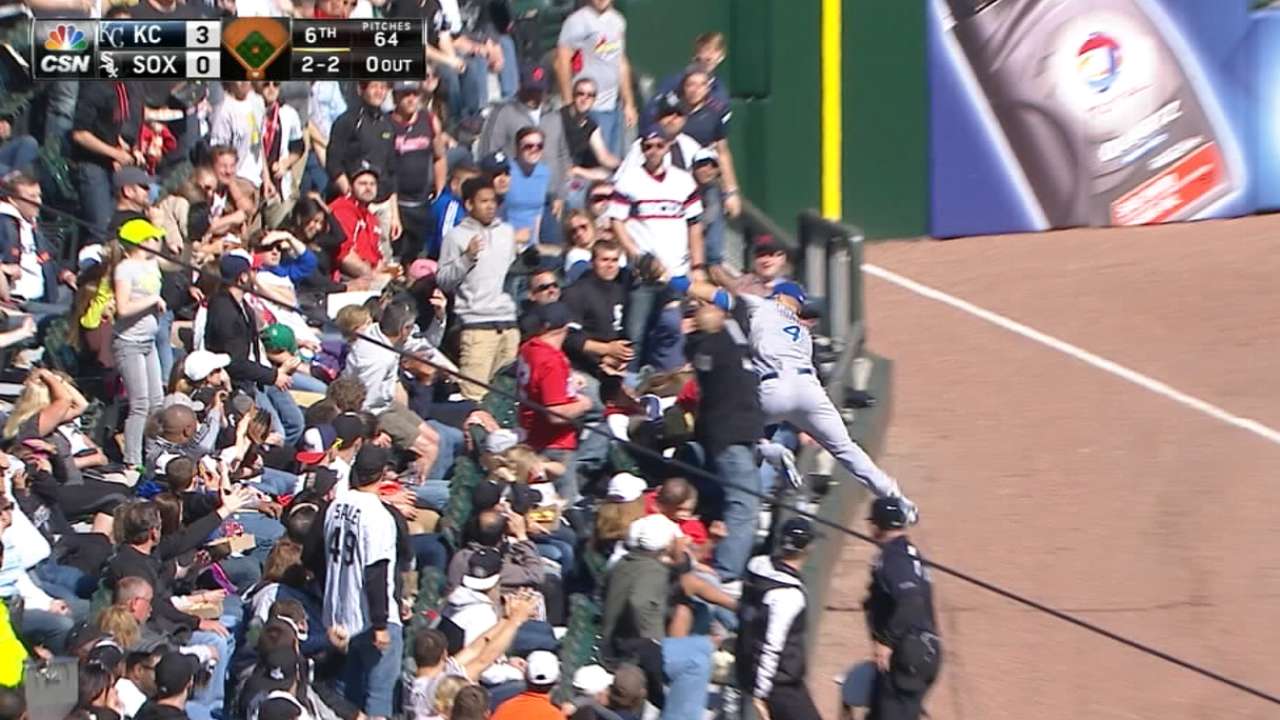 Blue Jays third baseman Josh Donaldson executed a similar effort at Tropicana Field on June 24, diving head-first into the stands to temporarily maintain Marco Estrada's perfect-game bid in the eighth inning. Donaldson ended up nearly parallel to the ground on his daring leap before landing in a fan's lap with Estrada's 22nd consecutive out secured in his glove.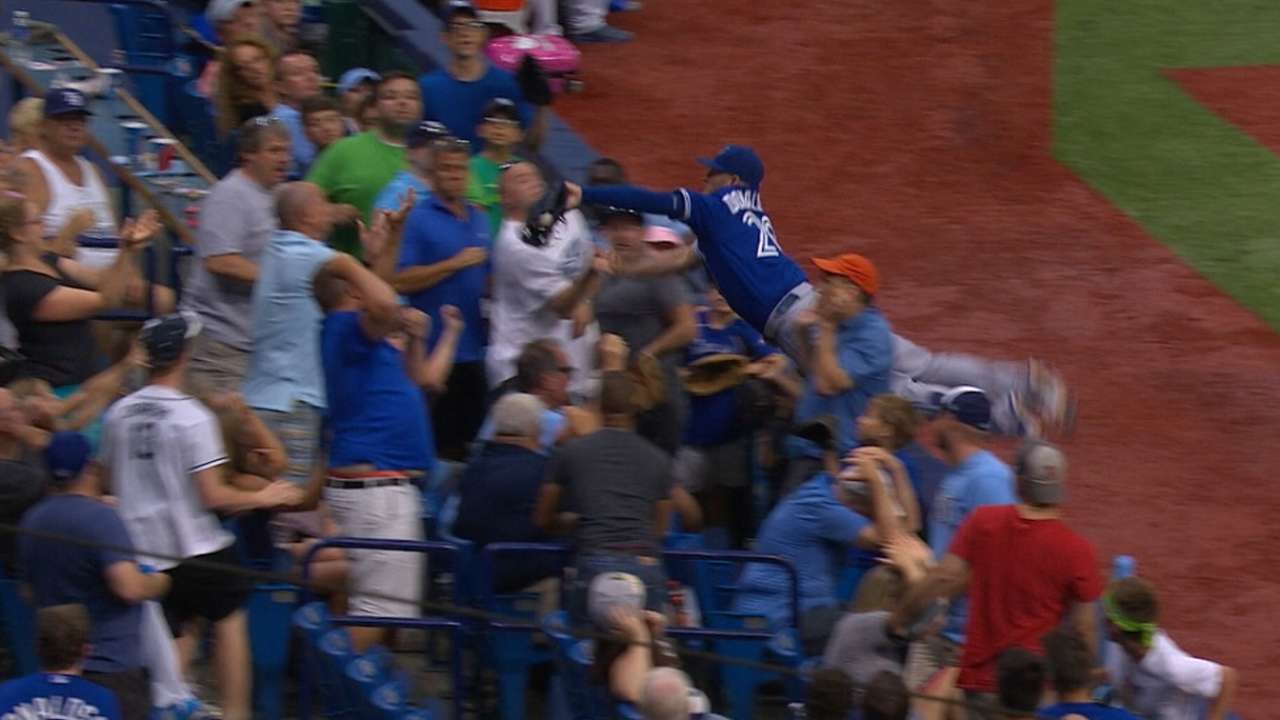 Donaldson was not the only third baseman to give up his body for the cause this year, as Nolan Arenado of the Rockies was nearly upended into the stands after making a terrific over-the-shouder catch at AT&T Park on April 14. Setting up near the lip of the infield grass at third base, Arenado had to cover a considerable distance to track down Gregor Blanco's foul popup down the left-field line. Arenado maintained stellar speed to secure the catch before flying onto the rolled tarp.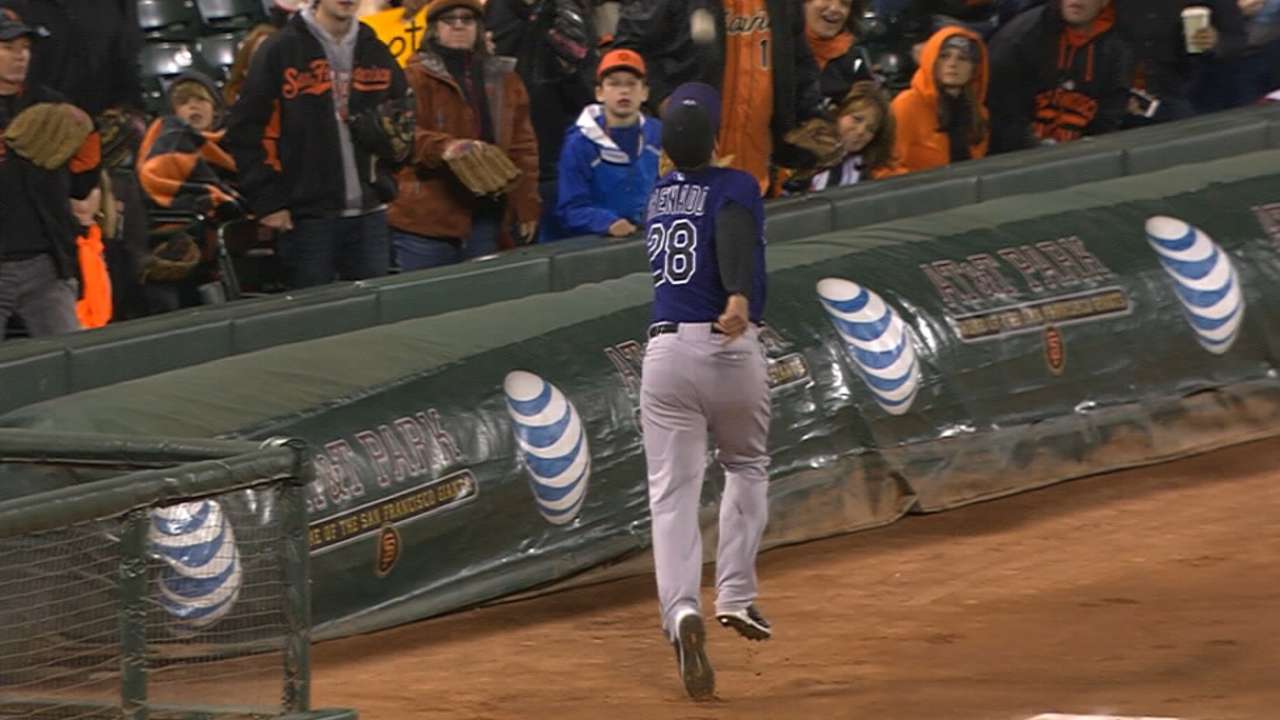 If silky smooth middle-infield gems are your preference, you'll love what Reds second baseman Brandon Phillips did on June 5 against the Padres. Displaying the flair that has helped him win four National League Gold Glove Awards, Phillips made a diving backhand stop on a sharp ground ball up the middle, rose to one knee and administered a slick behind-the-back flip to shortstop Zack Cozart, who completed the 4-6-3 double play with a strong throw to first.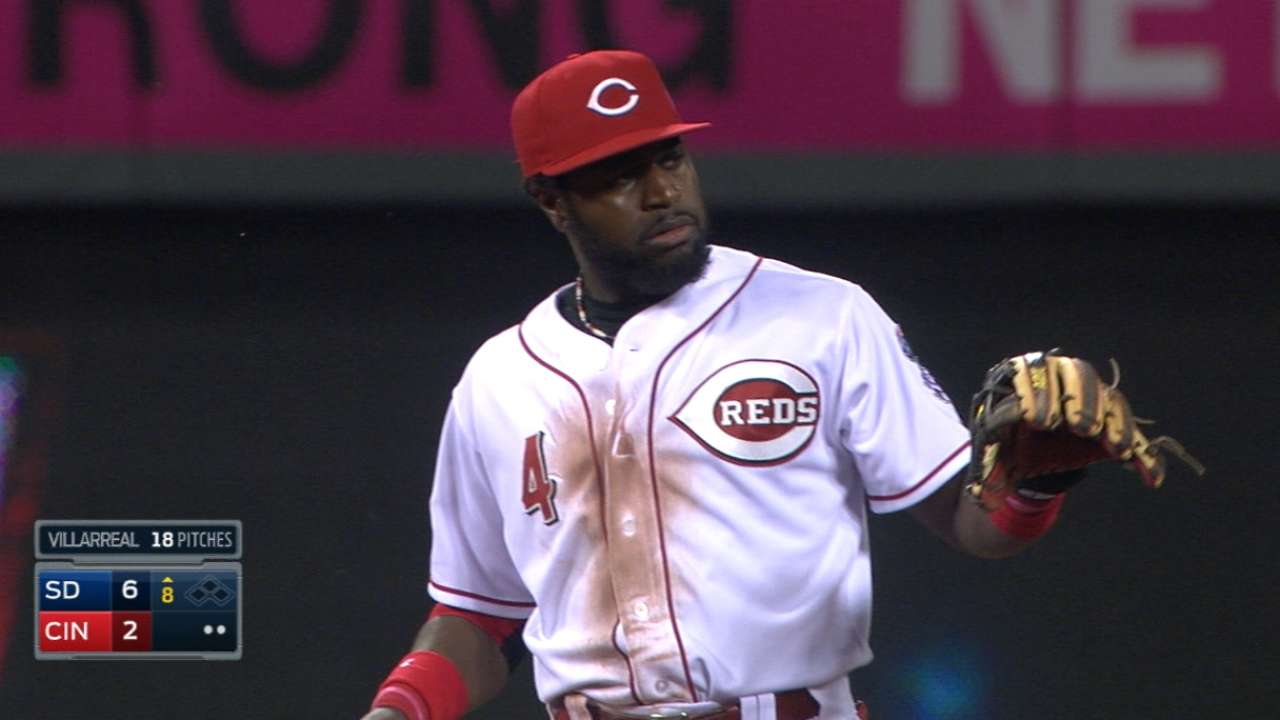 With his sterling display on April 10, Braves shortstop Andrelton Simmons may have created a sense of déjà vu for Travis d'Arnaud. Less than eight months after robbing d'Arnaud of a hit with a backhand stop and jump-throw from the outfield grass, shortstop Andrelton Simmons took another knock away from the Mets catcher in nearly identical fashion. Unlike in 2014, however, Simmons completed this year's rendition without bouncing the toss to first base.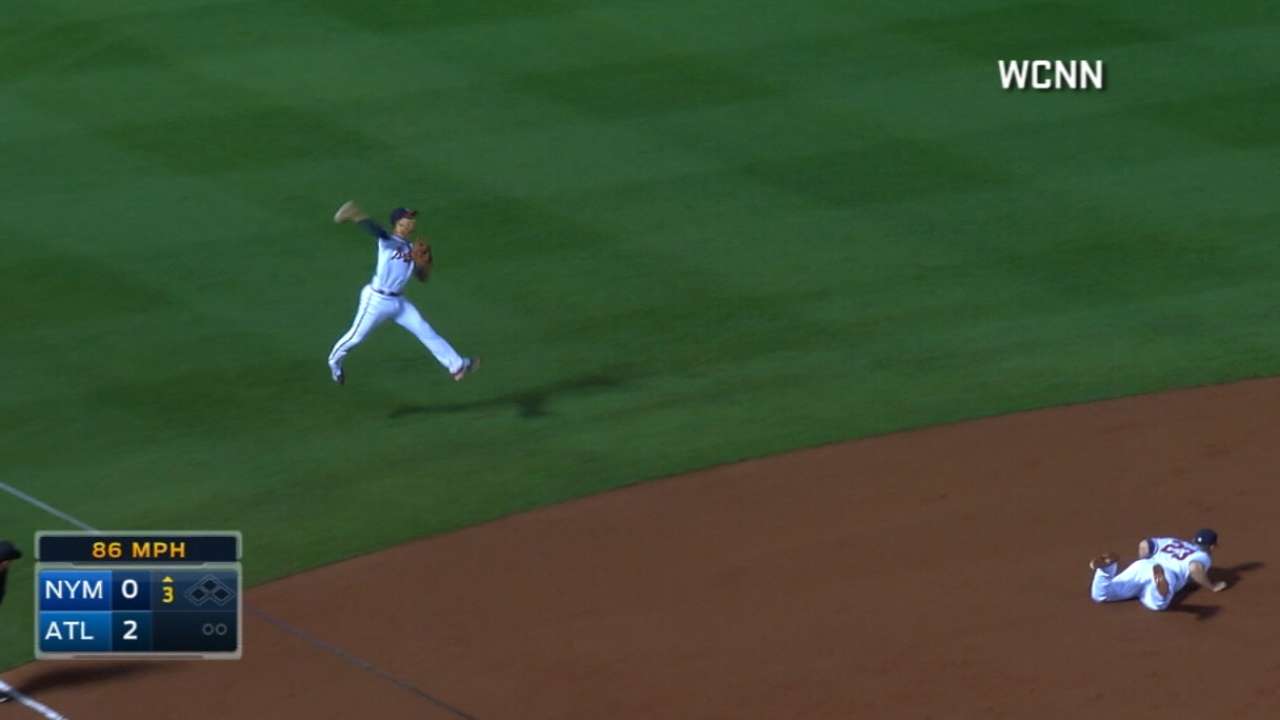 Speaking of impressive throws, Jose Bautista arguably registered the outfield toss of the year on Sept. 22 against the Yankees. After catching Jacoby Ellsbury's fly ball in right field, Bautista unleashed a magnificent heave that traveled 267 feet to catcher Dioner Navarro, who secured the ball on the fly and tagged a sliding Chris Young in one fell swoop.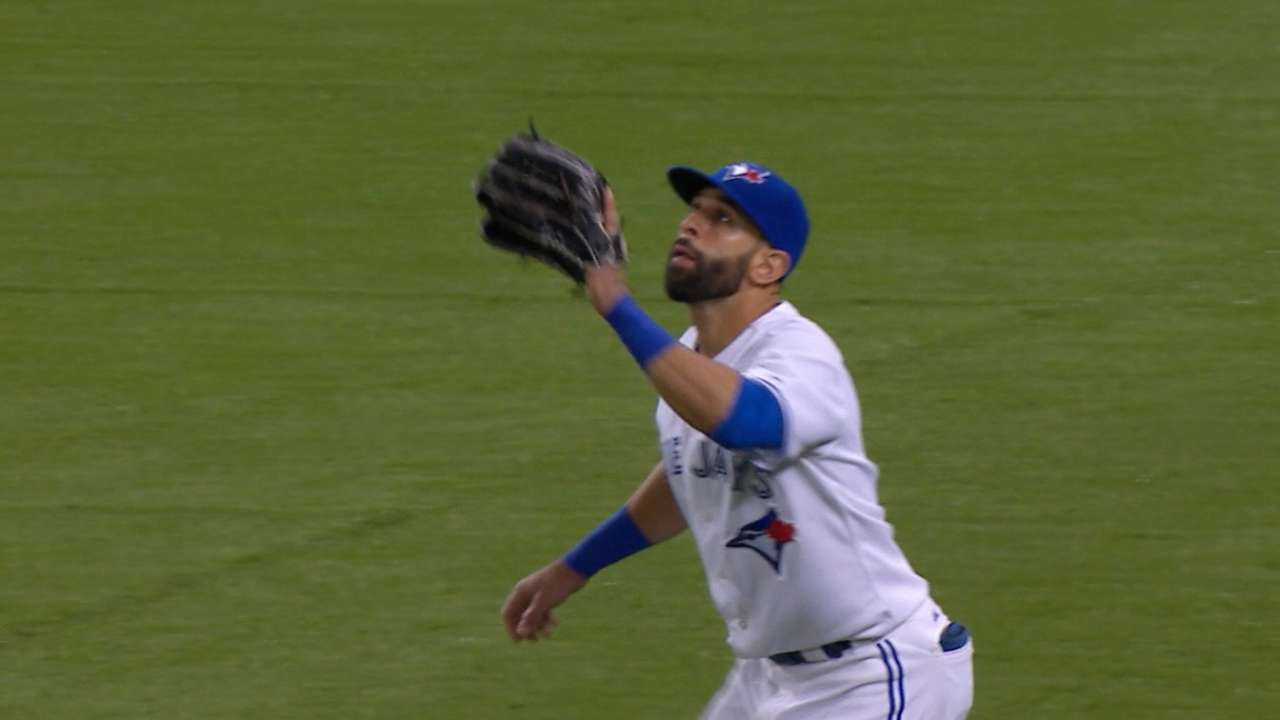 So there you have it. Eleven extraordinary fielding feats from which to choose. Fortunately, you have some time to view and enjoy these gems over and over before making your decision.
The Esurance MLB Awards annually honor Major League Baseball's greatest achievements as part of an industry-wide balloting process that includes five components, each of which accounts for 20 percent of the overall vote: media, front-office personnel, retired MLB players, fans at MLB.com and Society for American Baseball Research (SABR) voters.
Individual awards will go to the Best Major Leaguer in addition to the winners in the following categories: The Best Everyday Player, Starting Pitcher, Rookie, Defensive Player, Breakout Player, Bounceback Player, Manager, Executive, Social Media Personality and postseason performer.
Winners will also be recognized for the year's best offensive play, defensive play, Moment, single-game performance, Social Media Post, Celebrity Fan, Fan Catch, Interview, TV call, radio call, Player-Fan Interaction, Video Board Moment and Trending Topic.
Voting will remain open through Nov. 13 by visiting mlb.com/awards. Winners will be announced live on MLB Network and MLB.com on Nov. 20.
Thomas Harrigan is a fantasy editor for MLB.com. This story was not subject to the approval of Major League Baseball or its clubs.