d'Arnaud back in LA hometown for postseason
Stomping Grounds: Mets catcher grew up 20 minutes from Dodger Stadium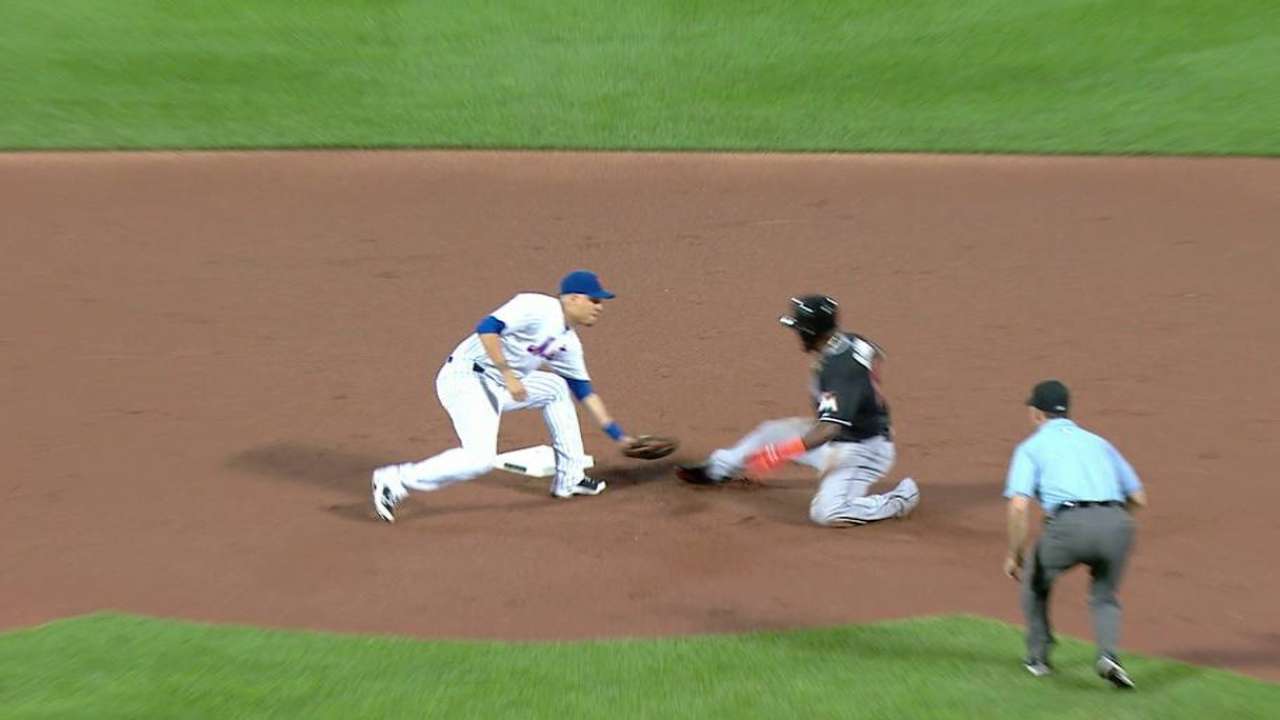 NEW YORK -- Travel bags draped in orange and blue New York Mets designs left Citi Field -- where Travis d'Arnaud has played more than half of his Major League games -- bound for LAX on Wednesday. But make no mistake, d'Arnaud was returning home.
The Mets' catcher grew up 20 minutes from Dodger Stadium, right between Chavez Ravine and Angel Stadium. There, d'Arnaud and his older brother Chase d'Arnaud -- now a shortstop for the Phillies -- grew up Dodgers fans. Travis loved Mike Piazza and from an early age, vowed to follow in his role model's footsteps.
• Shop for Mets postseason gear
"For a [62nd] round pick to do what he did," d'Arnaud said. "I always liked him."
The two are now friendly. And d'Arnaud now carries considerable responsibility heading into the 2015 National League Division Series, New York's first postseason series since 2006. His assignment: provide defensive leadership and lineup punch for his current team against his childhood favorite.
"That eight-year-old inside of me will always be there," d'Arnaud said.
d'Arnaud was 17 the last time the Mets were in the postseason, a junior, power-hitting catcher for Spud O'Neill's 2006 CIF Division 1 championship team at Lakewood High School.
"The Five-Foot-Five Team, I call it," O'Neill said. "We weren't very big, except for at catcher. We could run and bunt and all that stuff. Travis was the leader. For the lack of a better word, a stud."
Lakewood alums have won World Series rings each of the past two seasons -- first baseman Mike Carp with the Red Sox in 2013 and infielder Matt Duffy with the Giants in '14. Now the torch passes to d'Arnaud, whose playoff journey starts right in his backyard, at Dodger Stadium.
"We're hoping Travis gets a ring this year," O'Neill said. "That would be three in a row."
The Phillies drafted d'Arnaud out of Lakewood in 2007 in the supplemental round (No. 37 overall), and so began an erratic professional career that bordered on historic even before his big league debut. d'Arnaud was traded for two different Cy Young Award winners as a Minor Leaguer -- to the Blue Jays in a package for Roy Halladay in 2009, and to the Mets for R.A. Dickey in '12.
He debuted with the Mets in 2013 and the next year returned as a visitor to Angel Stadium, where Lakewood clinched its championship in 2006. d'Arnaud homered off Tyler Skaggs (another Los Angeles native). Later in the year, d'Arnaud singled in his first career game at Dodger Stadium. In his third, he cranked another homer -- one of 13 during his rookie season.
He hit 12 this season, though that number would surely be higher if two freak injuries hadn't limited his season to 67 games.
One of those, a hyperextended elbow suffered on a play at the plate, prevented d'Arnaud from playing when the Mets visited Dodger Stadium in July. It would have been d'Arnaud's first time at Chavez Ravine since the 2014 postseason -- when he watched the Dodgers play the Cardinals as a fan.
He'll be playing this October, for his team and that 8-year-old on the inside.
"He's thinking of winning the World Series," d'Arnaud said.
Joe Trezza is an associate reporter for MLB.com. This story was not subject to the approval of Major League Baseball or its clubs.