Mets' rotation is here, and it's feared
Young starters have arrived in New York in impressive fashion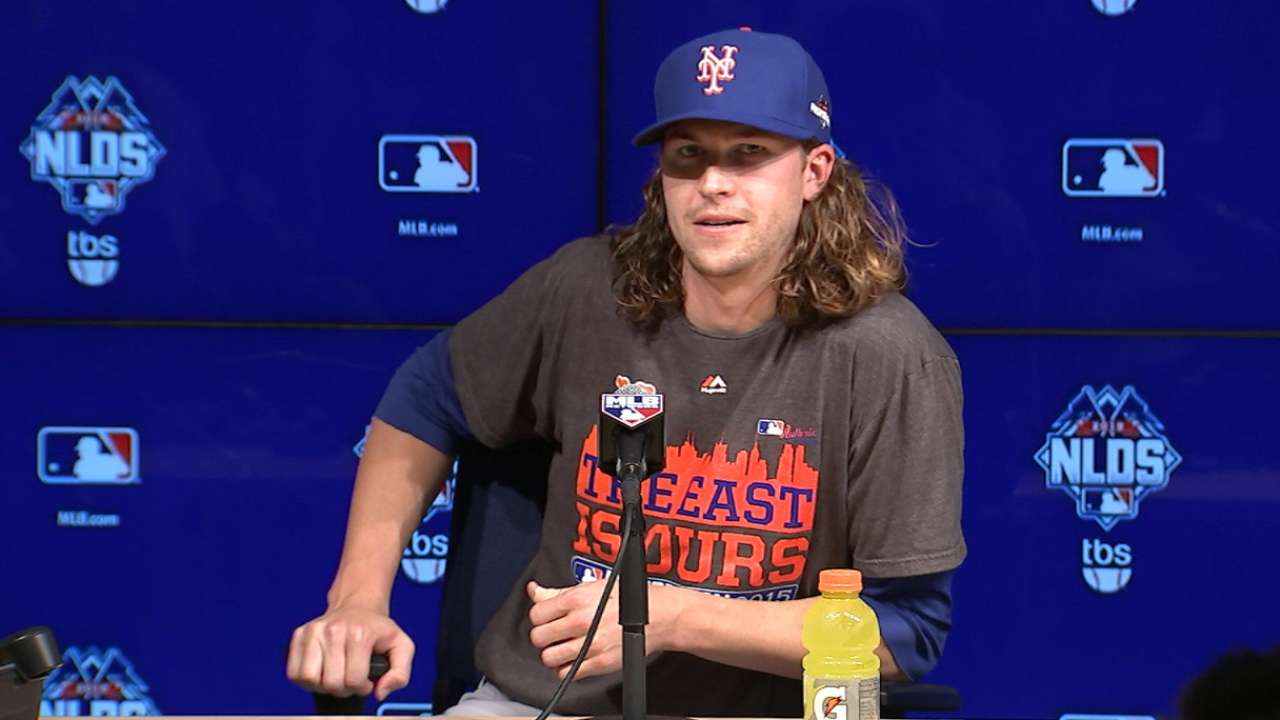 LOS ANGELES -- Coming out of the All-Star break, dedicated to attacking the National League East race with everything in their arsenal, the Mets stacked their rotation for a critical three-game series against the Nationals. Matt Harvey pitched. Jacob deGrom pitched. Noah Syndergaard pitched.
At one point late in the series, Mets catcher Kevin Plawecki singled and jogged toward first base, where he struck up a conversation with the Nationals' Clint Robinson.
• Shop for Mets postseason gear
"How's it going?" Plawecki asked him.
"I'm just ready to not face a 93-mile-an-hour changeup," Robinson replied.
Plawecki laughed, cognizant of the effect that Mets starters have on opposing hitters. Should Steven Matz prove healthy enough to start Game 4 of the National League Division Series against the Dodgers, which begins tonight in Los Angeles (9:30 p.m. ET on TBS), the Mets will use nothing but starting pitchers who average better than 94 mph on their fastballs.
Syndergaard tops the list, averaging over 97 mph and topping out at 100. deGrom, also, has hit triple-digits, despite a four-seamer that comes in slower on average than those of Syndergaard and Harvey.
Their fastballs are fast. Their sliders are fast. Their changeups cross home plate at roughly the same velocity as Bartolo Colon's heaters.
"I think that can be a little frustrating for some of their players," Plawecki said. "You appreciate how hard the game can be sometimes."
This has long been the organization's vision: in constructing their first postseason team in nine years, the Mets built everything around a core of young, controllable starting pitchers. That they all throw hard is a byproduct of modern baseball; velocity acts as a magnet for amateur scouts, giving hard throwers a better chance to be noticed than those who lack velocity. It also gives Mets starters a margin for error that other staffs lack, leading the NL in collective fastball and slider velocity.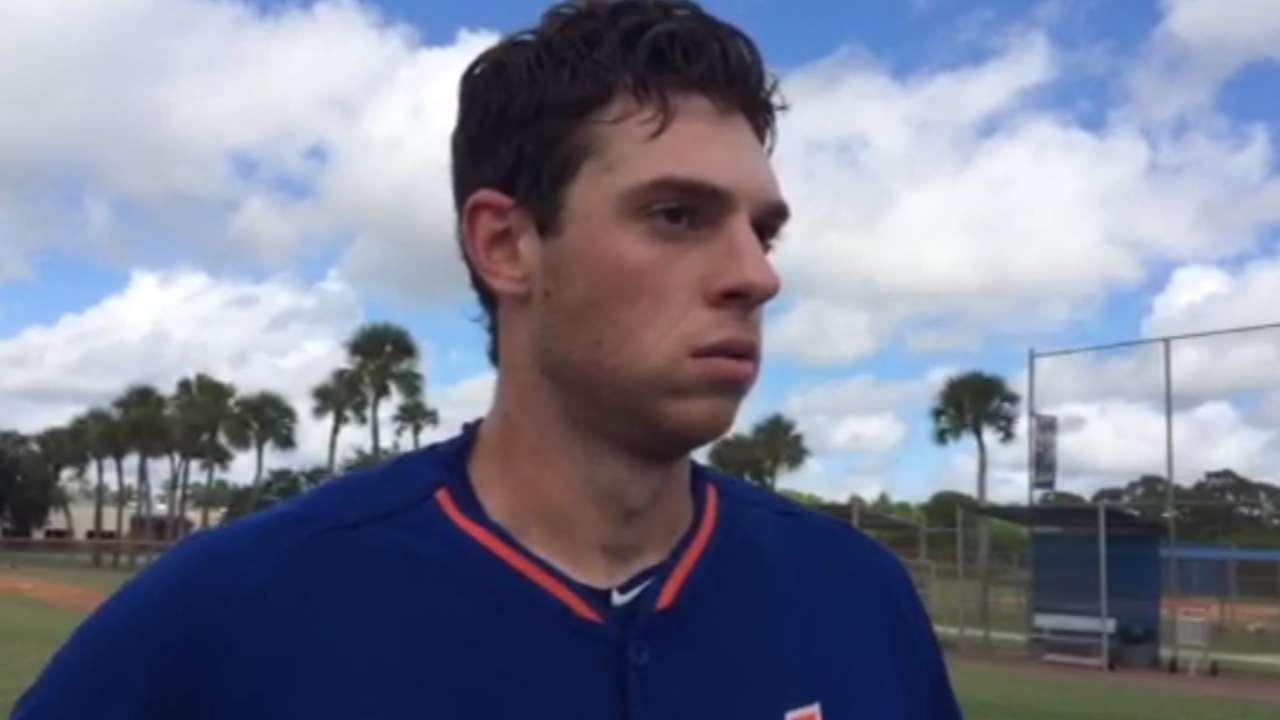 "I've never seen a crop of guys that are this talented," Minor League pitching coordinator Ron Romanick said. "They've blossomed. You try to put a good culture, a good program in place for them and hope they take off."
Things coalesced for this group two weekends ago in Cincinnati, when Matz, Syndergaard, Harvey and deGrom started consecutive games for the first time. The result: 26 innings, 34 strikeouts, zero walks, a 2.77 ERA and an NL East title.
"I've been saying this for a long time," manager Terry Collins said, chuckling at a question about his rotation. "When you think about what this thing could become, what it can be in a year, night after night after night … the other team's saying, 'We've got to face three of these guys?'"
The roots of the NLDS rotation actually began with the most recent man to join it, Matz, the organization's top Draft pick in 2009. Harvey followed as a first-round Draft pick in 2010, cracking the Majors two years later. The Mets selected deGrom in the ninth round that same June, though he took a bit longer to develop. So did Syndergaard, who came to the club as part of the R.A. Dickey trade with the Blue Jays in '12.
Though their paths may have been different, they all arrived with one thing in common: upper-90s four-seam fastballs. Further development has come at the big league level: Harvey's changeup, for example, has become a significant weapon for him. Syndergaard has learned the art of mixing offspeed pitches in fastball counts. deGrom has added velocity as he has progressed, while Matz's biggest challenge has been staying healthy.
They're not the only four, either. Collins went out of his way to mention Zack Wheeler, who also tops out in the upper 90s and should be fully recovered from Tommy John surgery by the middle of next summer. The Mets have taken a painstaking approach -- much of it more public than they would have liked -- to keep their entire group as healthy as possible, with the goal of removing any sort of innings-limit shackles in October. Harvey drama aside, they have achieved it, budgeting all four of their NLDS starters for triple-digit pitch counts within games. Only Harvey will be limited in the playoffs, starting Game 3 to ensure he won't appear more than once in the first round.
For the Mets, that's a small price to pay for what they consider their most significant strength.
"This is the beginning of what's to come," Harvey said. "Like I've said all along, we're here to win now. Obviously we won this year and we're going to where we want to be. But for the staff to look like it does for years to come, it's exciting."
Anthony DiComo is a reporter for MLB.com. Follow him on Twitter @AnthonyDiComo and Facebook, and listen to his podcast. This story was not subject to the approval of Major League Baseball or its clubs.