MLB.com Columnist
Richard Justice
Rangers set up to stun Blue Jays in ALDS
After winning Game 1, Texas turns to postseason veteran Hamels in Game 2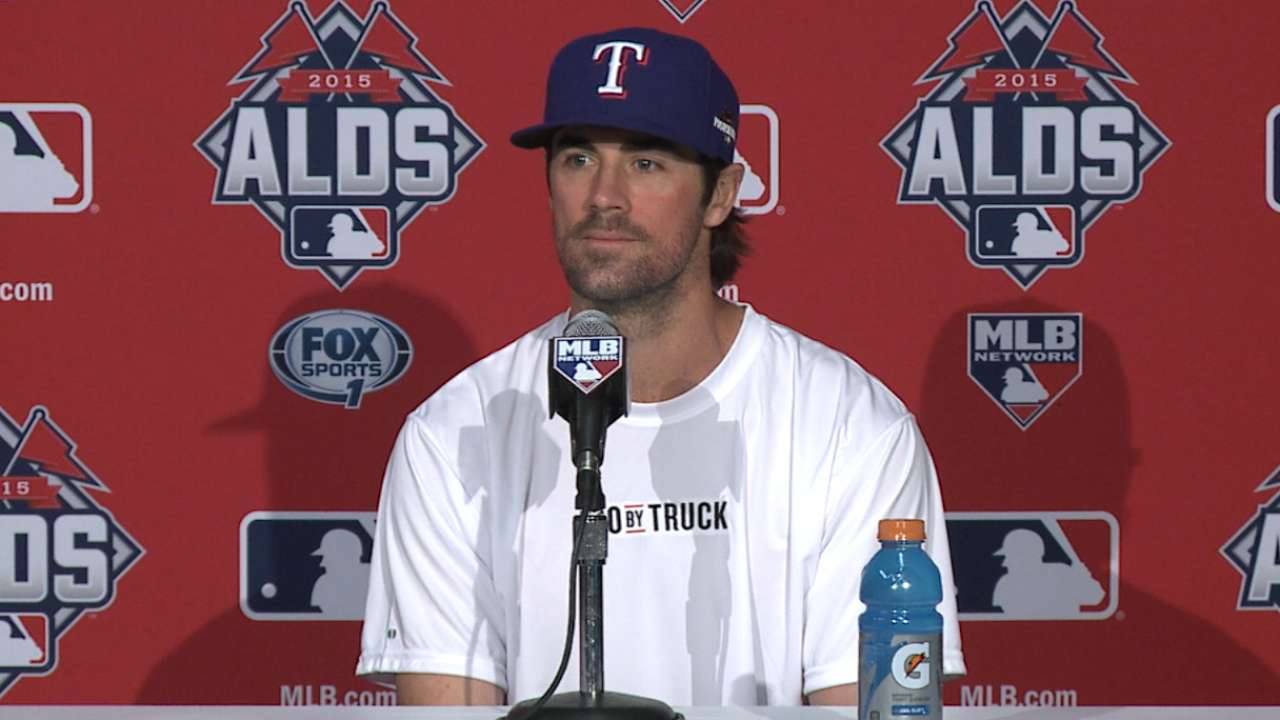 TORONTO -- Suddenly, the pressure shifts to the Toronto Blue Jays. Not in a small way, either. That's the thing about a short series. Every little thing is magnified. One bad pitch or one poor at-bat can turn the whole thing on its head.
Things are lined up nicely for the Rangers after beating the Blue Jays, 5-3, in Game 1 of the best-of-five American League Division Series on Thursday at Rogers Centre. If there's a Rangers' blueprint for a perfect outcome, this is it.
The Rangers got an early lead off Blue Jays starter David Price, hit two home runs and got four innings of one-run ball from three relievers.
If there's a blueprint for winning a series, this is also it. For Game 2 today (12:30 p.m. ET, MLB Network), the Rangers will hand the ball to their ace -- Cole Hamels. That's both symbolic and substantive.
His arrival from the Phillies at the July 31 non-waiver Trade Deadline marked the start of the Texas turnaround and sent a message to the players that Rangers general manager Jon Daniels was all in for 2015.
Hamels said the same thing the day he arrived. He said he admired many of the Rangers players from afar and that he believed great things could still happen. The Rangers are 39-22 since and clinched the AL West on the final day of the regular season.
Hamels did his part by going 7-1 after arriving from Philadelphia. The Rangers won his final 10 starts, and this game today -- in front of a big, noisy, rambunctious Rogers Centre crowd -- is why the Rangers are feeling good about themselves.
"He's been through the biggest games ever," Rangers reliever Jake Diekman said of Hamels. "He's not a World Series MVP for nothing."
Hamels was the MVP of the 2008 World Series. He has made 13 postseason starts and compiled a 3.09 ERA. For much of his 10-year career, the left-hander has been at his best when the stakes are the highest.
"I think the postseason's where it's at," he said. "This is what we trained for. Especially myself, these are the moments that I enjoy the most. When you're here, you try to lay it all out on the line because sometimes you don't get that second chance. There might not be tomorrow."
His counterpart is 24-year-old Toronto right-hander Marcus Stroman, who made just four regular-season starts after a faster-than-expected recovery from a torn ACL in his left knee. He was going to be the Blue Jays' Opening Day starter before the injury, and in his last three starts (0.82 ERA) has looked like an ace.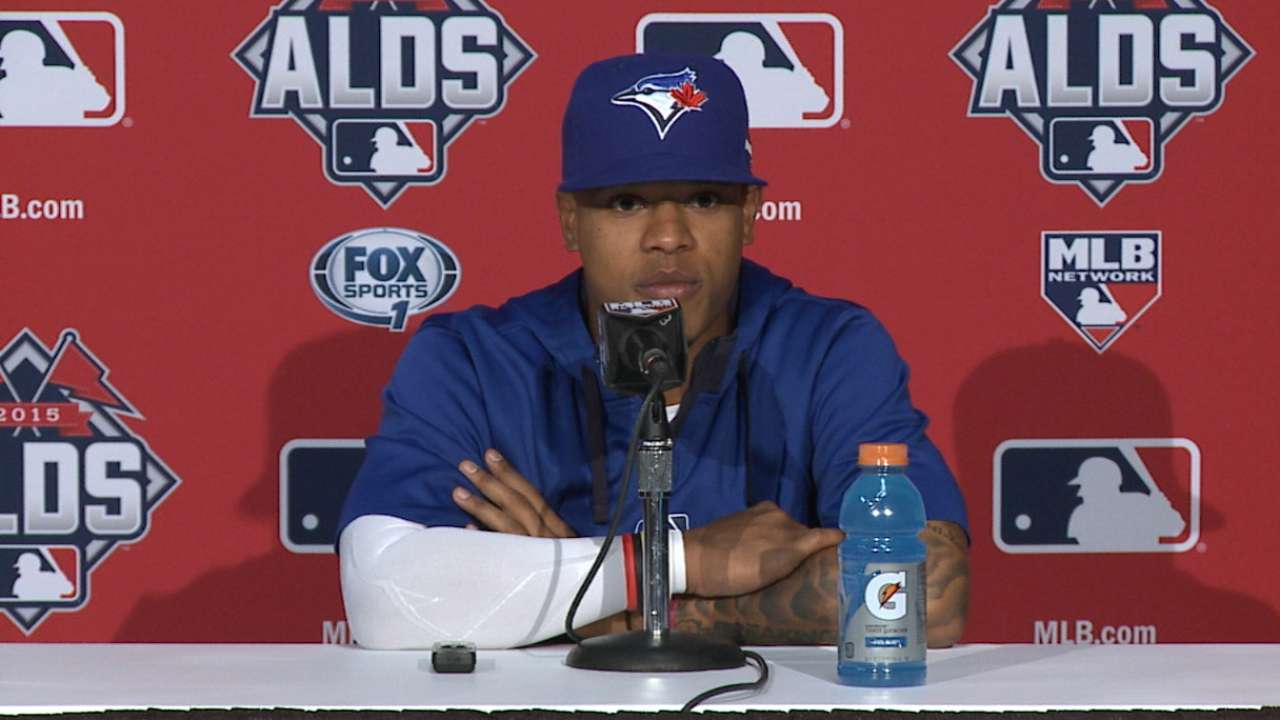 The Blue Jays know that Game 2 is about as close to a must-win game as they can have. To lose two at home and have at least the next two in Texas would be a huge mountain to climb.
"There's something about him, he always rises to the occasion, so we feel really good," Blue Jays manager John Gibbons said. "We've got our work cut out for us with Hamels, no doubt."
Game 1 delivered in an assortment of ways. First, there was the atmosphere. Fans started showing up around Rogers Centre three hours before game time, turning the place into a street fair of sorts.
That's exactly the environment the Rangers braced themselves for. The Blue Jays haven't been to the postseason in 22 years, so postseason baseball was a new experience for many.
But the Rangers did their part to quiet the crowd of 49,834. Starter Yovani Gallardo retired the first nine Blue Jays in order. Meanwhile, his teammates chipped away at Price.
The Rangers scored two runs in the third and got two more in the fifth on a Robinson Chirinos home run. And then Rougned Odor homered in the seventh.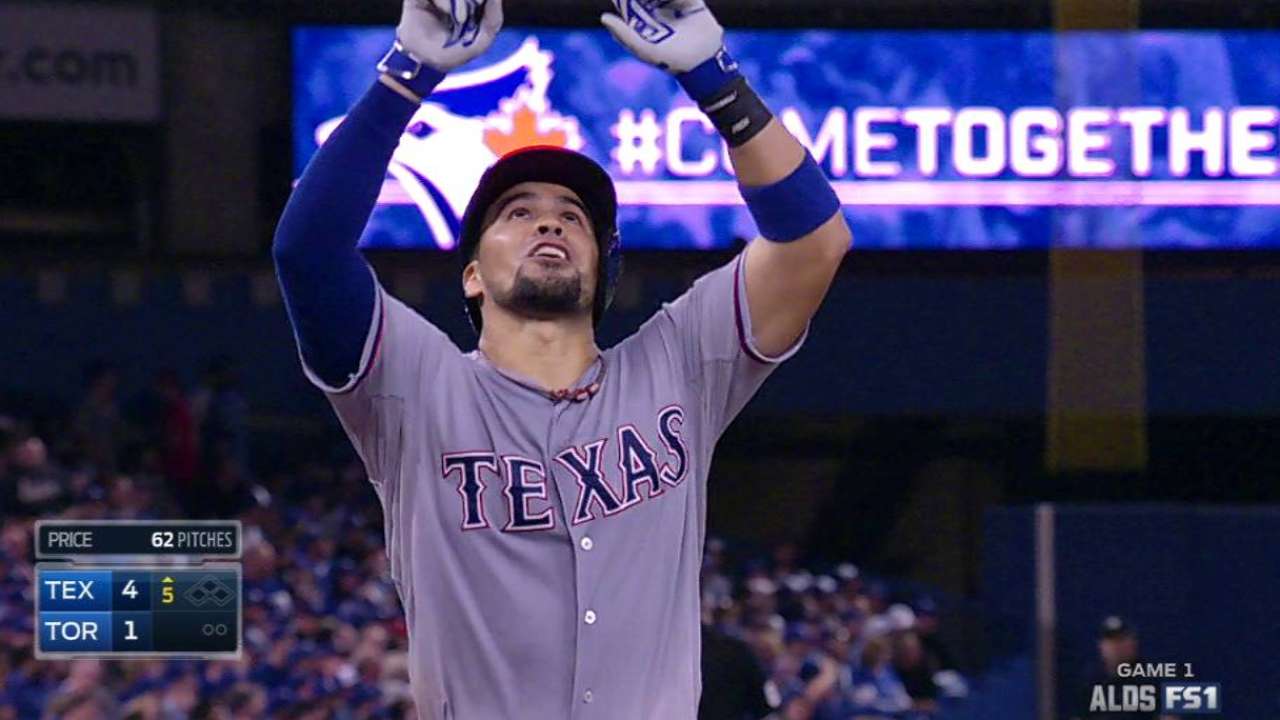 Once Gallardo got through the fifth inning, Rangers manager Jeff Banister got an inning from Keone Kela, two from Diekman and one from Sam Dyson.
In a quiet visitors' clubhouse, the Rangers had one overriding concern: third baseman Adrian Beltre.
He's their best player and spiritual leader. He's also very questionable for at least Game 2 after straining his lower back on a first-inning slide into second base. He stayed in the game for two more innings, and despite being in obvious pain, singled in a run in the third.
After that inning, his teammates had to persuade him to leave the game. Beltre wiped away tears, but eventually limped off the field. The Rangers aren't ruling him out for Game 2, but they're not counting on him, either.
"That says a lot about him -- what kind of player he is, what kind of man he is," Josh Hamilton said. "For him to get emotional like that shows how much he cares. About his game. About his teammates. About the organization. Wants to be out there."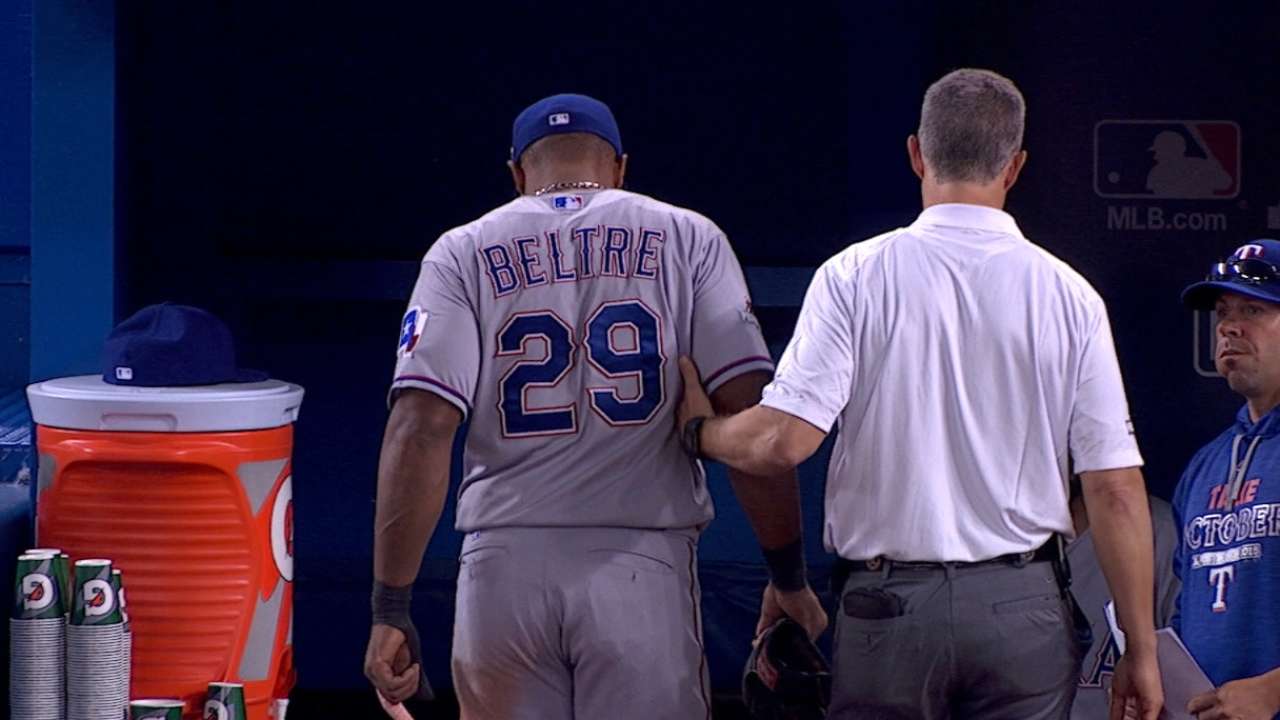 The Rangers probably can't come close to replacing Beltre's production, but having already overcome so much -- they were eight games out of first place in early August -- there's a good vibe.
"We've got a very confident group of guys," Banister said. "I think what we went through in Spring Training in the very first part of the year, losing [Yu] Darvish, [Derek] Holland. … Then there was a stretch that we didn't have Adrian. So we know how to play when we're faced with that type of adversity. Obviously we want Adrian in the game. He's the heart and soul of this ballclub. But look, this is a group of guys that find a way."
Richard Justice is a columnist for MLB.com. Read his blog, Justice4U. This story was not subject to the approval of Major League Baseball or its clubs.