Zobrist's wife sings anthem at ALDS Game 1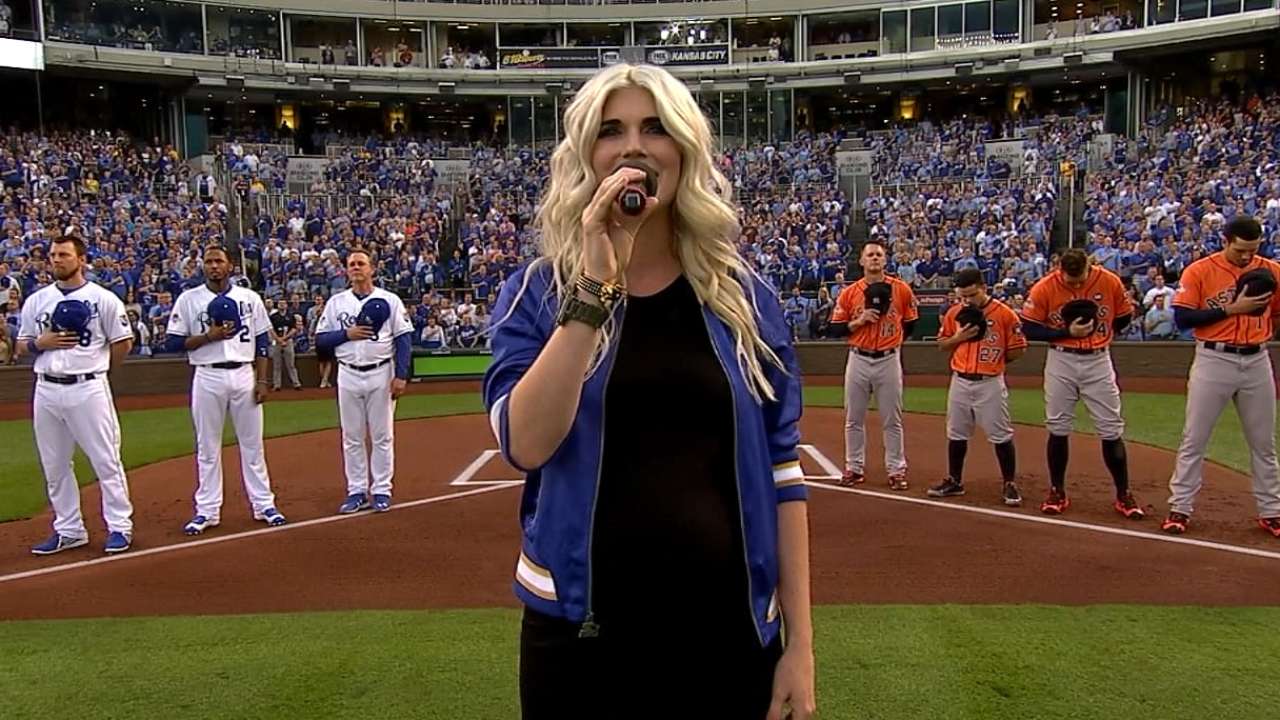 KANSAS CITY -- Julianna Zobrist has performed the national anthem several times throughout her husband's baseball career, which means two things: She's an extremely gifted singer whose presence is welcomed before big games; and judging by the path Ben Zobrist's career has taken him in the last couple of years, she's used to belting it out in new, and maybe unfamiliar, surroundings.
Zobrist has played for the Rays, A's and now the Royals, having been acquired by Kansas City at the non-waiver Trade Deadline earlier this season. Julianna, a Christian pop recording artist, performed her first playoff anthem years ago during one of the Rays' earliest postseason appearances. She's also delivered the anthem multiple times before regular-season games, and on Thursday, the Royals appointed her to be their first anthem singer of the 2015 postseason.
• Shop for Royals postseason gear
"It's cool for us," Julianna said. "It's like worlds colliding with our careers. It's such a cool moment."
A classically trained singer who had once considered studying medicine or microbiology, Julianna is on the cusp of releasing her third album, titled "Shatterproof." She is also about to deliver the couple's third child, due sometime during the World Series, which has slightly delayed the record release.
This may have freed her up to perform the anthem before the Royals' 5-2 loss to the Astros in Game 1 of the American League Division Series on Thursday.
Julianna said her husband doesn't get nervous when she performs the anthem, but he does pass along a bit of sage advice: keep it moving.
"The first time I sang the anthem, Ben said, 'Jules, whatever you do, don't take a long time. The guys will make fun of you. Do it in a minute 30 -- any longer than that, they'll just start to make fun of you.'"
Thursday's pregame ceremony included much of the pageantry that normally accompanies postseason games -- an unfurling of a giant American flag in the outfield, a flyover and a special ceremonial first pitch. For Game 1 of the ALDS, the Royals invited retired United States Army World War II veteran Hugh "Coach" Dunn to assume the first-pitch honors.
Dunn, a native of Macon, Mo., enlisted in the Army in 1942 and was later sent overseas to the front lines in Europe. While in Germany, he was injured in a battle while attending to a wounded friend, and he lost his left hand and lower arm.
After the war, Dunn received the Purple Heart and the Silver Star Medal for his outstanding courage, and after returning home, he returned to Missouri Valley College to play football as a quarterback. In 1950, he started coaching high school football at Macon High School, where he remained until he retired in 1990. The high school football field was named after him, and he was inducted into the Missouri Coaches Hall of Fame and the Missouri Sports Hall of Fame.
Before Dunn threw the first pitch, he jokingly anticipated what may happen if he didn't quite hit the target.
"That may be the embarrassing part," he said, chuckling. "What happens when I throw that ball?"
There was no need to worry. The pitch was a strike, and Dunn received a thunderous ovation -- though likely more for his decorated service time and life, and less for his pitching ability.
Alyson Footer is a national correspondent for MLB.com. Follow her on Twitter @alysonfooter. This story was not subject to the approval of Major League Baseball or its clubs.