Moments that will matter in NLDS Game 1
Lester's ability to hold runners may prove critical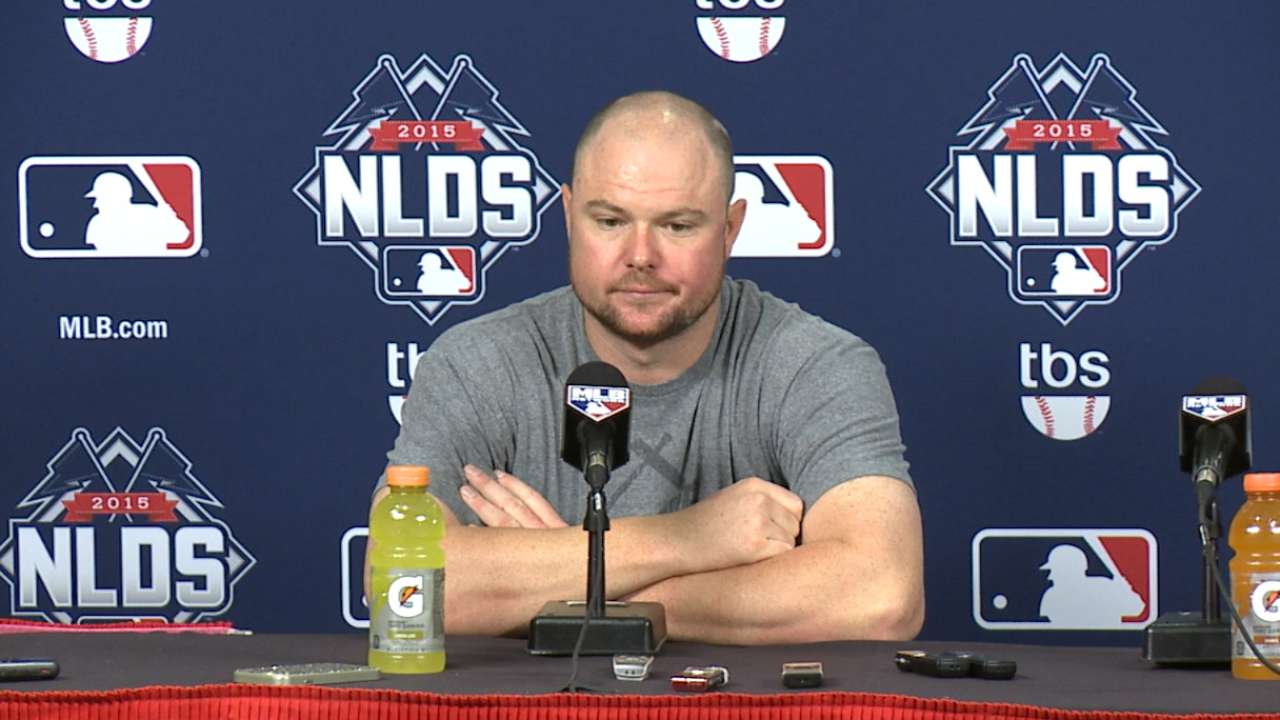 ST. LOUIS -- Jon Lester's last start of 2014 and his first start of 2015 exposed a potentially critical hole in the veteran left-hander's game and prompted a question that will inevitably follow him throughout the playoffs.
Can Lester control his opponent's running game?
Every postseason game and series can swing on the result of a few key plays. The National League Division Series between the Cubs and Cardinals, starting tonight at 5:30 p.m. CT, live on TBS, at Busch Stadium, will be no different. Each moment will matter, some more than others.
In this case, perhaps the most scrutinized moments of the series opener will come when the Cardinals get a runner on first base against Lester.
In their first game of the season, back on April 5, the Cards swiped three bases on Lester, shining a brighter spotlight on a weakness the Royals revealed last October.
"I think we're going to be opportunistic and we're going to be aggressive," Cardinals manager Mike Matheny said after that game, a 3-0 Cardinals win. "We have a couple guys who have the ability to do it."
Last year, Lester's inability to slow down the Royals' baserunners was arguably the most memorable cause of the A's 9-8, 12-inning loss in the American League Wild Card Game.
Either unable or refusing to throw over to first base, Lester allowed three stolen bases, and all three runners scored as Kansas City overcame a four-run deficit after seven innings.
• Cubs, Cardinals meet in postseason for first time
St. Louis ran hard on Lester this season, going 8-for-12 on steal attempts. The Cards aren't much of a basestealing threat, collectively -- they finished 21st in the Majors with 69 steals -- but they may seize the opportunity against Lester.
However, to Lester's credit, he has made strides in that area down the stretch. He and catcher David Ross have devised a scheme in which Lester varies his delivery to throw off runners' timing.
Lester hasn't permitted a stolen base in either of his last two outings. He caught two St. Louis baserunners stealing and picked off another on Sept. 20. Can he do the same again tonight?
Strop's struggles with St. Louis
Pedro Strop is the Cubs' right-handed setup ace. His numbers this season show why, as he recorded a 2.91 ERA, a 1.00 WHIP and 81 strikeouts in 68 innings.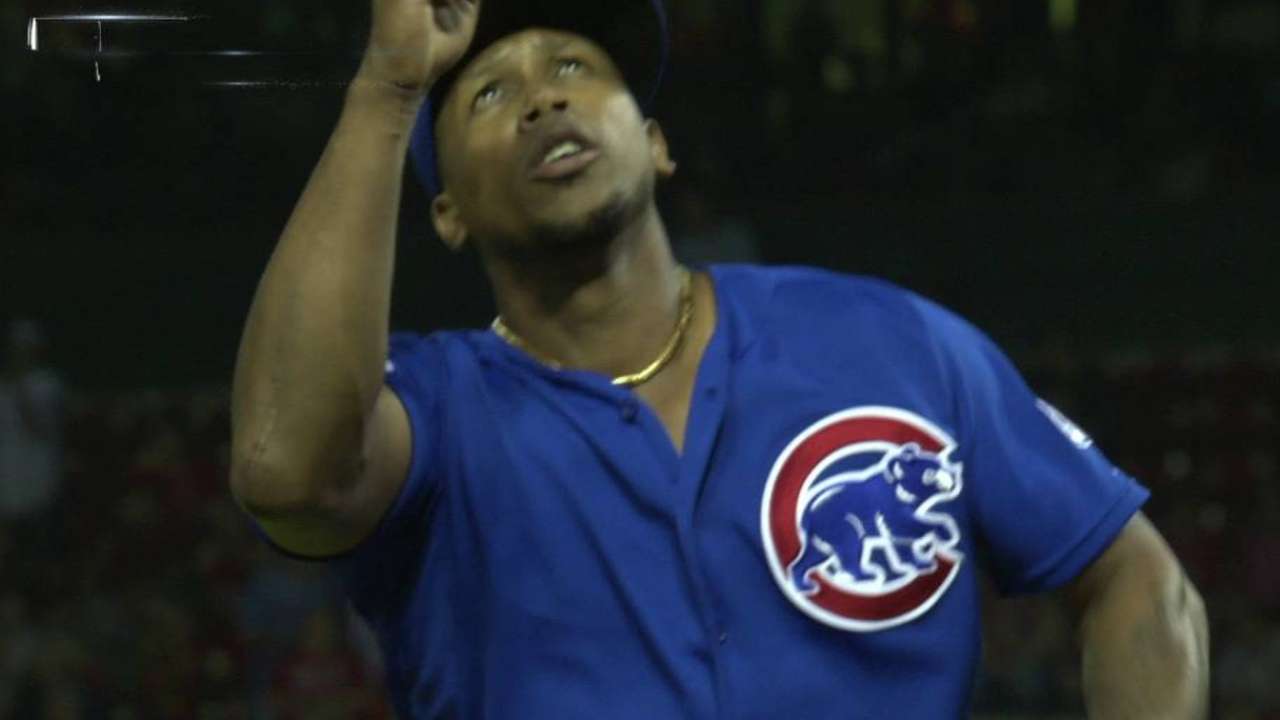 There's just one problem for Strop. He has struggled badly against the Cardinals, allowing nine runs on 10 hits and six walks in only 7 1/3 innings. He's been particularly plagued by the Cards at Busch Stadium, giving up seven hits and a homer in 12 at-bats.
Can Cubs manager Joe Maddon afford to stand by Strop in a critical eighth-inning situation during this series? Maddon thinks so.
"He has had some problems here. I cannot deny that," Maddon said. "But at the end of the day, man, it just takes one really good outing to get you over the top."
Where to play Piscotty?
Let's say the Cardinals have built up a narrow lead in a tight game through six innings, and rookie Stephen Piscotty got the start at first base. It's not his natural position, so how does manager Mike Matheny navigate the final few innings?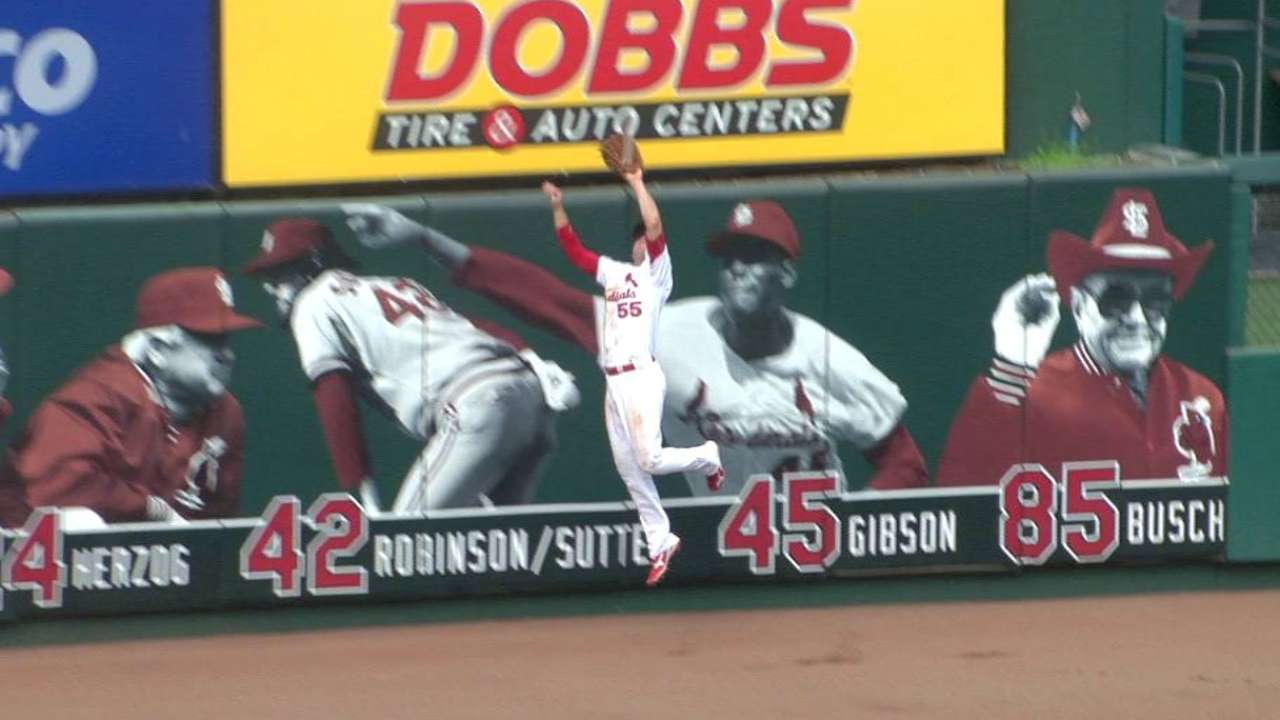 Over the last month, the Cards almost always shifted Piscotty to the outfield to finish games. In fact, Piscotty made nine starts at first base during the regular season but only played one full game there.
Moving Piscotty to left or right field and bringing in Mark Reynolds at first would improve their defense, but can they afford to take out Randal Grichuk or Matt Holliday to clear a spot for him?
Or will St. Louis choose to leave Piscotty at first base, running the risk of him making a costly late-game mistake at a mostly unfamiliar position?
Adam Berry is a reporter for MLB.com. Follow him on Twitter at @adamdberry. This story was not subject to the approval of Major League Baseball or its clubs.