MLB.com Columnist
Anthony Castrovince
4-game Friday follows 4-0 show on the road
What to watch for in a full day of Division Series action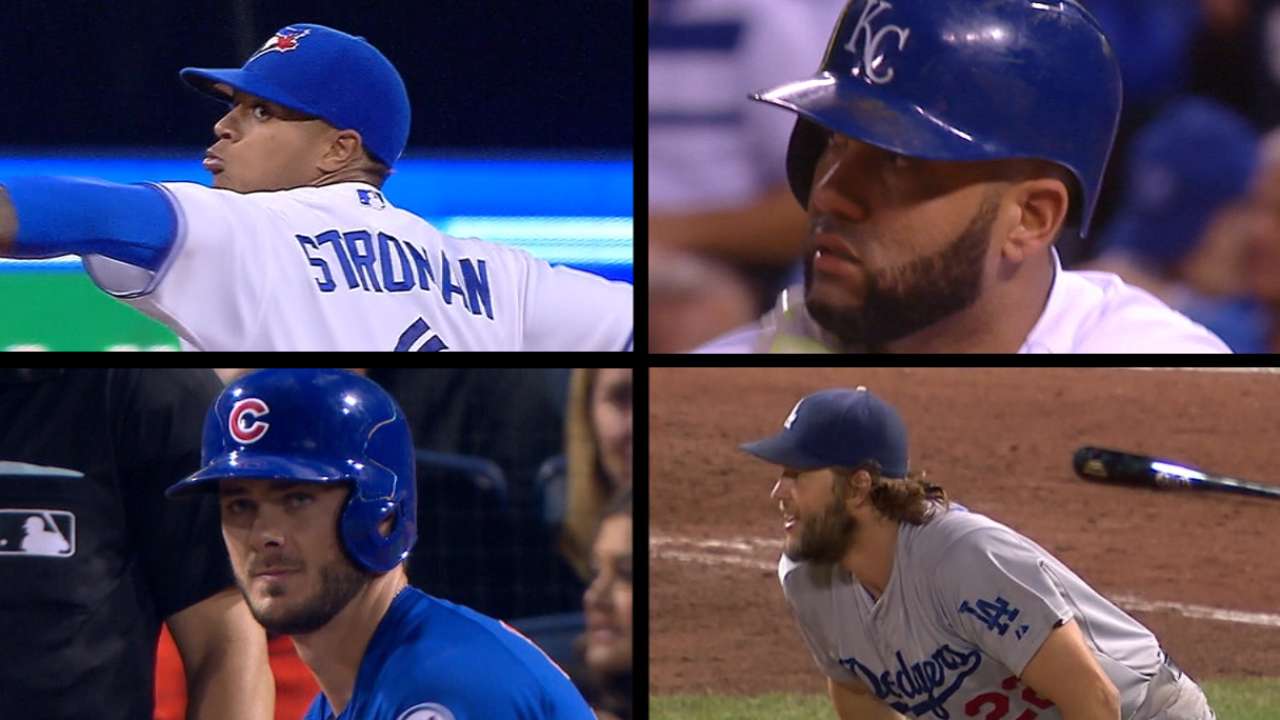 Hey, are you feeling all right? Got a little tickle in your throat? Muscles a little achy? Head feeling a little wobbly? Maybe you should lie down, relax, grab the remote and use one of those sick days you've been saving up. And even if you're feeling 100 percent healthy, it's called a little white lie, people. Just go with it.
The Division Series slate is jam-packed on this frantic Friday. To miss an inning because of a small inconvenience like employment or adult responsibility is an error -- and we all know how costly errors can become in October.
For the first time since 1970, road teams are 4-0 in the postseason, and haven't even allowed the home squads to take a lead. That hasn't happened since 1906.
The Astros have been leading the charge among the road warriors, having already posted two wins away from home. On the heels of upending the Yankees in the Bronx in the American League Wild Card Game presented by Budweiser on Tuesday, they stole the home-field edge from the No. 1-seed Royals in Game 1 of the AL Division Series with a 5-2 win at Kauffman Stadium on Thursday night. Earlier in the day, the Rangers stormed into Rogers Centre and beat the Blue Jays, 5-3, in a game that included injuries to several principal figures -- Adrian Beltre (back spasms), Jose Bautista (hamstring cramping) and Josh Donaldson (wooziness after blow to the head). Their statuses all merit monitoring today.
And when the Cubs open their NL Division Series with the Cardinals tonight -- in the first postseason meeting between the two storied rivals -- they'll do so with a road win already under their belts this October, thanks to their victory in Pittsburgh on Wednesday in the NL Wild Card Game presented by Budweiser.
So settle in, tune in and take in all that October has to offer in this awesome foursome. We've got your whole afternoon and evening planned.
1. The long, long lunch break: Rangers at Blue Jays, Game 2, 12:30 p.m. ET (MLB Network/Sportsnet)
Cole Hamels (13-8, 3.65 ERA) vs. Marcus Stroman (4-0, 1.67)
When they were looking at potential upgrades for their starting staff both last winter and at this year's Trade Deadline, the Blue Jays inquired about Hamels, but the discussions never reached a serious stage because Toronto was listed in his 20-team no-trade clause and there were no indications that he would waive it. The Blue Jays eventually landed a different lethal lefty in David Price, who obviously wasn't as lethal as hoped in Game 1.
So the Blue Jays will look for a needed boost from Stroman, whose availability here still qualifies as surprise. Stroman wrenched his knee during a pitchers' fielding practice in Spring Training and tore his ACL. He rehabbed the supposedly season-ending injury while going back to Duke, and he worked so hard that he not only completed his degree in sociology but put himself in position to pitch for the Blue Jays in the September home stretch.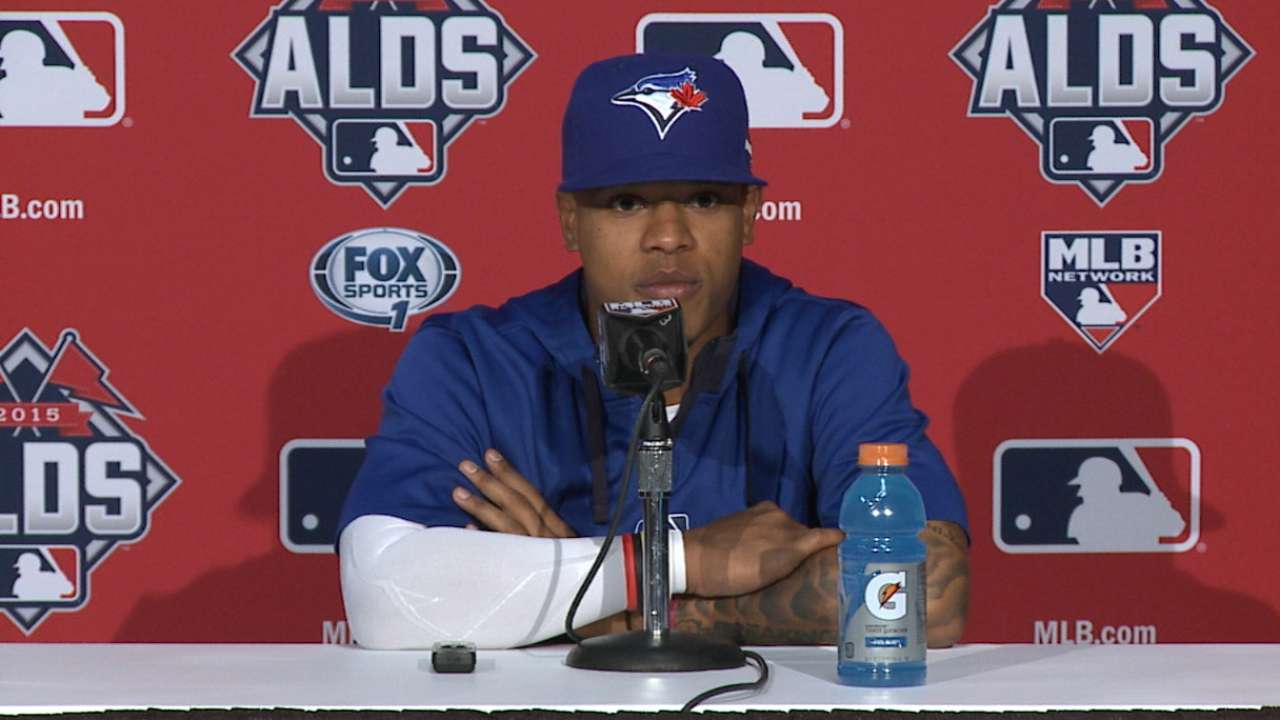 And Hamels is obviously ready, too. He was adamant about getting out of Philly this year because he wanted to pitch for a contender. It was hard to assume the Rangers were still a contender when they acquired him at the Deadline, but he was a big part of their surge to the AL West title, as they won each of his last 10 starts.
Potentially relevant or irrelevant factoid: Texas will follow Hamels with Martin Perez in Game 3 and possibly with Derek Holland in Game 4. The Blue Jays' offense was good against just about everybody this year, but it was especially potent against left-handed starters -- a .274/.348/.463 slash line with a home run every 24.7 at-bats.
2. The happy hour accompaniment: Astros at Royals, Game 2, 3:30 p.m. (FS1)
Scott Kazmir (7-11, 3.10) vs. Johnny Cueto (11-13, 3.44)
Hamels wasn't the only important arm to change hands at the Trade Deadline, though his stint with his new team, to date, has been more successful than Kazmir's and Cueto's with theirs.
For Kazmir, the return to his native Houston has thus far resulted in a 4.17 ERA over 13 starts. Still, the Astros are confident in his numbers against the Royals (five runs allowed in 21 1/3 innings) and his ability to make the big ballpark at Kauffman Stadium work for him.
Cueto had a 4.76 ERA in 13 starts, including a five-start stretch from Aug. 21-Sept. 13 in which he gave up a whopping 28 earned runs on 48 hits in only 26 1/3 innings. That's why Yordano Ventura got the Game 1 nod. Cueto, though, did make an adjustment with catcher Salvador Perez down the stretch that appeared to pay off. This will be his first start against the '15 installment of the Astros and the fourth start of his postseason career, which, to this point, is primarily known for the oblique injury he suffered eight pitches into the 2012 NLDS and the time he literally dropped the ball on the mound while a PNC Park crowd derisively chanted his name in the 2013 NL Wild Card Game.
Potentially relevant or irrelevant factoid: Four members of the Royals' regular lineup have OPS marks below .550 against Kazmir in their careers -- Ben Zobrist (.393 in seven at-bats), Mike Moustakas (.297 in 13 at-bats), Lorenzo Cain (.509 in 24 at-bats) and Alex Gordon (.524 in 34 at-bats).
3. The dinner theater: Cubs at Cardinals, Game 1, 6:30 p.m. (TBS)
Jon Lester (11-12, 3.34) vs. John Lackey (13-10, 2.77)
Go ahead and insert a late and lame mention of a chicken-and-beer dinner pairing here, but, after the ignominy of 2011, these guys were both nails for Boston in the 2013 World Series, where they were responsible for three of the Red Sox's four wins over the Cards. Now they'll start the first-ever postseason meeting between these two long-running rivals.
Lackey made a measly $500,000 by virtue of a contract clause related to some past injuries. But he was a leader on a starting staff that lost ace Adam Wainwright to an early Achilles injury and still managed to post the best starters' ERA in baseball by a quarter of a run. Lackey had a 1.25 ERA against the Cubs.
Lester has not provided nearly as much bang per buck after signing a six-year, $155 million contract last winter, but on measure, the Cubs will still say they got what they bargained for out of the veteran lefty. On the heels of Jake Arrieta's historic night in Pittsburgh in the NL Wild Card Game presented by Budweiser, Lester will look to keep the Cubbies' mojo going behind Joe Maddon. Lester will also look to shake off a regular-season showing in which he went 1-3 with a no-decision against the Cards, despite a 2.59 ERA.
Potentially relevant or irrelevant factoid: We all know about Lester's issues throwing to first base. The Cards ranked near the bottom in the NL in stolen-base tally this season, but eight of their 69 stolen bases came with Lester on the mound.
4. The "movie with your significant other" replacement: Mets at Dodgers, Game 1, 9:30 p.m. (TBS)
Jacob deGrom (14-8, 2.54) vs. Clayton Kershaw (16-7, 2.13)
We'll wind down by watching a bunch of dudes go down swinging.
Kershaw and deGrom each have a fine head of hair, and their arms aren't too shabby either. deGrom had a terrific follow-up to his 2014 Rookie of the Year showing, K'ing 205 batters in 191 innings. That total would look pretty nice under ordinary circumstances, but Kershaw had an extraordinary effort even by his Cy Young standards, becoming the first since Randy Johnson in 2000 to strike out 300 guys in a season (Kershaw's exact total was 301 in 232 2/3 innings, for an insane rate of 11.6 per nine). There's a lot of talk about Kershaw's clunkers against the Cardinals in the 2013 NLCS and the 2014 NLDS. Remember, though, that in his other three postseason starts over the last two years, he's been much more Kershaw-like -- a 0.47 ERA and .358 opponents' OPS in 19 innings.
The real pressure is with the Mets, who have multiple guys (Curtis Granderson, Yoenis Cespedes, Daniel Murphy and Michael Conforto) with unfavorable platoon splits against lefties, in general. Terry Collins will have to take that into consideration with his lineup.
Potentially relevant or irrelevant factoid: Though Lucas Duda has done a substantially better job against lefties this season, his history against Kershaw is unbecoming. In 11 plate appearances against Kershaw, Duda has just one hit and one walk with seven strikeouts.
Anthony Castrovince is a reporter for MLB.com. Read his columns and follow him on Twitter at @Castrovince. This story was not subject to the approval of Major League Baseball or its clubs.