Depth could be tested for Blue Jays, Rangers
Star third basemen Donaldson, Beltre exit Game 1 with injuries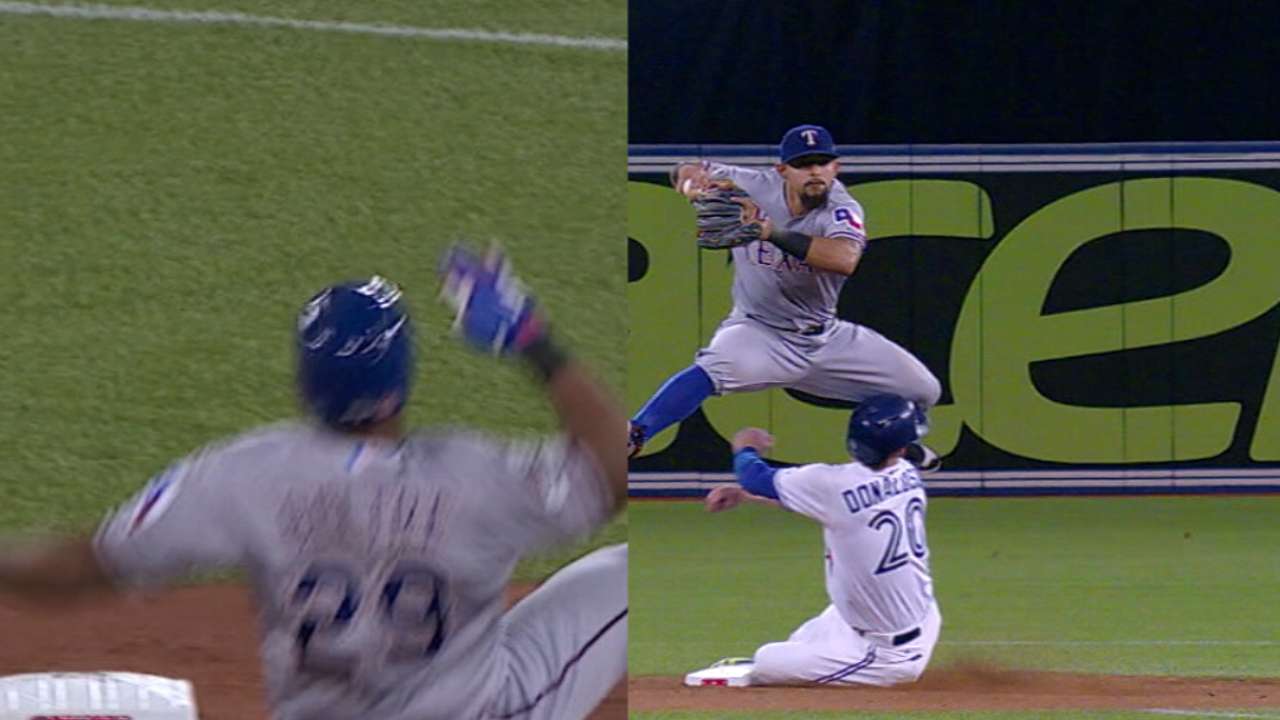 TORONTO -- They entered this American League Division Series as elite third basemen, prodigious hitters and team leaders. But Adrian Beltre of the Rangers and Josh Donaldson of the Blue Jays each exited Game 1 with injuries -- by the fifth inning of Texas' 5-3 win.
It's well known that teams that have made it this far have to be deep and resilient enough to withstand an unexpected blow or two. Thursday's game just took it to a rare extreme for both sides, and now Toronto and Texas will have to wait and see what to do if they're left with huge holes at the hot corner for Game 2 on Friday (12:30 p.m. ET/11:30 a.m. CT, MLB Network/Sportsnet), and possibly beyond in this best-of-five series.
Beltre was forced out of the game first. The veteran, who has been battling thumb issues all year, worked a walk in the first inning against Blue Jays starter David Price and slid into second base, trying unsuccessfully to break up an inning-ending double play off the bat of Prince Fielder.
The slide tweaked his lower back, resulting in him getting an anti-inflammatory injection during the game. Then, when he made the swing that knocked home the Rangers' second run of the game with an RBI single to center field in the third inning, he struck an awkward, stiff pose after impact and hobbled all the way to first base.
"It looked like he put everything he had into that swing and it's remarkable that he got that hit in that spot off that guy, given what he was dealing with," Rangers general manager Jon Daniels said.
Beltre actually tried to stay in the game to play defense, but was quickly removed with what was later diagnosed as a lower-back strain. He was in tears as he exited the game. He received an MRI exam that revealed no structural damage, and he is considered day to day.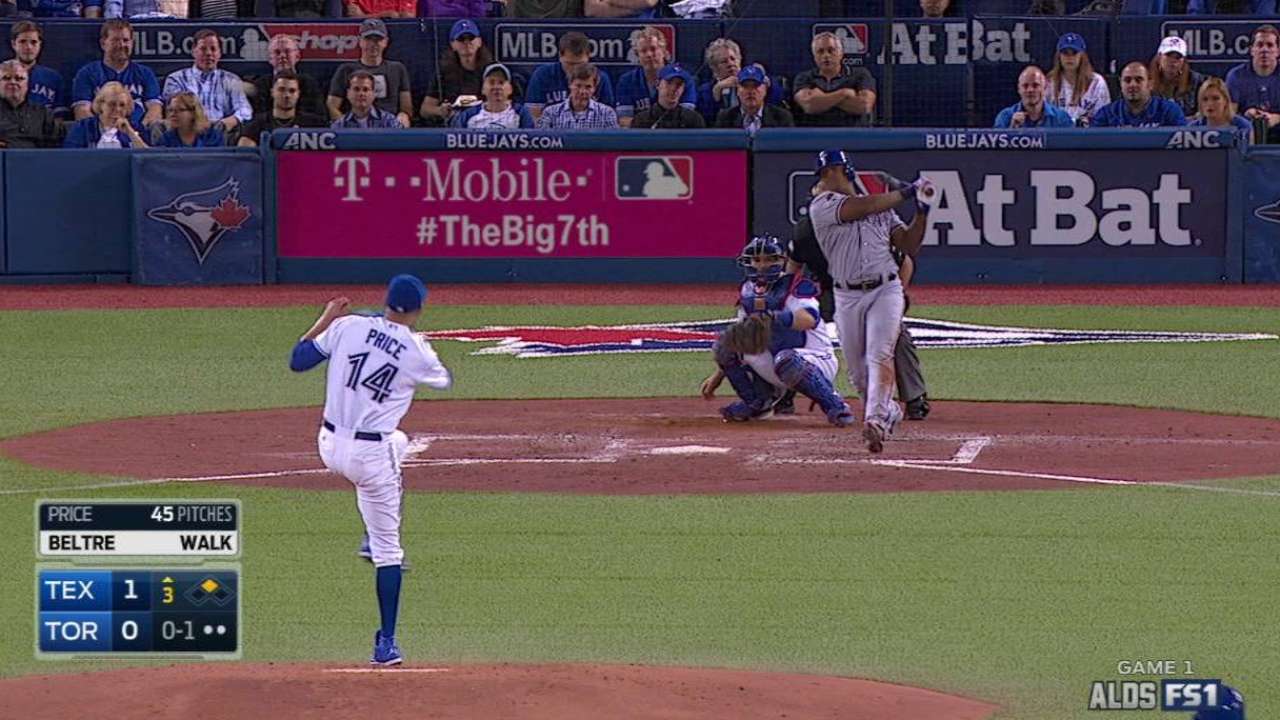 Hanser Alberto took Beltre's place and handled third base well. The only play he did not make was a slow roller off the bat of Edwin Encarnacion that scored a run for the Blue Jays, but would have been a tough play for anyone, including four-time Gold Glover Beltre.
The Rangers arranged for infielders Joey Gallo and Ed Lucas to fly from Arizona to Toronto to be available in case Beltre has to be replaced on the postseason roster. If that happens, Beltre would be ineligible for any October play until the World Series.
So, while the Rangers were happy to win the game on the road, there was understandable worry about Beltre.
"Any team would be concerned about not having Beltre," Rangers outfielder Josh Hamilton said. "A leader on the team, a guy who … you saw we had to talk him [into] coming out. That says a lot about him and what kind of a player he is, what kind of man he is. For him to get emotional like that, it shows how much he cares about the game, his teammates and the organization that he wanted to be out there."
The same could be said for Donaldson. The AL MVP candidate had drawn a walk against Rangers starter Yovani Gallardo in the bottom of the fourth inning and was on first base when Jose Bautista grounded to Alberto, who threw to second base. Donaldson barreled in for a takeout slide and second baseman Rougned Odor jumped up to clear Donaldson for a possible throw to first, but Odor's knee caught Donaldson in the face.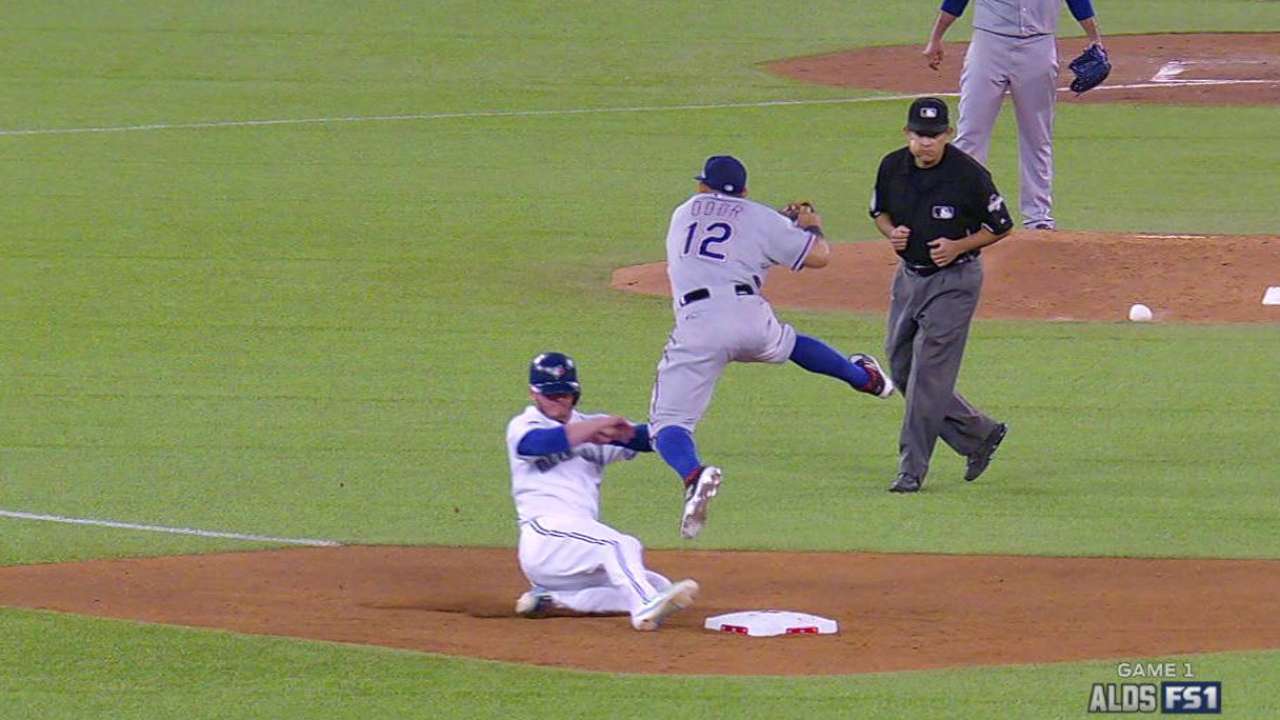 Like Beltre, Donaldson tried to stay in the game. He came out for the top of the fifth and actually recorded the third out by fielding an Alberto grounder and throwing accurately to first base. But Ezequiel Carrera pinch-hit for Donaldson in the bottom of the fifth, and Cliff Pennington replaced him at third base in the sixth. Donaldson was immediately taken in for a concussion protocol exam.
"I think he got a little light-headed, something wasn't right, but he did pass the test," Jays manager John Gibbons said. "So that's a good sign."
The Blue Jays are hopeful that Donaldson will be able to play in Friday's Game 2.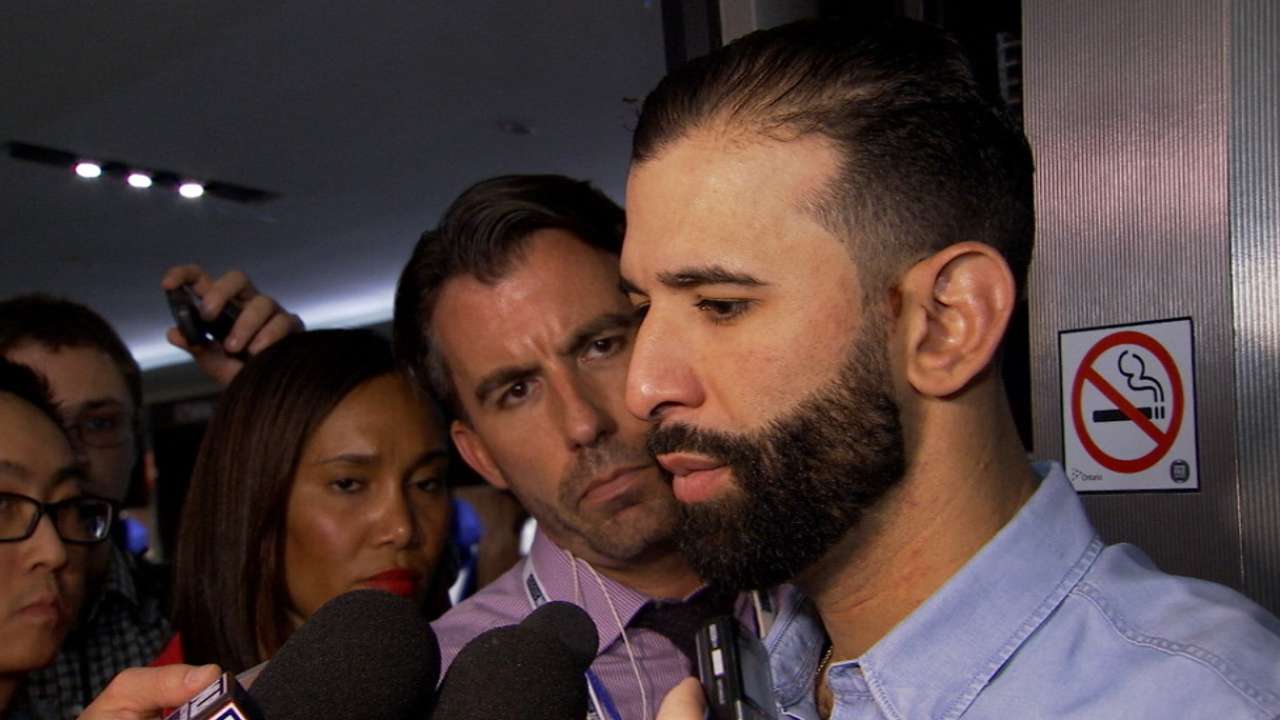 "I think that was something that was out of his control," Blue Jays outfielder Kevin Pillar said of the play that injured Donaldson. "I think any time you have an impact to the head, I think it's out of the player's hands, out of the trainer's hands.
"I think he ended up with a little welt on his head after breaking up the double play, but he seemed fine and I came in here and talked to him and naturally he was upset that he wasn't able to finish the game."
Doug Miller is a reporter for MLB.com. Follow him on Twitter @DougMillerMLB. This story was not subject to the approval of Major League Baseball or its clubs.