With early attack, Astros put road woes to rest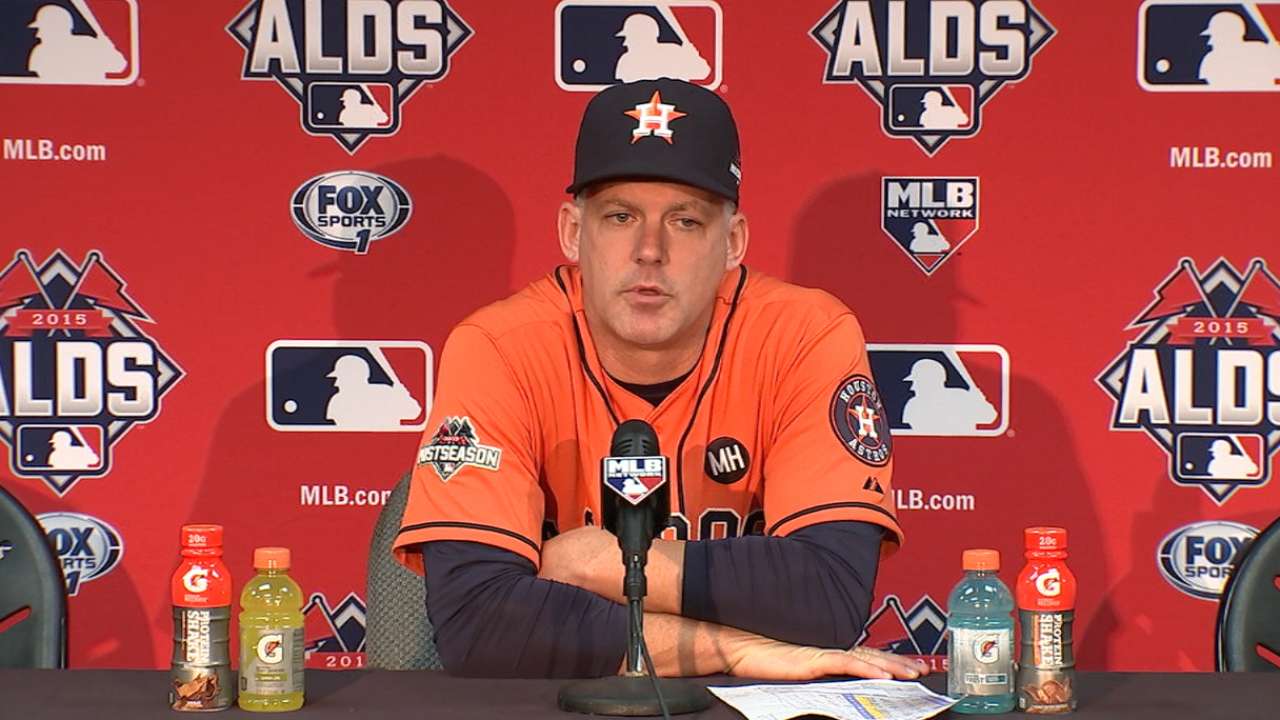 KANSAS CITY -- The Astros struck quickly in their first Division Series since 2005 and then didn't back down, jumping on hard-throwing righty Yordano Ventura early to set the tone for another crucial road win, a 5-2 Game 1 victory over the host Royals in this best-of-five set.
Houston has won eight of its past 10 games, including four of the past five in three time zones on the road, where the Astros struggled to win more times than not in the regular season, finishing 33-48 in games away from Minute Maid Park.
• Shop for Astros postseason gear
"We've been winning on the road a lot in the last week, and that's big for us," rookie phenom Carlos Correa said. "We're going to try to do the same thing tomorrow. We win that game tomorrow, and we'll be in a good situation going home.
"We feel like we're going to go out there and beat everybody. The guys have a lot of confidence. We have no doubt we have the team and the talent to be able to win."
A deafening Kauffman Stadium crowd went silent with Thursday's second pitch, which was lined into left field by speedy sparkplug Jose Altuve, who collected a hit in each of his first three at-bats. Altuve kept the pressure on Ventura long enough for George Springer to draw a walk, bringing Correa to the plate. Correa singled on a 2-2 pitch to right, loading the bases and setting up consecutive run-scoring groundouts off the bats of Colby Rasmus and Evan Gattis.
"There's no doubt the first inning set the tone and gave our team a little bit of an exhale," manager A.J. Hinch said. "You come into an environment like this, you've got the defending American League champions. It's a packed house [with] a lot of blue out there, and it's not our color blue.
"To put up five quality at-bats in the first inning and get two runs, that's sort of announcing your presence there. I loved how our team came out and did that."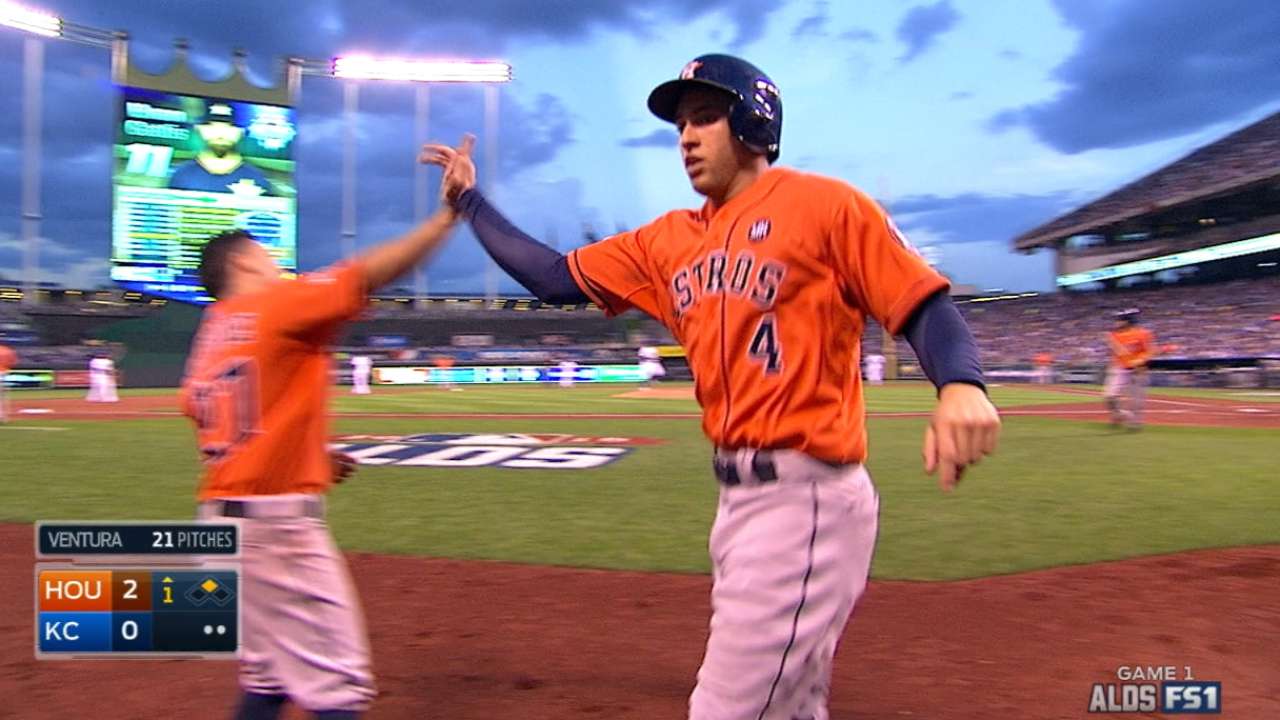 In each of their first two postseason games, the first the AL Wild Card Game victory over the Yankees on Tuesday night that got them here, the Astros have scored first -- a regular trend during the regular season, when they went 58-21 when doing so.
"We came out loose," Hinch said. "We came out firing."
Having already forced Ventura to throw 24 pitches in the first inning, the Astros kept at it in the second, getting a two-out double from No. 9 hitter Jake Marisnick, who scored on Altuve's single.
After starter Collin McHugh got through the bottom of the second while allowing one run, the game was delayed by heavy rain for 49 minutes. Ventura didn't return for the third, but McHugh remained in the game, giving the Astros six innings, and his teammates kept rolling, too, getting home runs from Springer and Rasmus.
"For our guys to just grind through nine innings -- put together quality at-bats, one through nine in the order, guys on base, put pressure on them -- it's really big," McHugh said. "It's a huge game for us."
Jane Lee is a reporter for MLB.com. Read her blog, Major Lee-ague, and follow her on Twitter @JaneMLB. This story was not subject to the approval of Major League Baseball or its clubs.