Blue Jays' pickoff hopes thwarted by hit
DeShields laces single in 'perfect spot' as Goins shifts over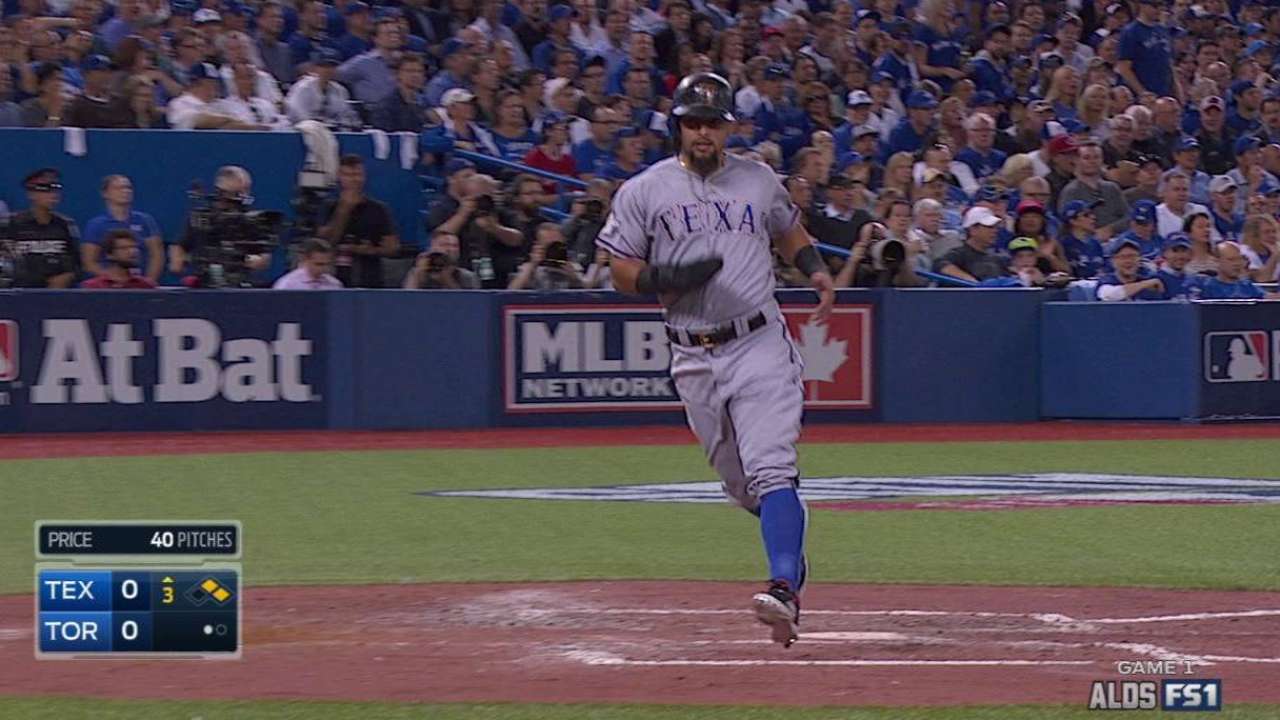 TORONTO -- The plan was for Ryan Goins to sneak behind Rangers baserunner Rougned Odor, and when catcher Russell Martin received the pitch from Blue Jays starter David Price, he would fire the ball down to Goins at second base in an attempt to catch Odor sleeping, ideally eliminating a runner in scoring position.
It was the same kind of backdoor pickoff play the Blue Jays have executed all season, but it cost them a run in the third inning of a 5-3 loss in the opener of the best-of-five American League Division Series at Rogers Centre on Thursday.
After Odor reached first on a hit-by-pitch, he moved up a base on a Robinson Chirinos groundout. With the count 2-1 on DeShields, Price threw a changeup, and the hope was that if the right-handed-hitting DeShields made contact at all, he would pull it. Otherwise, Martin would receive the ball and they would attempt the pickoff.
• Shop for Blue Jays postseason gear
But the ball never reached Martin. DeShields slapped a single through the hole created by Goins, scoring Odor to give the Rangers a one-run lead. DeShields would later score to make it 2-0 after three innings.
"Something we've done quite a bit this year," Blue Jays manager John Gibbons said. "Then [Goins] broke and [Deshields] hit it in the perfect spot. Yeah, the timing was bad but that was what the play was."
"What can you do?" said Goins. "It's a play we've done all season, we've gotten outs multiple times on that play, and the guy hit it where we weren't."
Jamie Ross is an associate reporter for MLB.com. This story was not subject to the approval of Major League Baseball or its clubs.