Lester: One start won't define my time in Chicago
Left-hander 1-3 against Cardinals this season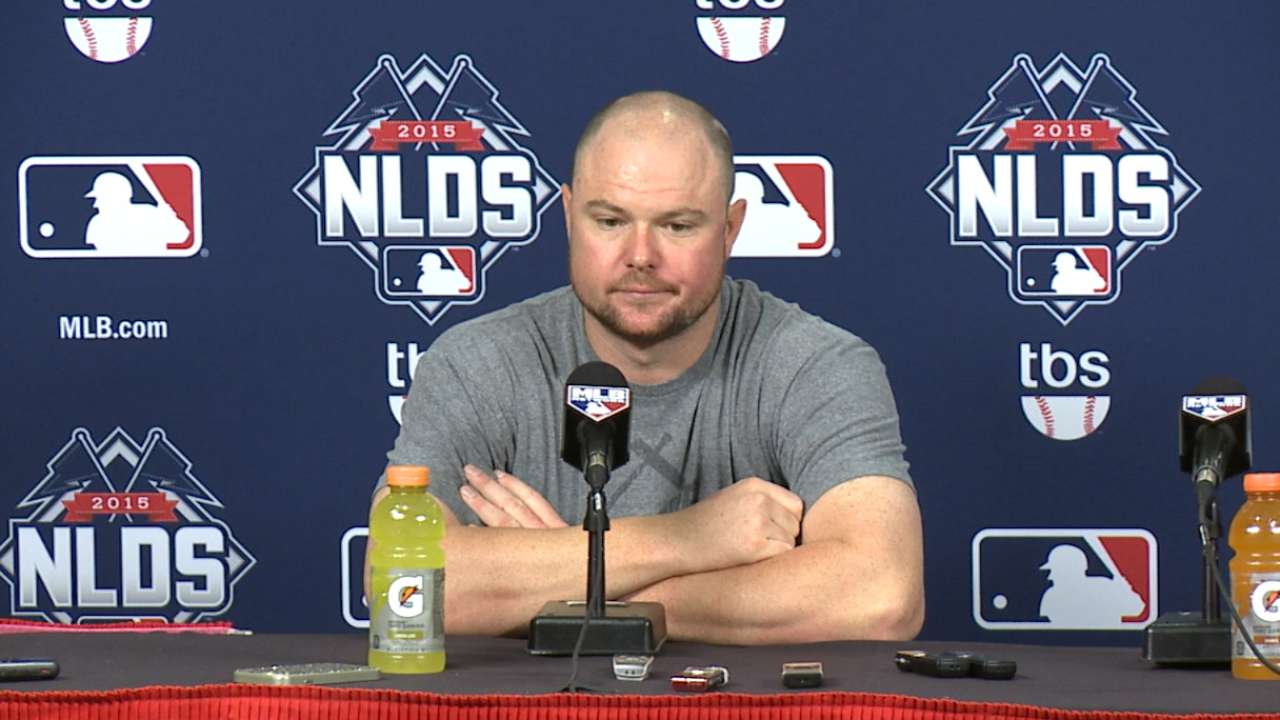 ST. LOUIS -- When the Cubs signed Jon Lester to a six-year, $155 million deal this offseason, this was what they had in mind. Maybe they didn't expect it so soon, but Lester came to Chicago to help the Cubs push through the postseason.
Lester will get his first chance at 5:30 p.m. CT on Friday (live on TBS) at Busch Stadium, when he'll start Game 1 of the National League Division Series against old friend John Lackey and the Cardinals.
While he obviously understands the importance of Friday's start, the 31-year-old left-hander isn't ready to overplay the significance of what the outing means for his personal legacy.
"You can't get too amped up for things. It's just how I work. I can't look at April 15 any differently than tomorrow," Lester said on Thursday. "Obviously, tomorrow when you go out there, there's going to be a little more adrenaline and there's a little bit more on the line, but at the end of it, you can look at that and see where you're at.
"But I can't worry about the possibility of tomorrow defining my short stint here with the Cubs."
Nor can Lester worry about his win-loss record against the Cardinals this season. He finished 1-3 against St. Louis, despite posting a 2.59 ERA in five outings, including three quality starts.
For that reason, Cubs catcher David Ross said he and Lester didn't plan to change anything this time out against the Cardinals.
• Lester ready for battle vs. friend Lackey
"It's all about pitch execution, really. It's not like he's had bad outings against them," Ross said. "They've just found a way to push one more across. He'll be locked in as ever."
According to Lester, he'll be locked in as usual. This may be the kind of start for which the Cubs acquired him, but he is simply portraying it as one step toward a greater goal.
"I wanted to come here to win. I wanted to come here and be a part of this and hopefully bring a World Series championship here," Lester said. "But I can't look at tomorrow being that defining game. I've got to take it as a normal start against the Cardinals and prepare the same and go out there and, you know, like I've always said, I'll give you everything I got.
"Hopefully, at the end of the day, it's better than the other guy."
Adam Berry is a reporter for MLB.com. Follow him on Twitter at @adamdberry. This story was not subject to the approval of Major League Baseball or its clubs.