Eventful Game 1 for Odor includes home run
Rangers second baseman hit by 2 pitches; collides with Jays' Donaldson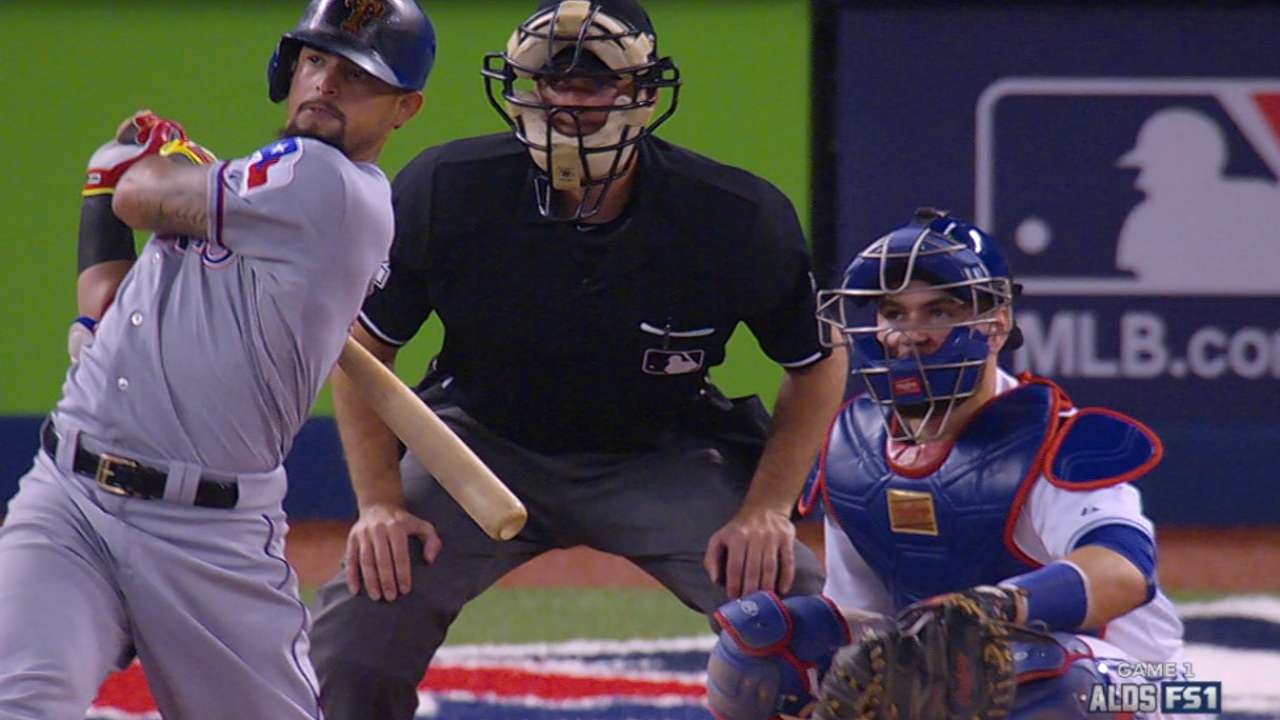 TORONTO -- Blue Jays starter David Price left a mark on Rangers second baseman Rougned Odor, right around his right shoulder with a cut fastball that never cut. Josh Donaldson left a little bruise, too, around Odor's kneecap, the result of a slide into second base that broke up a double play but also shook up Donaldson with a helmet-to-knee collision.
Neither, however, was bigger than the mark Odor left on Price's next pitch to him, a cutter he lined over the right-field fence in the seventh inning at Rogers Centre. It was a massive insurance homer in the Rangers' 5-3 win over the Blue Jays in Game 1 of their best-of-five American League Division Series.
Not since Alex Rodriguez in the 2009 World Series had a player had two hit-by-pitches and homered in the same postseason game. Odor is just the fourth player to do it in a postseason game. At 21 years, 247 days old, he's the second-youngest player to score three runs in a postseason game, older only than Andruw Jones during his two-homer World Series opener against the Yankees as a 19-year-old in 1996. Odor is also the youngest second baseman to hit a postseason home run.
"Those runs that you're able to get from the bottom part of the order, they're really special," Rangers manager Jeff Banister said of his No. 8 hitter, "and they can be game-winners for you, obviously. But to have those guys stepping up in those situations, it's huge."
So much for the nerves of postseason baseball in one of the loudest venues in North America.
"Why am I going to be nervous? It's a normal game, just the playoffs," Odor said. "I'm just going to go play like I always play. I think playing in Venezuela [in winter ball] helped me a lot. You know, playing in Venezuela, you have a lot of fans. I think that helped me a lot, because I feel normal."
Odor had some bad games in winter ball, including reportedly a three-error performance last December. This wasn't anything like that.
Odor led off the third inning for his first postseason plate appearance. The second pitch from Price was a 77-mph breaking ball that got too far inside and hit him. A hit-and-run play -- one of two by the Rangers in that inning -- kept Odor out of the double play, putting him in position for Delino DeShields to drive him in with a single for the first run of the ALDS.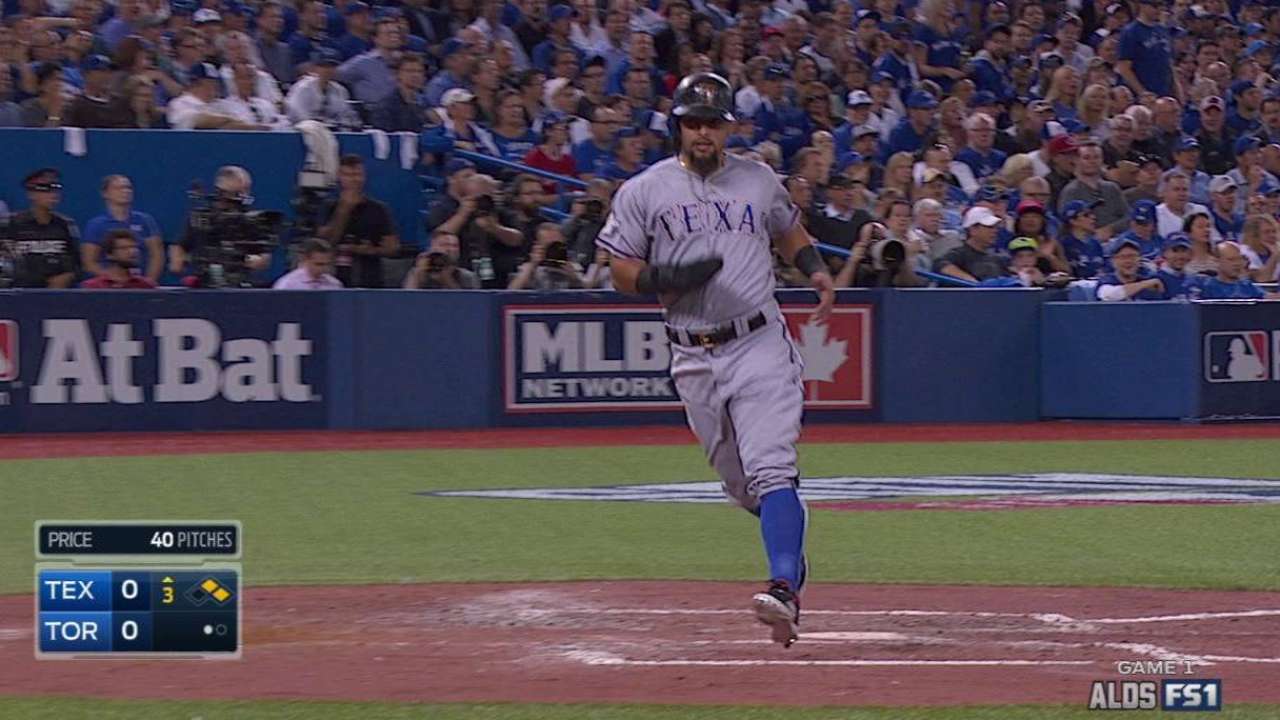 Odor nearly stumbled rounding third, his legs lagging behind his body, but he never fell over. Even if he had, he likely could've gotten back up and scored.
The next pitch Odor saw was a little harder, a 92-mph fastball that hit him on his right arm in the fifth inning. Two pitches later, Robinson Chirinos let him trot the rest of the way with a home run to left-center.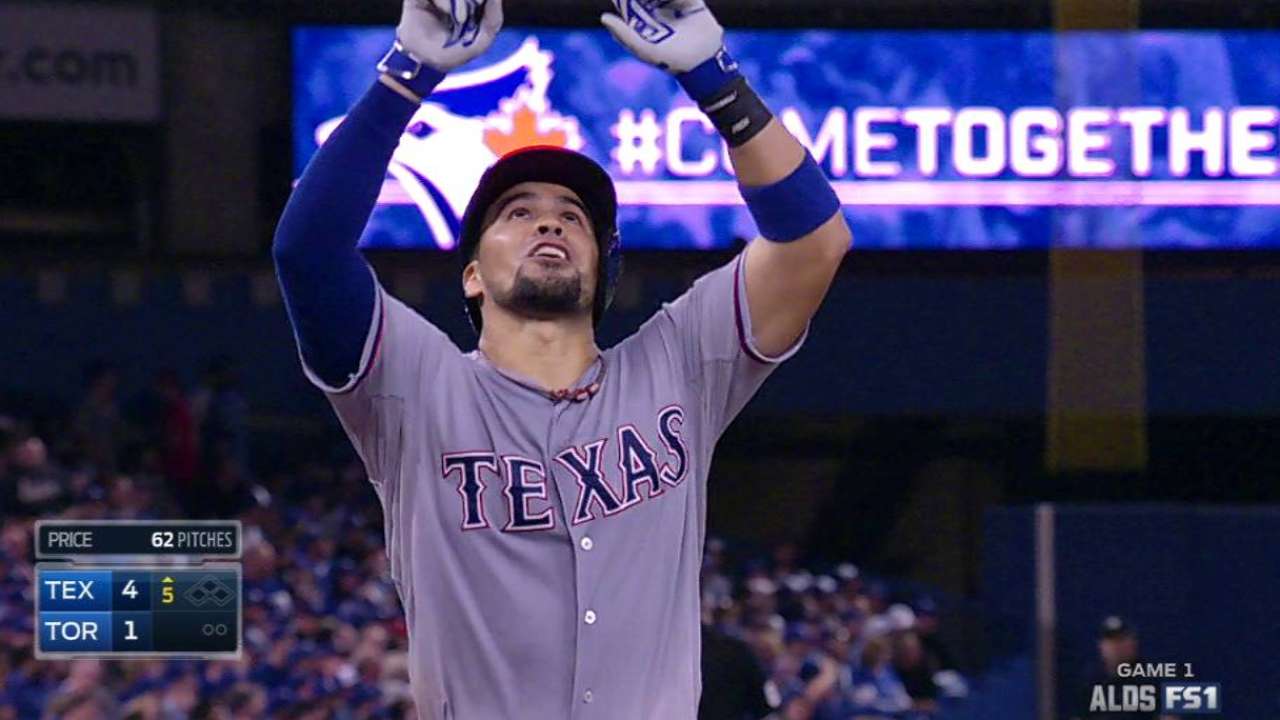 Odor became the 18th player with two hit-by-pitches in the same postseason game, and the first since Shane Victorino, who was hit by two Tampa Bay Rays relievers in Game 4 of the 2013 AL Division Series. Odor is the first to be hit by two pitches from the same pitcher in a postseason game since another Texas Ranger, Matt Treanor, took two James Shields pitches in Game 2 of the 2010 AL Division Series, also against the Rays.
In between the painful Price pitches, Odor took another impact, this one in the field. He nearly hurdled Donaldson, but the AL MVP candidate's head caught his kneecap in the fourth inning.
"It hurt a little bit," Odor said. "He hit me pretty hard, or I hit him. I don't know."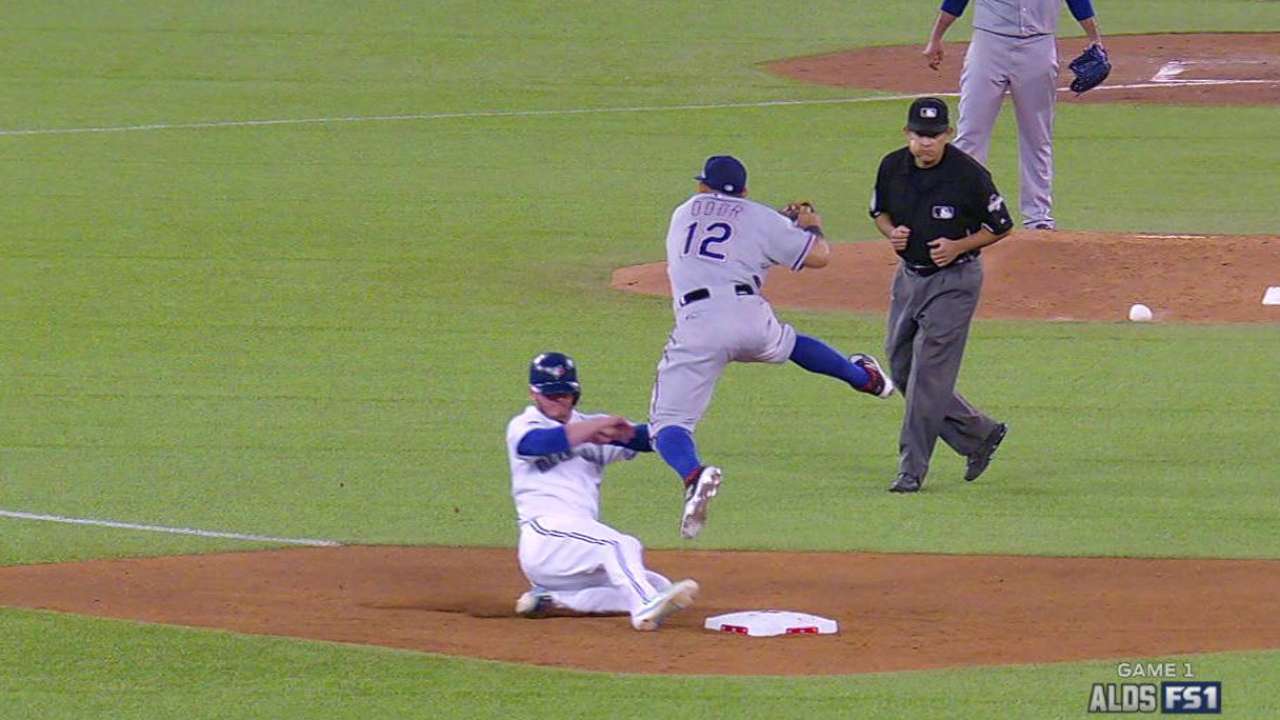 Odor stayed in, but Donaldson eventually exited. Odor had one more meeting with Price coming, and he sniffed out what was next.
"The second at-bat, he tried to throw me a cutter inside but the ball didn't cut," Odor said. "So the third at-bat, I was [thinking], 'I know he's going to throw me that pitch again.' And he threw me that pitch, and I hit it good."
The ball left Odor's bat at 112.9 mph, according to Statcast™, a harder-hit ball than any home run from a Ranger in the regular season. Odor's personal hardest was 108.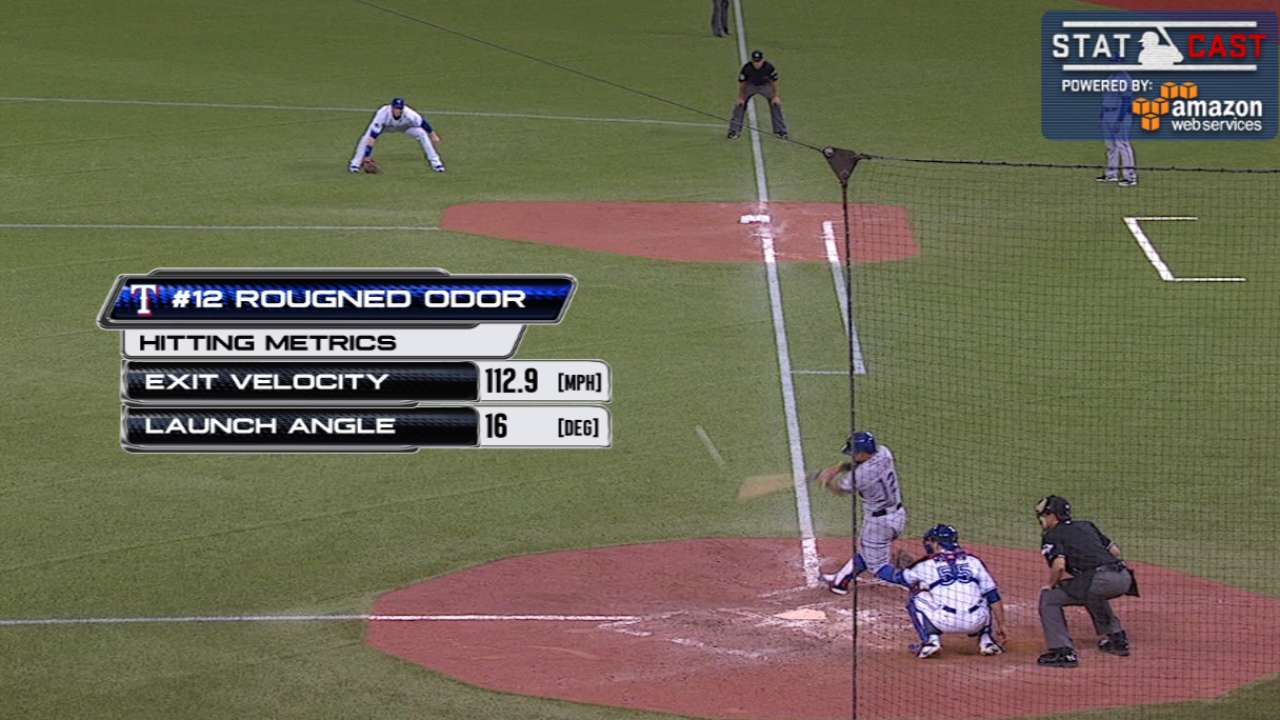 Jason Beck is a reporter for MLB.com. Read Beck's Blog, follow him on Twitter @beckjason and listen to his podcast. This story was not subject to the approval of Major League Baseball or its clubs.