Giolito, Fedde among Nationals at instructs
Baseball's top pitching prospect joins Washington's 2014 first-round pick in Florida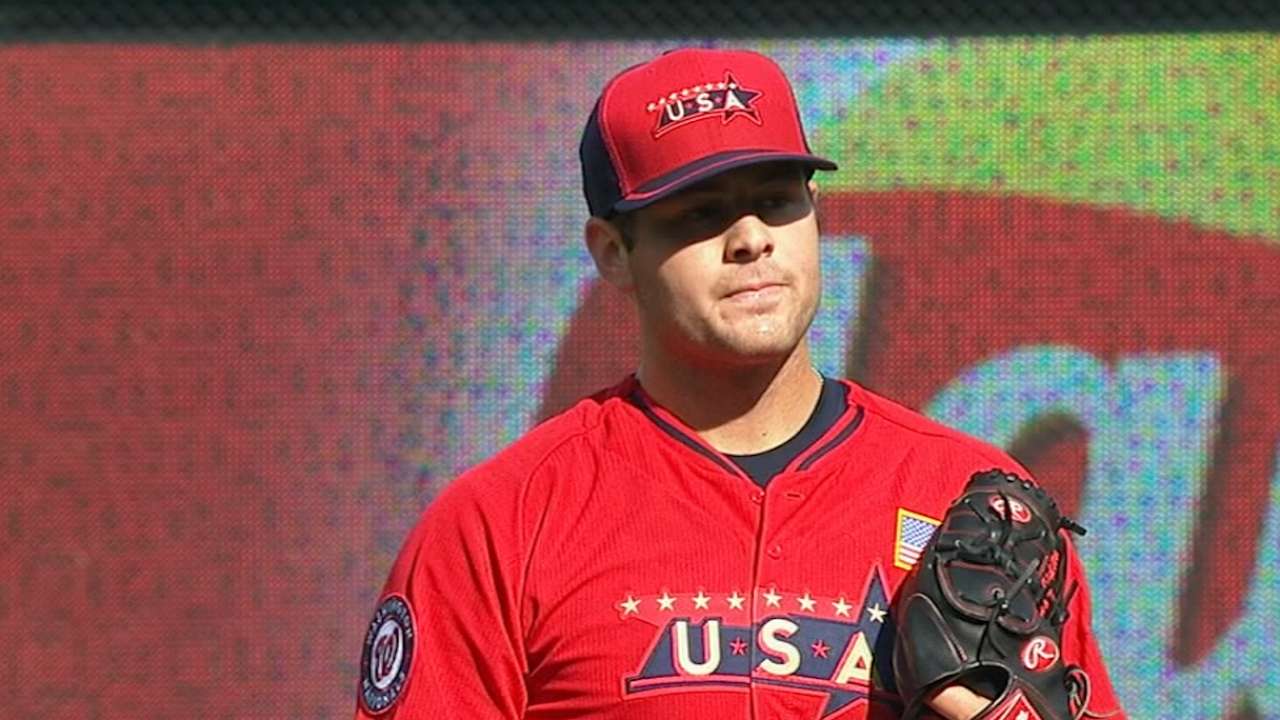 The Washington Nationals will soon begin a turnover at the Major League level, with shortstop Ian Desmond and right-handed pitcher Jordan Zimmermann set to hit free agency following the World Series.
However, the Nationals got ahead of the likely turnover by entrusting rookie Joe Ross -- whom they promoted directly from Double-A Harrisburg -- to handle meaningful innings in place of an injured Stephen Strasburg while also giving shortstop Trea Turner, the Nats' No. 2 prospect, a chance to play both middle-infield positions over the final month of the season.
With Strasburg poised to become a free agent following the 2016 season, it's only fair to speculate which Nats pitching prospect(s) might ultimately fill his shoes. And given their collection of arms this year in instructional league in Viera, Fla., the organization should have plenty of options.
"We've had a really good camp -- very high intensity and a lot of work," said Nationals farm director Mark Scialabba. "We feel that there has been a lot of bright spots, especially on the mound."
Headlining Washington's crop of arms in fall camp this year is Lucas Giolito, MLBPipeline's No. 1 overall pitching prospect. After a dominant full-season debut in 2014, Giolito was moved up to Class A Advanced Potomac to open the season, where he pitched to a 2.71 ERA and struck out 86 batters in 69 2/3 innings (13 appearances/11 starts).
The 21-year-old's overwhelming success in the Carolina League prompted a midseason promotion to Harrisburg. Giolito struggled in his first two Double-A starts, allowing 10 earned runs in 10 innings, but settled in to post a 2.41 ERA with 38 strikeouts over his final 37 1/3 frames (six starts).
While it may seem unnecessary to have Giolito participate in camp this fall, especially after he logged a career-high 117 innings during the regular season, Scialabba views it as an opportunity for the promising right-hander to work on all phases of his game: fielding his position, holding runners, commanding and harnessing his breaking ball and changeup and even handling the bat a little.
The organization also wants him to become more consistent with each of his three offerings.
"We want him to be able to finish off hitters with all three pitches," said Scialabba. "He certainly has the stuff; it's just a matter of repeating his breaking ball, repeating his changeup so that he develops a feel for each pitch and can become a complete pitcher."
Nationals No. 5 prospect Erick Fedde has continued to make strides in his recovery from Tommy John surgery, which he underwent in the spring of 2014 before the Nationals selected him with the No. 18 overall Draft pick. The 22-year-old right-hander received his first taste of professional baseball this summer, recording a 3.38 ERA with 59 strikeouts in 64 innings (14 starts) between Class A Short Season Auburn and Class A Hagerstown.
"[Fedde's] continuing to build up arm strength with each outing while working on his fastball, which usually takes the longest to come back," Scialabba said. "Right now, it's been a long year and he's been through a lot, but he's certainly strong and healthy. Next year is when we hopefully will see a fully recovered Erick Fedde."
Also working his way back into form is No. 3 prospect Reynaldo Lopez, who ended the season on the disabled list with a minor injury but is now fully healthy and pitching well in camp.
Despite having one of the more dynamic fastballs in the Minor Leagues, Lopez, 21, was challenged this season in the Carolina League, finishing with a 4.09 ERA and 1.22 WHIP in 99 innings (19 starts). From the organization's perspective, Lopez's up-and-down performance stemmed from his inconsistent delivery.
"The biggest thing for him is repeating his mechanics, because when he does that it helps him harness his fastball command," said Scialabba. "He has an electric arm and his stuff is so very good. He just needs to add a few more pieces."
As for position players, No. 7 prospect Victor Robles continues to receive rave reviews for his all-around play, with Scialabba noting that the 18-year-old center fielder "shows all five tools on a daily basis." The 6-foot, 185-pounder's offensive package was on full display this summer, as he hit .352/.445/.507 with 20 extra-base hits and 24 stolen bases in 61 games between the Gulf Coast and New York-Penn Leagues.
"He's a very instinctual hitter with very good aptitude," Scialabba said of Robles. "And he's extremely high energy and passionate -- infectious to his teammates. He's a tremendous young man who, off the field, is a leader."
Another toolsy player to keep an eye on this fall is No. 29 prospect and 2015 second-rounder Blake Perkins, a raw but athletic center fielder who has plus speed and very easy actions. Like Robles, the 19-year-old is rich with physical projection and has a good feel for hitting, so much so that the organization has him training as a switch-hitter.
"That was part of the plan when we selected him," noted Scialabba. "He's started working on switch-hitting in games this fall."
Juan Soto, the Nats' No. 17 prospect, who signed for $1.5 million in July out of the Dominican Republic, has opened eyes in his first taste of stateside baseball this fall. At 6-foot-1, 185 pounds, Soto, 16, is a big, physical left-handed hitting outfielder who, according to Scialabba, has "power projection down the road."
Mike Rosenbaum is a reporter for MLB.com. This story was not subject to the approval of Major League Baseball or its clubs.