Mattingly: 'No surprises' in Game 1 lineup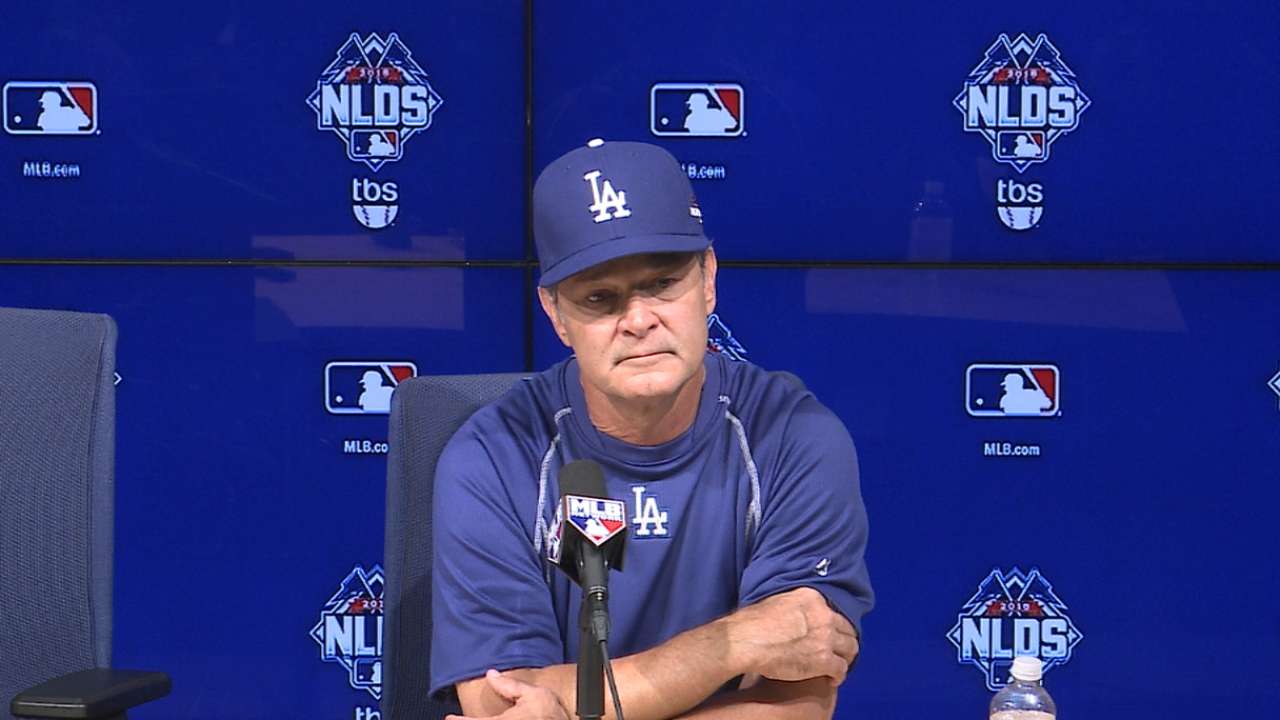 LOS ANGELES -- Manager Don Mattingly on Thursday wouldn't announce the Dodgers starting lineup for Friday night's National League Division Series opener (6:30 p.m. PT on TBS), but said the players in it -- and out of it -- know what's coming.
"No surprises come tomorrow," he said. "Everyone pretty much knows, we just haven't put it out yet."
• Shop for Dodgers postseason gear
Although there were internal discussions about second base, Howie Kendrick has been the everyday starter when he's healthy, and he's healthy. Statistically, Kendrick is one of the Dodgers' true clutch hitters and on-field leaders, trumping the fact his career numbers against Mets pitchers are poor and he's 0-for-3 against announced Game 1 starter Jacob deGrom.
Chase Utley, acquired to fill in during Kendrick's injury, has sterling stats against the Mets' young starters in general and is 3-for-10 against deGrom. Kendrick has a .154 postseason batting average, while Utley's is .262, although he last appeared in the postseason in 2011.
Mattingly also will make interesting decisions at center field, where he's likely to go with one rookie (Kiké Hernandez) over another (Joc Pederson), and shortstop, where rookie Corey Seager supplanted veteran Jimmy Rollins during clinch week.
Otherwise, Mattingly is expected to start Clayton Kershaw's favorite catcher, A.J. Ellis; regular corner infielders Adrian Gonzalez at first and Justin Turner at third; and his left-handed hitting corner outfielders, Carl Crawford in left and Andre Ethier in right.
Gonzalez is 3-for-8 with two homers against deGrom, Ethier is 2-for-6. As a team, current Dodgers are batting only .175 against deGrom.
The batting order Mattingly used against San Diego right-handed starter Casey Kelly a week ago while seeking home-field advantage could be a template for Friday night -- Crawford, Kendrick, Gonzalez, Turner, Ethier, Seager, Ellis and Hernandez.
Mattingly also wouldn't announce the 25-man roster, but it is expected to consist of:
Starting pitchers: Kershaw, Zack Greinke, Brett Anderson, Alex Wood.
Relievers: Kenley Jansen, Chris Hatcher, J.P. Howell, Luis Avilan, Pedro Baez, Yimi Garcia, Joel Peralta.
Outfielders: Ethier, Crawford, Hernandez, Pederson, Yasiel Puig, Justin Ruggiano.
Infielders -- Gonzalez, Kendrick, Seager, Turner, Rollins, Utley.
Catchers - Ellis, Yasmani Grandal.
Travel taxi squad -- Alex Guerrero, Chris Heisey, Austin Barnes, Juan Nicasio, Carlos Frias.
Ken Gurnick is a reporter for MLB.com. This story was not subject to the approval of Major League Baseball or its clubs.