Blue Jays highlight past, present before Game 1
Late tenor Burgess remembered; AL East champions banner unfurled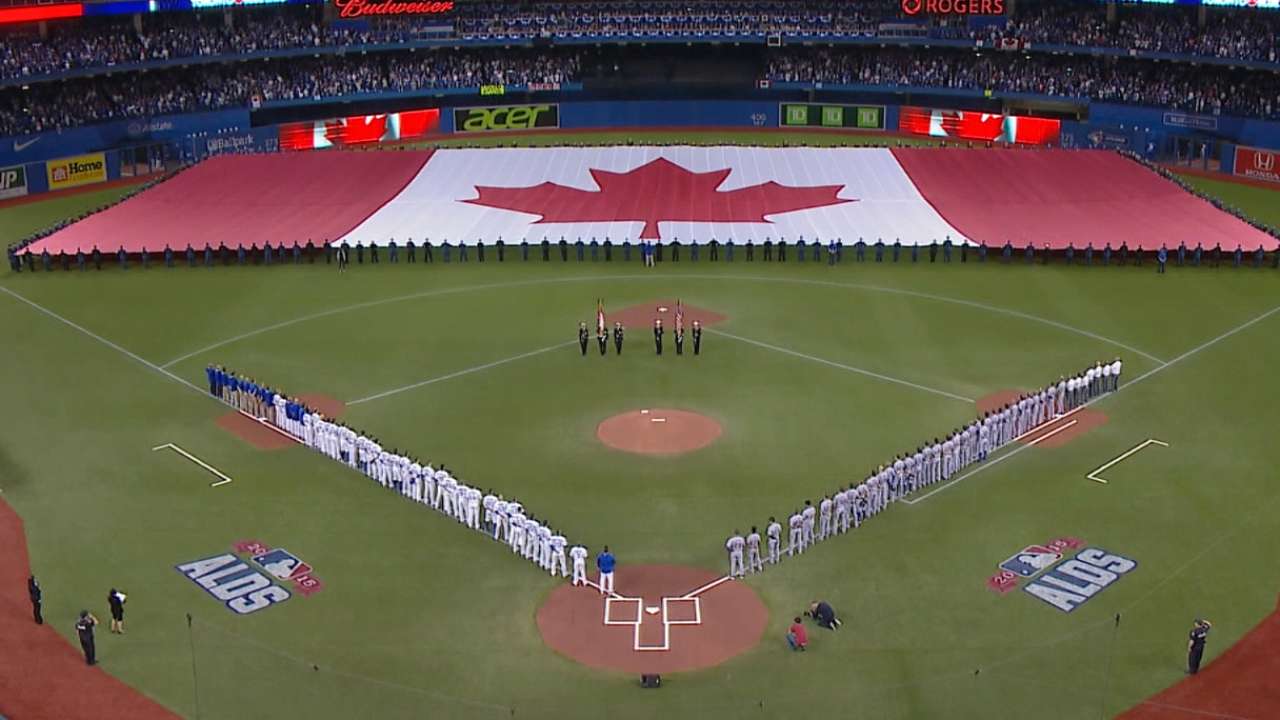 TORONTO -- The first postseason game in Toronto since 1993 was a special occasion even before the first pitch was thrown.
The pregame ceremonies at a packed Rogers Centre on Thursday struck a ringing chord that combined the Blue Jays' proud past with an exciting present that the team and its raucous fans hope will culminate in a World Series title in the near future. Toronto lost the game, 5-3, as the Rangers took a 1-0 lead in the best-of-five American League Division Series.
The joy of the moments leading up to Game 1 of the ALDS against the Rangers turned to the somber and reflective in the form of the Canadian national anthem, which came after "The Star-Spangled Banner" performed by Jeff Madden.
• Shop for official Blue Jays postseason gear
The beloved late Canadian tenor Michael Burgess was remembered with a recording of the stirring version of "O Canada" that he delivered during the Blue Jays' 1992 World Series appearance against the Braves.
Burgess, who became famous for his portrayal of Jean Valjean in "Les Miserables," passed away from cancer at the age of 70 on Sept. 28. He had been a fixture around Toronto sporting events, singing the anthem at Blue Jays and Maple Leafs games, and the white-towel-waving Rogers Centre crowd roared after the recording was played, ready for more postseason history to be created.
After the anthems, the 2015 AL East champions banner was unfurled high above center field, drawing another huge ovation. The Blue Jays players standing in formation down the third-base line acknowledged it briefly before heading back to the dugout.
Fittingly, the back-to-back World Series champion Blue Jays from 1992 and '93 were also a huge part of the proceedings when the manager of those clubs, Cito Gaston, threw out the ceremonial first pitch. Gaston lobbed a ball to Blue Jays pitcher Mark Buehrle in the waning moments before the game -- and series -- began.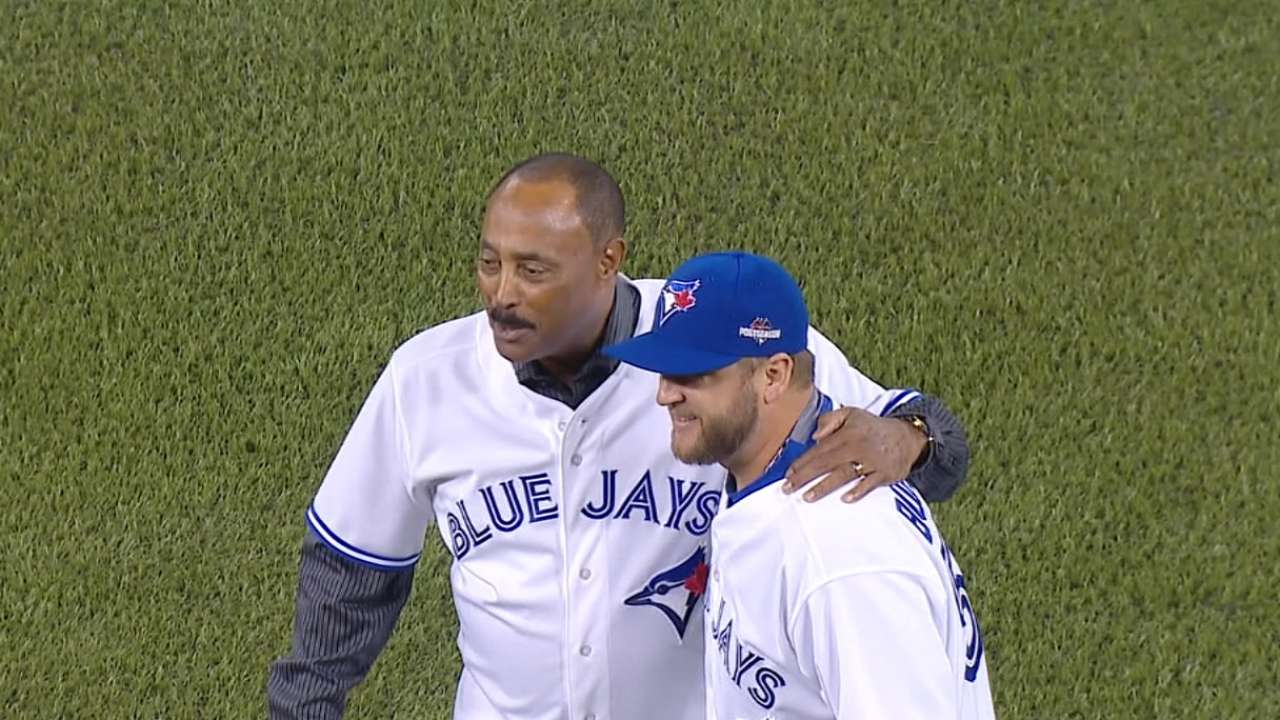 "He's always been very encouraging," Blue Jays manager John Gibbons said of Gaston. "Any time you're in the same position, same team, things like that, it can only help but give you a little bit of advice. … I'm a big fan. It's always good when he's around."
Doug Miller is a reporter for MLB.com. Follow him on Twitter @DougMillerMLB. This story was not subject to the approval of Major League Baseball or its clubs.