Stroman ready for Game 2 showdown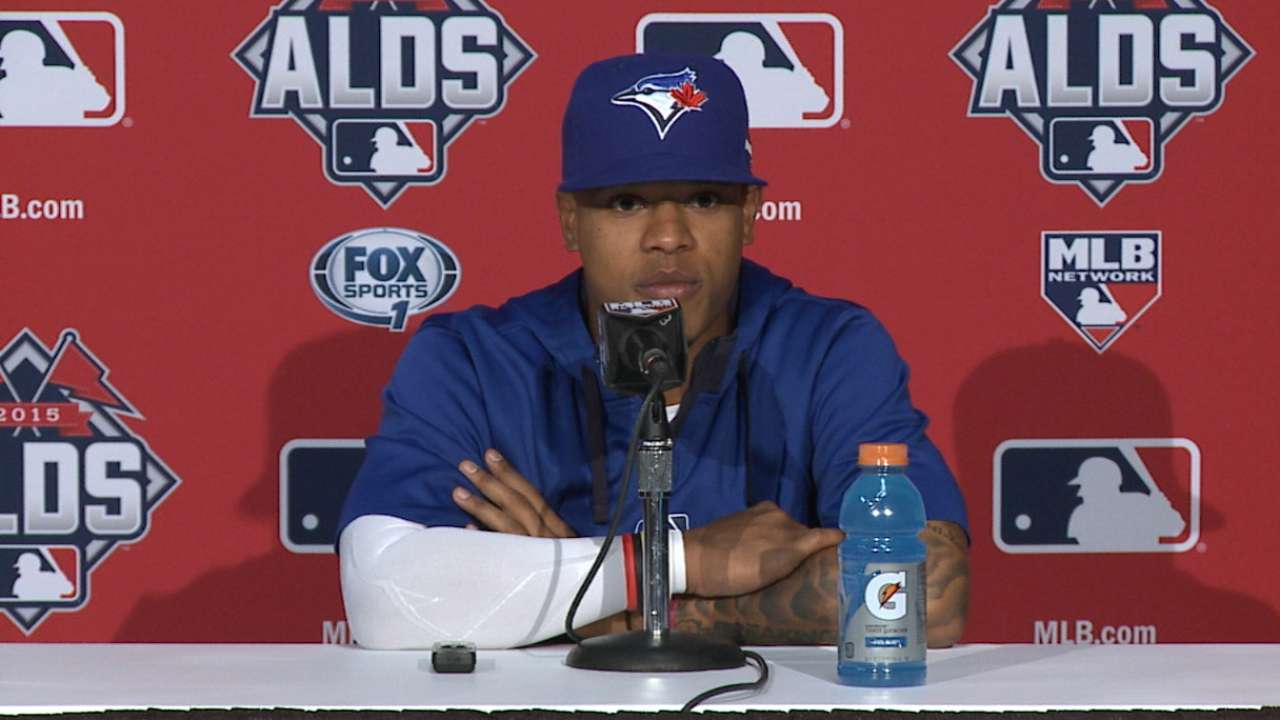 TORONTO -- Marcus Stroman's improbable return to the mound might be baseball's best comeback story of 2015. Expected to be lost for the season, the right-hander overcame huge odds in his rehab from a torn ligament in his left knee sustained in Spring Training, recovering months ahead of schedule to earn a spot in the Blue Jays' postseason rotation.
He'll make the biggest start of his life when he gets the ball for Game 2 as the Blue Jays look to even their best-of-five American League Division Series against the Rangers today at Rogers Centre (12:30 p.m. ET/11:30 CT,
MLB Network
/Sportsnet). It will be Stroman's first career postseason start, and its importance went up exponentially after the Blue Jays dropped the series opener on Thursday. But if he was nervous, Stroman didn't show it.
"I'm ready for it. You know what I mean?" Stroman said. "This is why you play the game. I'm excited. I can't wait to get out there. This is the stuff you dream about. ... All the work that went in this past summer, it was for this moment."
Stroman underwent an intense rehabilitation program at Duke University while concurrently completing his bachelor's degree during what he described as the busiest and most difficult time of his life. Ever present on social media, Stroman often posted pictures and videos of his progress, from his hospital bed before surgery to shots of him in the weight room and eventually of his throwing program.
But even as he progressed, the club still thought Stroman's resolve to return was far-fetched. No one thought he could experience and recover from a serious knee injury in the same season.
• Shop for official Blue Jays postseason gear
.@MStrooo6 - We're going to put the country on our backs. We're excited to play for an entire nation. pic.twitter.com/sjoeh2qfyQ

— Toronto Blue Jays (@BlueJays) October 8, 2015
"Totally unexpected," Blue Jays manager John Gibbons said. "I've said this many times, he told me in Spring Training after the injury, 'I'll see you in September,' and I thought it was, you know, pipe dreams."
When he finally did come back to the big leagues after only two rehab starts, the 24-year-old hadn't missed a beat. Stroman went 4-0 with a 1.67 ERA in four starts to land a spot in the Blue Jays' postseason rotation behind ace left-hander David Price.
"I think you have to give Stroman some serious credit for what he's done this year," said his counterpart for today's game, Rangers starter Cole Hamels. "I was in Clearwater, just down the street from where he injured his knee, and from what he's been able to do, it's absolutely tremendous."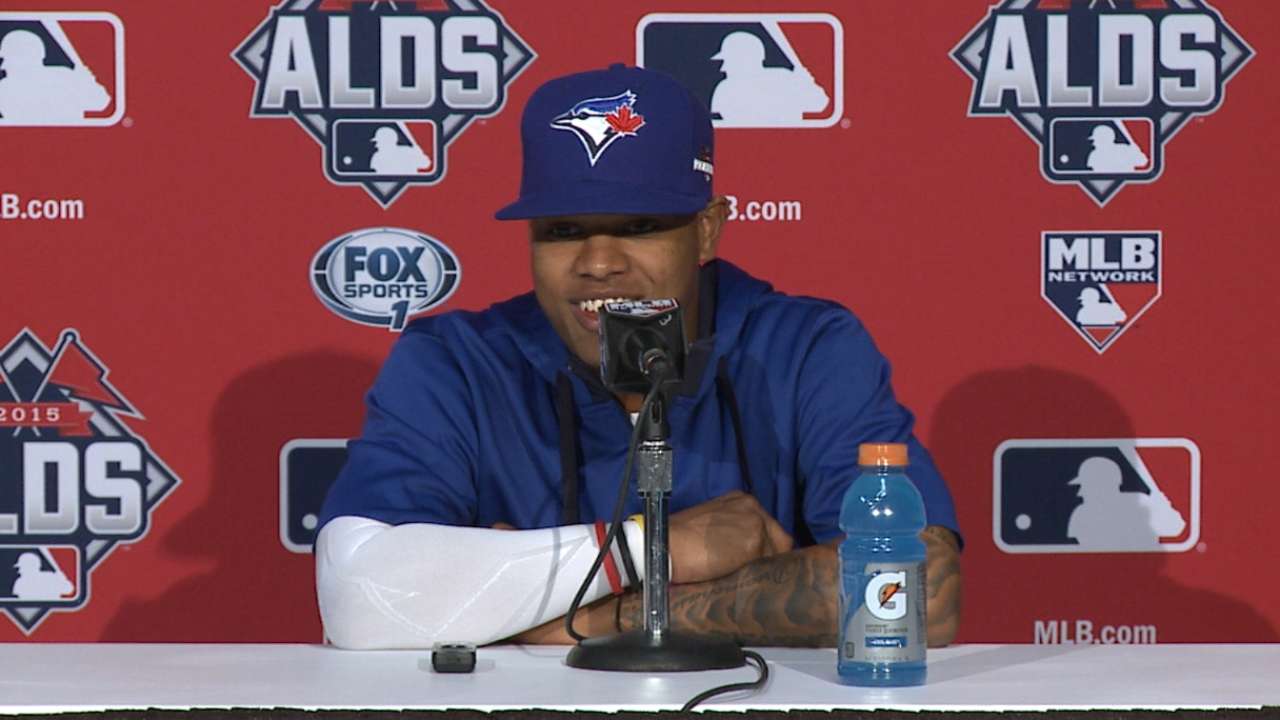 Stroman has made only one career start against the Rangers, pitching seven shutout innings on four hits in 2014. Perhaps most significant about that start was his introduction of a two-seam fastball, which Stroman has since adopted into his repertoire with great success, using it 41 percent of the time this season, according to Brooks Baseball.
"A pitch that allowed me to go seven, eight, nine innings, and I'm starting to feature it and it's starting to feel better and better the more I start to use it," Stroman said. "That's kind of the thing I take away from that start. That was the first game that I actually threw the sinker in."
Jamie Ross is an associate reporter for MLB.com. This story was not subject to the approval of Major League Baseball or its clubs.