Hamels appreciates returning to postseason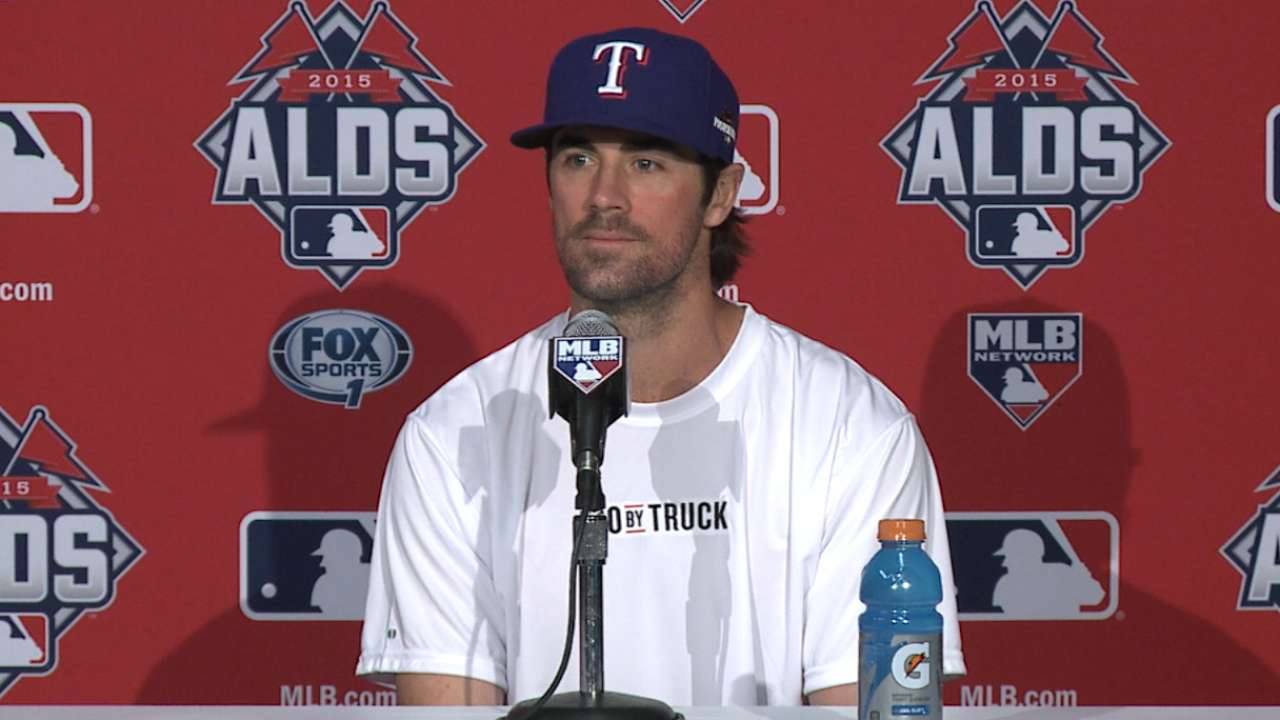 TORONTO -- Rangers pitcher Cole Hamels has been where Blue Jays pitcher Marcus Stroman is now. That helps Hamels appreciate where he is in his career as both pitchers prepare for Game 2 (Friday, 11:30 a.m. CT, MLB Network/Sportsnet) of the best-of-five American League Division Series, though Hamels is in position to put Texas in total control after its 5-3 win in Game 1 on Thursday.
Like Stroman, Hamels was a second-year Major Leaguer when he got his first taste of postseason baseball, with the 2007 Phillies. He was just 24 years old, the same age Stroman is now, when he won National League Championship Series and World Series MVP honors. Hamels was the accomplished kid in later Phillies rotations that featured Cliff Lee, Roy Halladay and Roy Oswalt.
"My first time, you're just going out there and you kind of have to go out with [the mentality of], 'What do you have to lose?'" Hamels said. "You don't know what success tastes like yet, because you haven't had it. You don't know what winning a World Series is like, so you're just going out there and, I think, enjoying the moment. That's what I did. And then when you actually know what it's all about, I think that's when you can kind of get yourself in a little bit of trouble."
• Shop for Rangers postseason gear
Hamels had more postseason experience by his 28th birthday than many other great Major League hurlers get for their careers. Then, suddenly, he had to wonder if and when he'd get there again.
"Thank goodness I've had both ends, so I've learned how to control what to expect, what not to do in those cases, and really kind of get back to what it was when it initially first started," Hamels continued. "These are the best moments. And you truly don't have anything to lose but enjoying it, because it's a special time. Not a lot of us get to experience this."
As players left or retired, Hamels was the starter left behind for the Phillies' rebuilding struggles that followed all those October runs. The expectation was always that he'd get another playoff opportunity, but it would take a contender swinging a trade to get him away.
The deal finally came together at the July non-waiver Trade Deadline, but even then, a postseason return looked like a goal for future seasons, not now. The Rangers were within striking distance of AL Wild Card contention but under .500, with a handful of teams ahead of them.
Like with the first stage of Hamels' career, the future came quickly.
"I think the moment that I came over, from the very first game that I was able to be a part of, I knew the strength that the Rangers had," Hamels said. "Guys were going to become healthy. I know they're missing a huge piece with [Yu Darvish], but I think there was enough guys around him that could fill the void. But you really did have to look at the offense, the guys that were coming in every day and the numbers that they were putting up, and I really do firmly believe that the acquisitions in the bullpen are really what set the tone for our team."
His manager, Jeff Banister, thinks Hamels set a lot of the tone himself, before he even took the mound.
"We were below .500, and nobody was even caring where we were at and thought that we got Cole for next year and beyond," Banister said. "The reality is that there was a belief system inside that clubhouse, and one that the front office also believed in, [believing in] what we were capable of doing and the core group of players that were playing every day.
"The message that [Hamels] gave in his press conference as he talked about his previous team, the Philadelphia Phillies, and what they meant to him and his time there and how thankful he was, shows the integrity of the man and the character. And then he started talking about our ballclub and what he had seen and the grit and the passion, and that he couldn't wait to assimilate himself inside our clubhouse and start growing with our group of guys, which told me that there was still a lot left, and a lot that he wanted to do."
Hamels talks about postseason baseball as different, because there's often not a second chance. This is his.
Jason Beck is a reporter for MLB.com. Read Beck's Blog, follow him on Twitter @beckjason and listen to his podcast. This story was not subject to the approval of Major League Baseball or its clubs.