Back at it: Matz feels 'really good' after sim game
Lefty tosses 80 pitches, hopes to make Mets' NLDS roster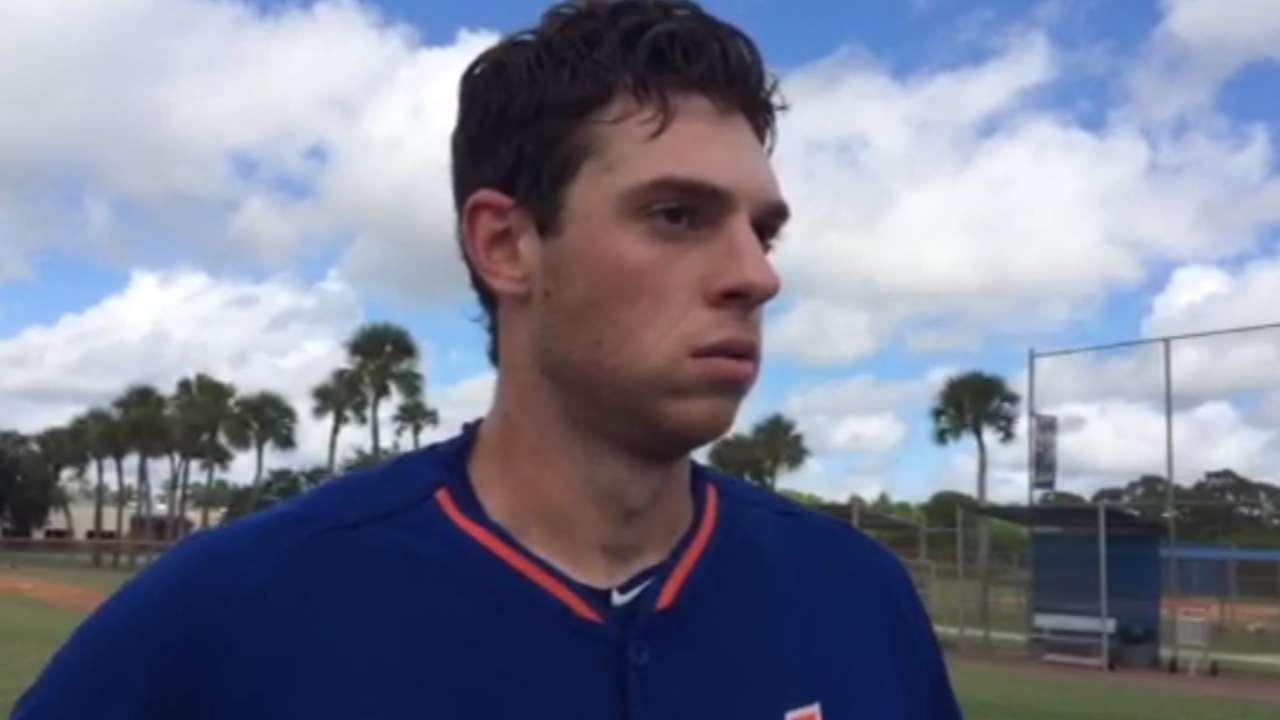 LOS ANGELES -- Before taking the field for their National League Division Series workout at Dodger Stadium on Thursday, the Mets paid keen attention to what was happening over 2,000 miles to the East. Steven Matz, who last pitched on Sept. 24 because of lingering upper back soreness, threw 80 pitches in a simulated game at the team's Spring Training complex at Port St. Lucie, Fla., giving the team optimism that he can start NLDS Game 4.
The Mets will wait until just before Friday's 1 p.m. ET deadline to decide for certain if they will include Matz on their NLDS roster, giving him a chance to recover from his outing and play catch once more in Florida. But if Thursday was any indication, the team's decision is now just a formality.
• Shop for Mets postseason gear
"It felt really good," Matz said. "I took two weeks off, so a little rusty in the first couple innings, but felt really good, finished strong, arm feels great, back feels great, so I'm ready to go."
"In a perfect world, that would be the plan," Mets manager Terry Collins said of a Game 4 start, reiterating that Bartolo Colon is the leading candidate to start if Matz can't go. "We'll make adjustments as we go, but we certainly hope he'll be part of the rotation."
Initially scheduled to throw between 90-95 pitches, Matz said he could have thrown more but did enough to ready himself for his first career postseason start. As it was, he faced 18 batters and recorded 12 outs over five innings, allowing two runs on four hits with five strikeouts and one walk. His fastball consistently stayed in the 93-95 mph range, topping out at 96 mph on a leadoff triple in the first.
Of Matz's 80 pitches, 50 went for strikes. The Mets capped his first two innings at 20 and 15 pitches, respectively, with one out in each of them. Following that leadoff triple, Matz struck out the next batter before a two-strike RBI single by Jayce Boyd. In the second, Eric Campbell led off with a walk and scored on Desmond Lindsay's two-strike RBI double.
"Early, he was just trying to find himself again, because he had taken a little bit of time off obviously," said Anthony Recker, who caught him. "The last three innings he was awesome. Everything was working. He just had to work out a few kinks, and once he did, his rhythm came back, his timing came back and everything was really good. Kept the ball down in the zone, really good movement today and was able to throw four pitches pretty well."
Added Campbell, who went 0-for-2 with a walk: "Outstanding. He was nasty. His fastball had a lot of life to it. It was running probably six inches I'd say. His offspeed later in the game he was throwing for strikes -- curveball, slider and changeup. When he's doing that and you throw that hard, it's really tough. I think he's definitely good to go."
The 24-year-old rookie first felt discomfort when he woke up last week in Philadelphia, resulting in two scratches that prevented him from pitching again in the regular season. Matz received an injection on Sunday and threw a bullpen session at Citi Field two days later. If he does make the NLDS roster, he will skip the cross-country flight to Los Angeles and rejoin his teammates Sunday in New York.
"I don't really care to have him fly all the way across the country," Collins said, "a guy that's had two back issues, for 24 hours, and then put him on a plane and fly him back across the country the other way."
Matz went 4-0 with a 2.27 ERA in six starts over two stints with the ballclub this season. He pitched into the sixth in all but one of those outings, surrendering three runs or less in all of them. A left lat strain limited him for two months this summer.
"The way I looked at it was just really fine-tune everything," Matz said. "I knew my arm was going to feel good, I knew my back was feeling better, so I really just wanted to focus on fine-tuning stuff, and I feel like that's what I accomplished today."
Anthony DiComo is a reporter for MLB.com. Follow him on Twitter @AnthonyDiComo and Facebook, and listen to his podcast. Christina De Nicola is a contributor to MLB.com. This story was not subject to the approval of Major League Baseball or its clubs.