Perez to get Game 3 nod for Rangers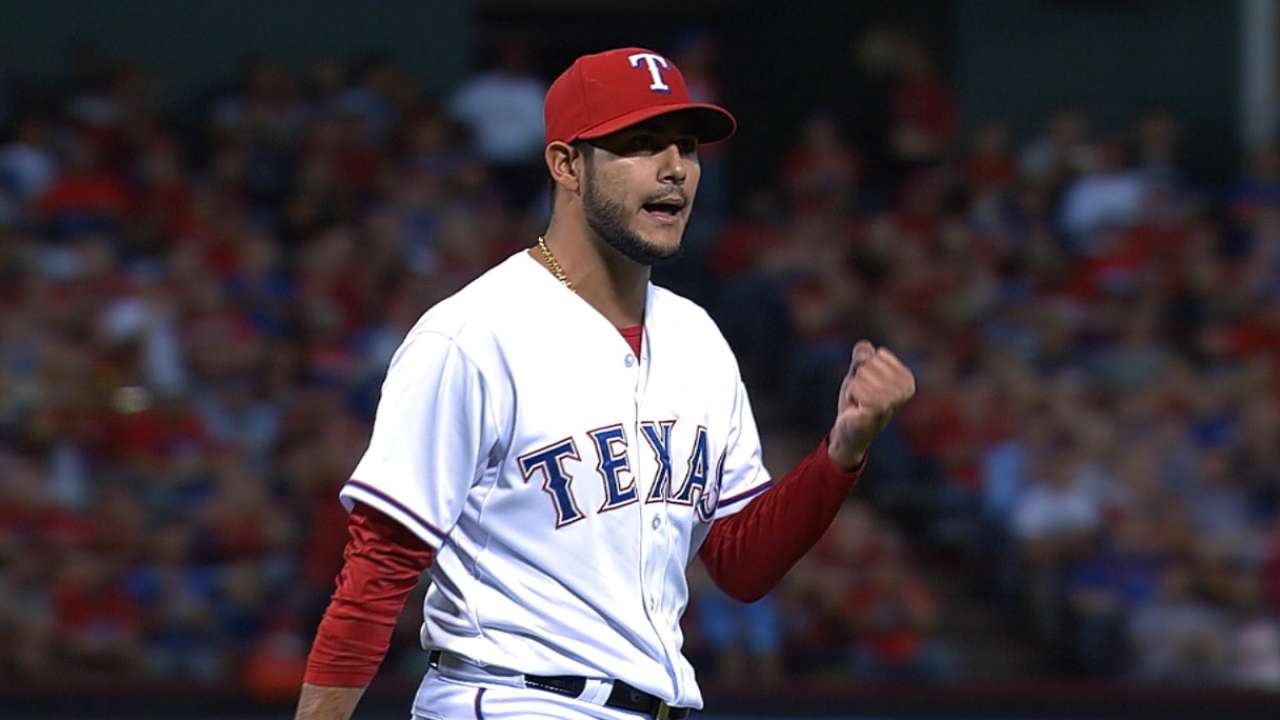 TORONTO -- The Rangers have settled on Martin Perez as their starter for Game 3 of the American League Division Series vs. the Blue Jays on Sunday night in Arlington.
The Rangers have yet to name a starter for Game 4. Both right-hander Colby Lewis and left-hander Derek Holland are on the postseason roster and will be in the bullpen at least for Game 1.
"It's not necessary to make that decision," manager Jeff Banister said. "We'd like to see how the first two games play out."
Perez gets the assignment because of his "body of work" lately and because he is a ground-ball pitcher, Banister said. Perez posted a 3.60 ERA in his final six starts despite going 1-3. Lewis was 3-2 but had a 5.45 ERA in his final six starts, while Holland was 2-2 with a 6.19 ERA in his last six.
"It's special for me," Perez said. "After having [Tommy John] surgery, after a year and three months working on my arm, to come back and get the chance to pitch in Game 3, that's amazing. Now I have to go out and do my job."
Perez has a ground-ball ratio of 59 percent, the highest among all Rangers starters. Holland is at 42.5 percent and Lewis is at 34.8 percent.
"We like the ground ball," Banister said. "We feel Martin has been throwing the ball well lately and it gives us the opportunity to have those other two as options out of the bullpen."
Perez has not started against the Blue Jays this season. Holland allowed four runs in six innings in his only start and Lewis allowed five in five innings in his one outing against them. Perez is the only one of the Rangers' five starters who has never pitched in postseason.
Holland has some experience as a reliever and has made nine appearances out of the bullpen in the playoffs over the past five years. Lewis was a reliever early in his career but has not made a relief appearance with the Rangers since his return from Japan in 2010.
Holland gives the Rangers a second left-hander in the bullpen along with Jake Diekman. The Rangers went heavy to the right side in the bullpen for the series with the Jays, as they chose right-handers Ross Ohlendorf and Chi Chi Gonzalez over left-handers Sam Freeman and Andrew Faulkner.
"Given the strength of their lineup and their heavy right-handed presence, we felt having right-handed options are necessary," Banister said.
T.R. Sullivan is a reporter for MLB.com. Read his blog, Postcards from Elysian Fields, follow him on Twitter @Sullivan_Ranger and listen to his podcast. This story was not subject to the approval of Major League Baseball or its clubs.