MLB.com Columnist
Jim Callis
Moncada, Benintendi among Red Sox at instructs
20-year-old top prospect, team's first-round pick join Espinoza, Chavis in Florida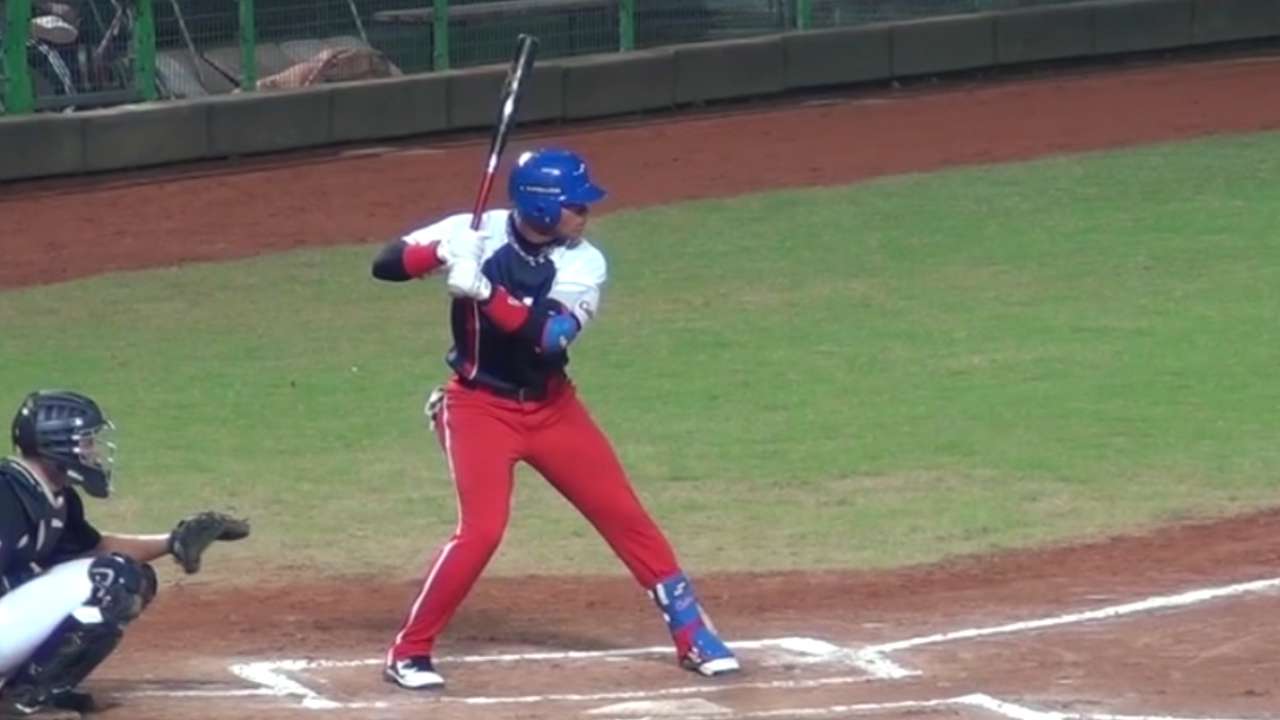 At the end of the season, there was little debate among scouts as to which Minor League club featured the most intriguing talent. The Greenville Drive may not have made the low Class A South Atlantic League playoffs, but they were absolutely loaded with infielders Yoan Moncada, Rafael Devers, Javier Guerra and Michael Chavis, outfielder Andrew Benintendi and right-hander Anderson Espinoza.
Several of those players have spent the early offseason honing their skills in the Red Sox' instructional league program in Fort Myers, Fla., which began Sept. 18 and will conclude Tuesday.
Moncada, 20, signed for an amateur-record $31.5 million bonus in March -- Boston had to pay a matching $31.5 million overage tax penalty as well -- and joined Greenville in mid-May. He hit just .200/.287/.289 with one homer and four steals in 25 games before the SAL All-Star break.
Afterward, Moncada showed off the four plus tools that created a bidding war for his services. He batted .310/.415/.500 in 56 games, slamming seven homers and swiping 45 bases in 48 attempts. The only thing lacking in his game is defensive consistency.
Moncada played multiple positions before defecting from Cuba, and he's still a work in progress at second base, where he made 23 errors in 71 games. He has the quickness and arm strength to be a defensive asset, but he'll need to improve his instincts and reliability. The Red Sox believe he can do that and it's just a matter of giving him more repetitions.
"He shows incredible athleticism to make great plays," Boston farm director Ben Crockett said. "We're focusing on making the routine plays and being consistent with that. Offensively, he's got a very good approach at the plate. He's balancing remaining in the middle of the field and being selective while still being aggressive."
Unlike Moncada, Benintendi didn't have a slow start to his pro career. After leading NCAA Division I with 20 home runs at Arkansas and winning all of the major college player-of-the-year awards, he signed for $3,590,400 as the seventh overall pick in the 2015 Draft. He hit a combined .313/.416/.556 between short-season Lowell and Greenville, reaching double figures in homers (11) and steals (10) while walking more (35) than he struck out (24) in 54 games.
As a Draft-eligible sophomore who didn't play summer ball the year before, the 21-year-old Benintendi has far less experience with wood bats than most college players. His main focus in instructional league is just adding to the 198 at-bats he got in his debut, though he has been limited recently by a quadriceps strain.
"He's very consistent in everything he does," Crockett said. "He's never too low or too high, and he came in with a very professional approach. He has done a lot of different things very well. He's a good defender in center field with an average arm, he has good hitting instincts and ability, good feel for the strike zone."
Espinoza was the gem of Boston's international class from the summer of 2014, signing for $1.8 million to double the previous Venezuelan bonus record held by Francisco Rodriguez. Espinoza broke into pro ball this June in the Rookie-level Dominican Summer League, and needed just four starts to show the Red Sox he was ready to make his U.S. debut at age 17. He dominated the Rookie-level Gulf Coast League before making one September start at Greenville and finishing with a 1.23 ERA, 65/14 K/BB ratio and .193 opponent average in 58 1/3 combined innings.
Though he's not physically imposing at 6 feet and 160 pounds, Espinoza has a big-time arm and advanced feel for pitching. He sits around 96 mph and can reach 99 with his fastball, can locate his curveball for strikes or get hitters to chase it out of the zone, and shows a willingness to use his changeup.
"He definitely made a positive first impression this year," Crockett said. "He shows you a lot of interesting things for a young kid but there still are some things to work on. He's doing a little bit of mechanical work, continuing to repeat his delivery, working on controlling the running game -- some little things that did pop up during the year."
Two 2014 first-round picks who spent the year at Greenville also are in Fort Myers. Chavis, who finished fifth in the SAL with 16 homers at age 19, is focused on improving his pitch selection and patience at the plate while also polishing his defense at third base.
Right-hander Michael Kopech, also 19, recorded a 2.63 ERA and a 70/27 K/BB ratio in 65 innings but saw his season end in mid-July with a 50-game suspension after he tested positive for a banned stimulant. He's making up for lost innings and continuing to refine his command and control. His stuff remains as impressive as ever, as he has hit 99 mph with his fastball and backed it up with a hard slider.
Jim Callis is a reporter for MLB.com and writes a blog, Callis' Corner. Follow @jimcallisMLB on Twitter. This story was not subject to the approval of Major League Baseball or its clubs.