Qualls, Villar not on Astros' ALDS roster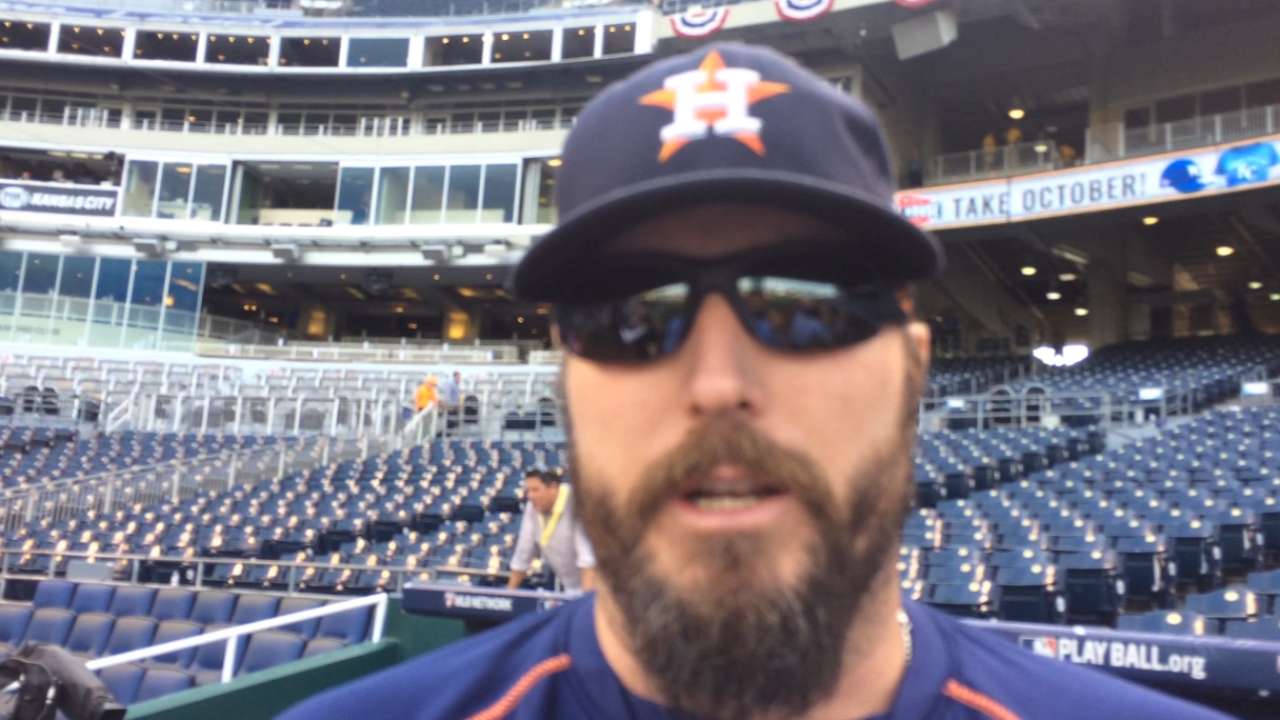 KANSAS CITY -- Veteran relief pitcher Chad Qualls wasn't listed on the roster for the Astros in their American League Division Series matchup against the Royals, which got underway tonight at Kauffman Stadium on FOX Sports 1.
Astros manager A.J. Hinch added starting pitchers Collin McHugh, who starts Game 1, Scott Kazmir, who goes in Game 2, and rookie Lance McCullers Jr., who could start in Game 4. The three pitchers were not on the roster for the AL Wild Card Game presented by Budweiser, which the Astros won, 3-0, over the Yankees.
In addition to Qualls, infielders Matt Duffy and Jonathan Villar weren't on the ALDS roster after being on the AL Wild Card Game roster. Villar pinch-ran in the win on Tuesday and scored Houston's last run.
Hinch said the decision wasn't an indictment on Qualls, and he seemed to indicate it came down to Qualls or Josh Fields for the final spot, and Fields is the hardest thrower in the 'pen.
"I'm not going to sit around and pout and be a hindrance on the team itself," Qualls said. "I'm going to tell everyone to do their jobs and keep everyone in high spirits. This is a great year for our team, for our city, for the organization. For me not to be on the roster and make it about me, that's not what I'm about. I want to help this team win and get back to where we're at, and that's where we are right now. Let's advance to the next round and get on that roster and advance even farther."
The Astros are carrying 11 pitchers, two catchers, six infielders and six outfielders, including designated hitter Evan Gattis.
Qualls, who warmed up in the bullpen during Tuesday's game, went 3-5 with four saves and a 4.38 ERA in 60 games with Houston this year. Since June 24, he had a 3.65 ERA and a 1.05 WHIP in 32 games. Qualls has extensive postseason experience, appearing in 17 games -- mostly coming in the Astros' playoff run in 2005. He gave up a grand slam to Paul Konerko in Game 2 of the 2005 World Series against the White Sox.
"Obviously, I want to help this team advance," Qualls said. "I'm not worried. I'm just here to support the team and get everybody going like I always do. A.J. told me, 'Don't worry about it. If we advance, it's going to be Toronto or Texas, and you should be on that roster.' It's just something they needed to do as far as carrying an extra [reliever] man, and I can't control it. I may as well just cheer the team on as good as I can and do what I need to do."
PITCHERS (11)
35 Josh Fields, RHP
54 Mike Fiers, RHP
44 Luke Gregerson, RHP
36 Will Harris, RHP
26 Scott Kazmir, LHP
60 Dallas Keuchel, LHP
43 Lance McCullers, RHP
31 Collin McHugh, RHP
37 Pat Neshek, RHP
38 Oliver Perez, LHP
29 Tony Sipp, LHP

CATCHERS (2)
15 Jason Castro
16 Hank Conger

INFIELDERS (6)
27 Jose Altuve
23 Chris Carter
1 Carlos Correa
9 Marwin Gonzalez
8 Jed Lowrie
18 Luis Valbuena

OUTFIELDERS (6)
11 Evan Gattis
30 Carlos Gomez
6 Jake Marisnick
28 Colby Rasmus
4 George Springer
20 Preston Tucker
Brian McTaggart is a reporter for MLB.com and writes an MLBlog, Tag's Lines. Follow @brianmctaggart on Twitter and listen to his podcast. This story was not subject to the approval of Major League Baseball or its clubs.