Manager search tops Marlins' priority list
Club looking for the best candidate, not a particular personality type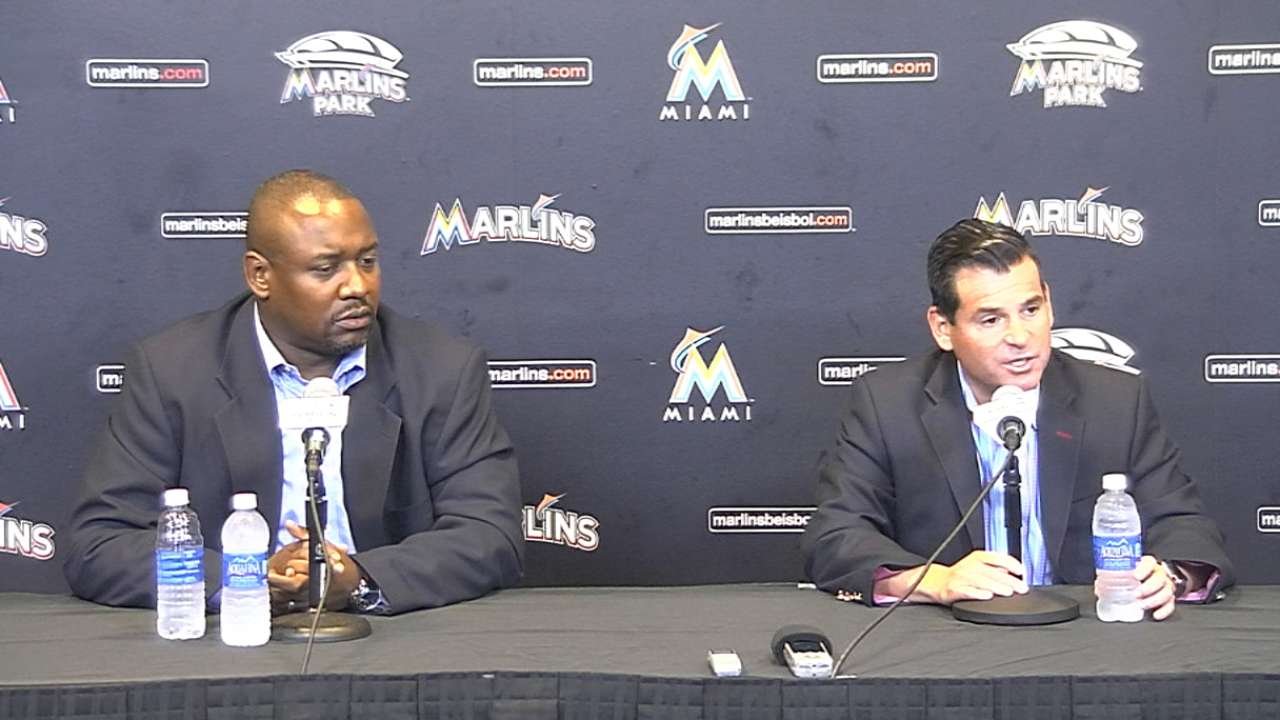 MIAMI -- All possibilities are on the table for the Marlins in their search for a new manager. The process, according to president of baseball operations Michael Hill, will be "extensive and exhaustive."
The Marlins have already discussed the job with Manny Acta, Bo Porter and Larry Bowa. On Thursday, Phil Nevin, the D-backs Triple-A manager, is scheduled to interview.
When the search is over, the organization simply wants to find the right fit.
The general feeling is team owner Jeffrey Loria prefers someone with previous big league managing experience. But the fact that Nevin is being considered shows the club is willing to cast a wider net.
Nevin, who retired as a player after 12 seasons in 2006, is considered a rising star in the Minor League managing ranks.
Marlins president David Samson pointed out the importance of being open-minded, and refraining from going from one extreme to another, which is how the franchise had operated in the past. It was the case when Ozzie Guillen, who is well-known for being fiery and outspoken, was let go after the 2012 season. His replacement was a rookie manager, Mike Redmond, who was more laid back and popular with his players.
Redmond was dismissed in May, and the Marlins went in a totally surprising direction, as Dan Jennings switched from general manager to manager.
After finishing 71-91, the organization on Monday announced Jennings would not return as manager, and that he was returning to his general manager post.
Despite the disappointing season, the organization believes in its core and doesn't feel it is far away from contending.
Finding the right manager is regarded as the top offseason priority.
"Our managerial search will be extensive, it will be exhaustive," Hill said. "It's an honor to be a Major League manager, and I think people recognize what we have here. There is a solid core of talented players. We feel we aren't that far away from winning."
The Marlins are trying to avoid overreacting.
"We have always gone exactly opposite," Samson said. "It's what you do. You tend to go [from] someone, in theory, who is intense to someone more laid back. Then you fire that person, and you go for someone who is fiery and intense.
"That's generally how many organizations do it. That has not worked for us, doing that. So what we decided this time … [to treat] it like the Draft, where you draft best available and not by position."
Joe Frisaro is a reporter for MLB.com. He writes a blog, called The Fish Pond. Follow him on Twitter @JoeFrisaro and listen to his podcast. This story was not subject to the approval of Major League Baseball or its clubs.