Statcast ranks Schwarber's clout among best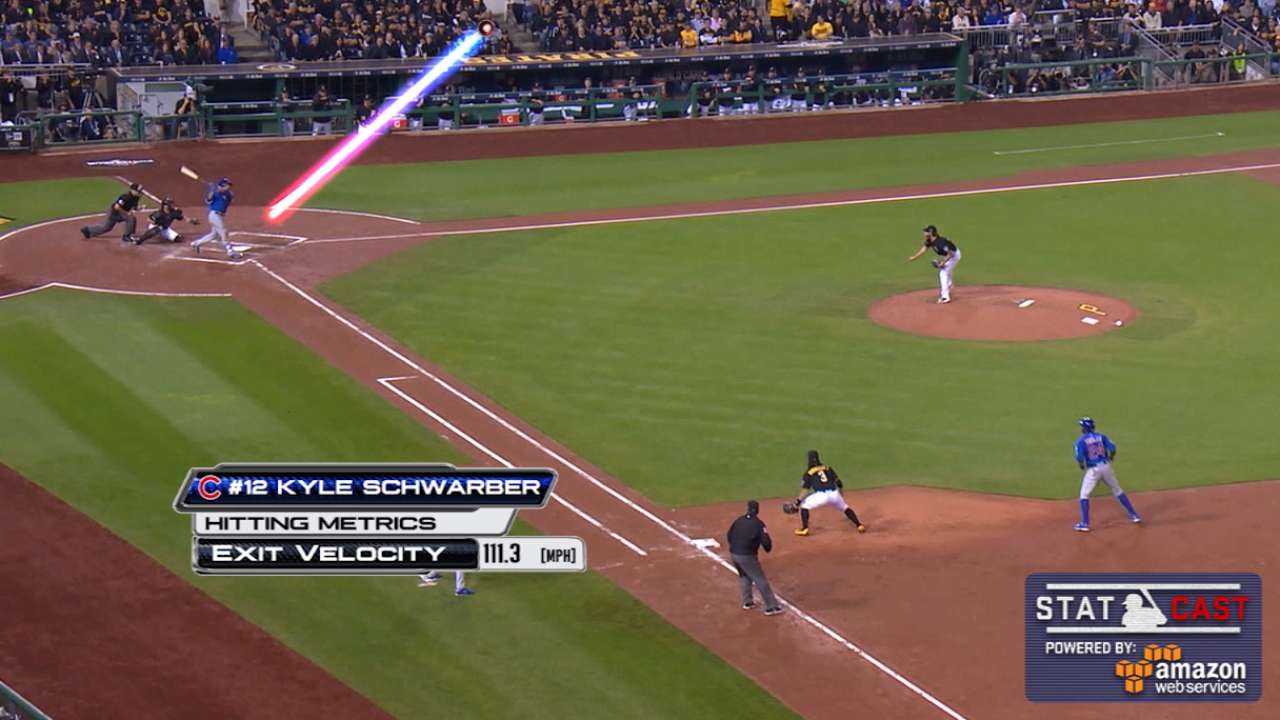 Though Cubs ace Jake Arrieta once again stole the show with Wednesday night's 4-0 shutout of the Pirates, he had more than enough offensive -- and defensive -- help behind him.
While one Cubs rookie crushed his longest home run of the year -- and one of the longest by the Cubs period, per Statcast™ -- as Chicago prevailed in the National League Wild Card Game presented by Budweiser, a fellow first-year player stepped up defensively to thwart a Pirates rally, while atoning for an earlier defensive miscue.
As if that wasn't enough, another Cubs player put Statcast™ to the test in multiple areas by showing off an impressive combination of speed and power. Here's a closer look at some of the key plays from the NL Wild Card Game, courtesy of Statcast™.
Schwarber saves best for postseason
Though Kyle Schwarber has already hit his share of no-doubt home runs in his brief time in the Majors, none had gone as far -- nor was hit as hard -- as the towering solo drive he hit in the third inning on Wednesday night. The Cubs rookie crushed a Gerrit Cole offering a projected 450 feet, marking not only his longest home run of the season, but also the third-longest hit by any Cubs player. The only longer home runs by the Cubs in 2015 both came off the bat of Kris Bryant, who hit the Majors' longest home run of the year at 495 feet, as well as a 477-foot drive.
Back to Schwarber -- his previous personal best was a 448-foot homer on Sept. 11 against the Phillies. As for the exit velocity, Schwarber turned Cole's pitch around at a scorching 111.3 mph on Wednesday night, also eclipsing his previous high of 100.3 mph.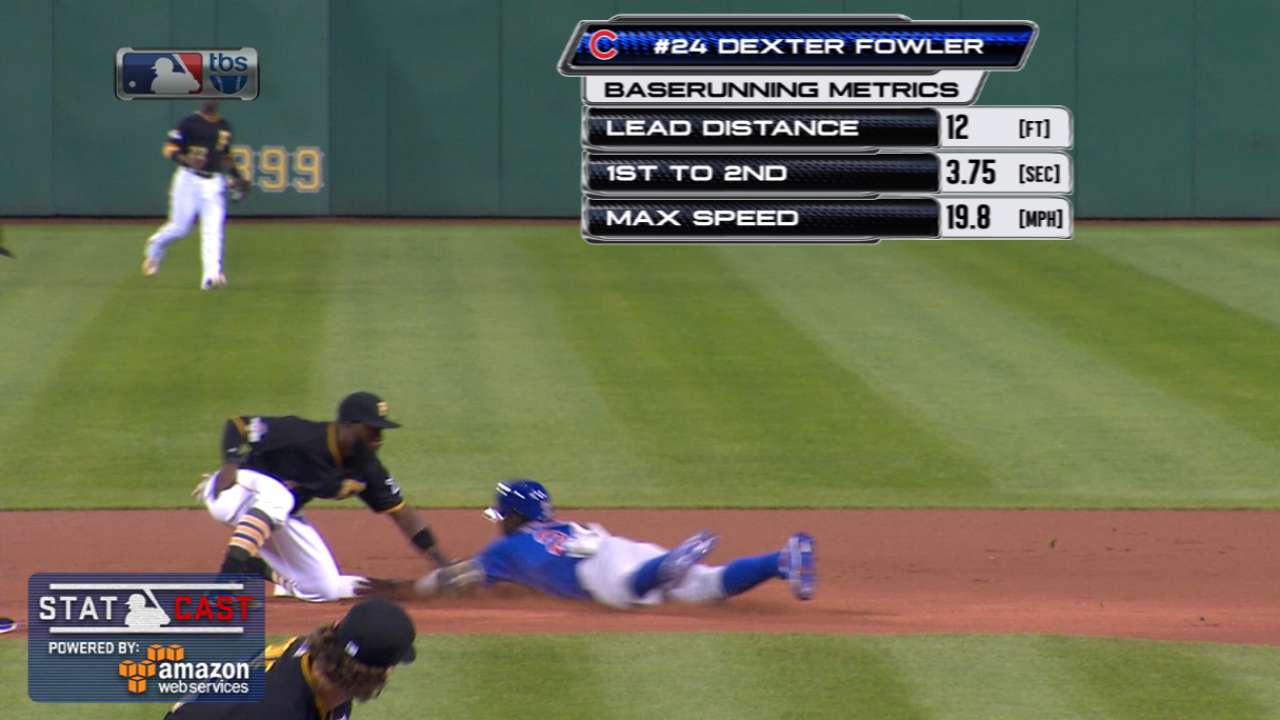 Fowler swipes second, sets up run
Cubs leadoff hitter Dexter Fowler had himself a night at the plate, starting with a leadoff single. He then promptly put himself in scoring position by stealing second base after taking a lead of 12.3 feet. The speedy center fielder reached a max speed of 19.8 mph after breaking for second base, and it took him just 3.8 seconds to reach the bag, allowing him to slide in safely ahead of the tag. The stolen base quickly paid off, as Fowler then raced home on a Schwarber hit.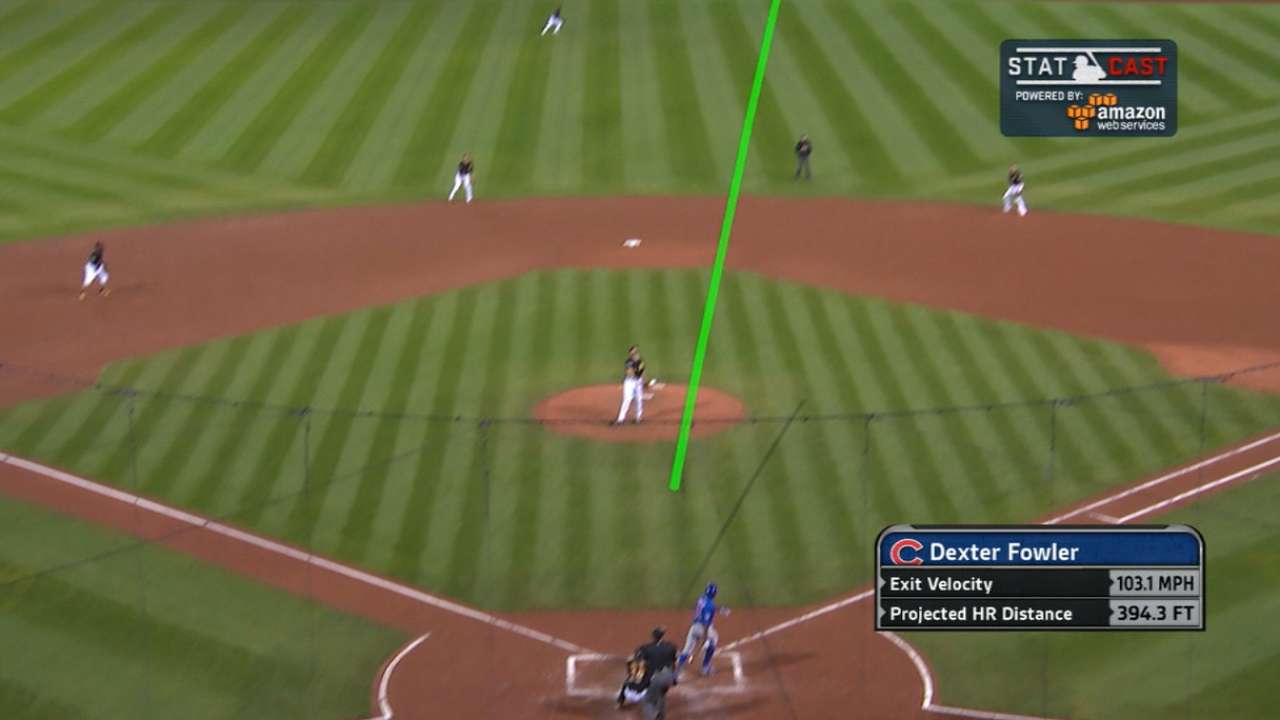 Fowler flashes some power, too
After stealing a base and scoring a run earlier in the night, Fowler decided to simply drive himself in with a fifth-inning homer that pushed the Cubs' lead to 4-0. Though Fowler's drive wasn't quite as majestic as Schwarber's earlier in the night, it still jumped off his bat at an impressive 103.1 mph and traveled a projected distance of 394 feet.
Russell fields scorcher, atones for error
Cubs rookie shortstop Addison Russell briefly opened the door for the Pirates in the sixth inning when he booted a scorching ground ball off the bat of Andrew McCutchen. The hotshot left McCutchen's bat at a whopping 107.3 mph on its way to being misplayed by Russell, loading the bases with only one out. Though McCutchen's hit seemed too hot to handle, Russell proved he was up to the task just one batter later, when he smoothly handled a 109.4-mph scorcher off the bat of Starling Marte, then started a 6-4-3, inning-ending double play.
Paul Casella is a reporter for MLB.com. This story was not subject to the approval of Major League Baseball or its clubs.