MLB.com Columnist
Phil Rogers
Bucs deserve better than early October exits
Hurdle not bemoaning postseason misfortune, but thanks his club and looks forward to future success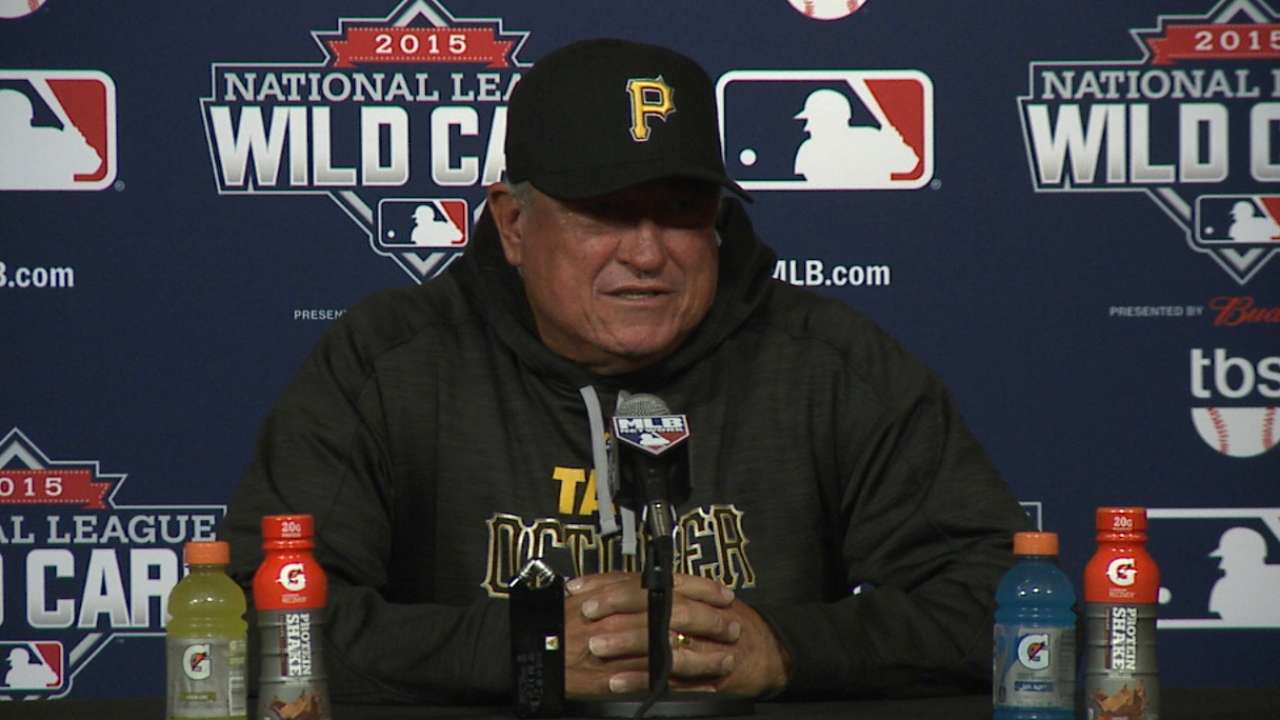 PITTSBURGH -- Well, sure, this gets a little old. It has to, doesn't it?
It was little wonder that the Pirates' frustration boiled over during Wednesday night's 4-0 loss to the Cubs in the National League Wild Card Game presented by Budweiser, with Jake Arrieta in control and another great season nearing a quick end in the postseason. The angry mob that assembled near home plate after Arrieta was hit with a pitch in retaliation for hitting two Bucs players with pitches spoke as much to the looming shift from serious World Series contender to first team out in the NL.
The lasting image of the game will be headband-wearing utility man Sean Rodriguez banging away at a water cooler on the bench after he was ejected in the scrum, which ended with bench coach Dave Jauss still screaming at umpire Jeff Nelson as he returned to the dugout. Neither activity was fruitful, but given the time and effort that's poured into a season, you've got to expect an emotional release after being shut down in must-win games.
It's happened to the Pirates three years in a row now, with elimination-game losses to Cardinals ace Adam Wainwright in the 2013 NL Division Series, Giants ace Madison Bumgarner in last year's NL Wild Card Game and now Arrieta. This wasn't as one-sided as the other losses, but that can't be much consolation.
"Sometimes you draw a tough bull,'' Bucs manager Clint Hurdle said. "Two years in a row, we've drawn a tough bull.''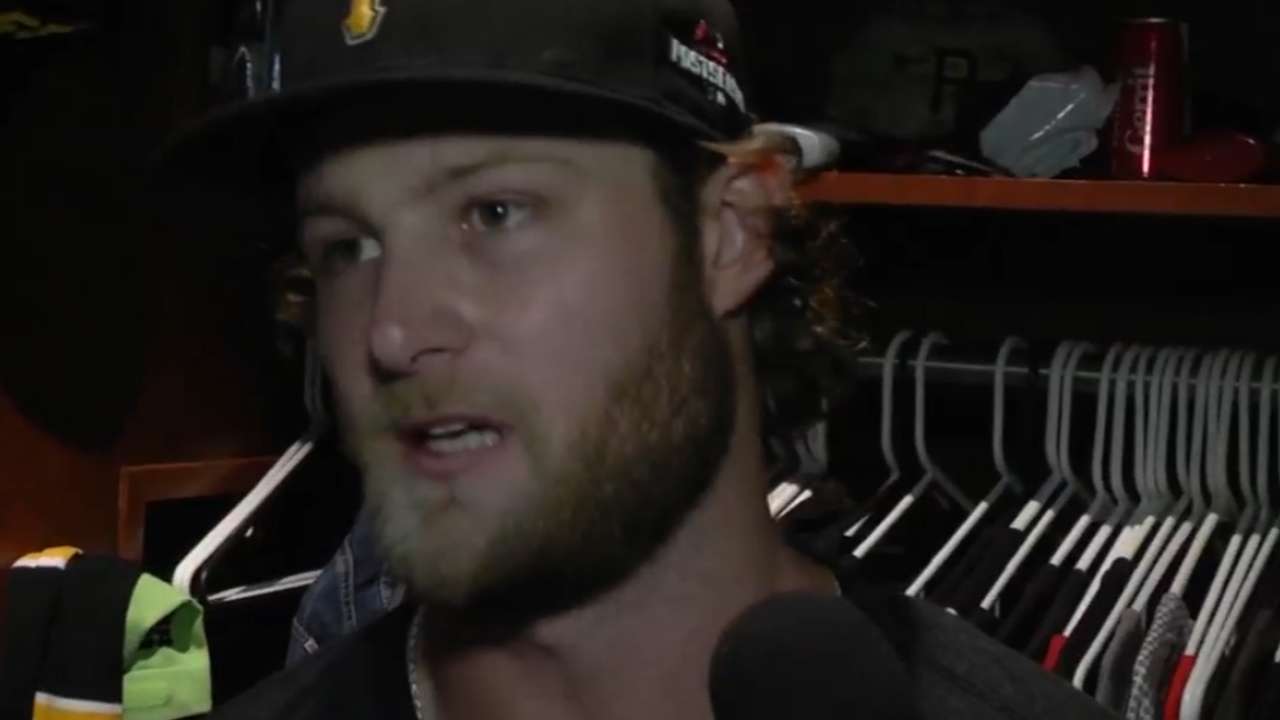 Including Wainwright's performance in Game 5 of the 2013 NLDS, a 6-1 loss, the Pirates managed 16 hits and only one run in those games. They lost 8-0 to the Giants.
The Bucs have played in the Wild Card Game in each of the past three seasons, unable to get past the Cards in the NL Central despite piling up 280 wins -- an average of 93 per season.
They've deserved more than they've gotten out of October, but don't expect them to ask anyone for sympathy. It's not the tone that Hurdle has set since arriving as manager in 2011.
Rather than railing at his hitters for not solving Arrieta or at the one-and-done format, Hurdle took time after the loss to thank his players for their efforts and to honor Aramis Ramirez and A.J. Burnett, who are retiring. It's what good managers do, and Hurdle is one of the best.
• Aramis, Burnett go out with heads held high
"Sports [are] hard; life's not fair,'' he said. "You go out and play, you get beat and you move on. I thanked the guys for an incredible ride they took the coaching staff, the support staff, everybody in the clubhouse on. We went to some new places, did some new things. We're continuing to grow and get better. There's an opportunity for us to get better, to keep getting better.''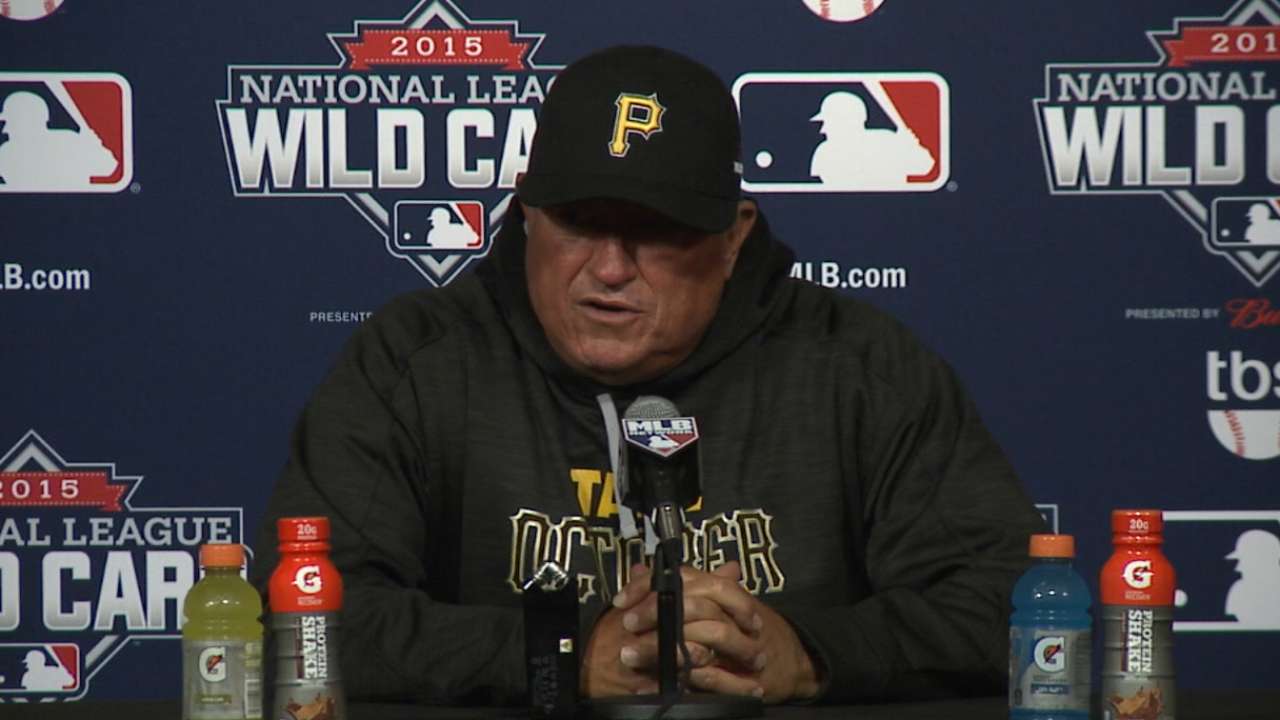 What choice do they have? Here are the Pirates, deep into a franchise renaissance but still without a trip to the NL Championship Series since 1992. It's going to be hard for Andrew McCutchen, Starling Marte, Gerrit Cole and the other players to shake off the latest disappointment, but anyone who has been around them knows they'll report to Florida more determined than ever next February.
Hurdle's trademark is his relentless optimism. It will be tested once it's time for the Bucs to start picking up the pieces, but the good news is that the core of this team will remain intact -- with McCutchen under control through 2018 and Marte until '21, and that Korean shortstop Jung Ho Kang could be capable of delivering a major impact in '16.
• Kang receives huge ovation from Bucs faithful
This is a strong franchise that will be back to battle the Cardinals, Cubs and the rest of the NL next season. The window that opened a few years ago is nowhere near closing. Maybe next time around, the Pirates won't draw such a tough bull. They're due a little better luck when it comes to picking their opponents.
Phil Rogers is a columnist for MLB.com. This story was not subject to the approval of Major League Baseball or its clubs.